It feels like it's been a while since I stopped at Ann Taylor. For the most part I like to shop online this time of the year. Or go earlier in the morning before it gets busy (same goes for the grocery store too).
There are some work-wear outfit ideas below too…
I grabbed these block heels just to try on with skirts – they're on sale + extra 60% off.
and I should have noticed sooner the dirty mirror…
The pencil skirt below has dots on it, can't really see them on the pictures. I have a similar one from a few years ago. I tried on size 2 below and it fits…but I could use a tad more room around the hips. Loved the larger cheetah print on this camp shirt below. Wearing xs below, fits tts.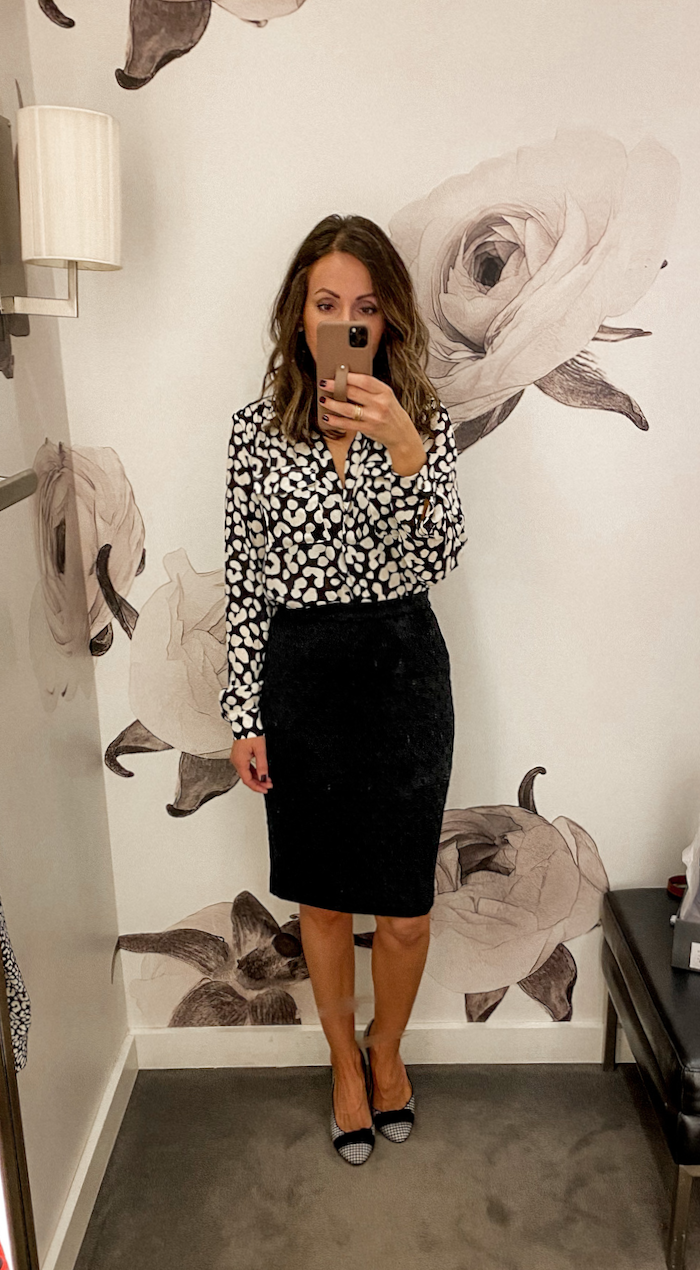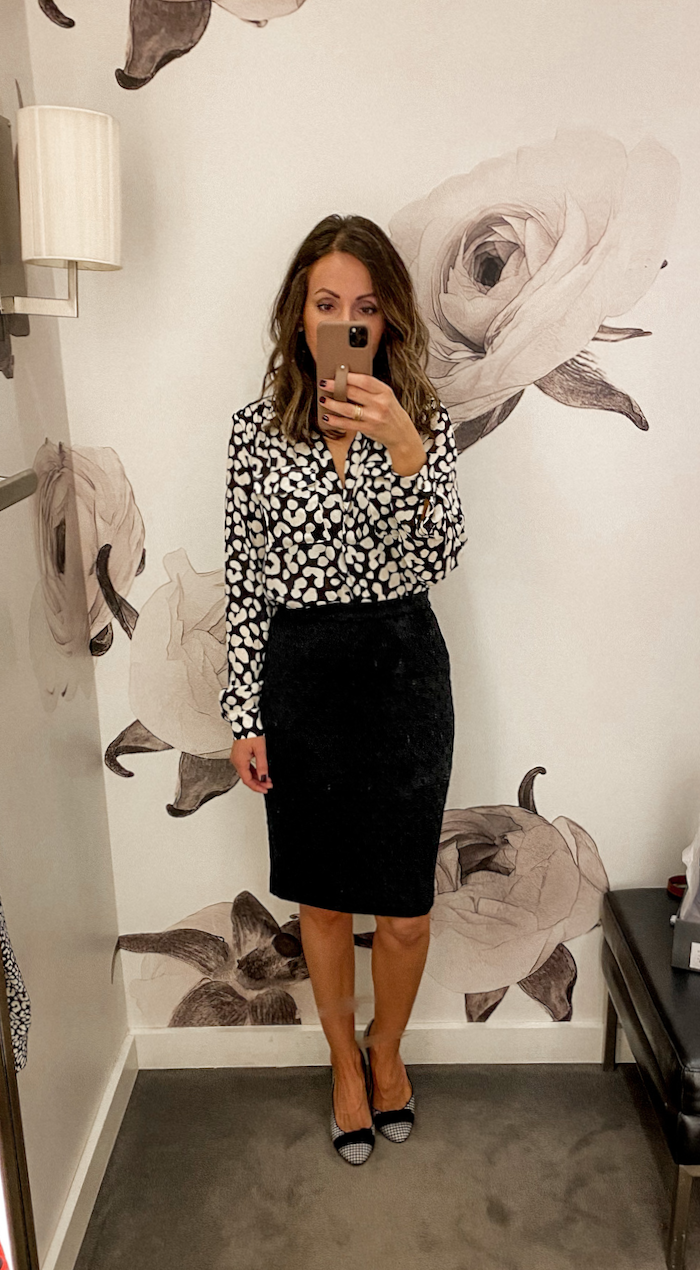 Blouse in xs | Skirt in size 2 | Heels tts
Smaller cheetah print blouse, which can easily be dressed up or down. My usual size xs fits tts. This one is the same print with different neck style.
Cheetah print blouse in xs | Dot Skirt in size 2 | Heels
Love the length of this powder pink skirt. It's beautiful and feminine. I tried both size 2 and 4. Size 2 was pretty fitted around the back end. Size 4 was better fit but didn't sit as high on the waist (and if I pulled it up higher it was too loose around the waist). But I'd get size 4 in this skirt for a not-so-bodycon-fit. I've been eyeing this sweater in the 'rich camel' color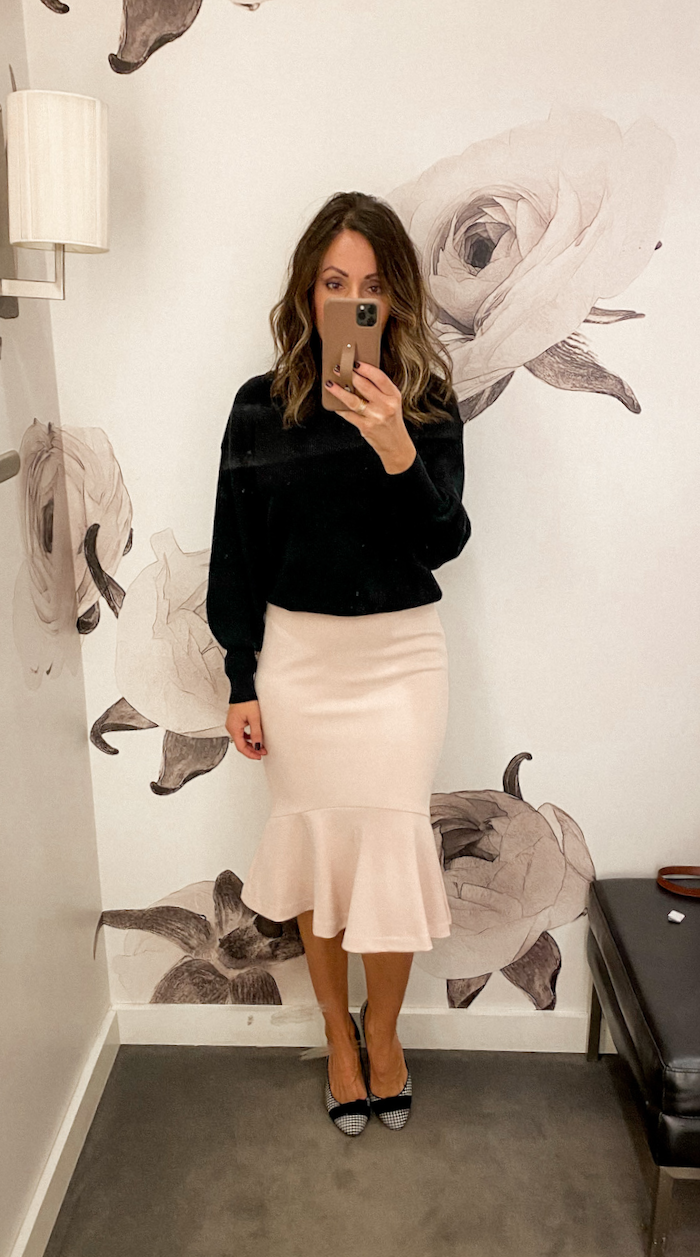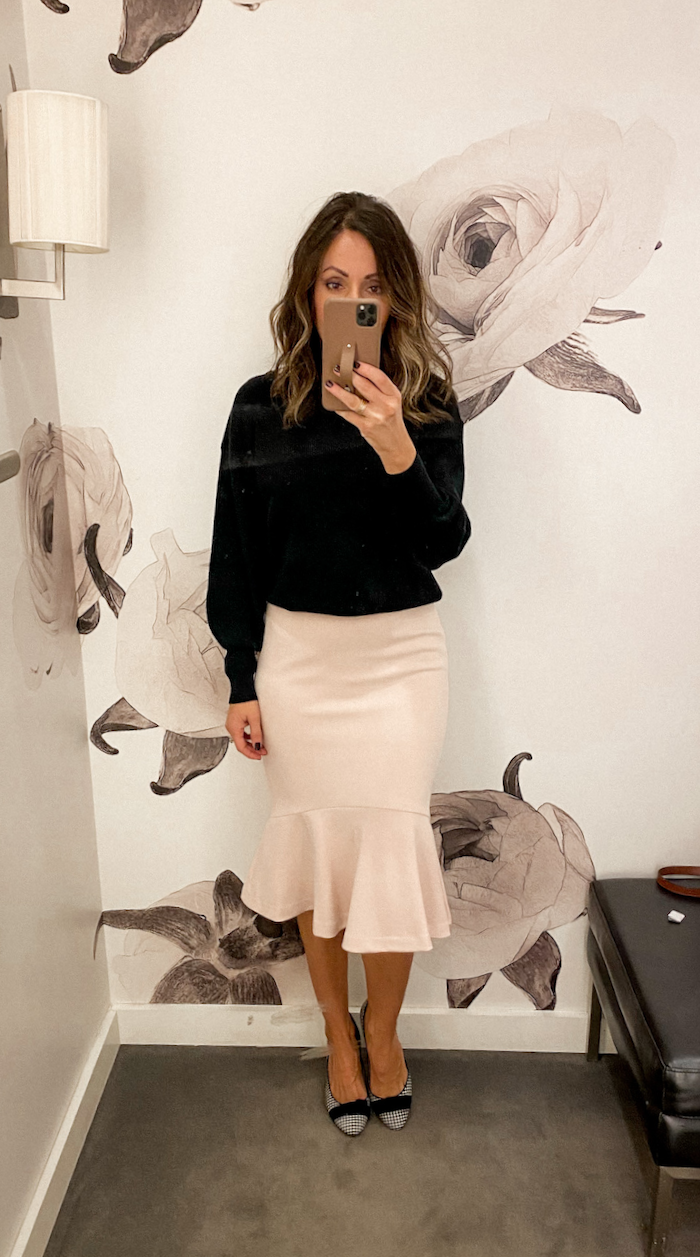 Skirt in size 2 | Sweater in xs | Heels
This sweater was love at first sight. Love the pleated balloon sleeves and the very soft pink color. This one came home with me. It comes in three more colors. I think it look a lot more expensive than it is (with the current discount 😉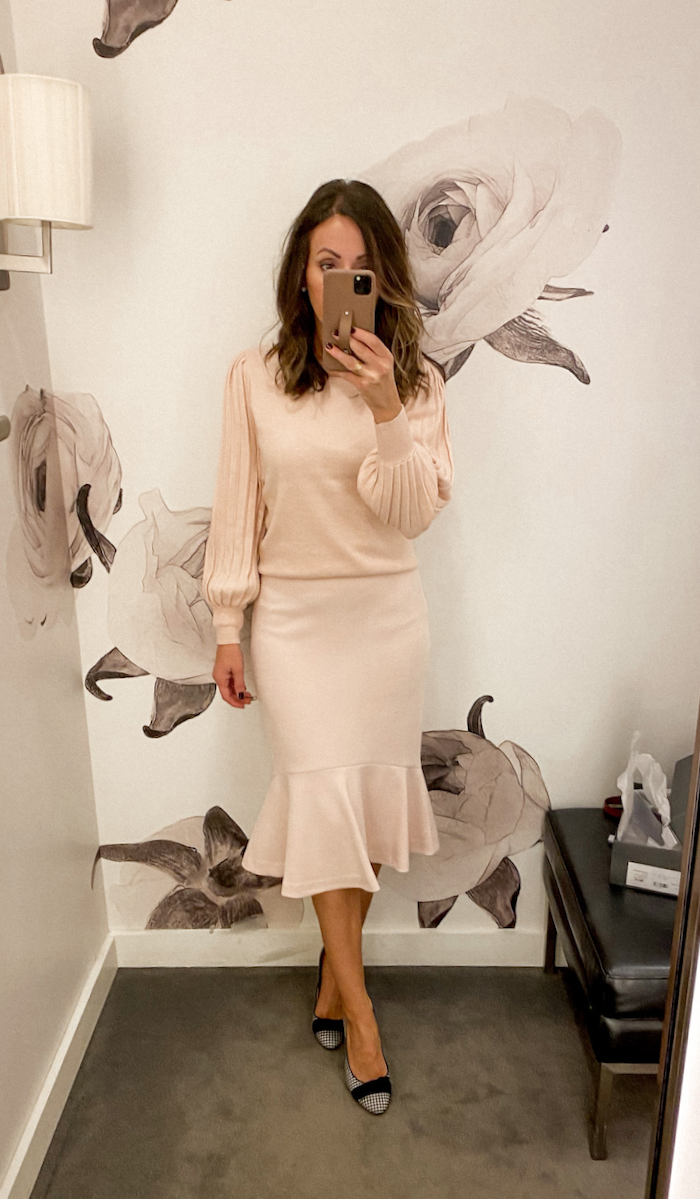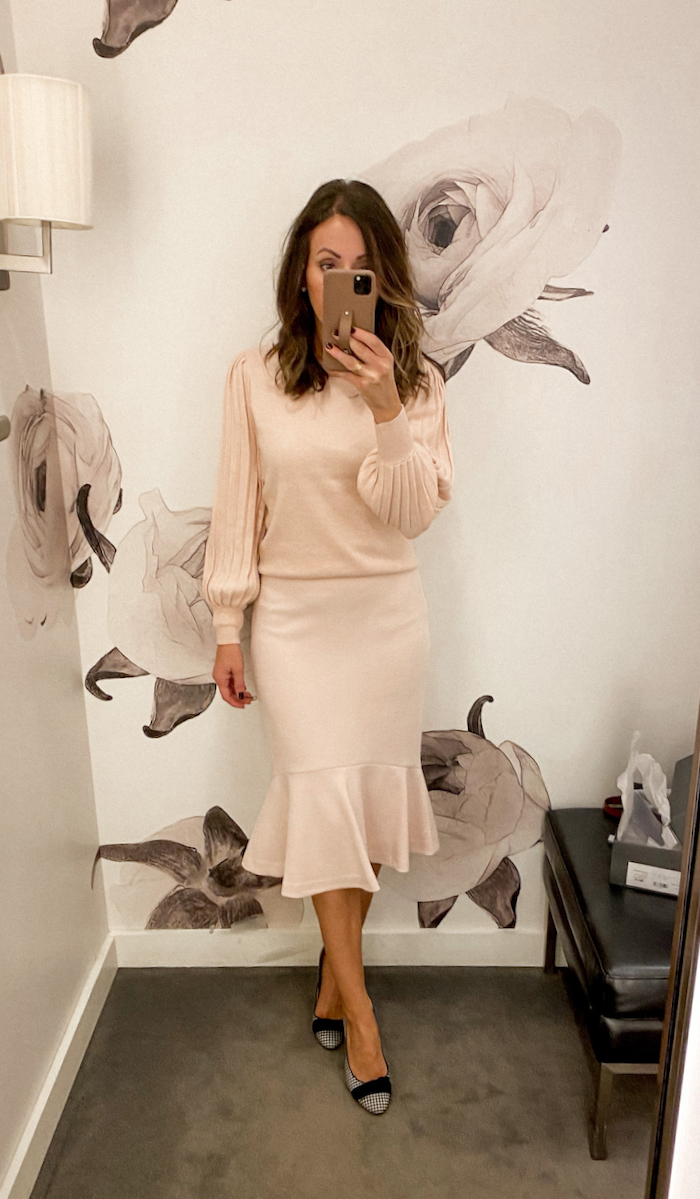 Balloon Sleeve sweater in xs | Skirt | Shoes tts
Great pencil skirt with some texture to it. This one ran small for me, wearing size 4 below which fit me more like size 2 in other pencil skirts (due to the fabric. But a bigger size 2).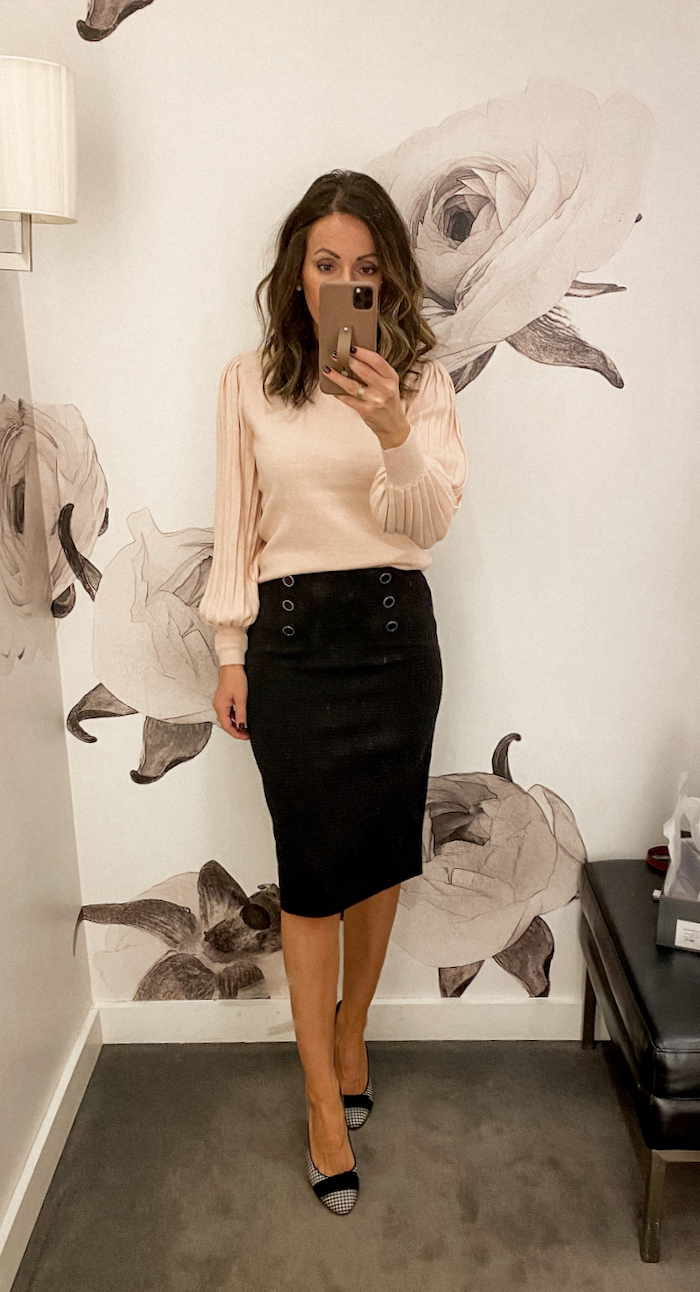 Pencil Skirt in size 4 – on sale + extra % off | Sweater in xs
The smallest size available in the skirt below was size 6 I believe, hence me holding it in the back. Which means I can't tell you if it's tts or not. But it's a lot cuter in person than I thought it would be.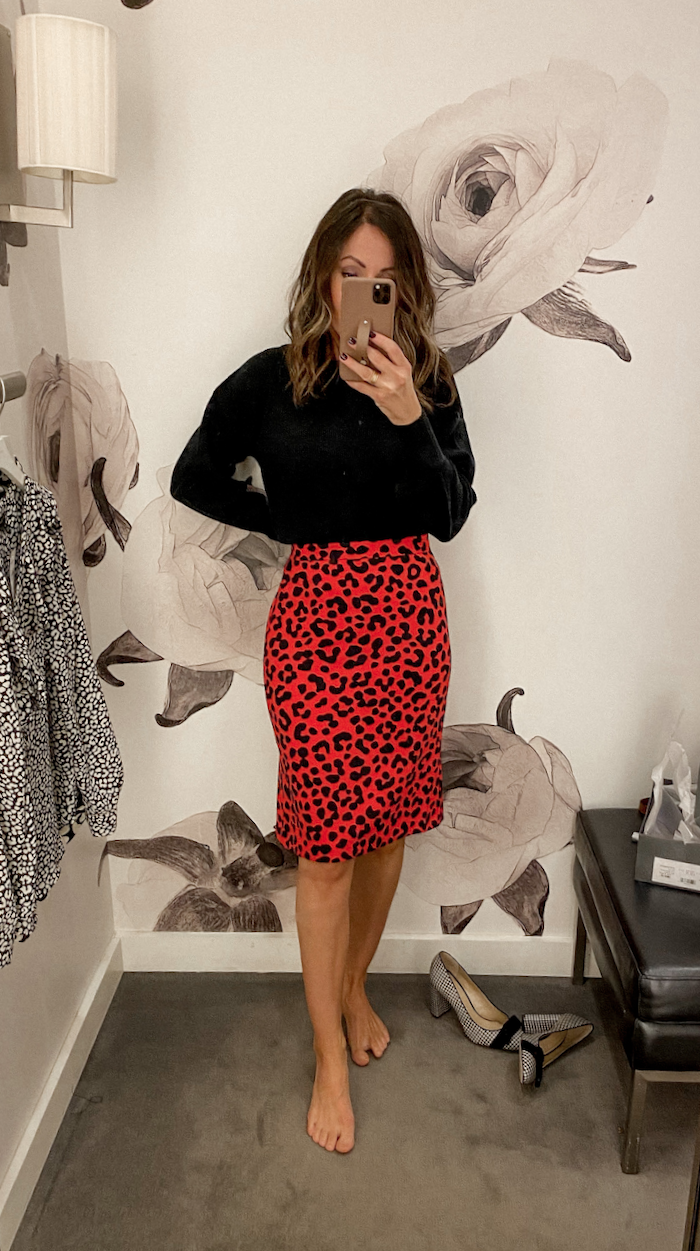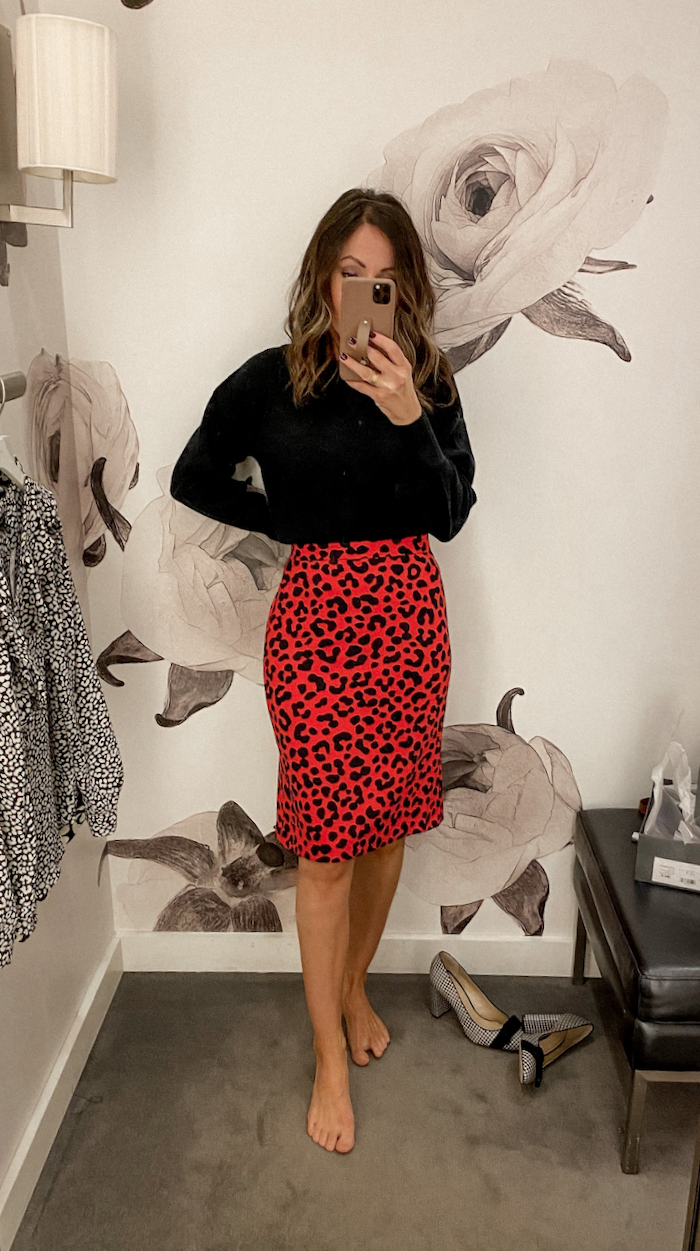 Skirt | Sweater in xs
I only saw one of these sweaters and it was hiding. And it was xs. Pretty color and love the style (not a huge far of wider sleeves). It was pretty soft.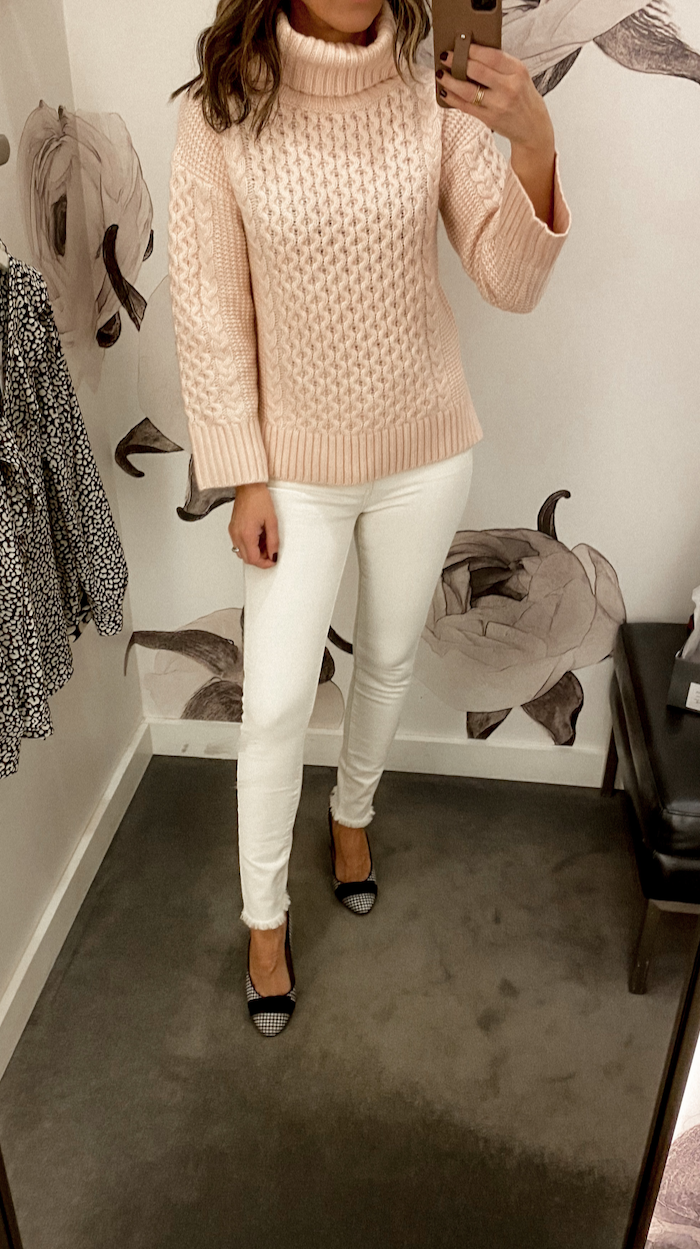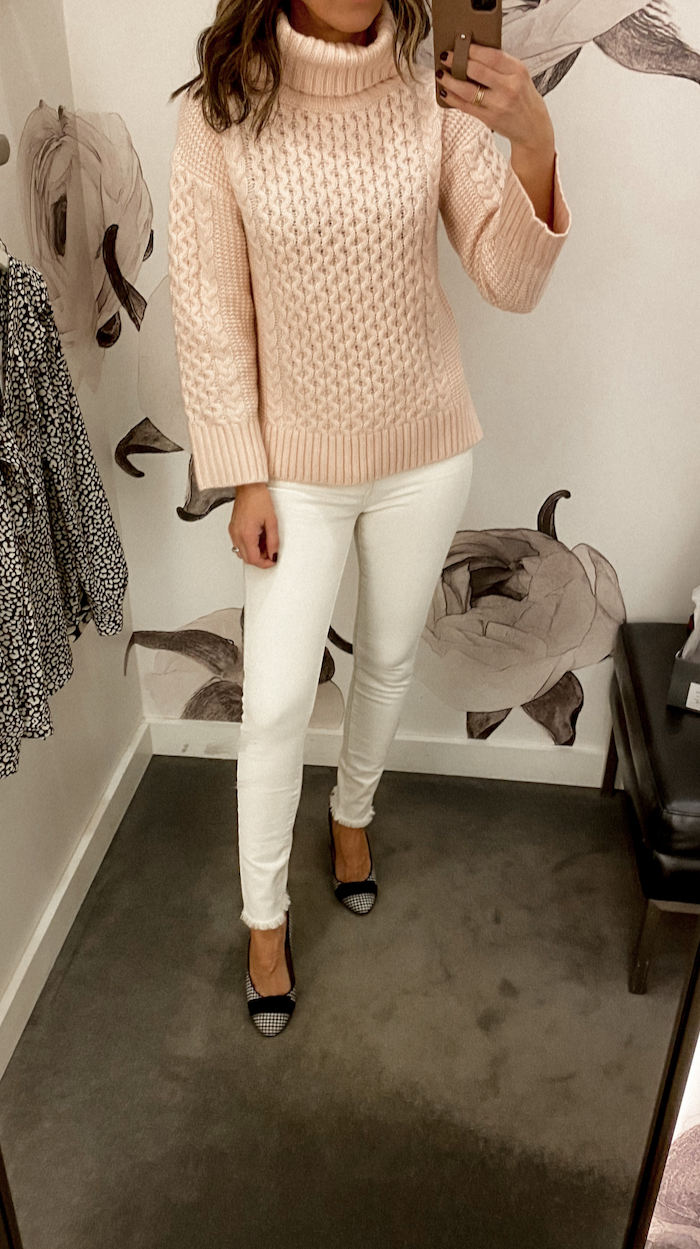 Turtleneck sweater in xs | Jeans in size 2
Love the color combination on the sweater below. Tried on xs, runs tts. Jeans are in size 2, they come in Petite as well.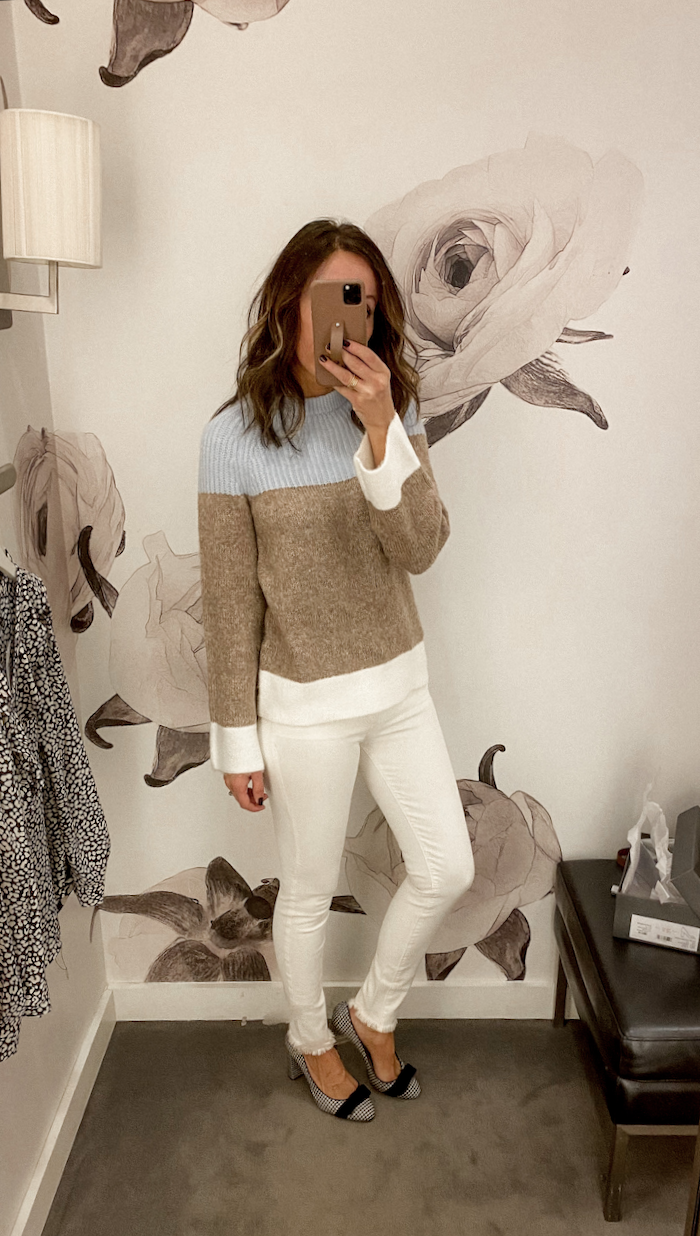 Colorblock Stitch sweater in xs | Jeans in winter white in size 2
I've mentioned these jeans in this post when I tried them on in black. These are in the dark wash. Love the high waist, it suck in the mid section nicely. Wearing size 2 below, fit tts.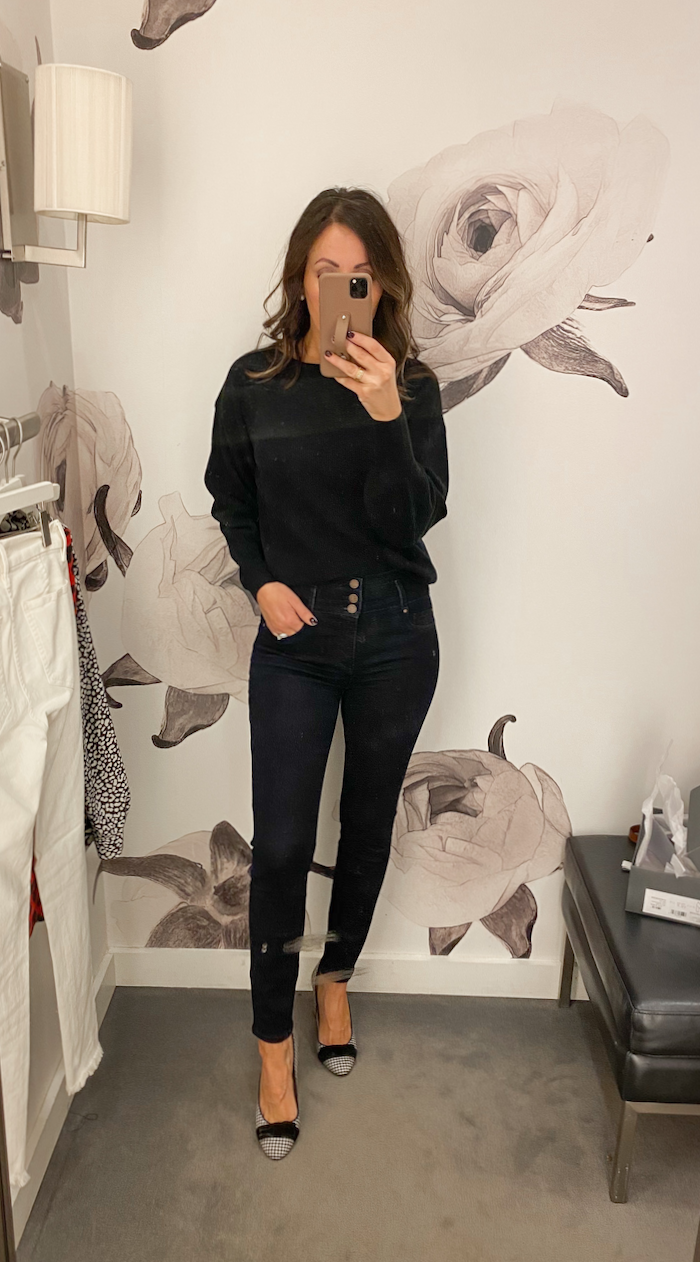 Jeans in size 2 | Sweater in xs
Same jeans as two pics above. And same sweater as above.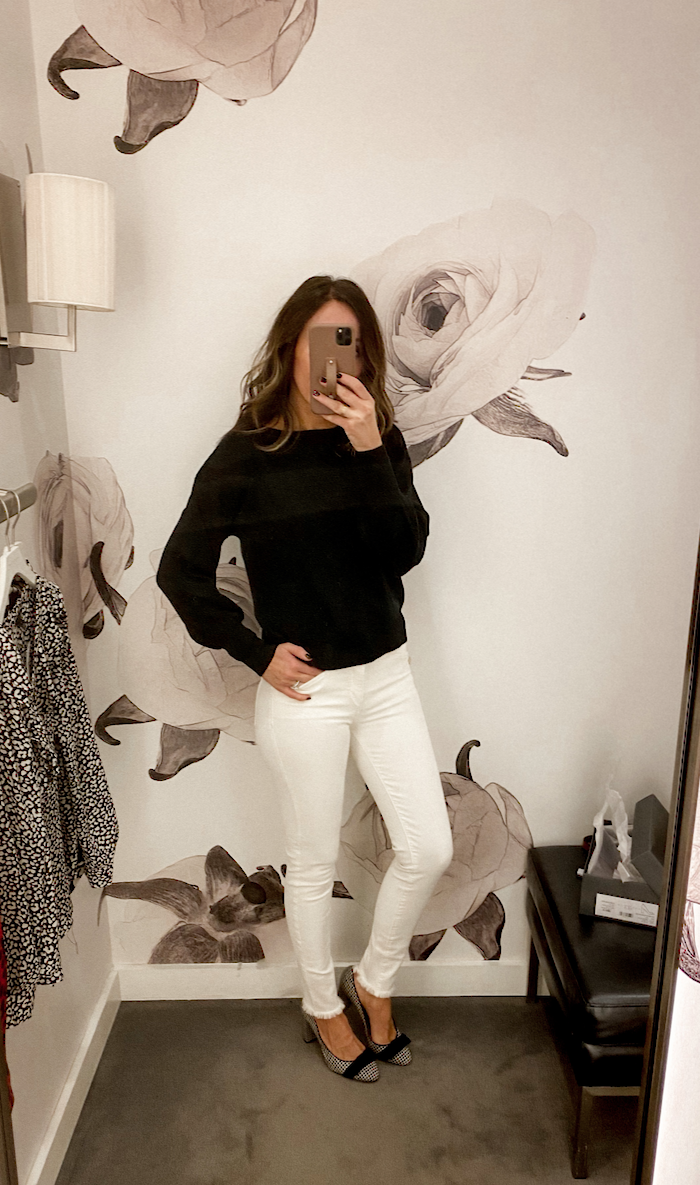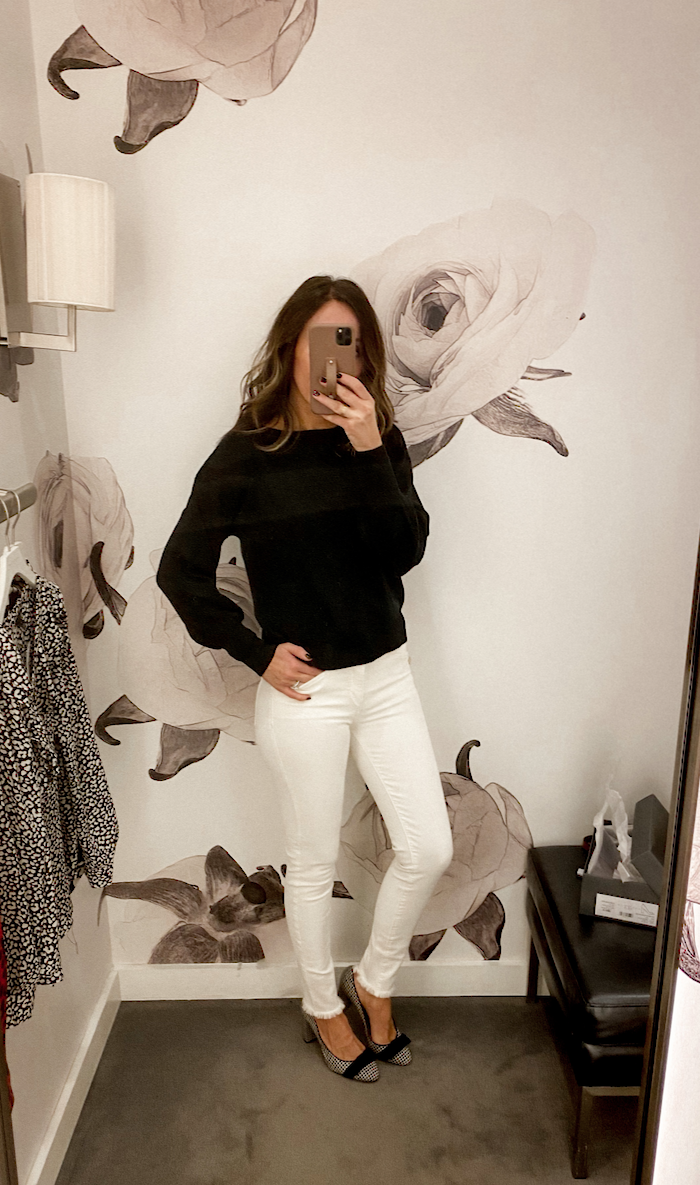 Sweater in xs | Jeans in size 2
This blazer felt sooo nice. I also really liked the length. Wearing size 0 below, fits tts.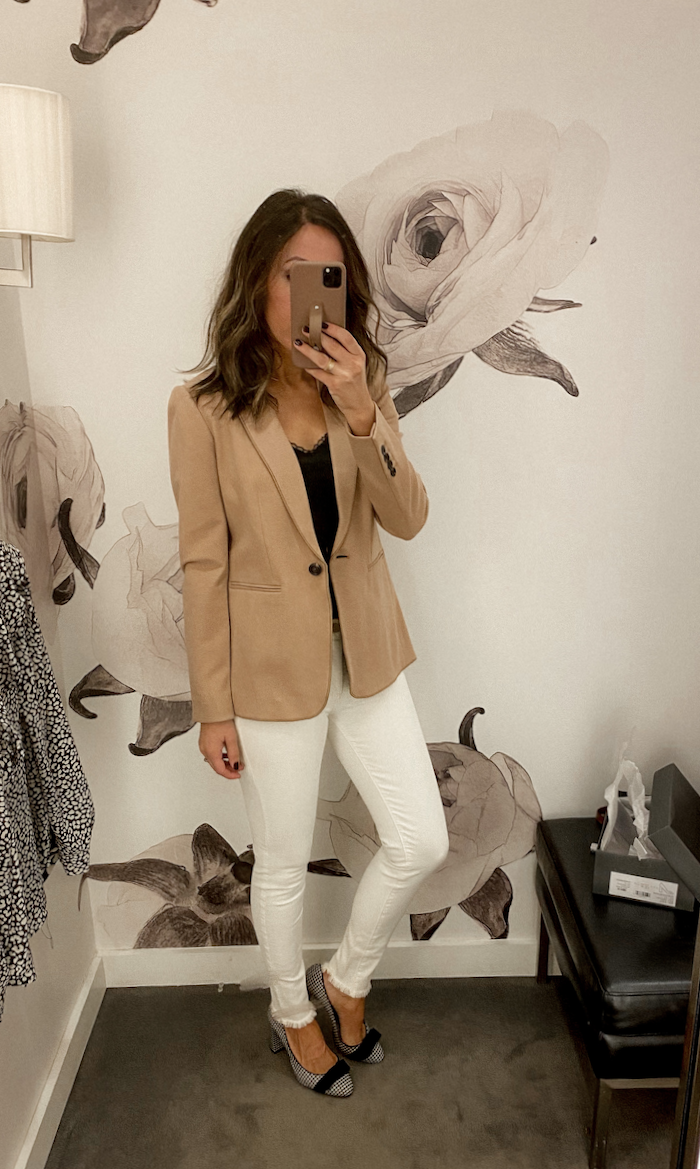 Below are my picks which are all 60% off