These are the type of pieces I like to see in my wardrobe. This is what I call "grown up" wardrobe! Timeless, classic, versatile pieces.
I also should have titled this post "oops I did it again"… I'll explain why in a minute. But let me just tell you that everything you see below is on sale! One of my favorite words. Some pieces are permanently discounted which means they'll go fast. Others are part of a limited time promotion. I'll provide discount codes below as some are not listed on the retailers site.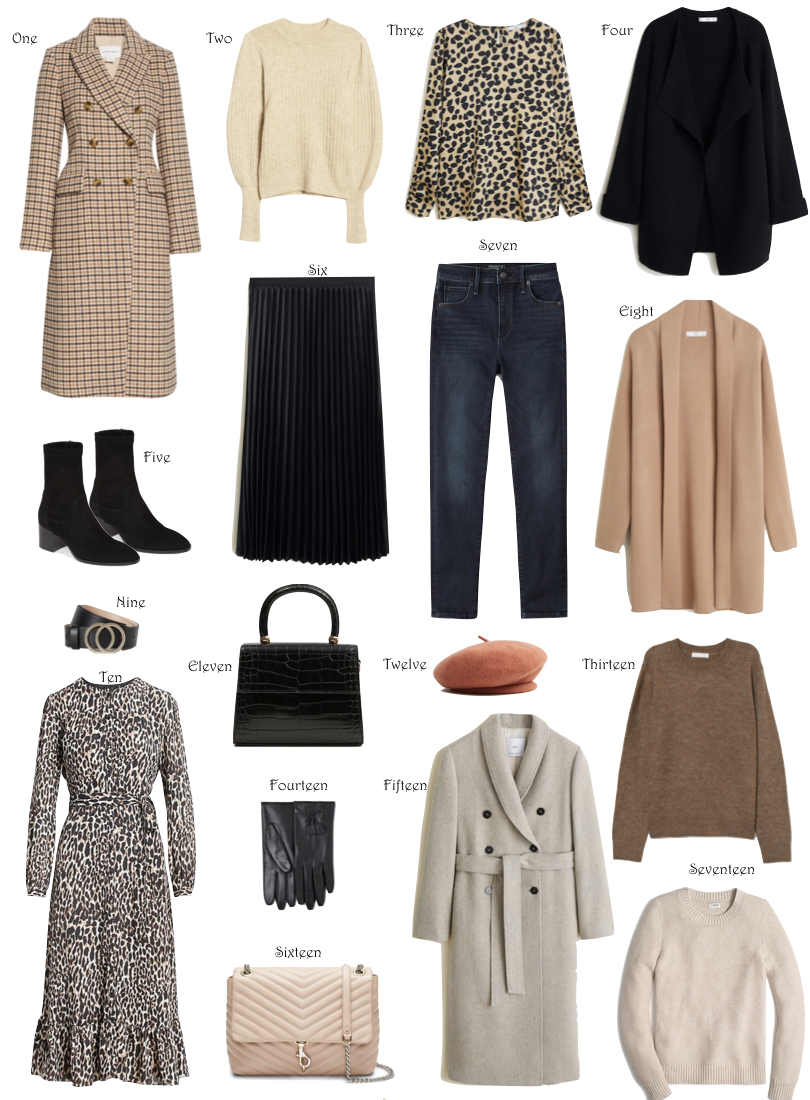 ONE | TWO | THREE | FOUR | FIVE | SIX
SEVEN | EIGHT | NINE | TEN | ELEVEN | TWELVE
THIRTEEN | FOURTEEN | FIFTEEN | SIXTEEN | SEVENTEEN
Discount codes: Shopbop – extra 25% off sales + extra 10% w/code JOY19 – the coat #1 above is now $226 (orig. $479 and it's still full priced at most retailers). Check out the other sale categories for great savings like shoes, jewelry and accessories, jeans (I always have to check out that section especially).
MANGO – 30% off w/code IMVIP
Banana Republic – 30% – 50% off everything + extra 20% off all dresses (like #10 above).
H&M – $10 off $60 + free shipping (for members. Just sign up with your email. You'll get points for each purchase and earn $ rewards).
Rebecca Minkoff – 30% off your purchase (includes sale section too) w/code PRIVATE30 (#16 in now $125 orig. $300)
Now, why should I have titled this post 'oops I didn't it again'? You ever wake up in the morning and wonder if the night before you actually purchased something or if it was just a dream? lol
Well, oops I purchased a coat again (I told you I have a weakness for nice coats). Winter lasts too long and since our outfits are covered by a coats during the cold seasons it might as well be a nice looking coat. Or five. I've been stalking #1 above ever since I tried it in store. It was full price – $480 (it still is full priced at most retailers that carry it). Too much. It went on sale at Shopbop but still pricey. Then they ran 25% off and the price was not bad for such a nice coat (Club Monaco's coat are great quality). It was in my bag for a while but then it was an extra 10% off on top of the extra 25% off…so it came down to $226. Great price for this coat (yes it is a lot of money but not for such a well made coat that you'll have for years and years. I mean…Abercrombie charges that much for their coat you can't even compare the quality to Club Monaco coats). Did I give you enough excuses!?! haha BTW – I ordered size xs and it fits tts.
Another item that I can't believe the discount – these booties – 60% off (I ordered black and gray to see which one I like better. I have a lot of black booties so I'm leaning towards the dark gray). Finding 'sock booties' with a lower heel that is well made hasn't been easy. I almost gave up. When I saw that these were further discounted I had to give them a try (this type of bootie is perfect for skirts and dresses too). So excited to get these. I hope they work out. Update: I received the booties 🙂 As soon as I took them out of the box my first thought was…'wow, these are so narrow (the suggestion on the site was to go up 1/2 size but per all the reviews I decided to get my usual size). While they're really narrow, they don't feel super narrow nor do they hurt my feet. If you have wide feet, go up 1/2 size (mine are average width). I think I'll be keeping the dark gray (can't make up my mind).
Have a lovely day!