Quick stop at J.Crew Factory and oh-my…so many great pieces! I think it's been a while since I loved so many pieces at once. Most pieces I tried on below are 50% off including a ton of other sytles. And rest is up to 50% off.
The nude flats caught my eye and they go with everything I tried on. So versatile. They run tts. They also come in leopard print (so pretty), cap toe which I also love.
While slip skirts can be tricky and sometimes unflattering, this one is amazing and it's not overly thin! The waist is elastic. I tried size XS and it was a tad big in the waist. Xxs was a better fit (it was just a tad hard to pull over my hips but not bad). I would size down in this one personally.
Leopard Skirt | V-neck Tee in xs | Flats
This dress…so so pretty! It's the same style as the leopard dress I got last year. I tried size 2 in this one and loved the fit (the leopard one I have from last year is size 0 and the band around the waist feels tighter so I decided to go with size 2 in this one). It flows nicely and it's very comfortable. I knew this one will have to come home with me. It would look amazing with some simple black heels or sandals.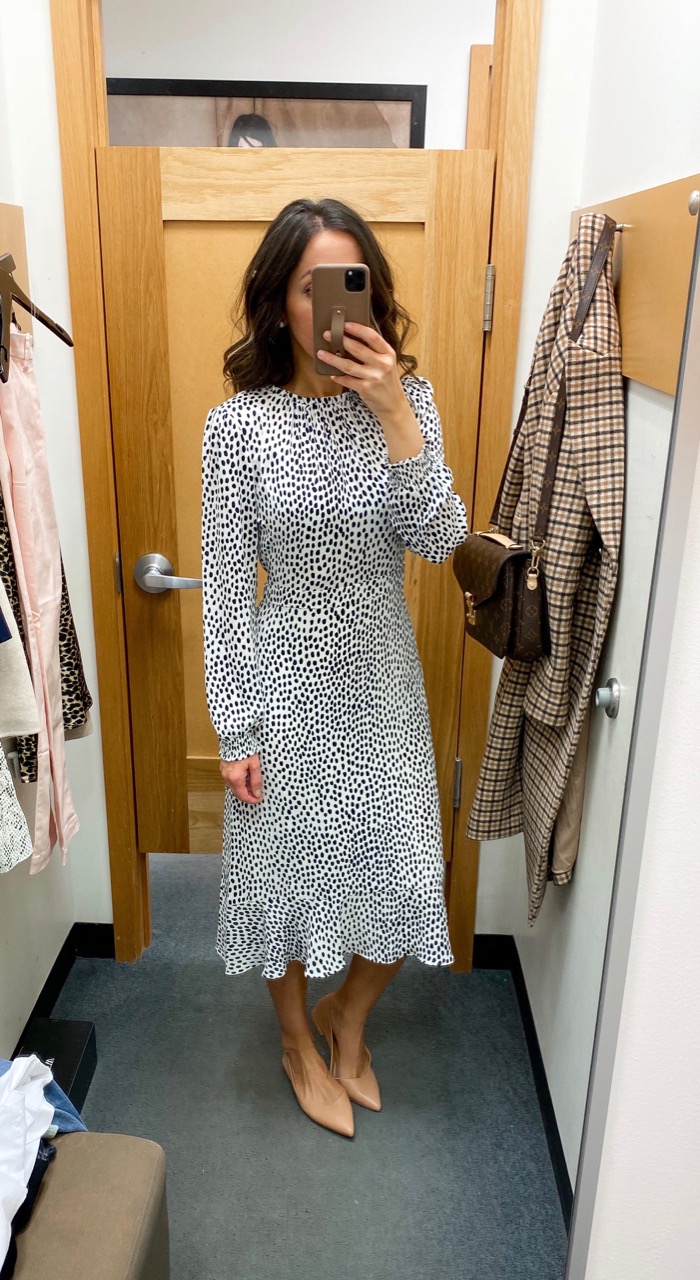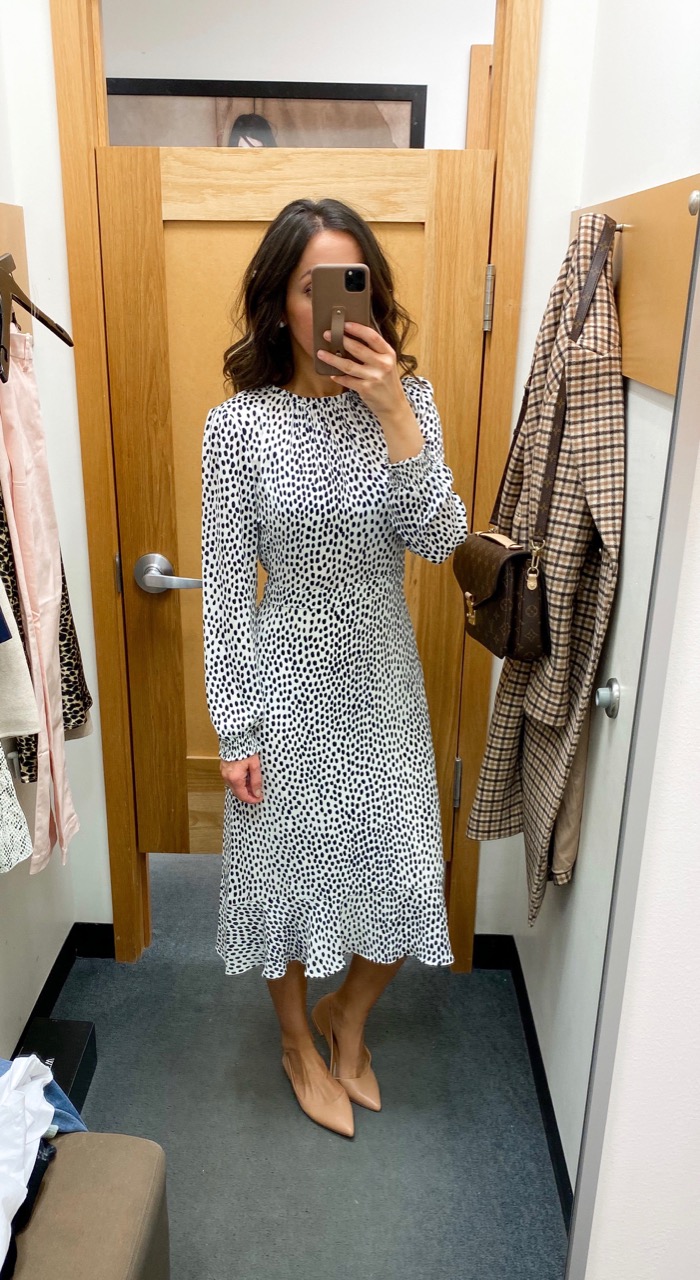 Midi Dress in size 2 | Flats
You'll see this print in multiple items I tried on. I think it's a pretty subtle snake-print print!
Adore this dress! Tried xs but maybe could have gone down to xxs since the waist is elastic but xs felt comfortable without being big or frumpy looking. Runs tts I'd say.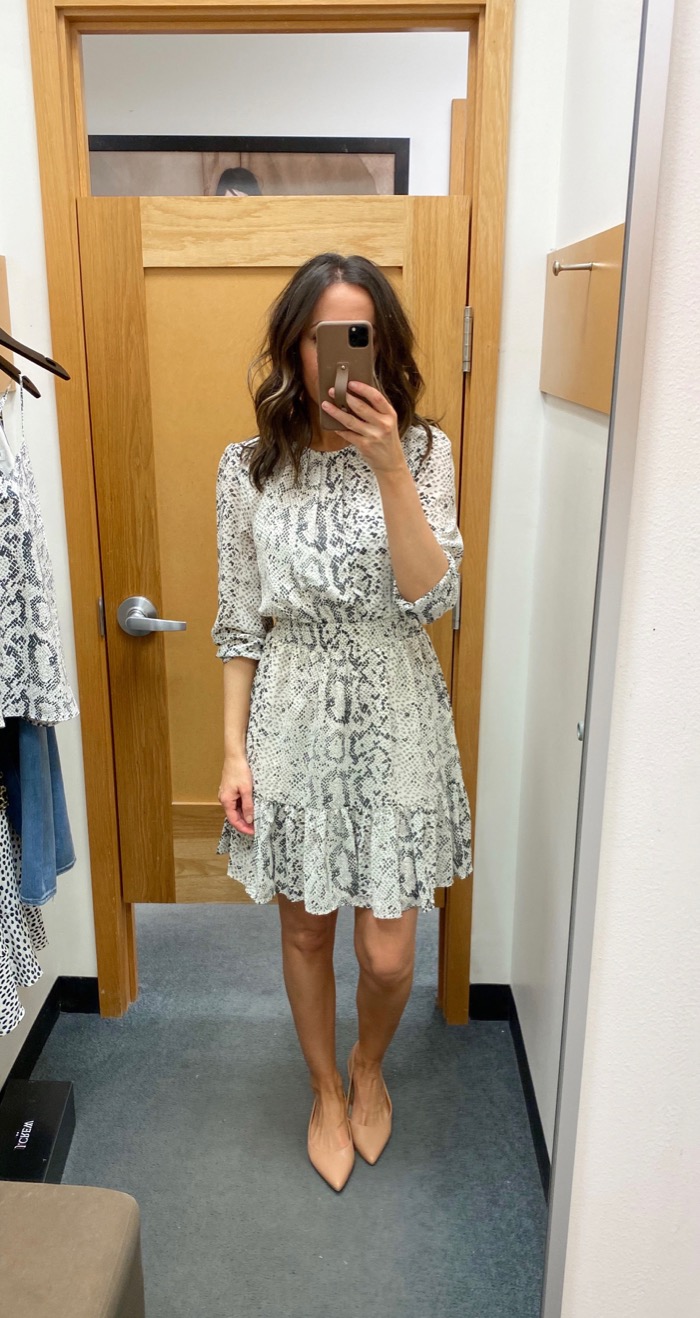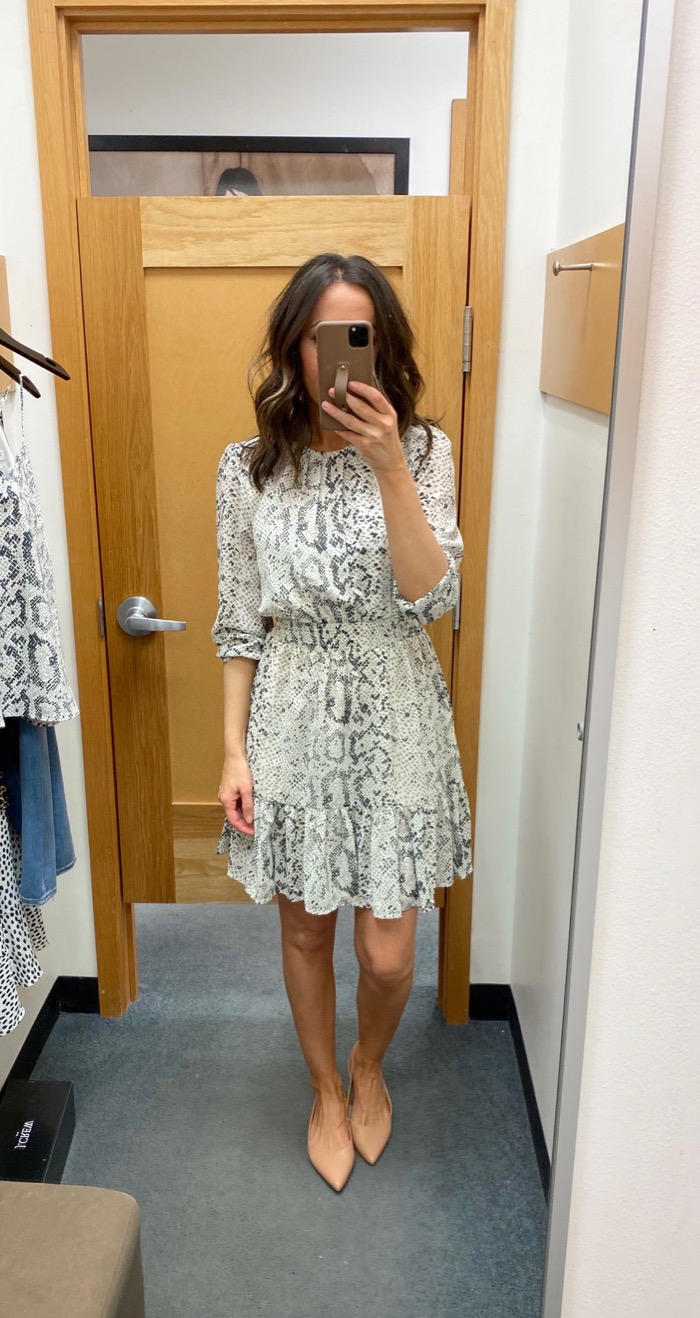 Snakeskin Dress in size 0 | Flats
This skirt fit so well! Love the length too. I tried size 0 and it fit great! This tee comes in multiple colors, wearing xs below.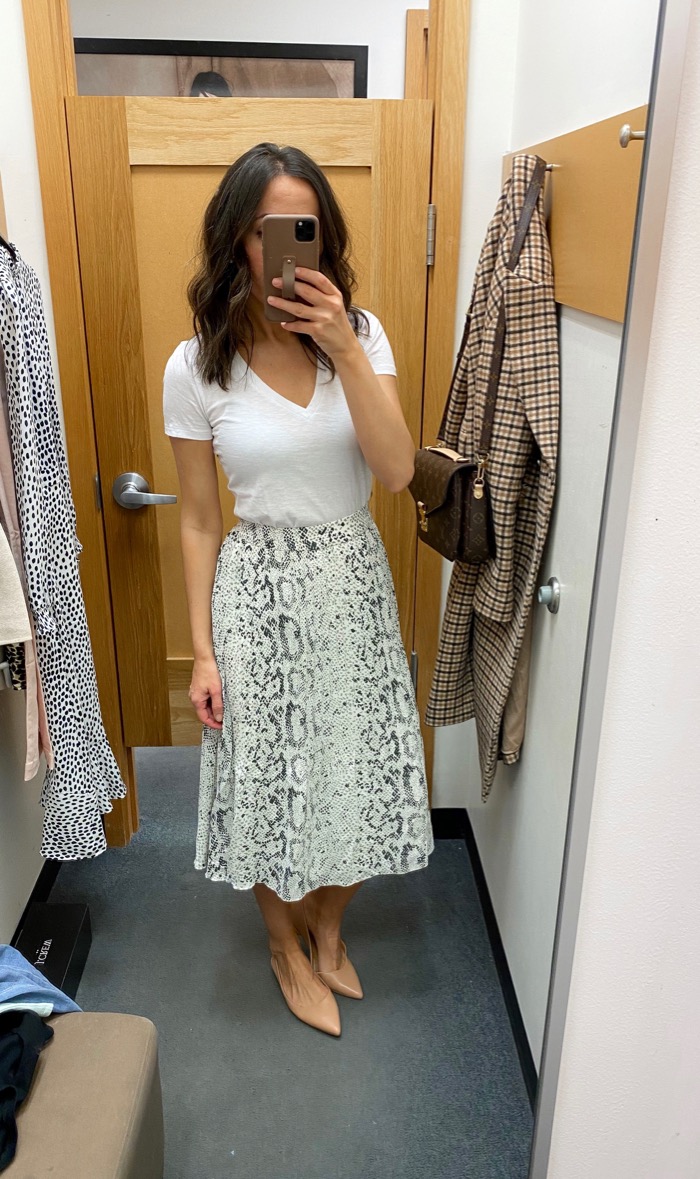 Snakeskin Skirt in size 0 | V-neck Tee | Flats
This blush skirt was not available in size 0. Tried size 2 below it was it was big on the waist (I like it to sit on the smallest part of my waist). Size 0 would have been a more flattering fit too. I think it would have looked better if the pleats went all the way down.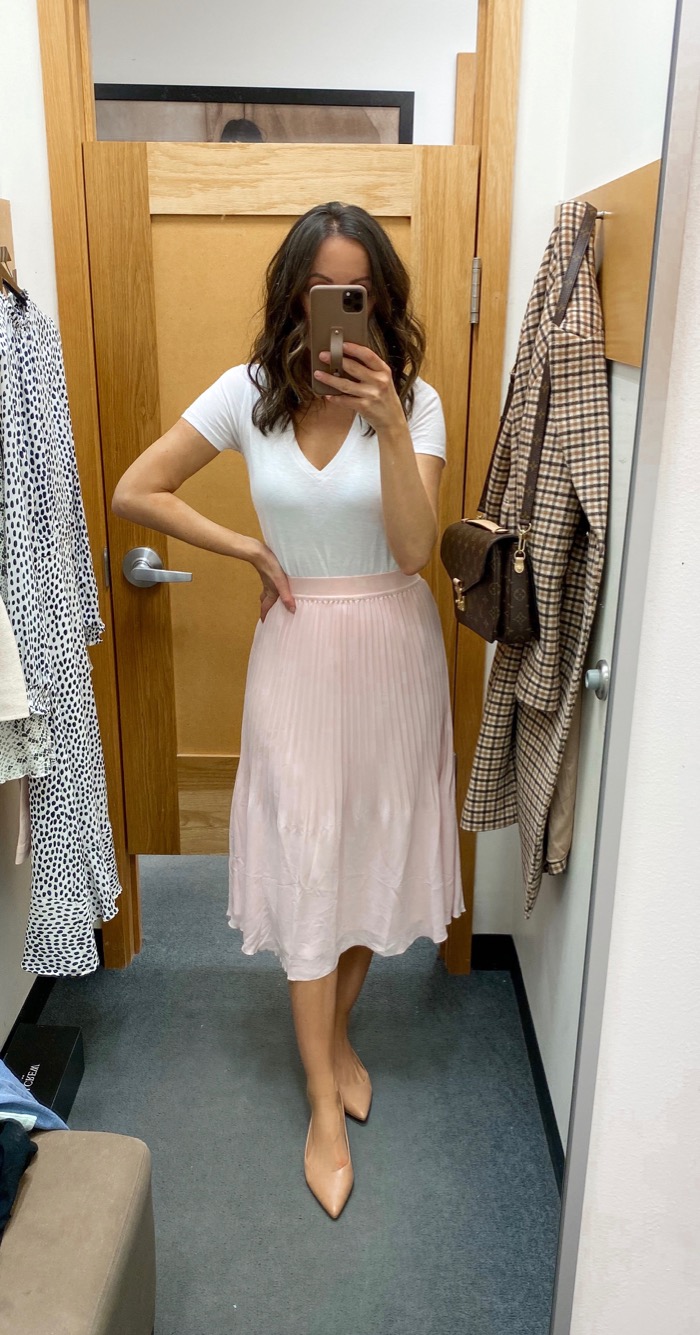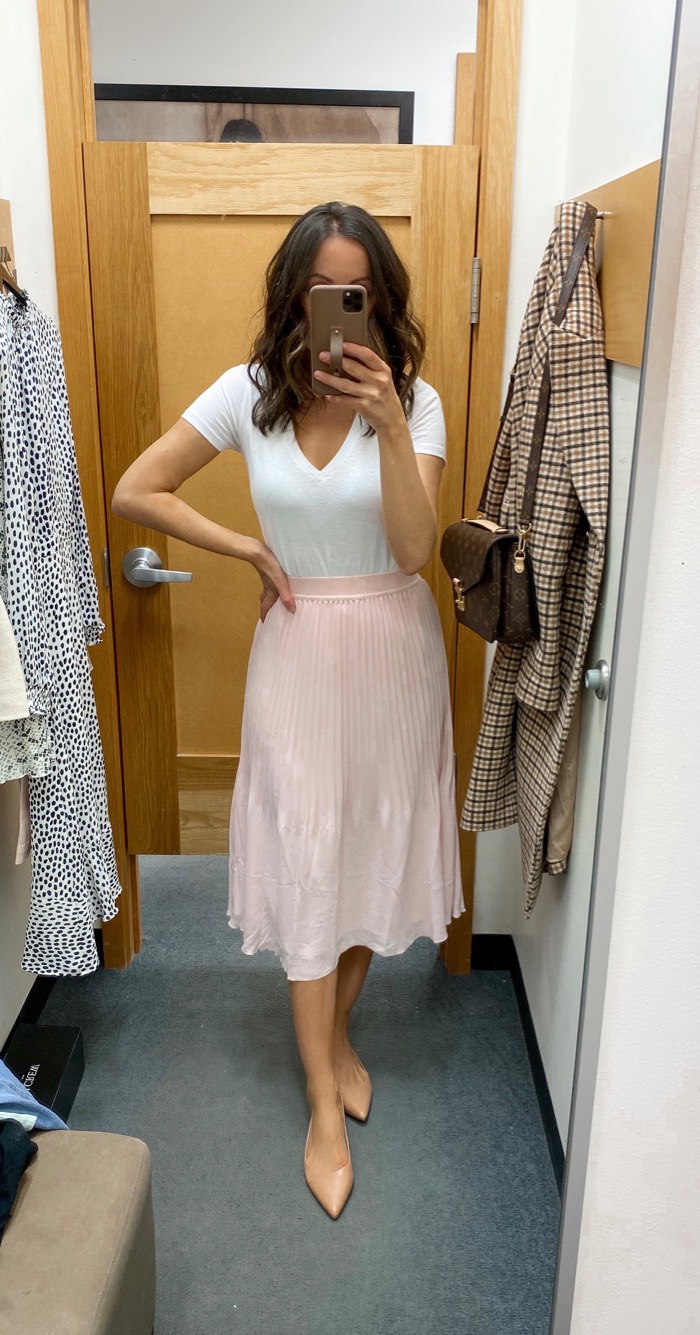 Skirt | Tee |
Size 0 was not available in this cami and I barely was able to put this one is 00 on (not sure why I didn't grab size 2 instead). Way too small in 00. But it's majorly cute! Size 0 would have been a good fit, I'd say it does run tts. Jeans also ran tts.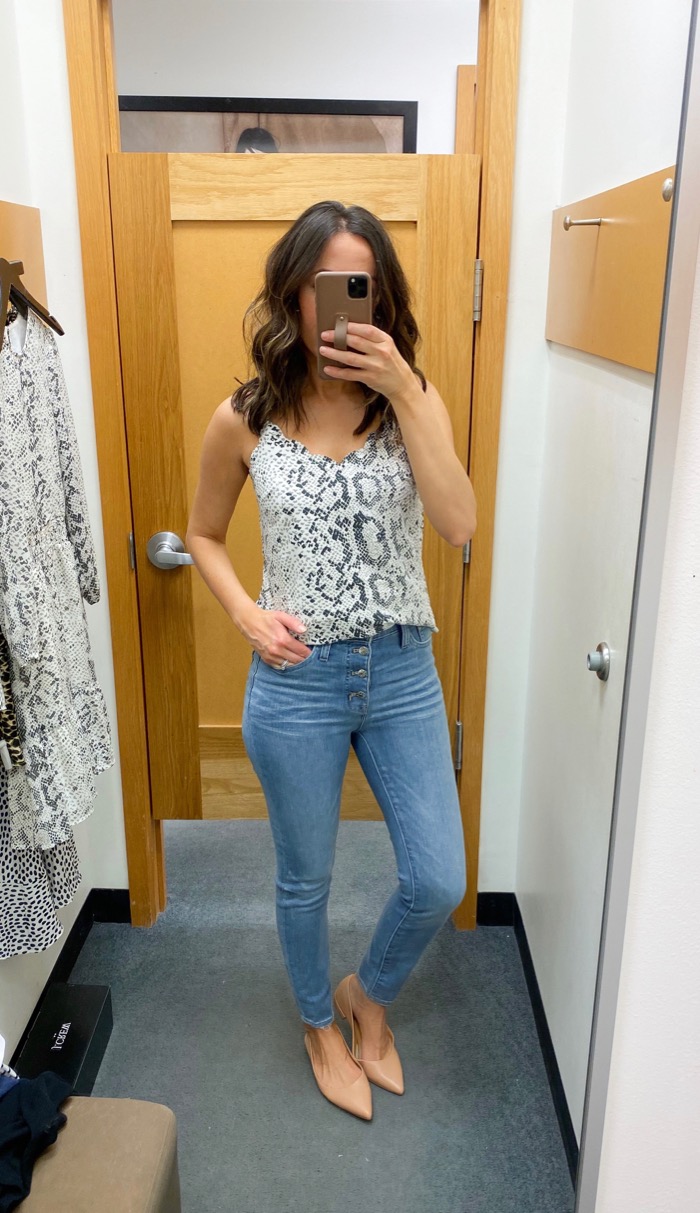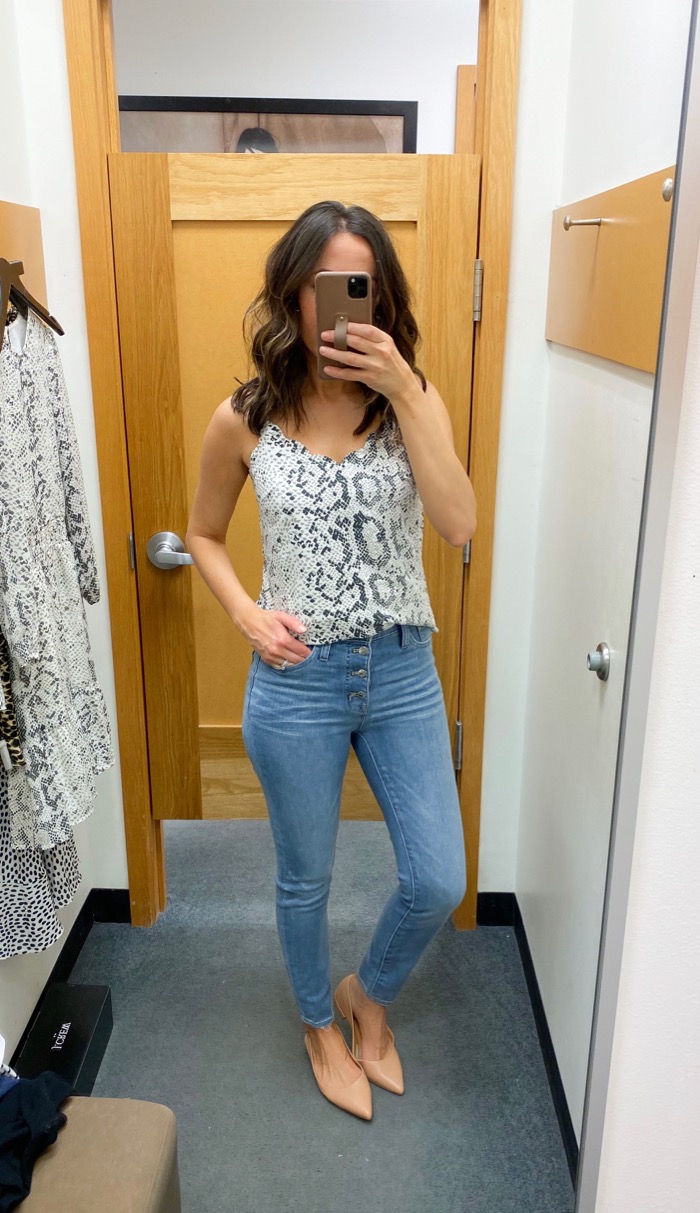 Snakeskin Print Cami | Jeans |
Such a cute top that can easily be dressed up or down. Runs tts.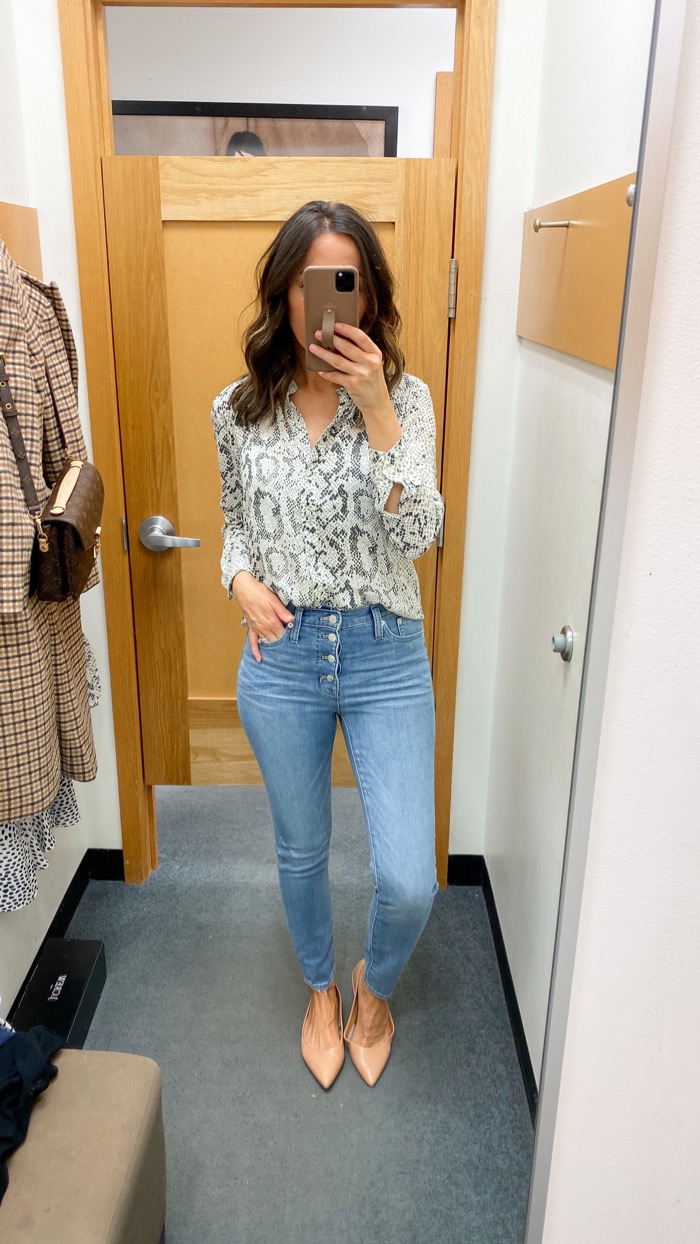 Snakeskin button-up blouse in xs | Jeans tts
Love this classic, timeless blazer that will never go out of style (there is just something about navy blazers)! I have to admit that I try not to roll my eyes when I hear bloggers say 'blazers are back in style'…. Classic blazers never went out of style! The 90's style of blazers is more on trend right now but that's about it. My thoughts…. 🙂 I think blazers can elevate a look without even trying. And I love when navy blazers actually have gold buttons. I have one navy blazer I got years ago and switched the buttons to gold and it makes the biggest difference. This one runs tts. Jeans are also tts and fit really well.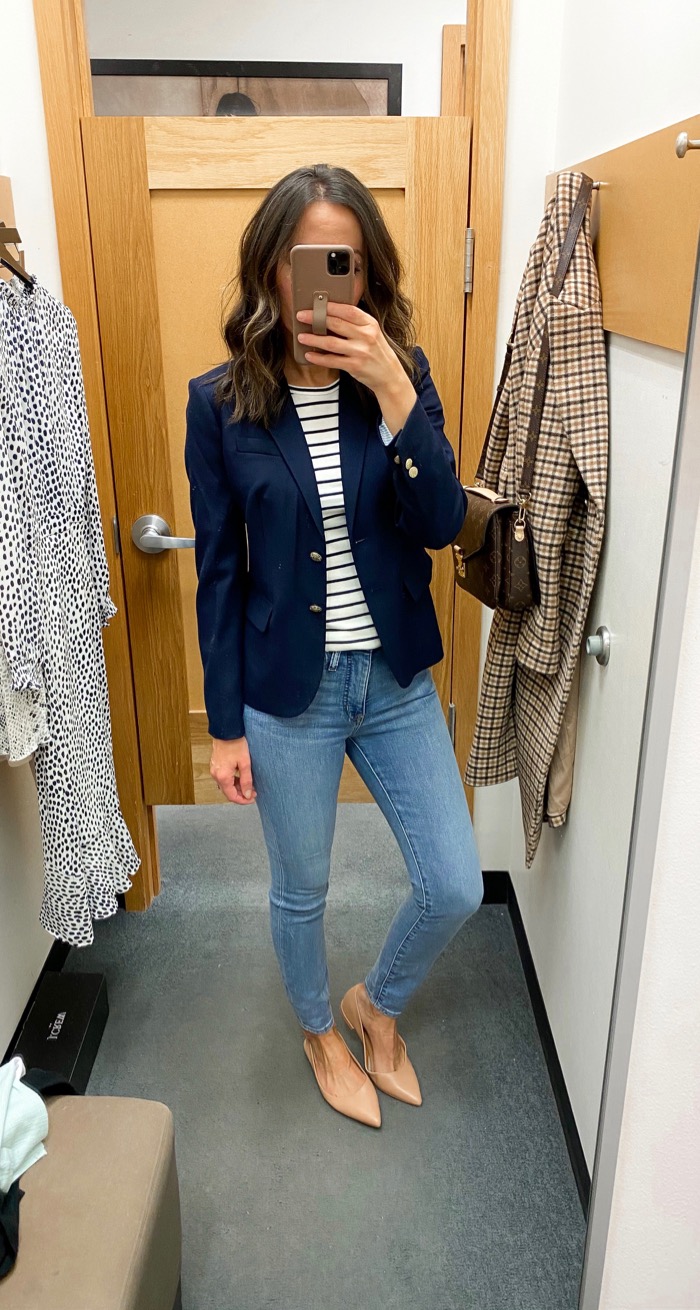 Blazer in size 0 | Tee in xs | Jeans size 26 tts
I liked the color of this sweater jacket but xs was not available in store, wearing size Small below which was too roomy. Also the pockets sat weird on this one which could have been because it was too big.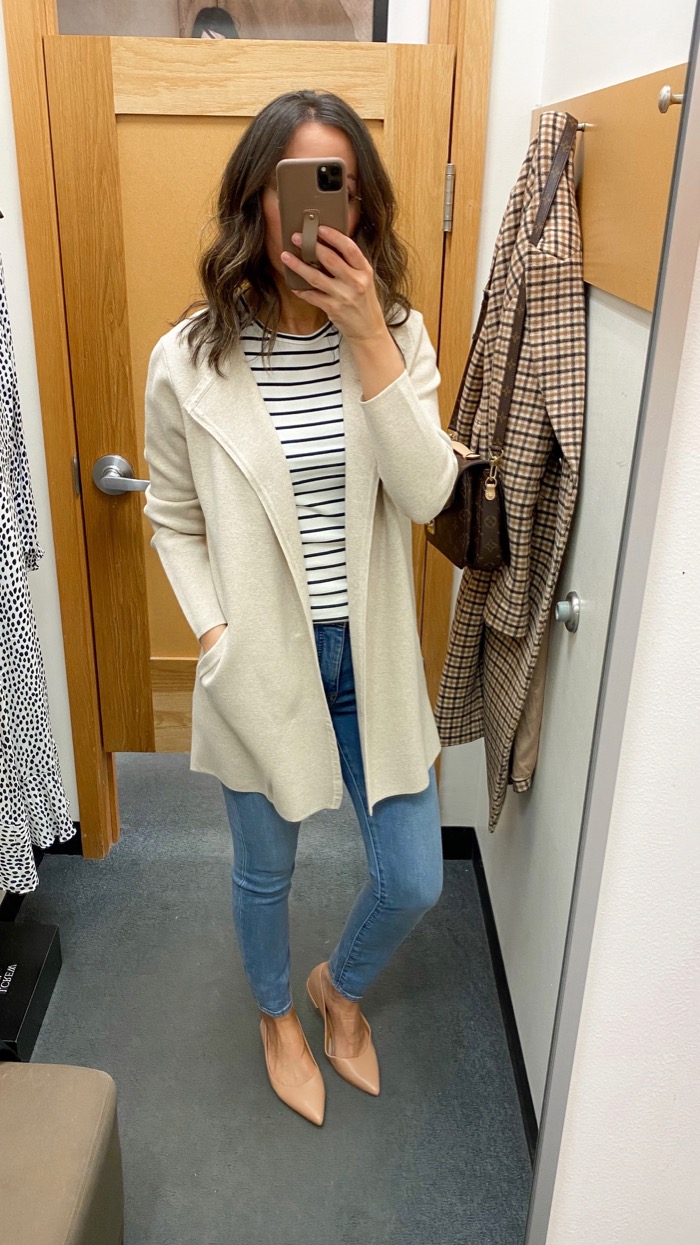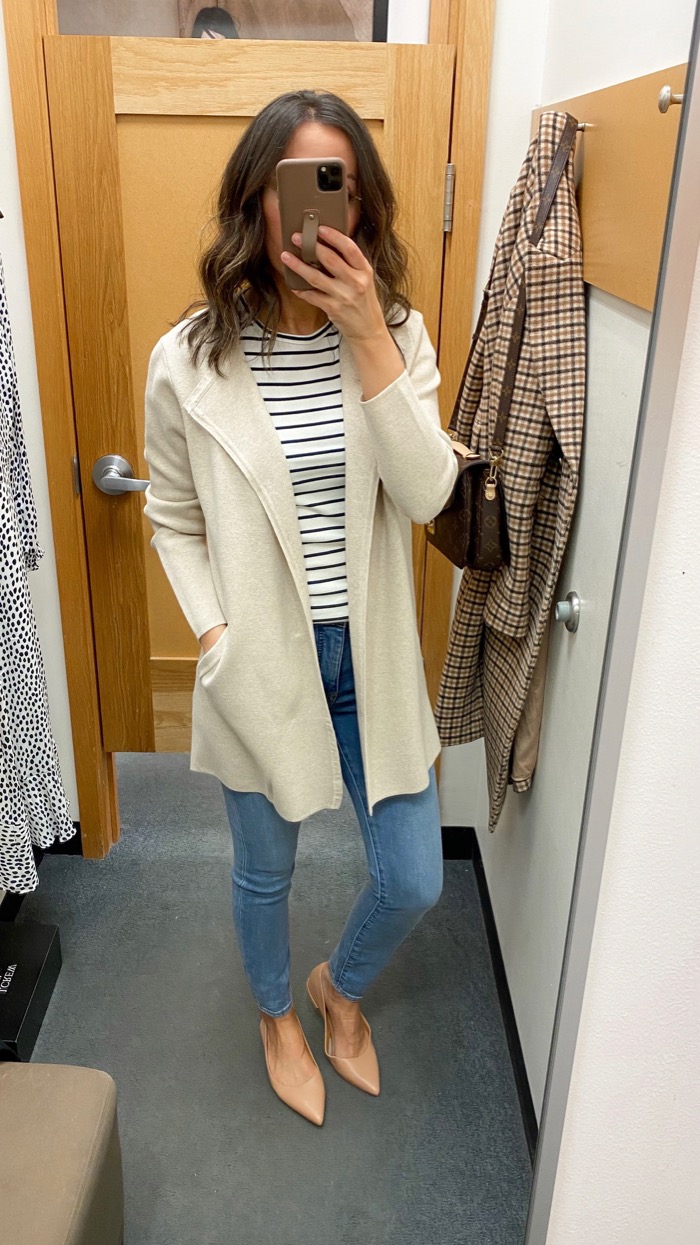 Sweater Jacket | Tee in xs | Jeans
I'm so drawn to chinos during spring months well into summer too (depending on weather). I love the color of the ones below (they do come in more colors) and they're only $35 right now. I tried size 2 and it was a cool relaxed fit.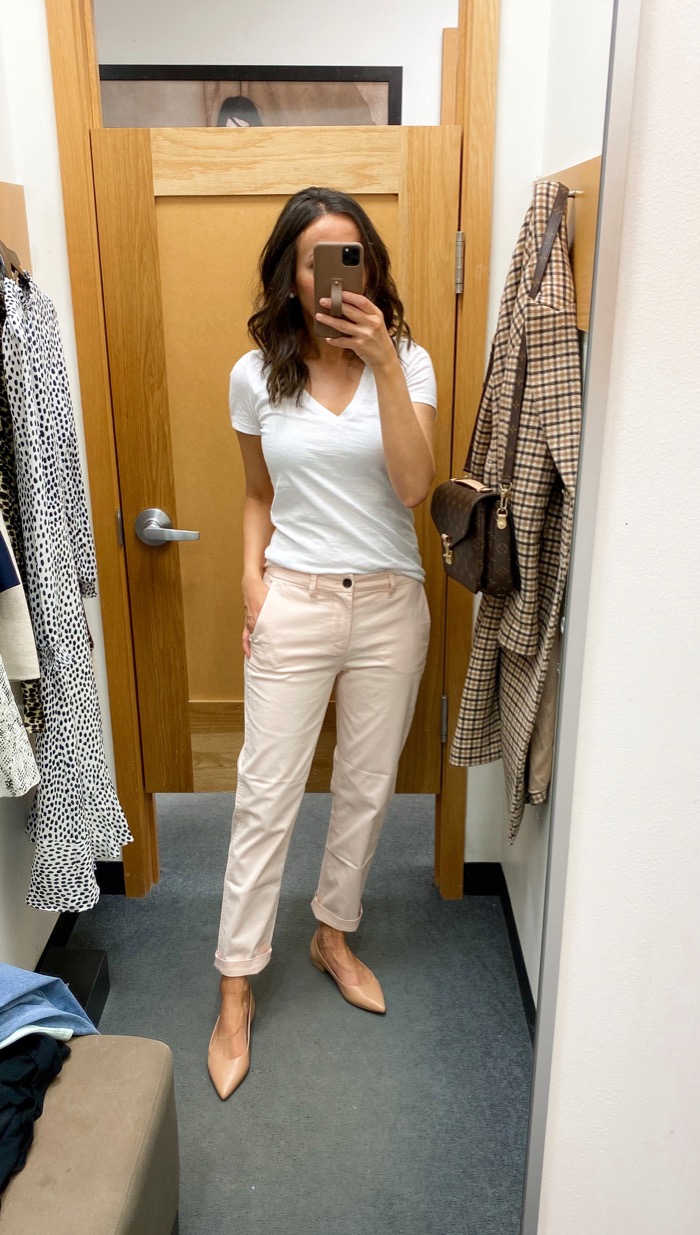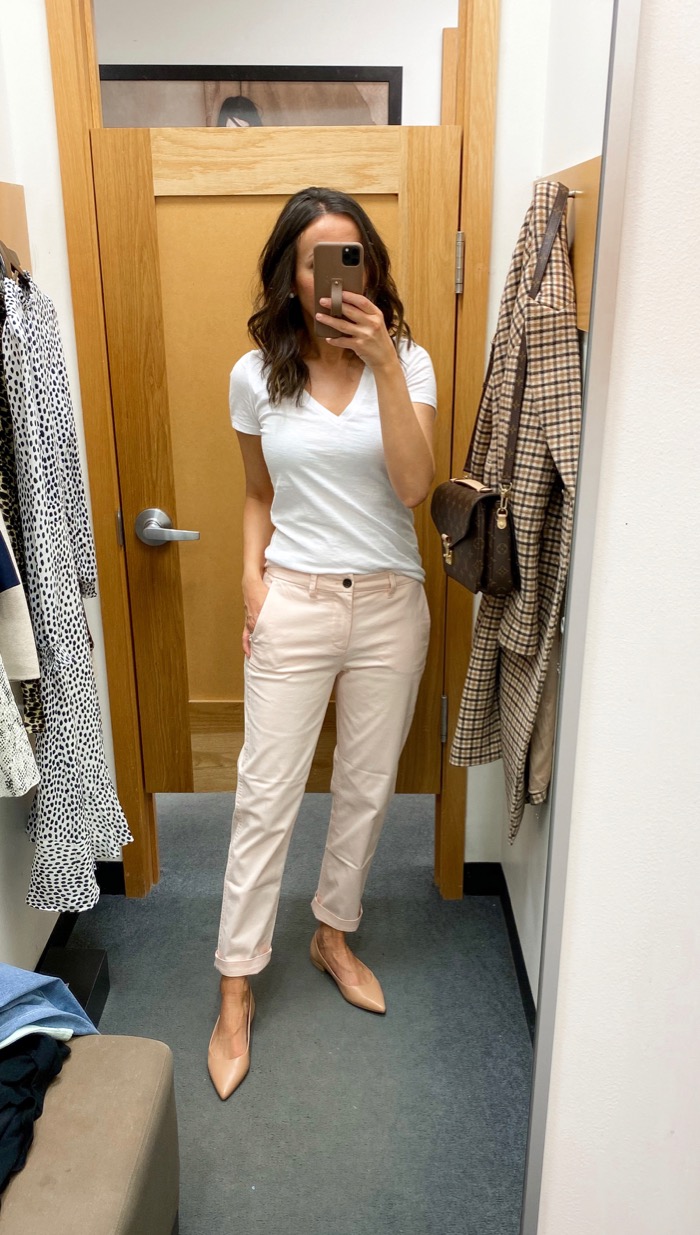 Chinos | Tee
Shoe Picks:

Accessories:

Clothing:

Let me know in the comment below if you have any questions! Also, which pieces are your favorite?