I'm so excited for our upcoming warm weather vacation. It is so very needed!
I think I had already set aside what I wanted to take with me before we even booked the trip. I'm not planning on packing much, hopefully, since most days will be just spent laying on the beach and relaxing. But my pile is already pretty big (and it's not even that big really lol)…but I will have to narrow things down. While most of the stuff I'm taking is old, I'm adding a few new pieces.
I like practical clothing items, especially ones that can easily be mixed and matched (I won't buy anything just for the gram). I also like pretty bathing suits but I don't like weird tan lines, so I usually stick with thin straps or strapless ones for the most part. I realized I had more swimsuits than I thought even though I did order two (one already didn't work out, it was too small. I'll share more info in next weeks post). Most of my swimsuits are one piece which I've preferred the last few years. I think I'll be brining just one two-piece with me.
I wanted a pair of nice denim shorts so I decided to try a pair everyone raves about, the AGolde Shorts (I actually ordered this pair and this pair to see which one I like better/which fit better). I'll give you more into below under each picture and which pair I'm keeping.
Drooling over Pamela Munson Bags (especially in love with this one). Another designer with quite a few great beach/summer bags (hats too). I'm especially loving this bag. I love, love the handle on it. This would be a perfect Spring/Summer bag and beach bag.
I got this dress back in January. I thought it was such a cute dress for summer (only $25) that would also look very cute with sneakers and a denim jacket for Spring. I'm loving so many sneakers right… Loving a few from Tretorn (I'm loving these and these especially). Superga has great styles if you like just something really simple…these caught my eye a while back.
I'm wearing xs in the dress, fits tts. I got the belt in size xs. My slides are from last year and are SO comfortable now (they took a couple of wears to break-in but they passed the test for full day wear last summer).
Dress in xs | Leather Slides (I sized up a 1/2 size) | Belt
Wanted an easy beach coverup and this one was pretty cute. I ordered size small and it fits great. I love the color and the ruffles. Keeping this one.
Beach coverup dress in small
I actually ordered the romper below in light blue but received the white one. I just wanted it as another beach coverup. It's cute but I don't think it's worth $30 to be honest. Maybe the other color would have been better. Wearing small below. This one is going back.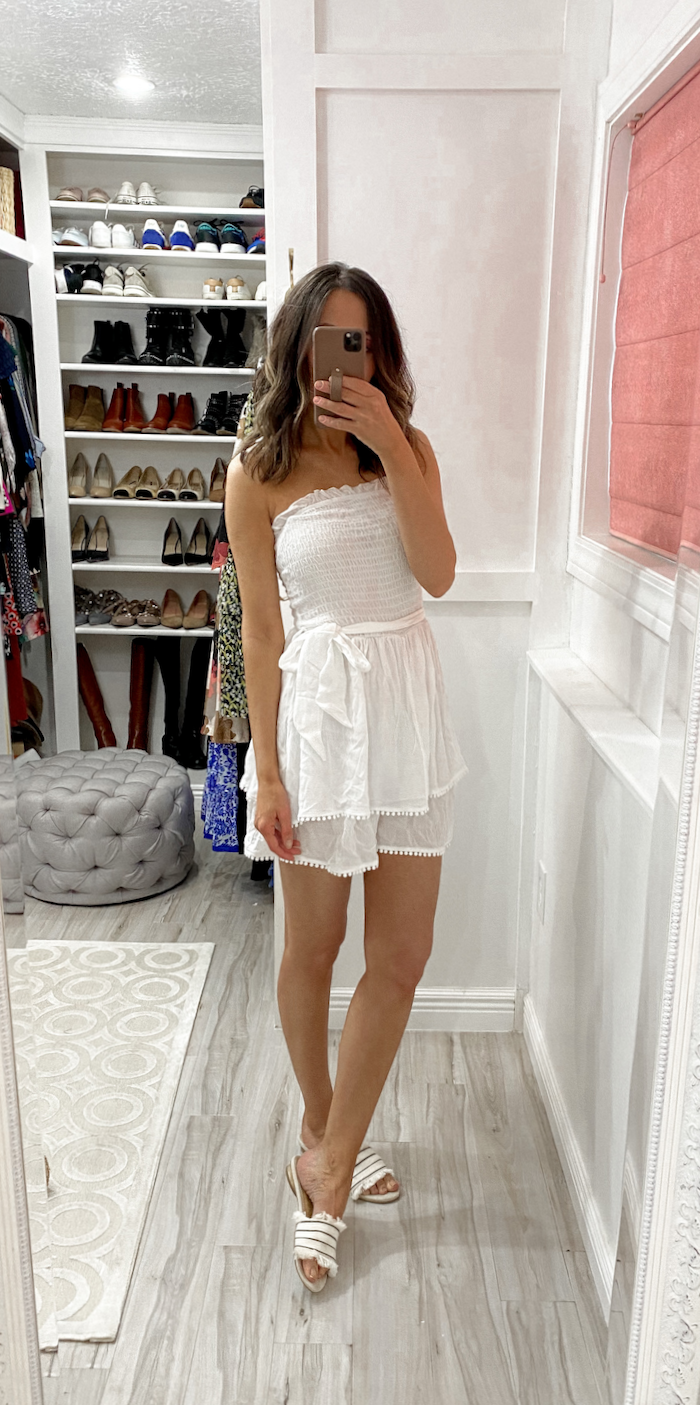 Romper in small | Slides (old from Splendid)
I sized up in these shorts. I'm usually 26 but ordered size 27 as I wanted them a tad lose. I like the length and the high waist. I was bummed that they felt very tight in the waist (someone with a completely flat belly might find the size ok). For me it just felt uncomfortable and something I wanted to deal with, especially in hot weather.
AGolde High Rise Shorts – also here from Nordstrom | Oversized top in xs | Slides
I also sized up in this pair below (which is the pair everyone raves about). I can now understand the hype. They're…cool to sum it up. They feel vintage-y and I love that they're not tight or cheeky at all. This pair fits so much better and felt a lot more comfortable. Love these!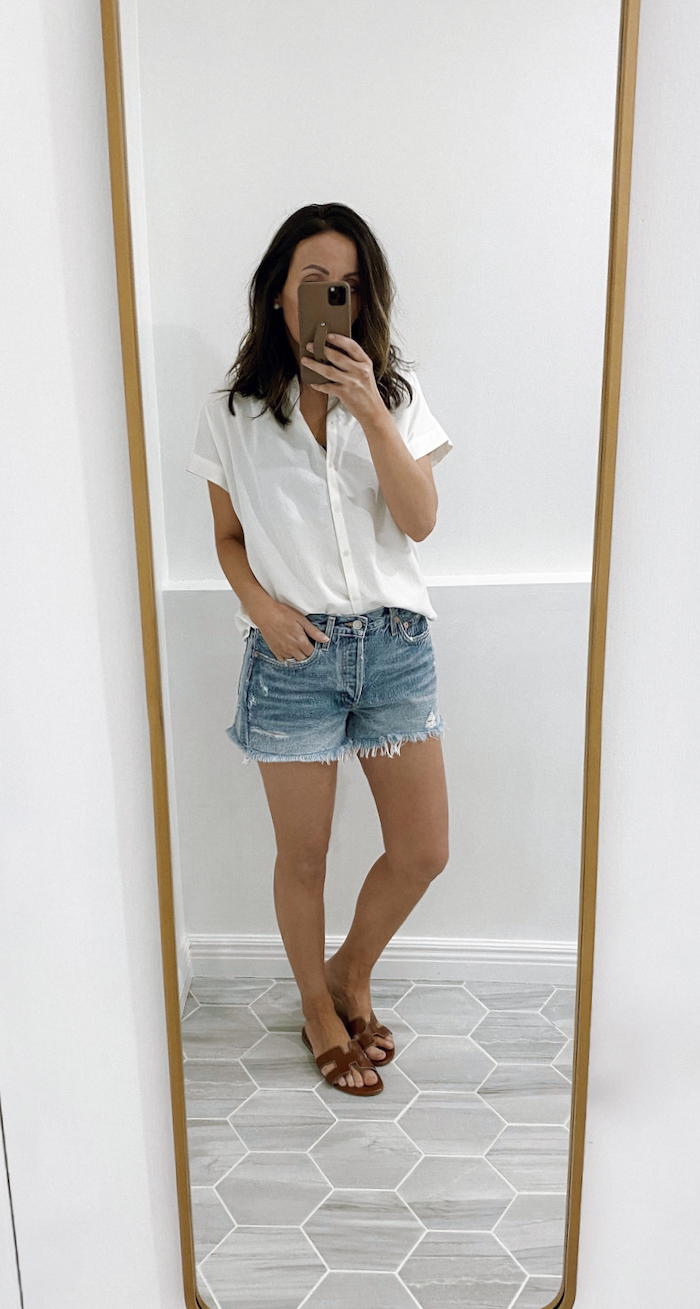 AGolde Vintage Shorts size up – also here from Nordstrom | Oversized top – also found at Shopbop | Slides size up
I can't find my favorite straw hat anywhere! I know I didn't give it away (it was my favorite) and can't remember wearing it much last summer where I would have forgotten is somewhere….but anything is possible. I ended up ordering one that hopefully will be my new favorite – it's this one! Absolutely love the look of it!
I'll share more next week!