Well hello there!
Hope everyone is doing well and staying healthy!
We've had rain most days this week and it's been a tad cold again….which really left me with 0 motivation. And the sad part is that I haven't even been watching TV and it's the perfect weather for that (not sure what I've been doing though since not much is getting accomplished). The laundry has piled up (always amazed how much laundry two people can accumulate)….but I've been doing laundry for the past 3 days now, totally winning hah (would have taken me day but who remembers to do laundry!?!). One or two loads a day and then when I rememberer to get to the stuff out of the dryer (now that I think about it…pretty sure there is a dry load in there from two days ago).
Rounding up some outfits I recently wore…(clearly I won't be showing you any bad ones haha…and yes, there were some not picture worthy ones this week ). Also sharing a few sales at the end of the post. Nordstrom is having a huge clearance sale – like this Utility Jacket now only $28 down from $90!
I've already talked about this fab top in this post (you can see it on its own). Beyond happy I kept it and wish it came in white or ivory too. I think I've talked about these slides in multiple posts last year, but in case you missed it – go up 1/2 size. After a couple of wear they'll be super comfortable (they're real leather). Jeans – amazingly comfortable, can't recommend these enough (select sizes left). I've said this before, but the key to wearing jeans around the house these days is to pick the comfortable ones.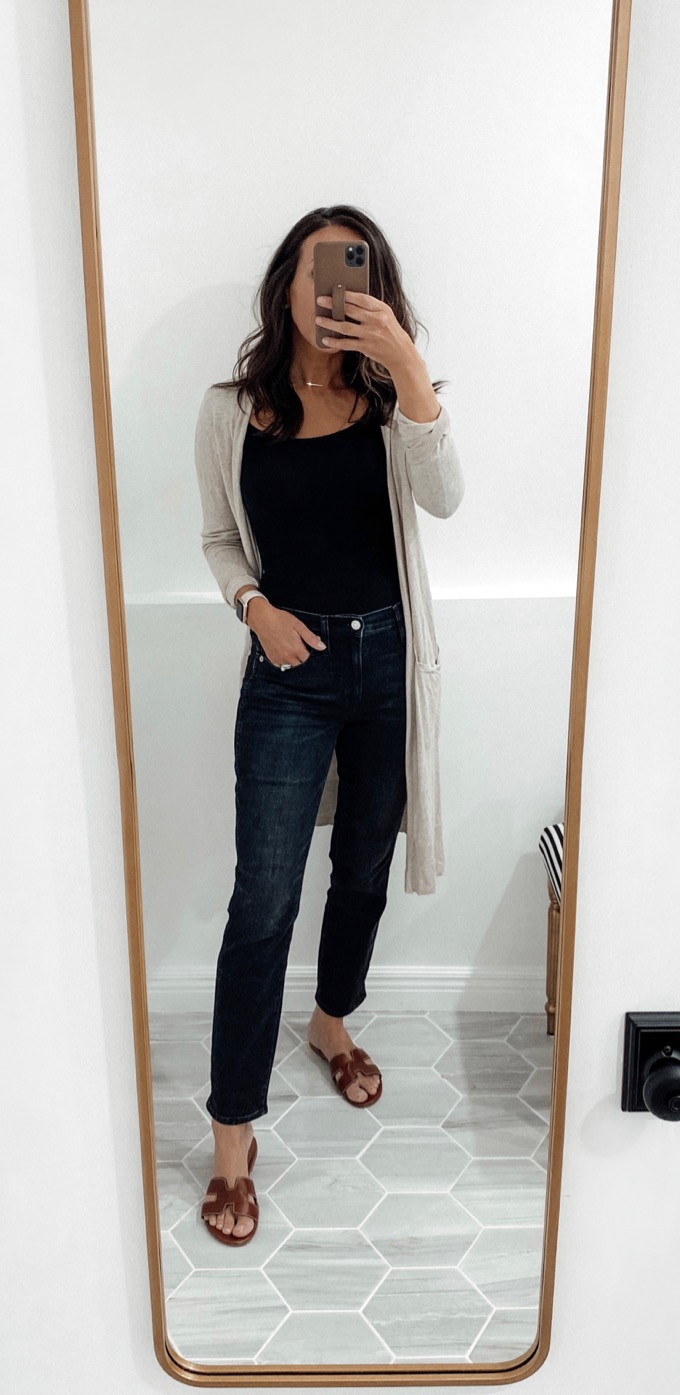 Jeans tts – 30% off, almost sold out | Black Top in xs/s | Slides – I sized up 1/2 size | Cardigan (old) – here almost exact style – (comes in more colors) | Bar necklace
I think I have this sweater in three colors! It's an oversized fit (I'm wearing xs) so you can go down one size if you want it a tad less oversized. The pull of wide leg pants are beyond comfortable (I find them way more comfortable than leggings or certain joggers). I got mine last year but they're back (I ordered a pair in olive, still waiting for them).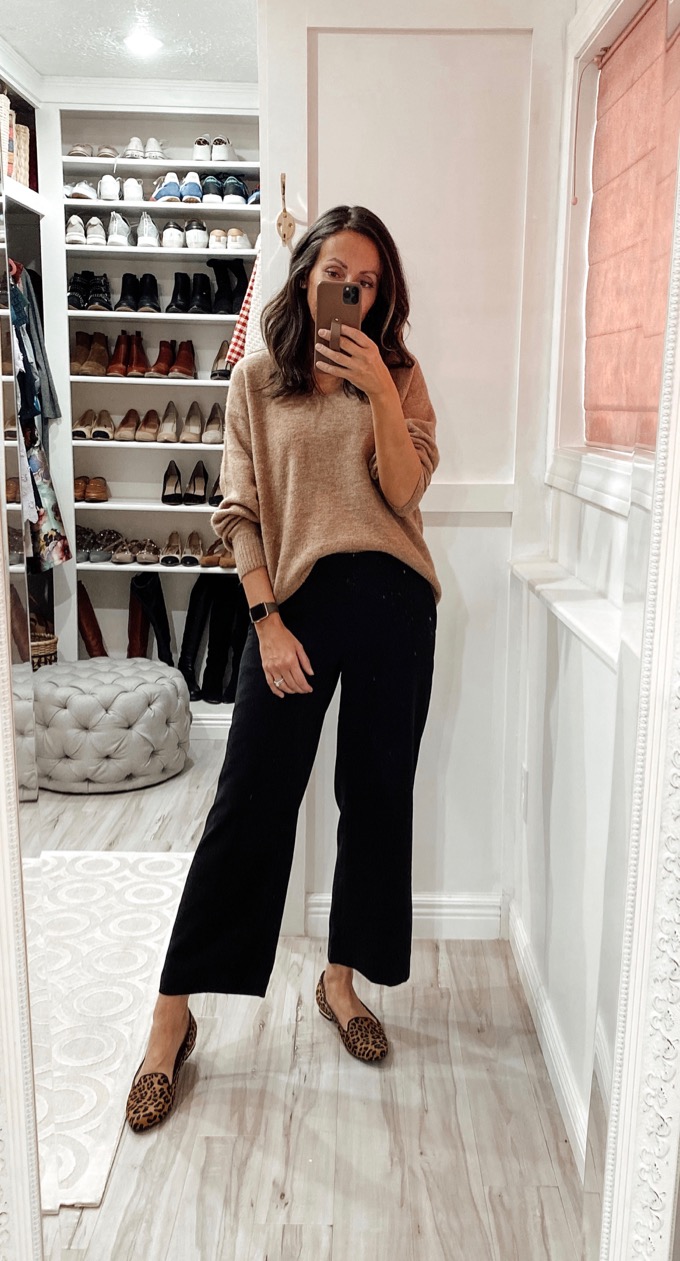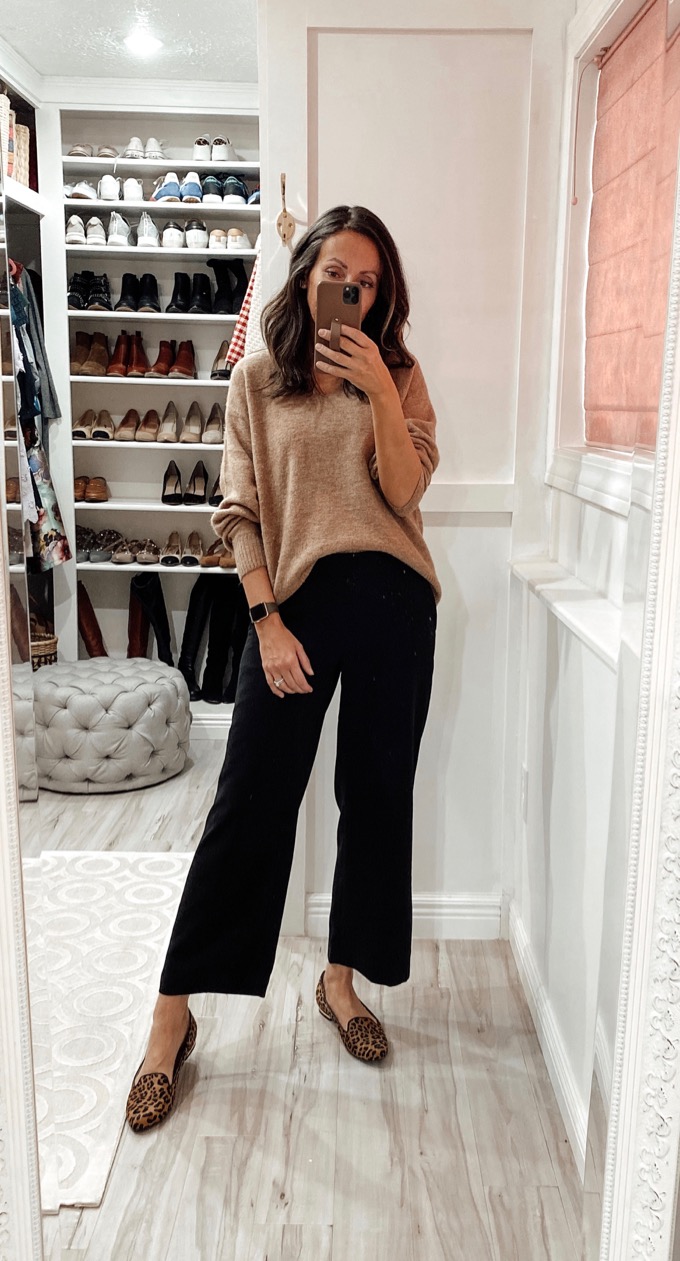 Pull on wide leg pants in xs – also in Ponte | Oversized sweater in xs, similar style on sale for $8 (I have it in red) | Loafers (super old) – great alternatives here and here (I have to try a pair of these)
This top is actually from last year and I don't think I've ever shared it on here (one of many pieces that don't make it on there before they sell out). I did find randomly on sale just in xs and small (I'm wearing xs. And I noticed it's called "fuzzy but I wouldn't necessary call it fuzzy. It has texture but fuzzy is not it). It's a tad cropped but works great with high-waisted bottoms. I forgot how much I love it (my sister is trying to "borrow" it but we know by now that means if I let her have it I'll never see it again lol).
Jeans tts | Top in xs | Sneakers – also here (I sized down 1/2 size since it only comes in full sizes. I wear 8.5 and got 39 fits great)
I've had this cardigan for a couple of years now (have it in another color). It's one of this items that they tend to restock fairly regularly and usually comes in multiple colors.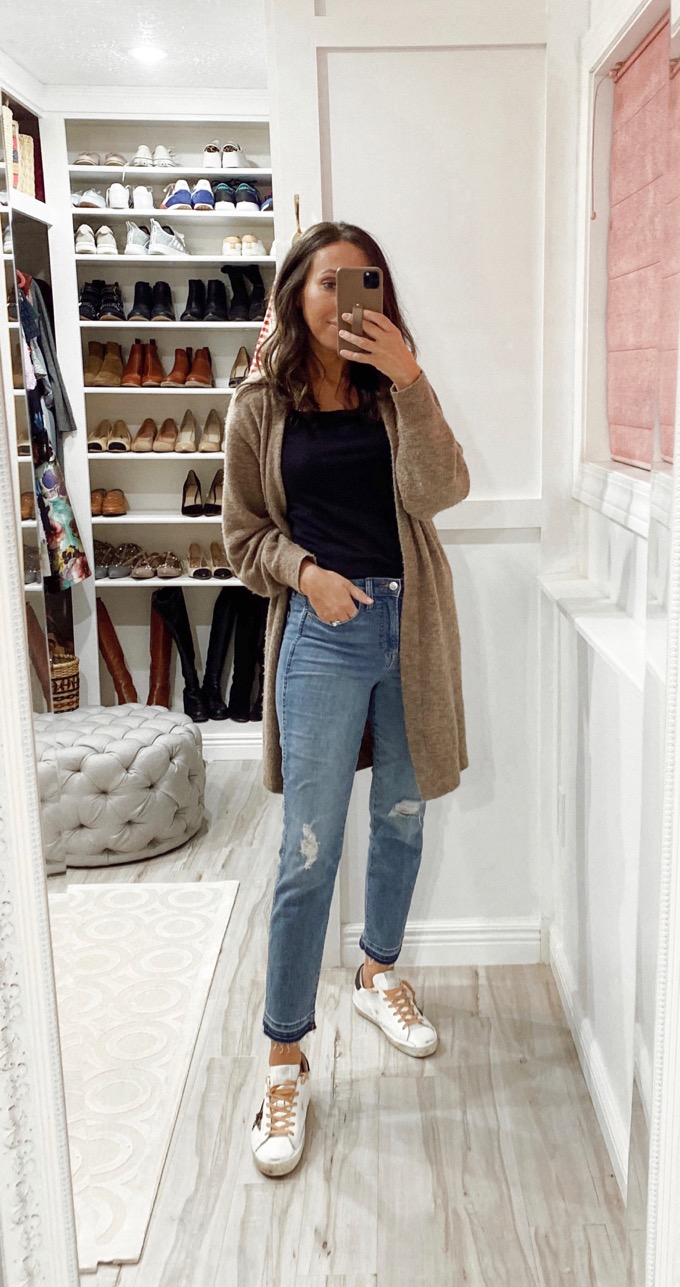 Cardigan in xs | Top in xs | Jeans (super old) – nice alternative | Golden Goose Sneakers (exact style sold out) – similar, love these, option for under $50, love these only $60
I'm "redoing" my office…never happy with it (that picture above the computer doesn't even hang there, not sure why I put it up for this pic. Maybe because there was a nail in the wall already lol). While I absolutely love the style of this desk, it's just not working out. The curved part is way low and I've hit my knees a million times on it. I'm going to find a place for it in the house because it's beautiful! I've created a couple of collages together for office inspo because I need incorporate what I already have but just get a new desk. But also see it all together. I'll share those office inspo collages soon on here.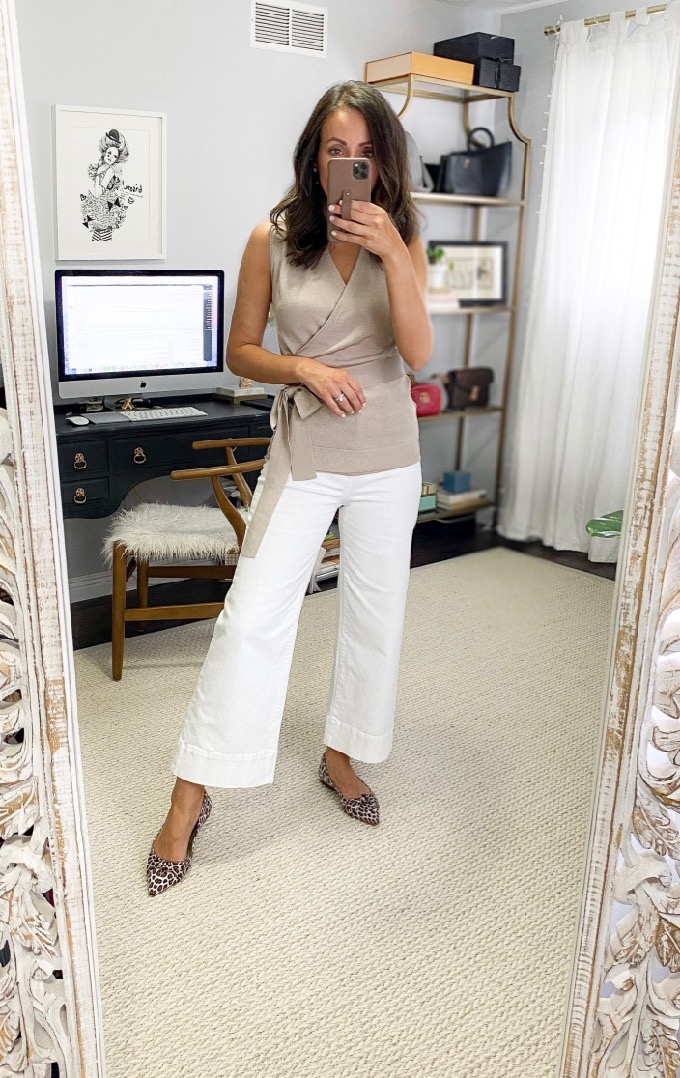 Top in xs c/o Ann Taylor | Wide leg jeans in size 2 c/o AT | Flats tts c/o AT
Decided to give these Athleta joggers a try (they come in multiple colors). They're not your regular type of joggers (they're made of out Recycled Nylon. Definitely check out the product details. And they have over 1500 reviews). I decided to get size 0 based on other reviews but also ordered size 2 in black just in case. Kept size 0. I also ordered these in black, which I liked but also at the same time wasn't 100% sure about. Now the more I look at them the more I like them but I did end up returning mine (didn't take a picture unfortunately).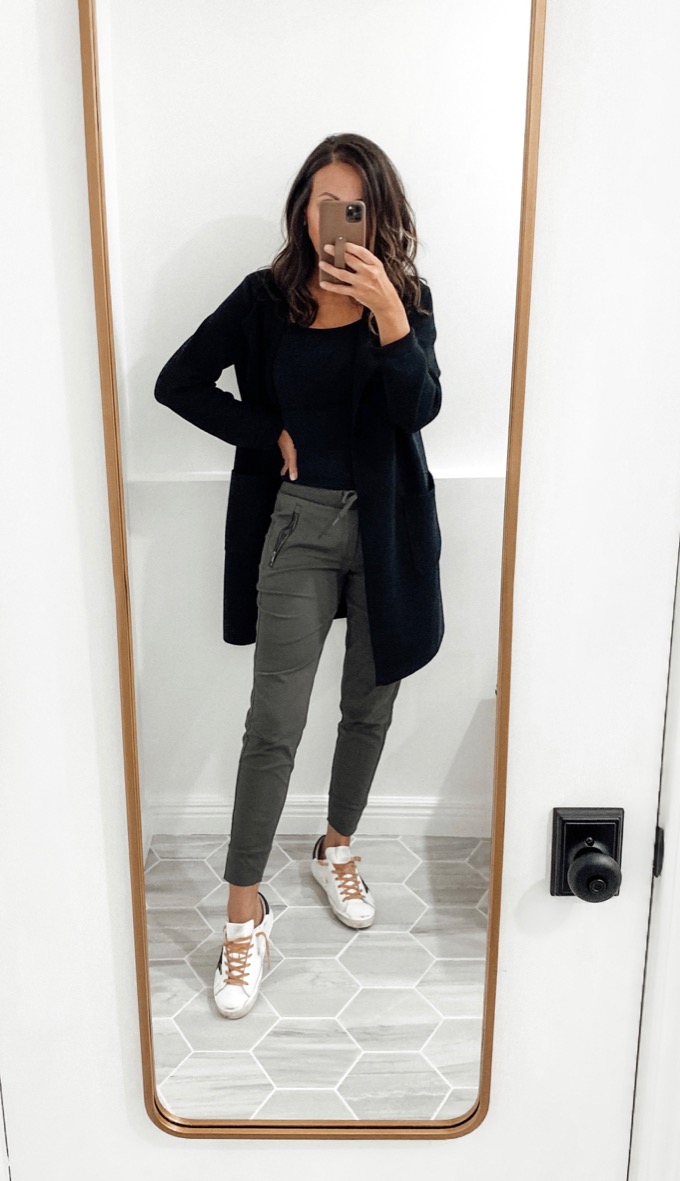 Joggers in size 0 | Top | Cardigan/Sweater jacket in xs – avail. in more colors | GG sneakers (exact style sold out)
There are also some amazing sales going on right now… below are some of my faves, Nordstrom's probably being my favorite right now as some of the prices are the lowest I've ever seen at Nordstrom.