I was so excited to see the Nordstrom Chef share their Tomato Basil Soup recipe (I hope they'll share the Lobster Bisque recipe next).
The recipe was shared step by step on Nordstrom IGTV. I was excited to give it a try and it turned out delicious. Very easy to make. Crostini is totally a must-have with this delicious soup. I'll add the recipe for that below as well.
I thought I'd put the recipe together for easy access (you can also screenshot the ingredients they shared in the video. I kept rewatching it as they didn't have it step by step in writing. I do recommend watching the video but I also like to have the actual recipe in writing step by step). So here it is…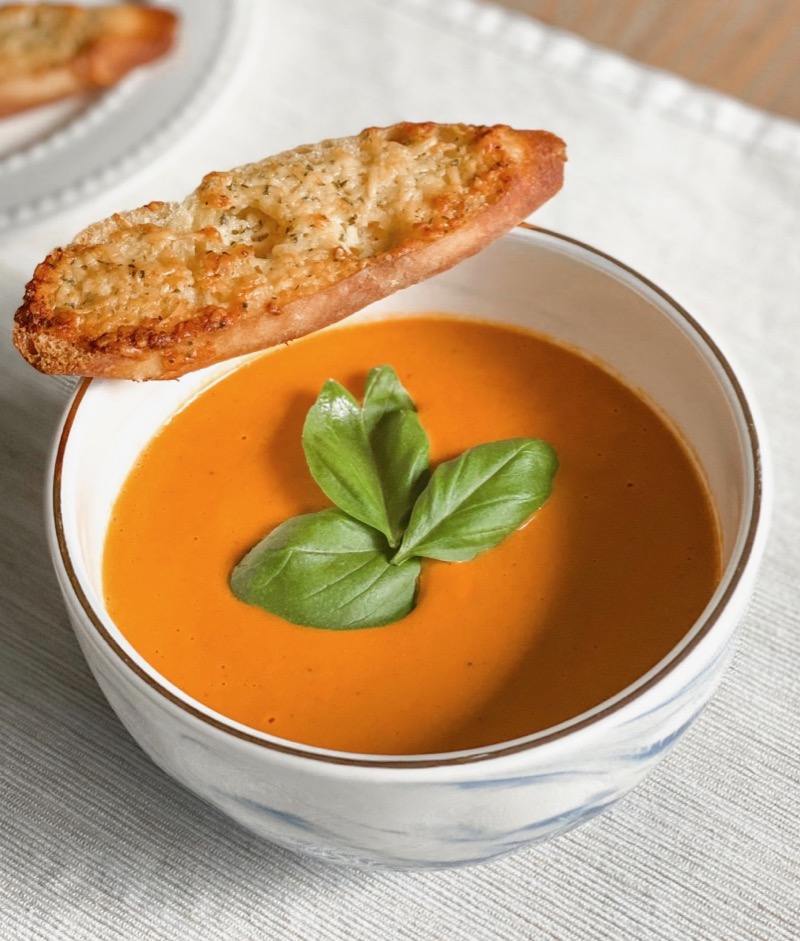 I think I'm going to cut the ingredients in half next time as it made a lot of soup.
RECIPE
Tomato Basil Soup
Ingredients
½ cup extra virgin olive oil

8 oz. finely chopped yellow onion

8 oz. finely chopped carrots

1 ½ tsp kosher salt

½ tsp freshly ground black pepper

2 tsp dried Basil

56 oz. Italian-Style Plum tomatoes in juice

1 quart vegetable stock or water

16 oz. heavy whipping cream

½ oz Fresh Basil Leaves
Preparation
In a large pot heat the oil. Add the onions and carrots. Stir and let cook 3-4 min to soften the onion and carrots.

Add the salt, pepper and dried basil. Mix it in and cook for another minute.

Add the tomatoes with juice and the vegetable stock. Cook for 20-25 min on a low simmer.

Add the whipping cream and cook another 5 minutes.

Add the fresh Basil and puree the soup (I used Vitamix)
Tips
The finer you chop the onions and carrots the less time it takes for them to soften/caramlize.
Parmesan-Garlic Crostini
I cut the ingredient below in half and used half a baguette.
Ingredients
1 cup (2 sticks) Unsalted butter, softened to room temperature

1 cup (5 oz.) Parmigiano-Reggiano or BelGioioso Aged Parmesan Cheese, freshly grated

1 tsp Kosher Salt

1 ½ tsp Granulated Garlic

2 tbsp Italian Flat-Leaf Parsley, finely chopped (I didn't have any fresh Parsley, I threw in some dried Parsley instead this time)

Baguette, cut diagonally in 3/8 -inch thick slices, each about 5 inches long (you can also use Italian Loaf or any other bread you have)
Preparation
Preheat the oven to 375 degrees.

Mix all the ingredients together.

Use about a tablespoon of the mixture for each slice (I used a little less).

Pop in the oven and bake 12-15min.
Bon Appetit
*I should give credit to my husband for chopping and assisting (doing all the hard work really 😉