Hope everyone had a lovely weekend!
I saw these boots and tried to resist. But in 2020 a lot of purchases are justified 😉 I decided to go up a 1/2 size so I can wear thick socks with them during winter. Unlike the black lace up boots (as seen in this post) which are from the same brand, I'd say these run tts. I love them so much that if it wasn't frivolous (or is it?) I'd get them in black too. Chelsea style boot is my favorite style and the chunky sole on these gives them an edgy look. They're comfortable, waterproof and chic! The chunky sole is perfect for snow.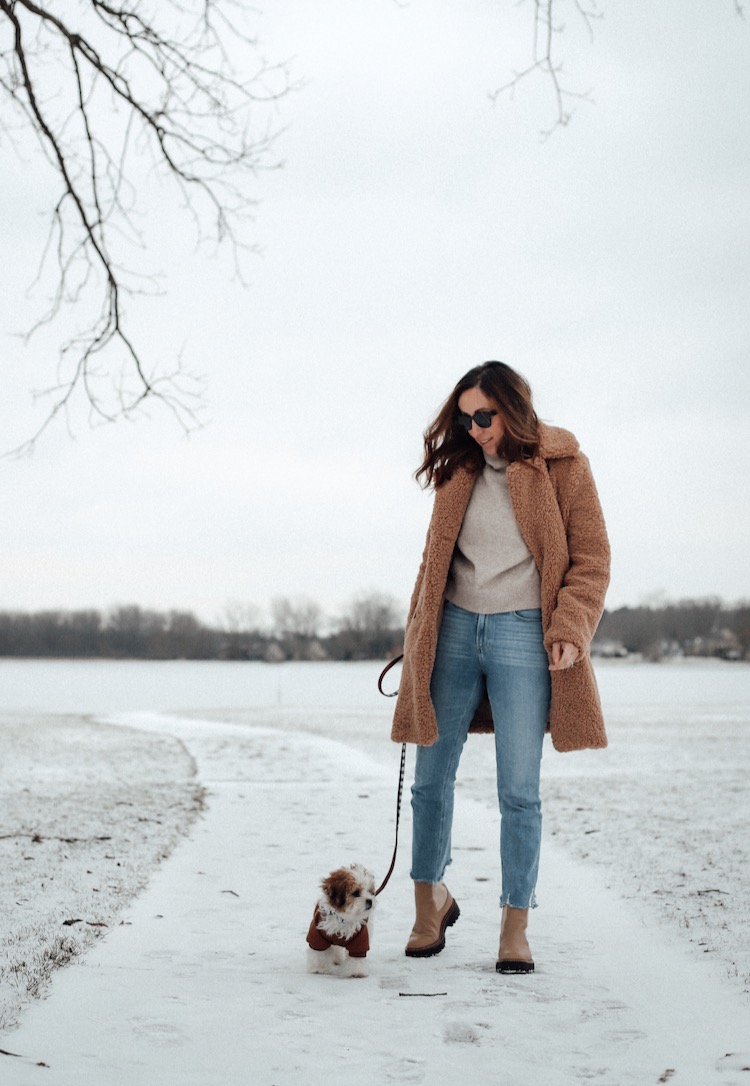 I like how they look with skinny jeans and straight leg jeans. They look so cute with certain skirts and dresses. They're definitely versatile.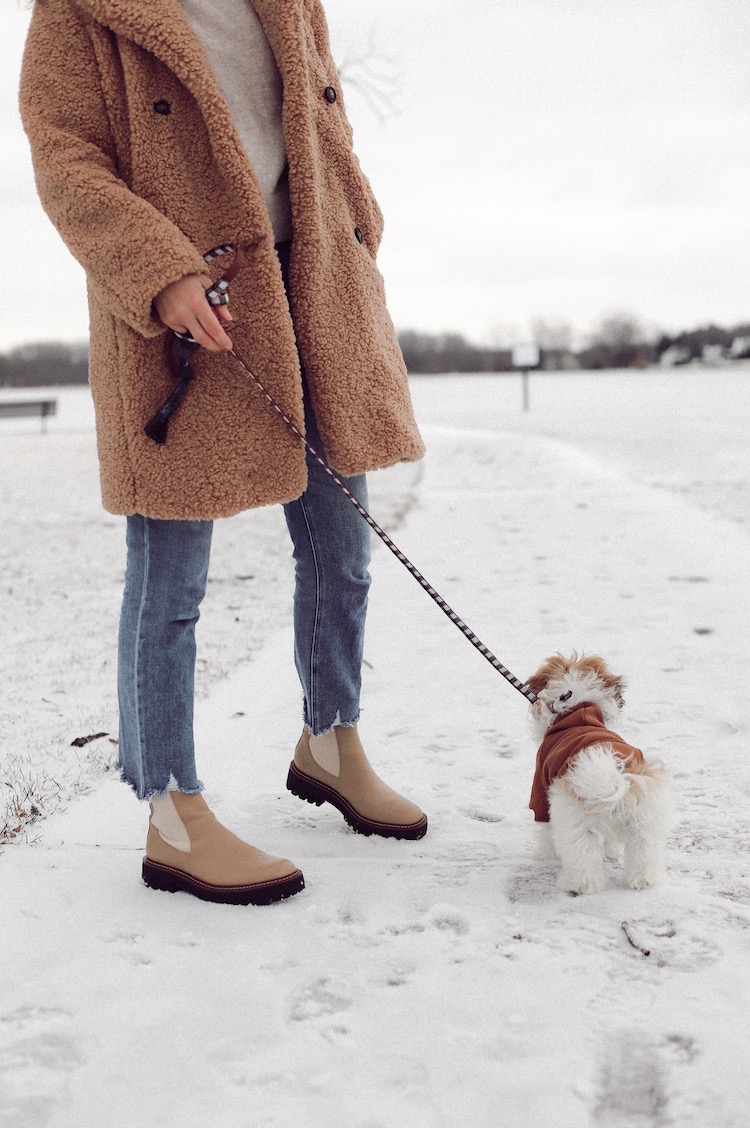 A little update on the pup…
Pippa is four months old now and growing fast. She has learned so much already. She hasn't had any accidents in the house in a long time (there weren't a ton to begin with since we constantly watched her). She now goes to the front door when she needs to go potty so I'm hoping the potty training is done. I think watching/learning their signals when it comes to potty training is essential to limit the accidents in the house. She always did a little whine before she had to go #2 so thankfully she never had one of those accidents in the house. For the most part she has stopped chewing on things she's not supposed to. Once in a while she'll still try to chew on the dining room rug (it's a jute rug) but for the most part that has stopped as well.
One thing we're still working on is recall. Indoors she definitely listens better but once outside…well that's another story. There are a lot of distractions outside which makes it harder to practice recall. I just need to remember to always have treats on me and praise the heck out of her when she listens lol. I need to be more interesting than any distractions outside (can't wait for that to happen haha). There are a TON of great puppy training videos on YT as well as articles (like this one.) Patience and consistency is definitely the key to a trained pup. So she'll be work in progress for a while haha….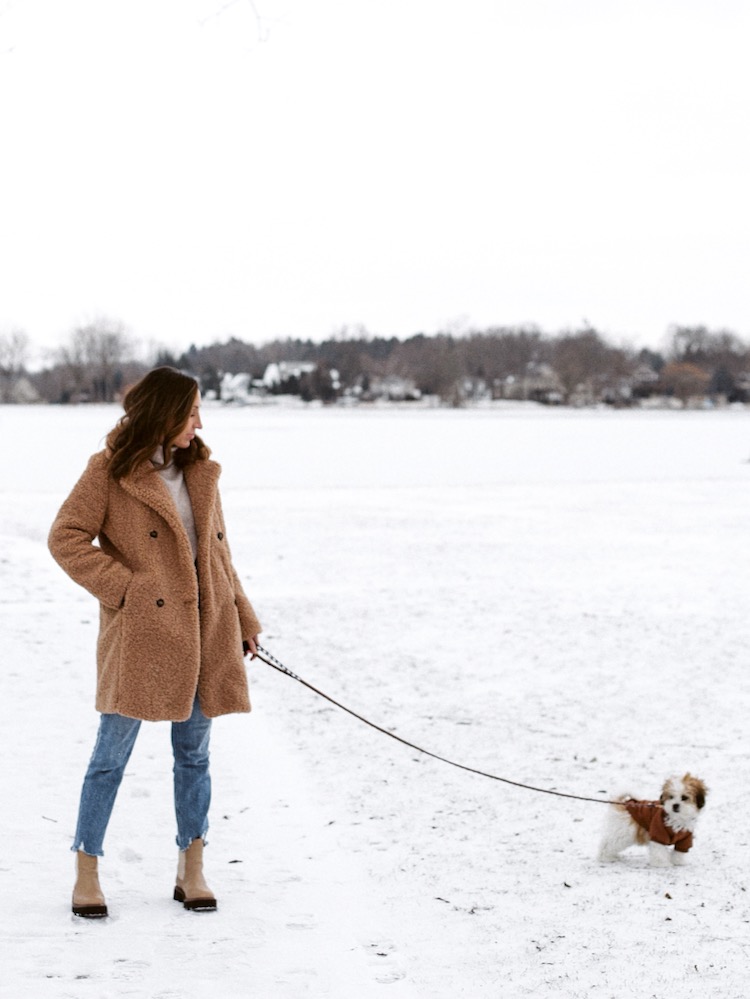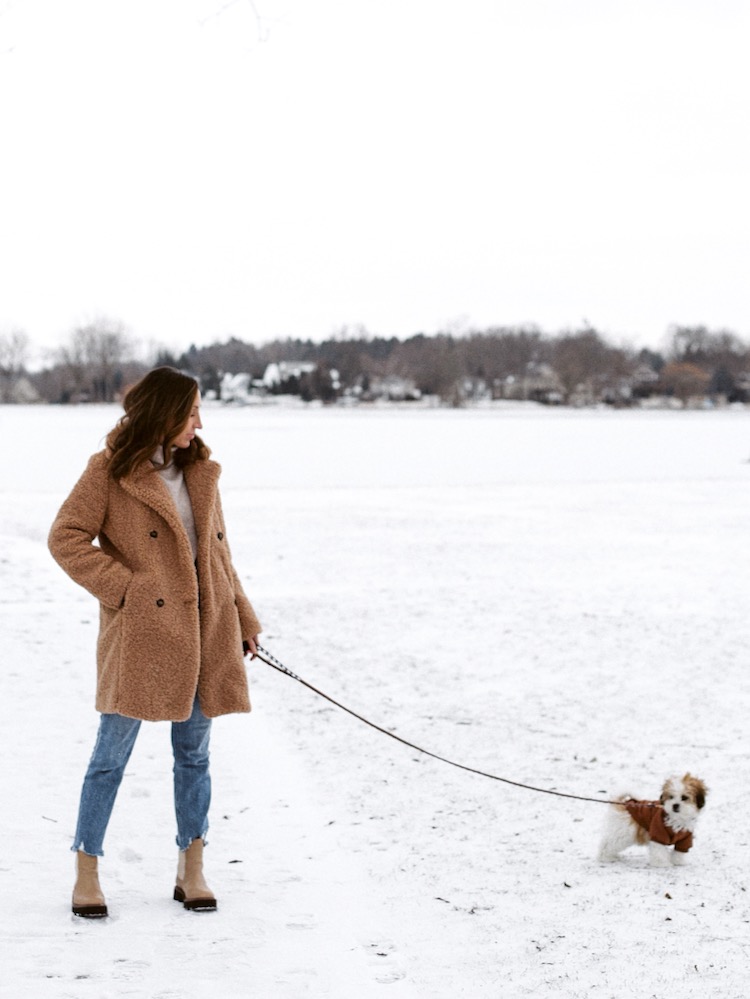 She is not quite cuddly yet. She started coming and sitting on my lap just recently which is a big deal haha. Doesn't last long but it's a start. It's neat to see the changes in her each day.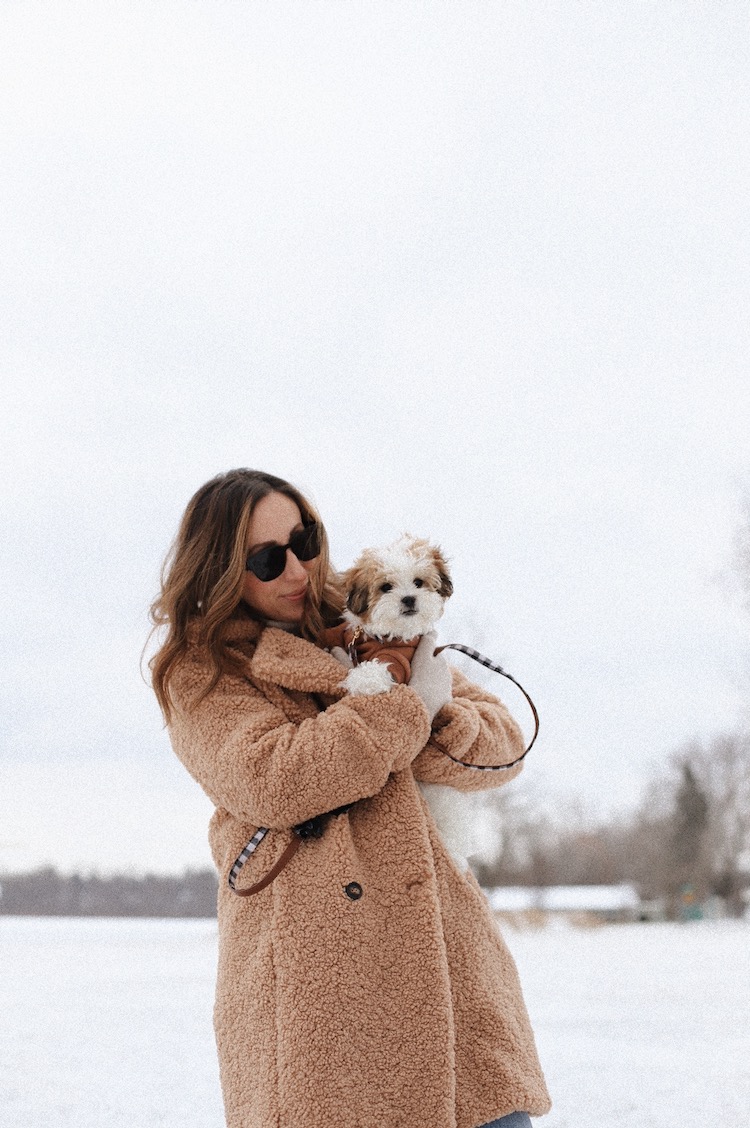 On my Amazon Page I added some stuff I got for her.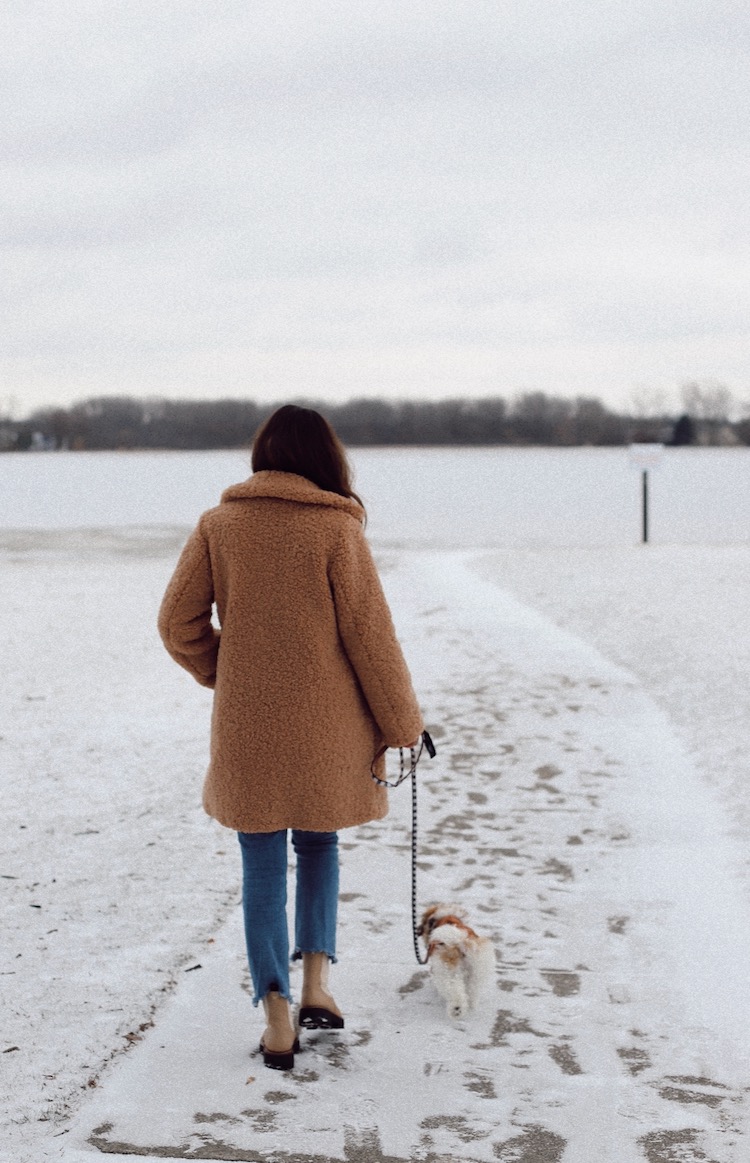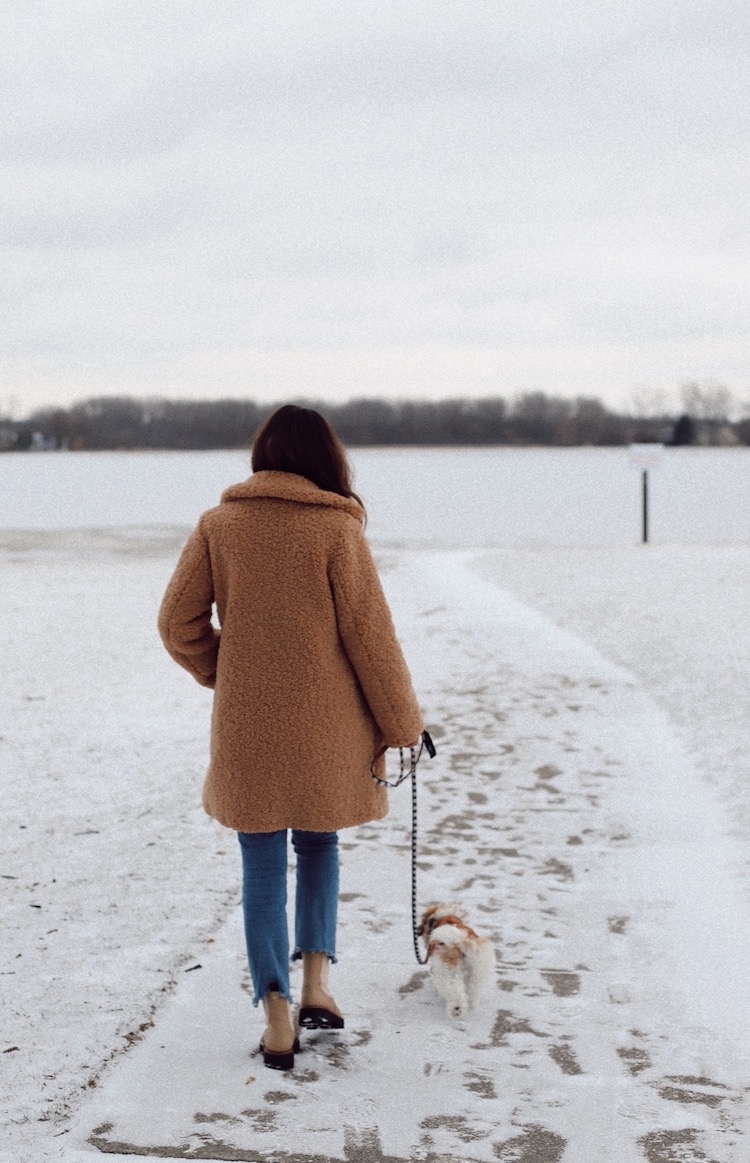 Teddy Coat (old) – almost identical to mine, more options here and here | Boots | Paige Jeans tts | H&M sweater (old) – similar styles here and here longer version
Have a great Monday!