This post in going to be a tad long, so grab a cup of coffee or tea…
I'm rounding up some recent cold weather outfits. I feel like this winter has not been too cold so far, hope it stays that way.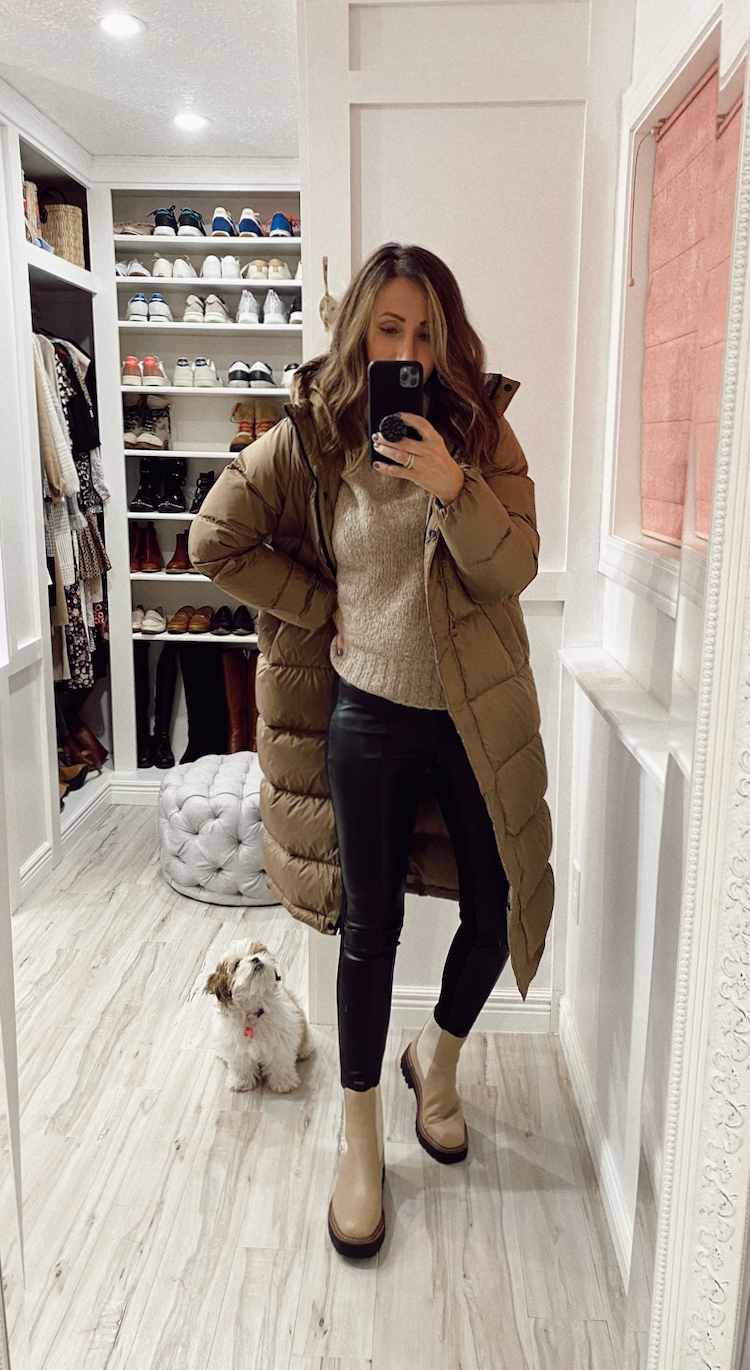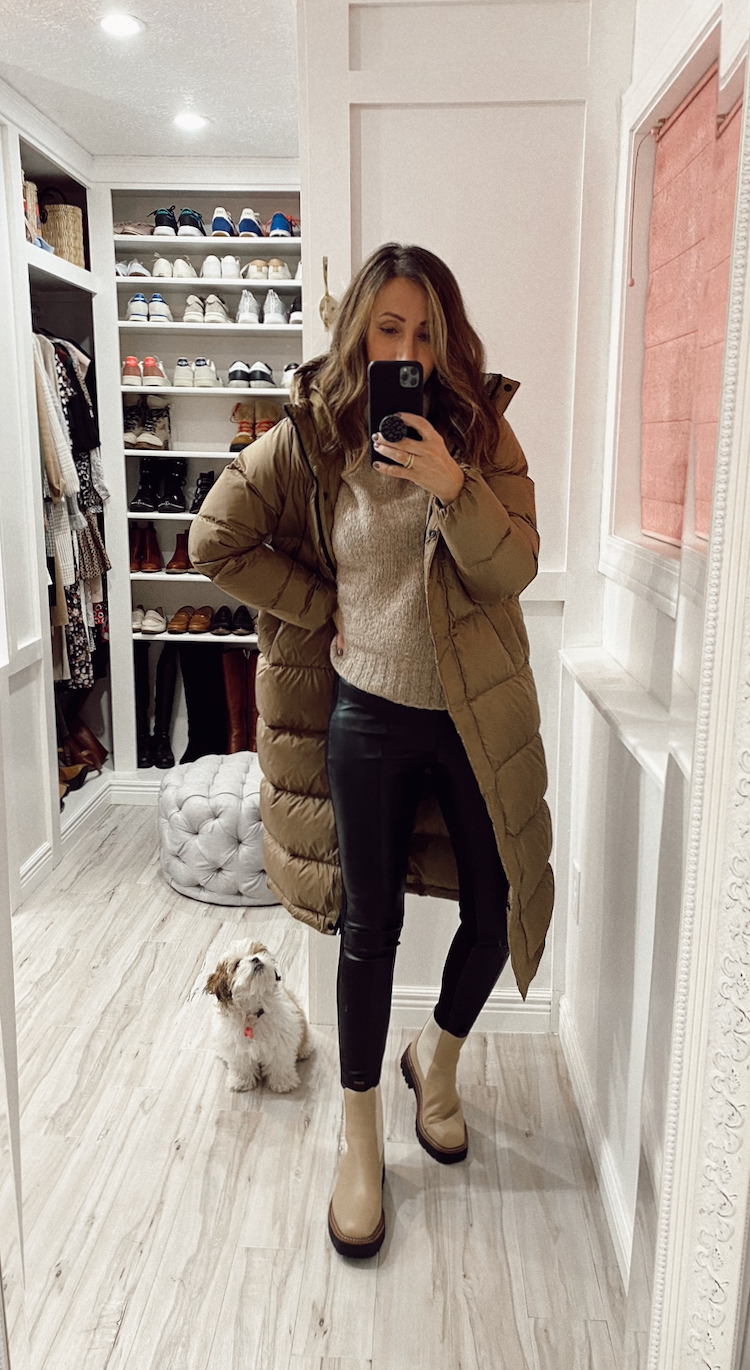 Boots – selling out fast. Also amazing in black! – I sized up 1/2 size | Turtleneck sweater – in XS | Faux Leather Leggings – current/new versions, the ever so popular Spanx ones, another option that's not as long | Coat (2019 Everlane c/0) | Stacking Ring Set
The turtleneck sweater below is years old but the one I linked above is the updated version.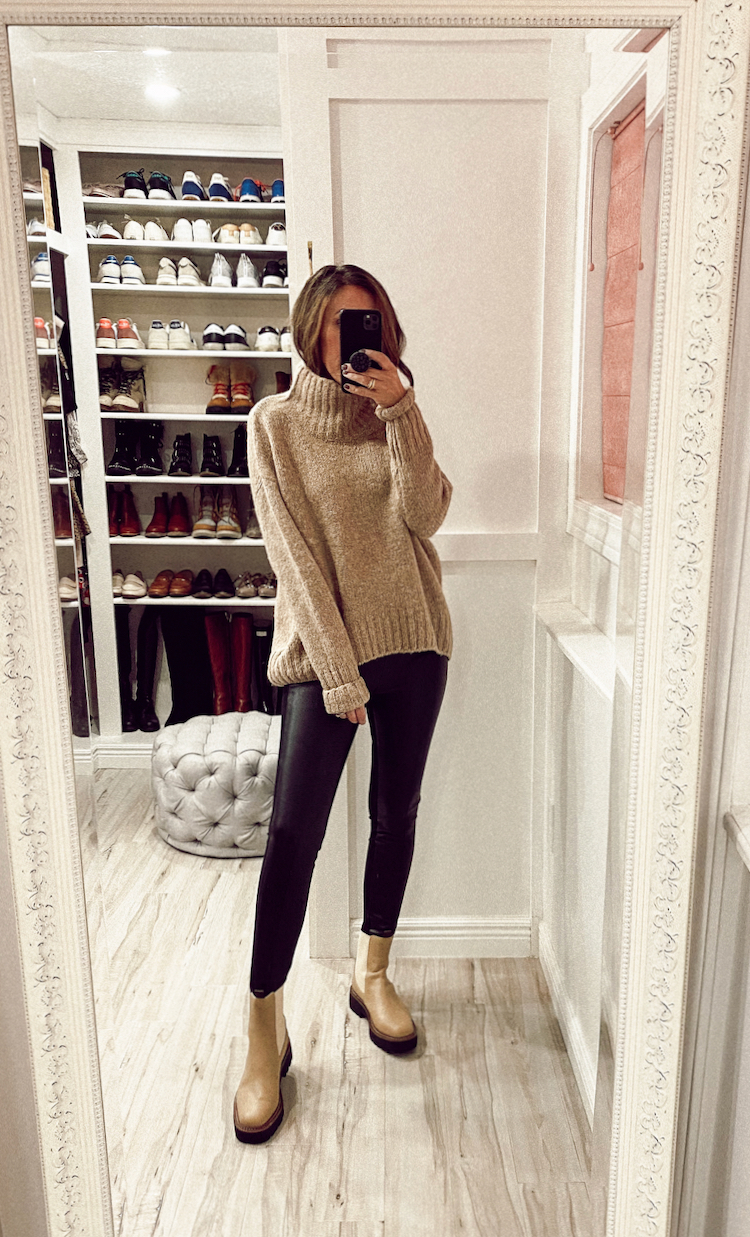 I like to go up a 1/2 size in Sam Edelman boots. Both this pair and the lace up pair below I sized up.
I'm so happy that many of you snagged this shirt jacket when I first shared it. It's such a great coat and I'm so happy I snagged one myself when I first saw it. Each time I've worn it, it has received compliments. Sometimes certain sizes pop back up (perhaps returns). Currently available in Medium. It runs tts, I'm wearing XS (could have gone with a small for a slightly oversized fit).
I've worn this zip collar sweater so much since I got it, yet I have not shared it until now (need a better picture). I absolutely love it! It's on such great sale right now (sometimes I'm surprised certain pieces don't sell out). I've seen this type of sweater from different retailers sold out in no time. It's on the longer side, great with leggings. In the outfit below I did the front tuck. Very versatile and chic. Like most sweaters, it does pill (see this post on how to keep your sweaters looking like new).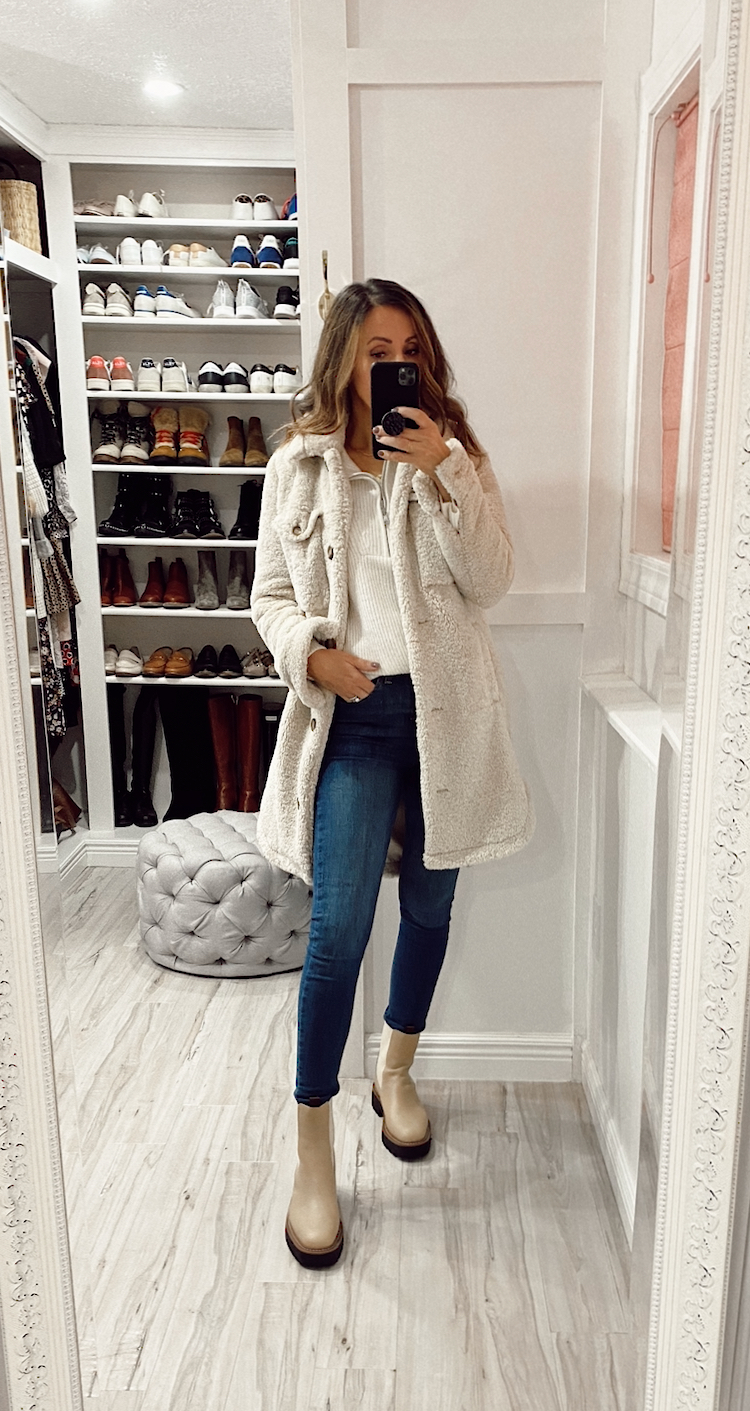 Half Zip Sweater in XS – also love this shorter version | Boots – also here | Skinny Jeans (size up) | Shirt coat (LOFT), not the same but nice option under $40 in multiple colors
Every time I take pictures with shoes on inside my office, I wipe clean/disinfect the sole. One of the reasons I removed the rug from my closet is so I can freely walk around in outdoor shoes without constantly thinking about germs…it's easier to wipe clean the floor.
These 'perfect vintage' jeans have been on my wishlist for a while. The wash on the model is lighter, which is what I hoped they would be but the wash is more of a medium wash in person. It's nice but I really was hoping for a lighter wash. I love a raw hem but the "fringe" needs to be cut. The jeans run true to size, but with pretty much every single pair of jeans I've tried from Madewell, they squish my rear end. Looking from the front they look great, but my tush is suffering lol. I think their jeans are amazing (one of my straight leg vintage pairs from them is a favorite) but Madewell jeans are not the best for my body type.
Booties are still one of my favorites…years and years old, but they're still available. They run true to size.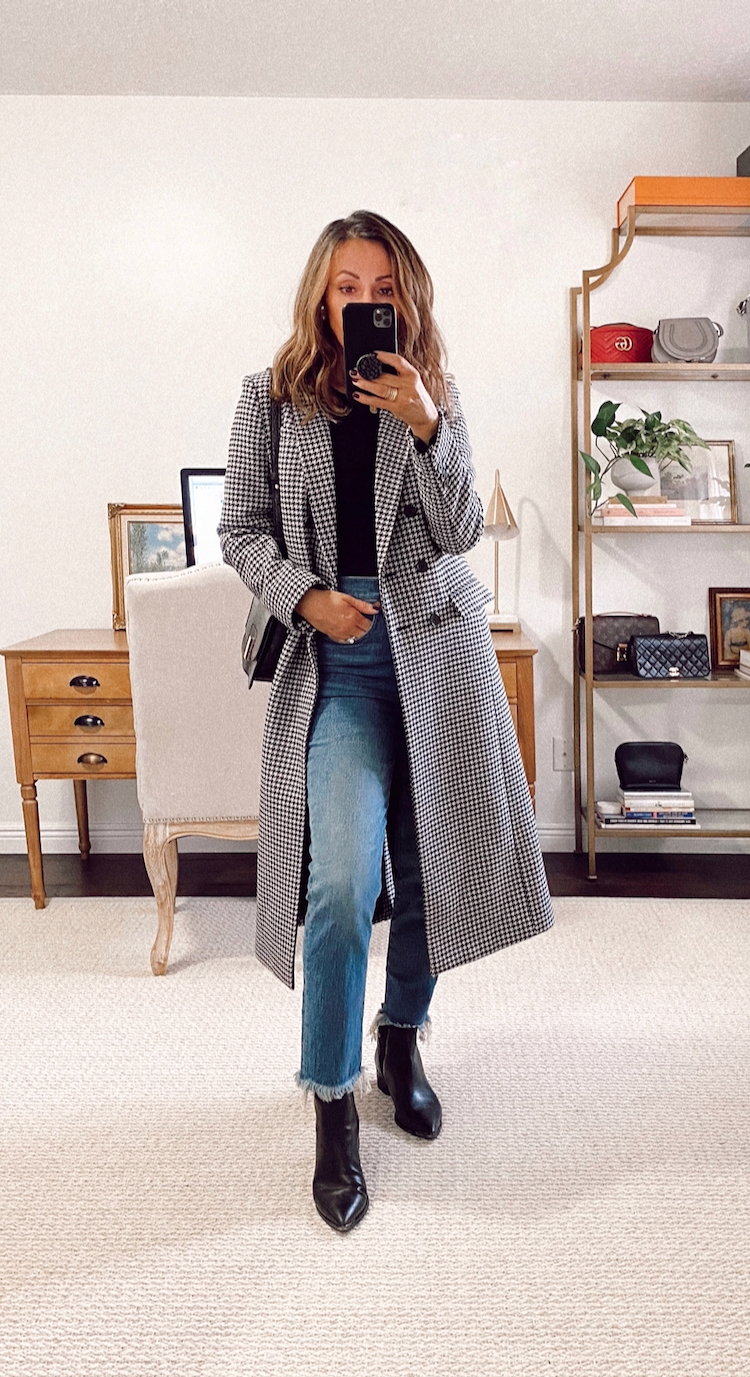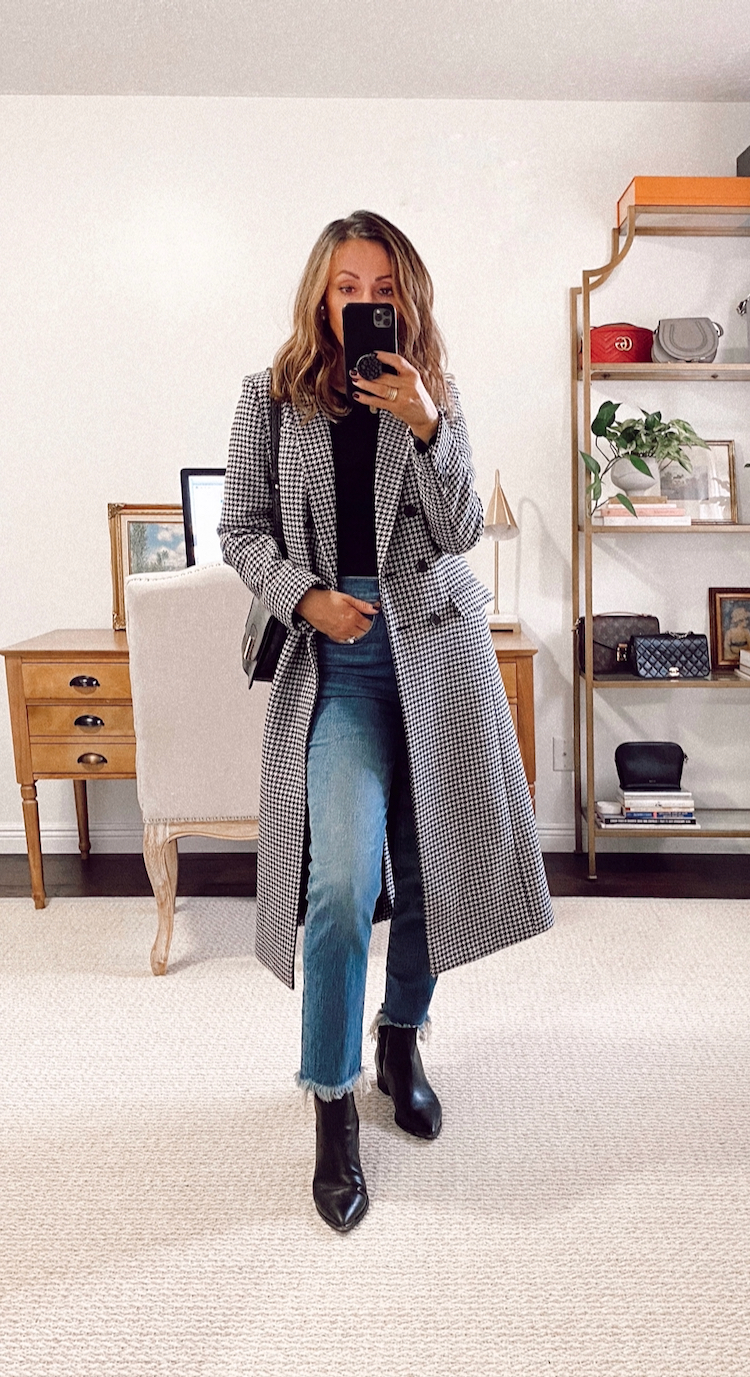 Straight Leg Jeans tts | Body suit in Small | Marc Fisher Booties tts – very similar style on sale | Coat (Banana Republic 2019) | Gorjana necklace set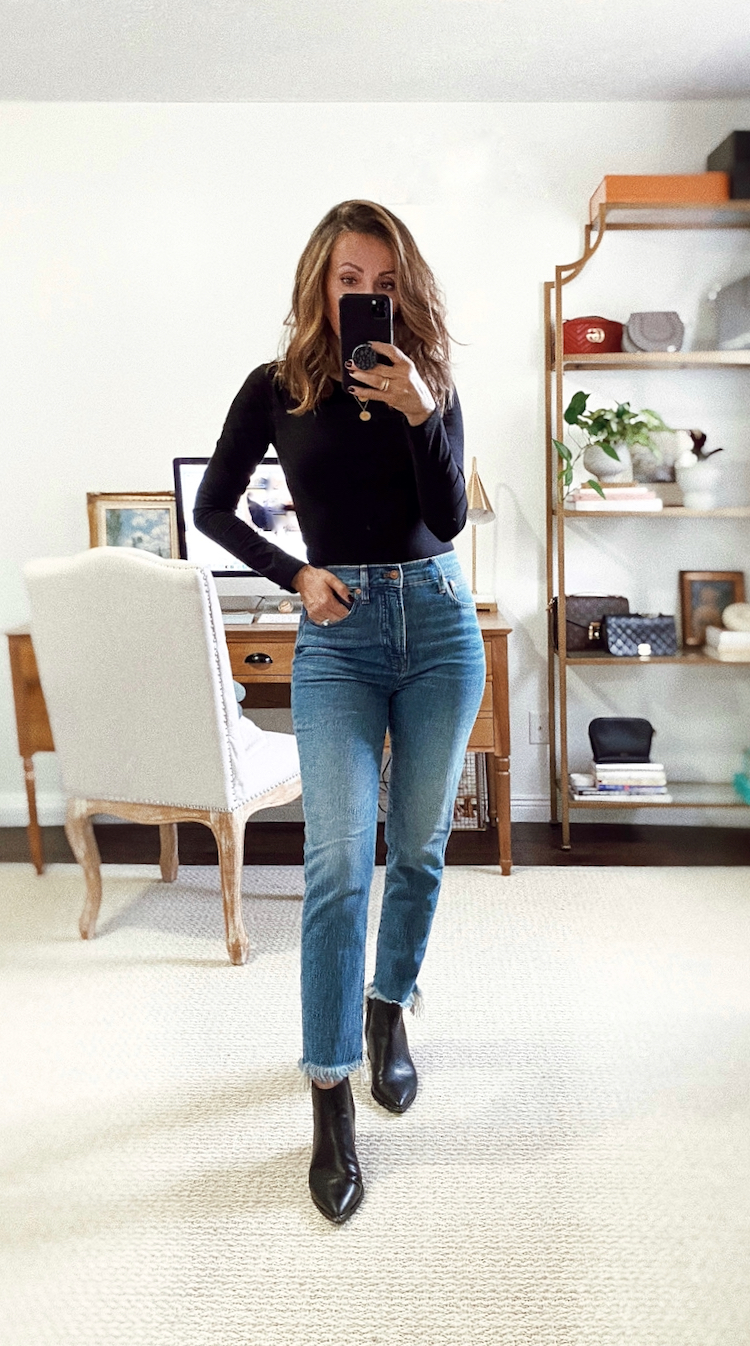 I might have mentioned this long sleeve body suit before. I'm so impressed with it. It fits perfectly (most are too short in torso for me). It comes quite a few colors and in short sleeves as well. And it's under $20. Definitely would recommend this one. I got size Small.
I wore my Wool Coat with this outfit (you can see it more in detail in this post). Not sure what color mine really is, but I wish they had grey when I got mine. I still love it, don't get me wrong. It's on major sale right now – extra 30% off + extra 10% off w/code ENDOFSEASON (which is the best time to get beautiful quality coats for a great price). It's a classic and available in grey and black. I have it in XS and it fits me tts. Highly recommend it! Quality and styles are superb. In love with this style too.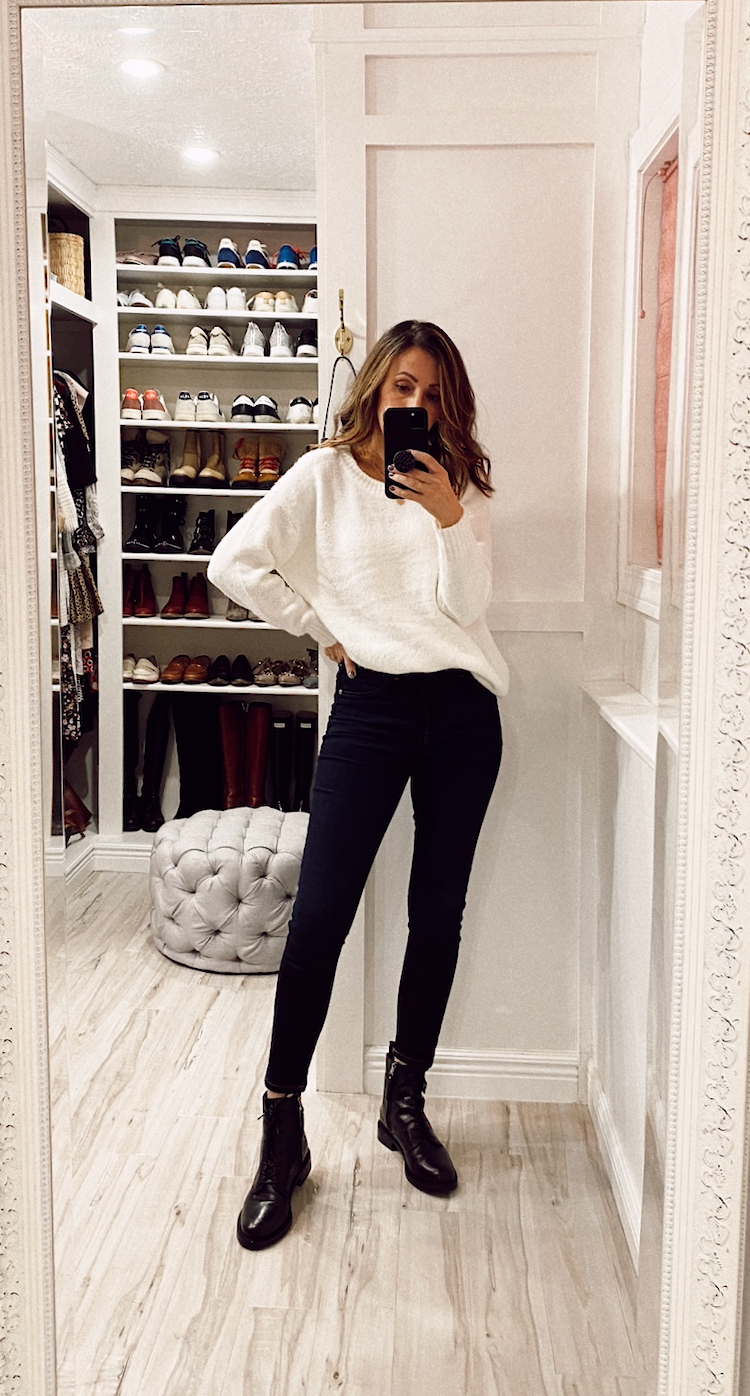 Sweater in XS – on major sale, price shown in cart (slightly oversized fit. I have it in two colors, love it that much) | Lace up boots – size up | Everlane jeans (tts and one of my favorites)
Since I didn't get to snap a good picture of this coat with the outfit above, here another look at this classic beauty. Currently such a great deal for such a quality coat. Next "outing" aka grocery store run, I'll recreate this look below lol. It was on repeat last winter.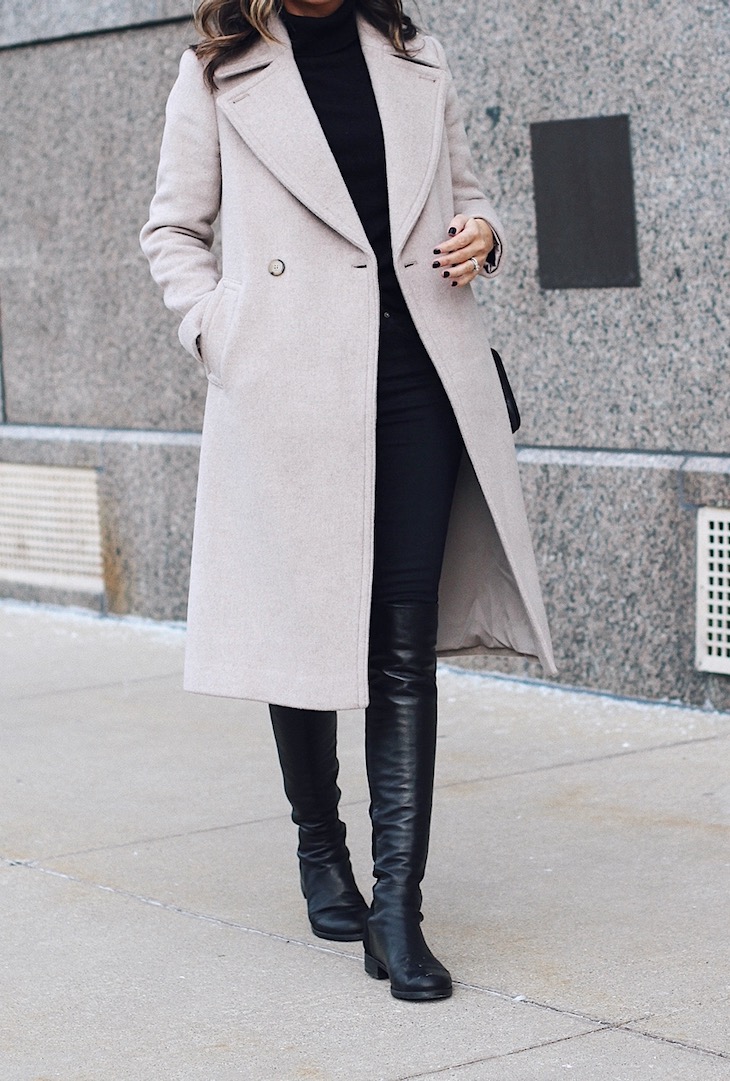 Same shirt coat as above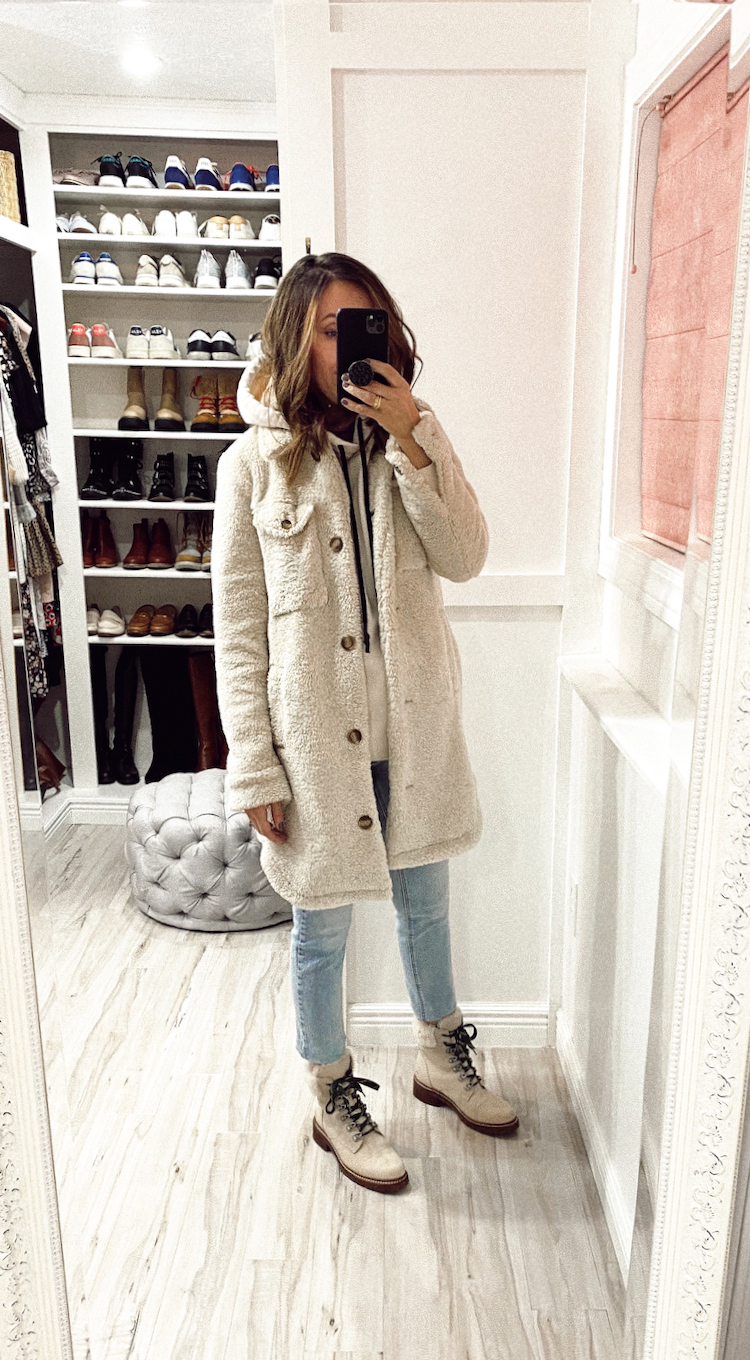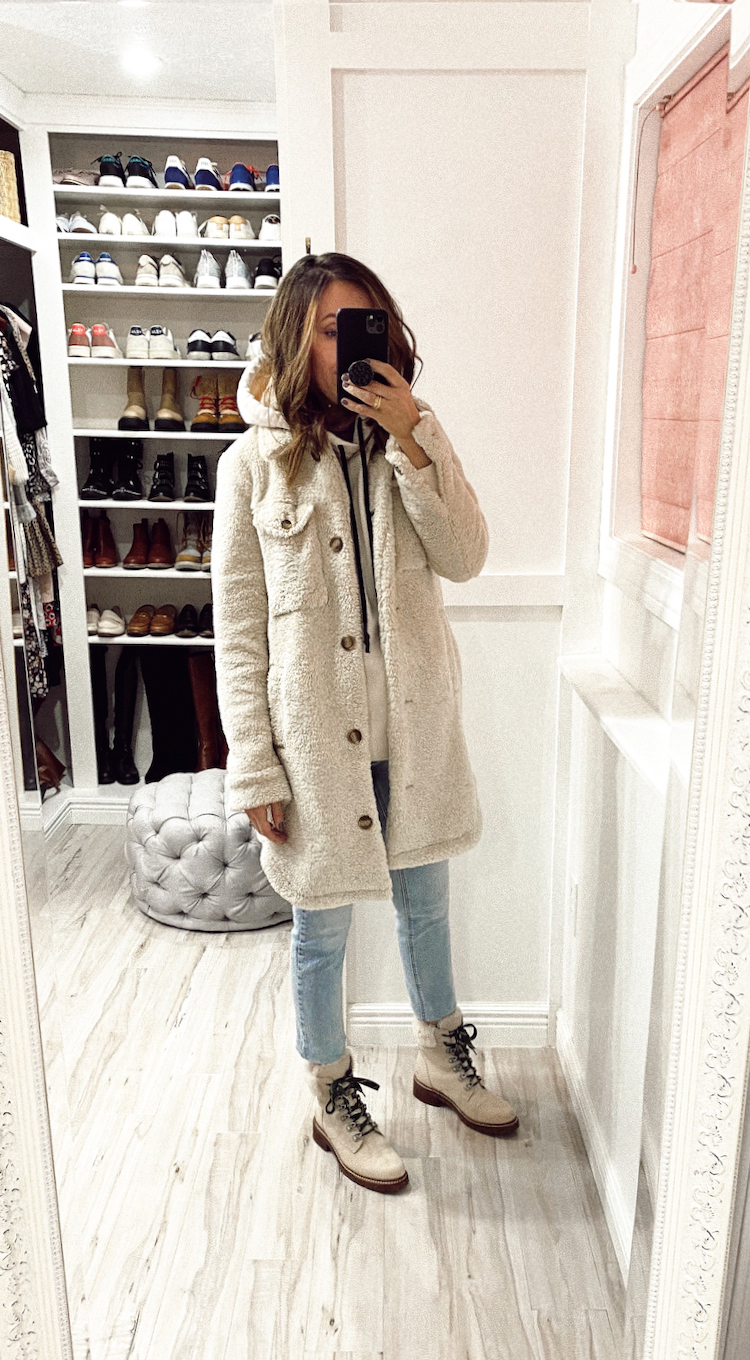 Frye Boots – I sized up | H&M Hoodie in XS (same style) – shorter version | Jeans Old Navy (old) – similar style
I didn't wear the coat below, almost did, but wanted to include it since I showed it on my IG Reels. It's so soft and yummy. I was debating about keeping it…should I, should I not? There is nothing wrong with it, it's actually an amazing coat. It's sadly sold out now. BUT, I kept asking myself "will I reach for it over all my other coats?" The answer was no. Plus I have a teddy coat. Granted, it's completely different in style and color, but close enough.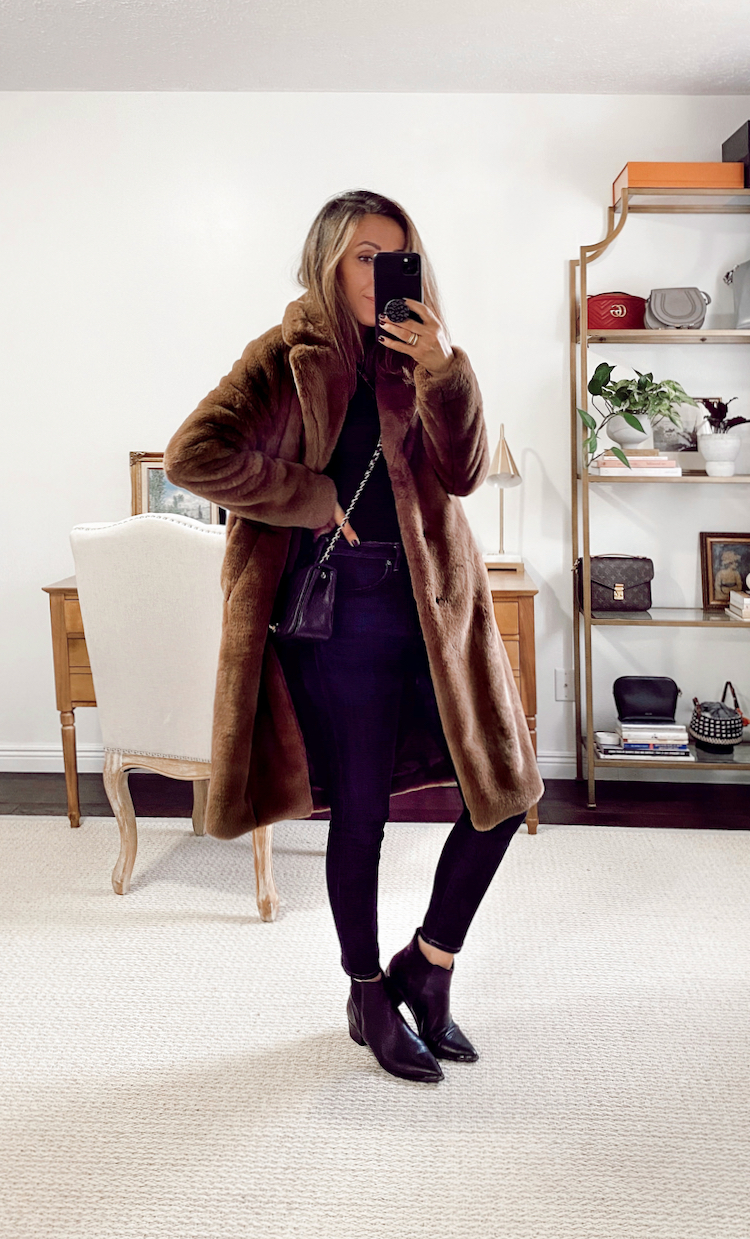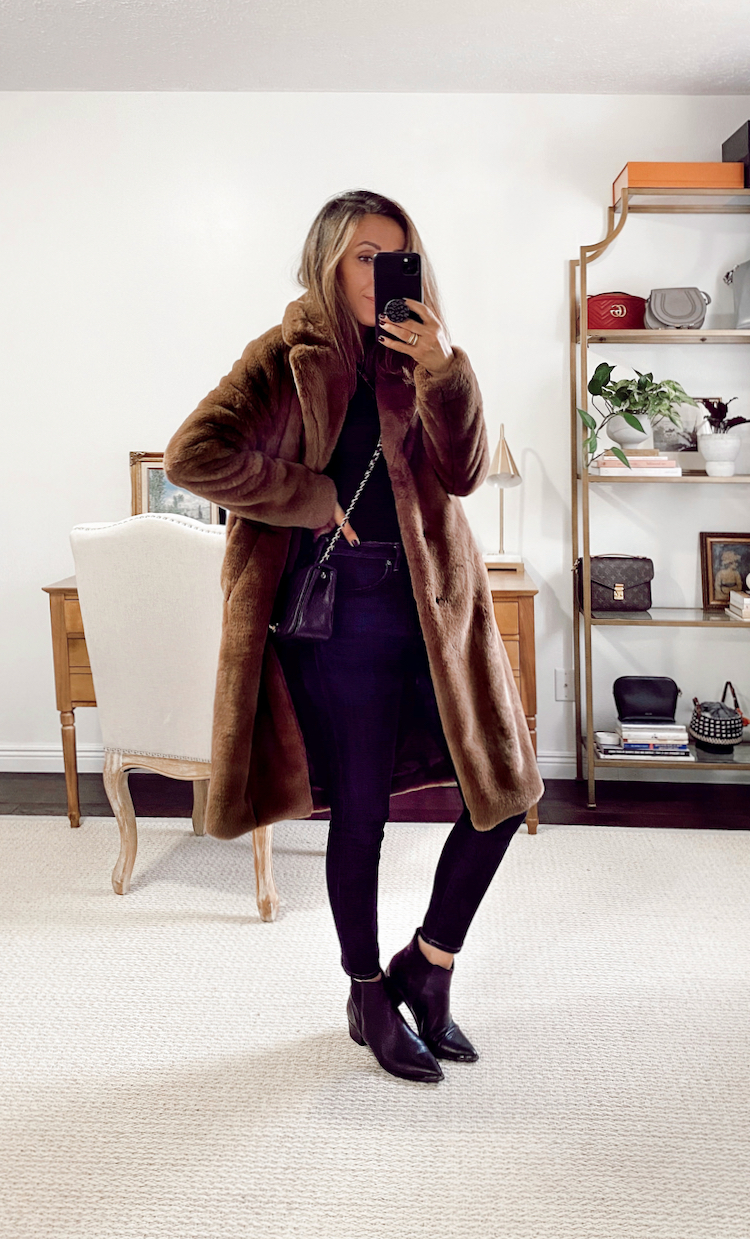 Everlane Jeans tts | Marc Fisher Booties tts – very similar style on sale | Top (don't remember but highly recommend this classic $50 cashmere crewneck sweater | Bag: Vintage Chanel – similar | Coat: Ann Taylor – sold out
Have a great weekend!