Pippa LOVES the snow! I can't help but laugh when she jumps around in it like a little kid that has never seen snow before (while looking like a rabbit doing so). It is so adorable!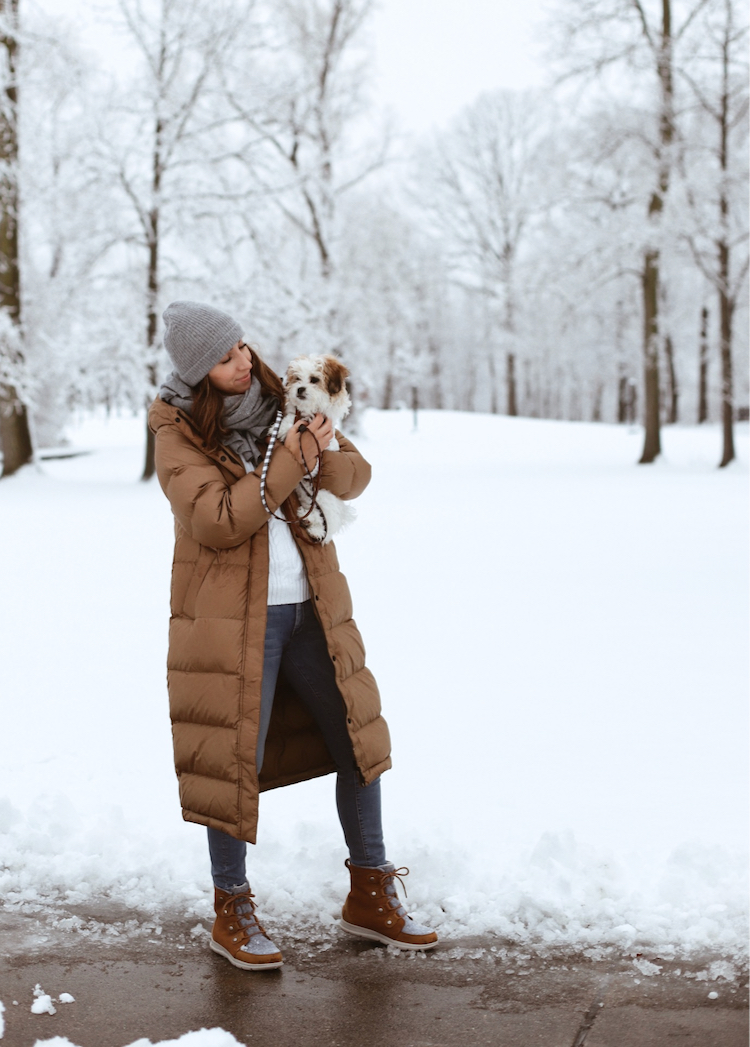 "One of the things I won't be buying in 2020 are boots" – me. I actually can't remember if I said this "out loud" or just thought of it in my mind (I feel like I wrote in one of my blog post back at the end of summer/early fall). LOL!!!! Shaking my head at myself as I write this… But listen, 2020 was a tough year for all us and and if boots brought me fleeting happiness then I'm ok with that. But my feet are sure happy! I love most of my boots. And I say most because there are a few pairs that I've purchased in the past that were not ME (will be listing a few pairs for sale). It's great to feel inspired by others, but stay true to your style…if you know what your style is (sometimes it takes a while for us to find it, and that's ok).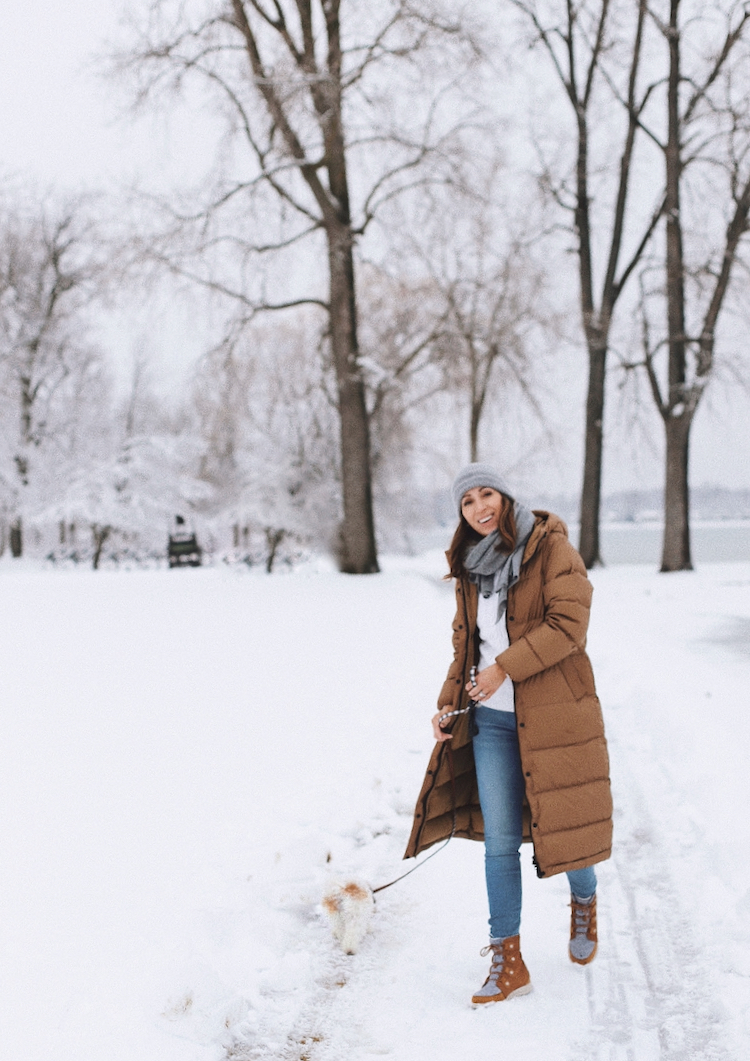 These Sorel winter boots are the last pair I purchased in 2020. I had ordered this pair in tan in my size, and they turned out to be too small (next size up was sold out). Then I ordered these I'm wearing in a 1/2 size bigger and they felt roomier but somehow a tad snug at the same time, or so I thought. I only tried one boot and proceeded to put it back in the box to be returned. A couple of weeks later I was talking to my sister on FaceTime and telling her I needed to return a pair of boots. She asked me to show them to her and I decided to actually put them on. Well…I'm glad I did as I'm not sure why I thought they were snug. They're not. I'm SO glad I tried them on again (not sure why I didn't try both in the first place). I LOVE them. Not only are they super cute but they're warm (granted it hasn't been super cold here yet. Lowest temp I wore them out in was in mid 20's) but my feet were toasty each time. They come in a lot more colors.
I'll have these for many years to come. And they will make our winter walks a lot more enjoyable now that my feet are warm and happy!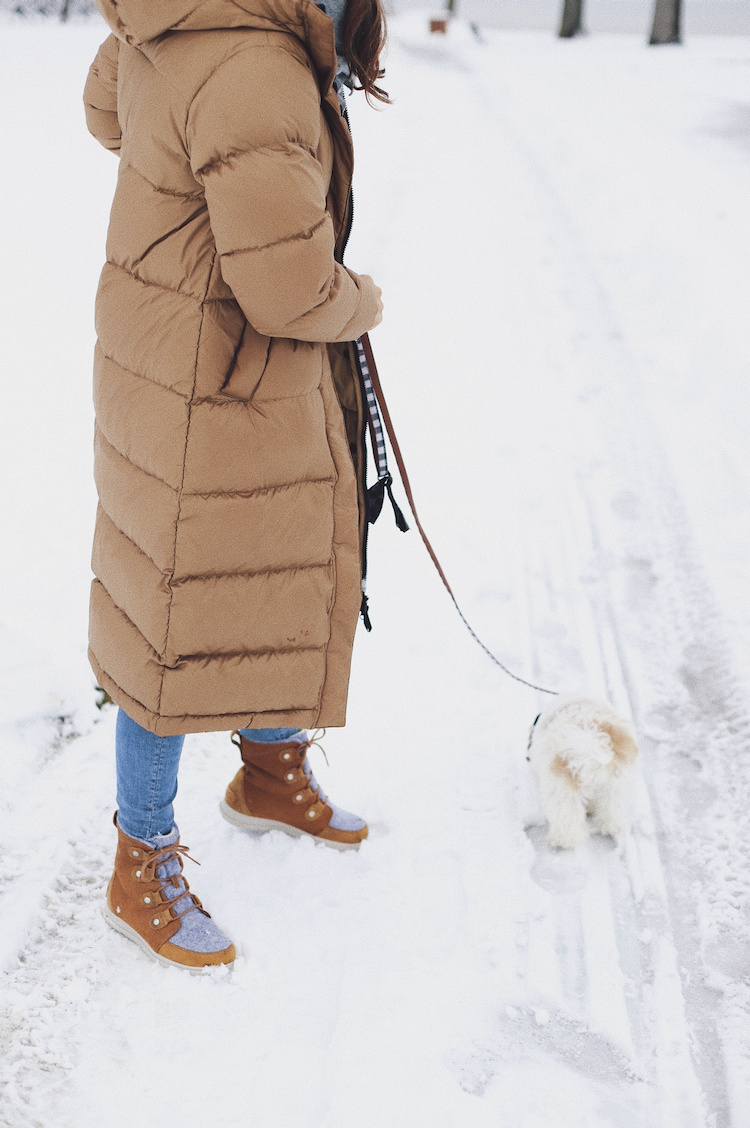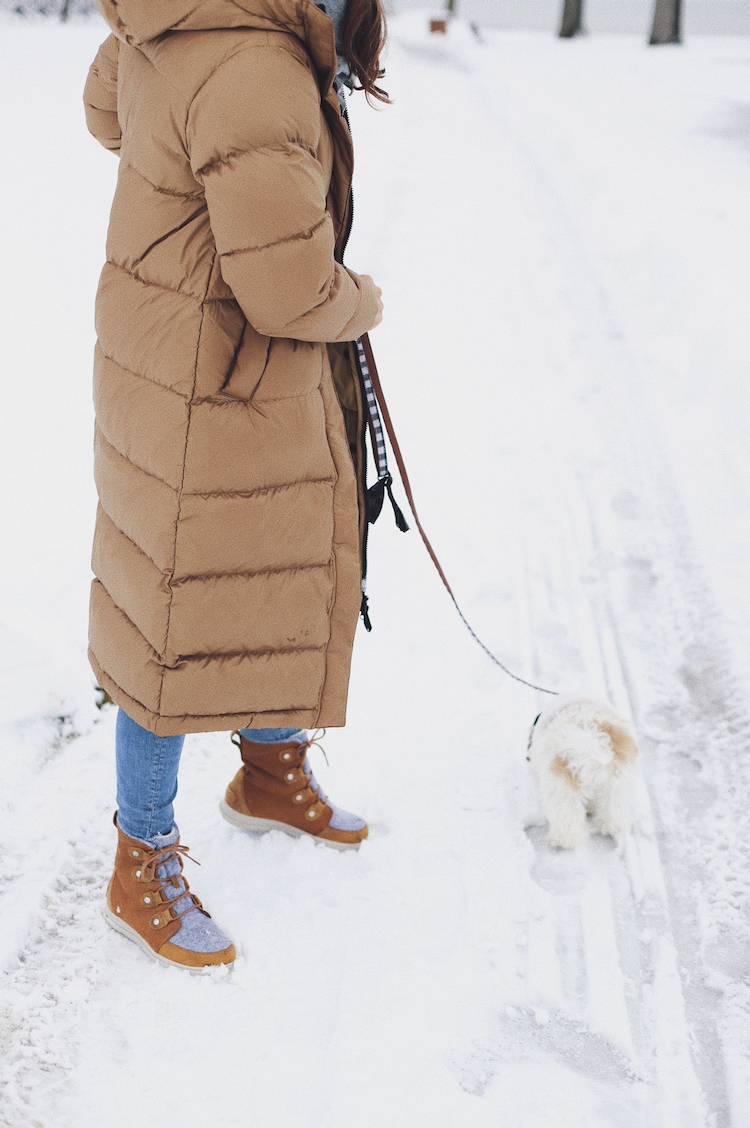 I would most definitely recommend sizing up in these. I've read reviews were some people sized up a full size, some a half size. Everyone's feet are different and sizing up only a 1/2 size worked for me. Perhaps those with wide feet might need full size bigger, but I'd suggest also reading the reviews. I haven't worn super think socks with these, haven't found a need yet (normal thickness wool socks worked great with these).
So would I recommend these boots? Yes! Not only do they keep your feet warm but they're easy on the eyes too 😉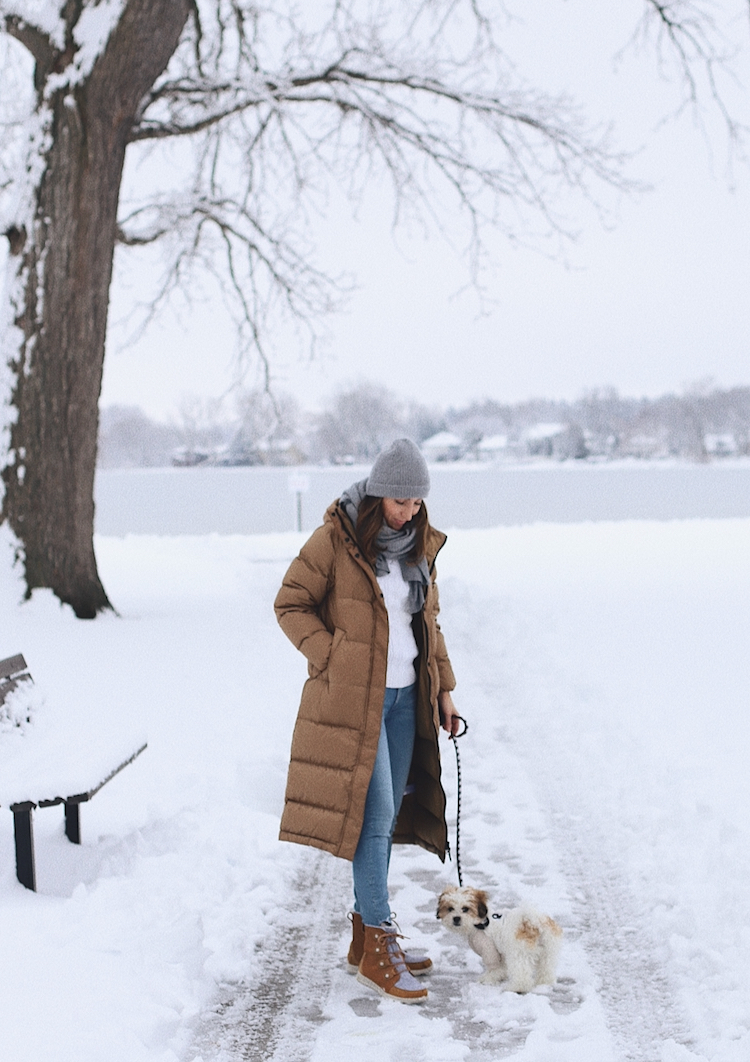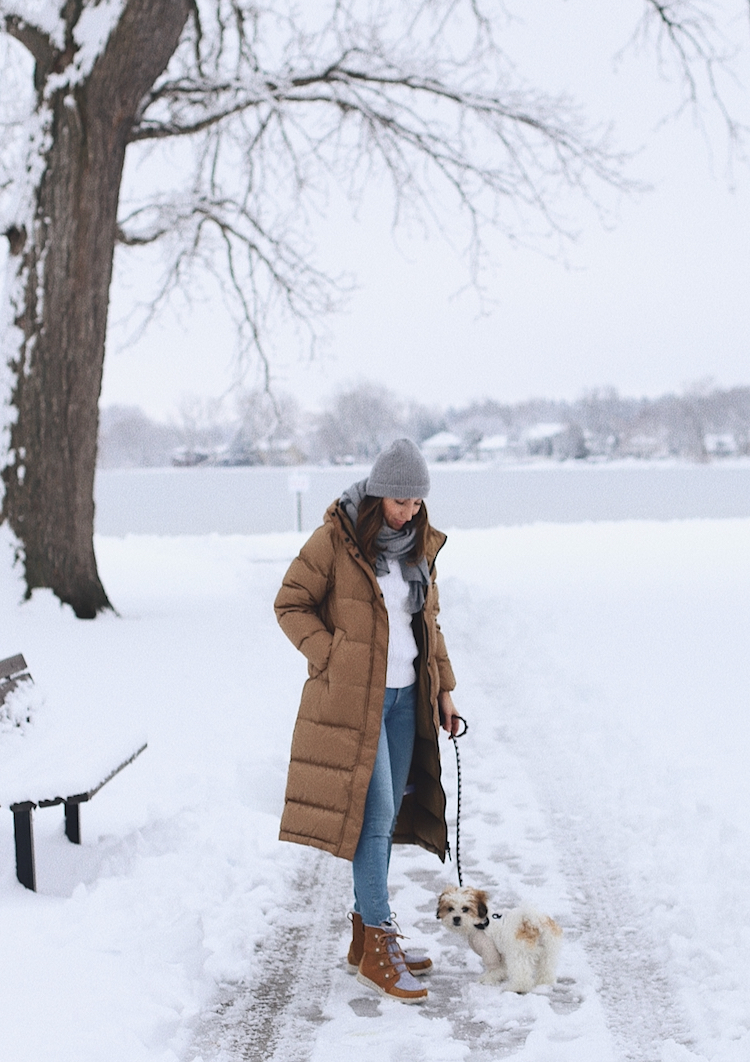 Sorel Boots (go up 1/2 size) | Cashmere Hat – only $25 | Cashmere Scarf – identical but better price | Coat: Everlane (2019, gifted)- great options here, here and love this one | Cable Knit Sweater (super old) – love these options here,here and here| Skinny Jeans (old Frame) – option one (amazing reviews), $22 option (I have two pairs and they're amazing), and toothpick style from J.Crew
I loved this coat last year, but this winter I love it even more (gifted by Everlane). I appreciate the length, especially on windy days. I almost can't even imagine wearing short coats in winter anymore. I've worn this coat SO much since it got cold here. It's my go-to coat when I take Pippa for walks or walks sans Pippa too. I would love even a longer one in black but don't need it. But still would like it haha. I've been been loving long, slightly oversized black puffer coats. Somehow they always look chic! End of season sales are the best time to snag winter coats whatever your budget. Here are some long black puffer coats I like – this one by AllSaints (now 50% off), this Theory long puffer, this one for $60, this one for only $42 (not an affiliate link but too good of a find not to share. This price I could justify).
Rounding my favorite puffer coats below, at different price points.

Have a lovely weekend!