I meant to share these try-on pieces earlier in the week…but life…!
I have to say that from any store that's in the same price range, Old Navy is definitely winning with the amount of cute dresses they have right now! I'm kinda blown away! A lot of them are excluded from promos, unfortunately, but the price point is not bad. I made a quick stop at the store and picked a "few" pieces (didn't want to try anything at the store). A lot of other dresses I liked were already gone in my size but there is always online… 😉 I'll share my other picks at the end of this post.
First up it this cute smock dress, with pockets (it's important to mention that. And we love pocket on skirts and dresses lol). It comes in this pretty pink as well, which now that I see it I might prefer more. Both are pretty in their own way. I picked up the XS in this one and it borderline fit true to size but I think it's a typical Old Navy XS in this style of dress. If you're bigger on top I'd say size up. Even though the top is stretchy, I feel like it could have been a tad more stretchy…if that makes sense. I wish I had the small to compare but I feel like the small would have been ok too. Not lined.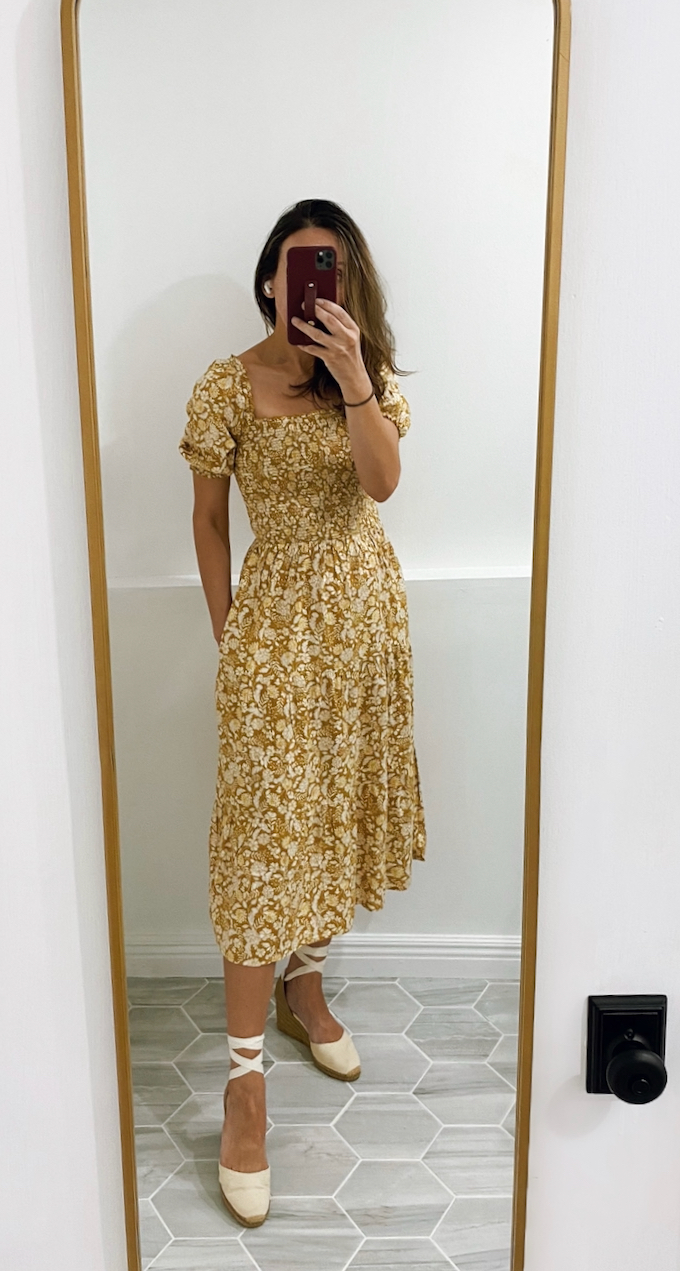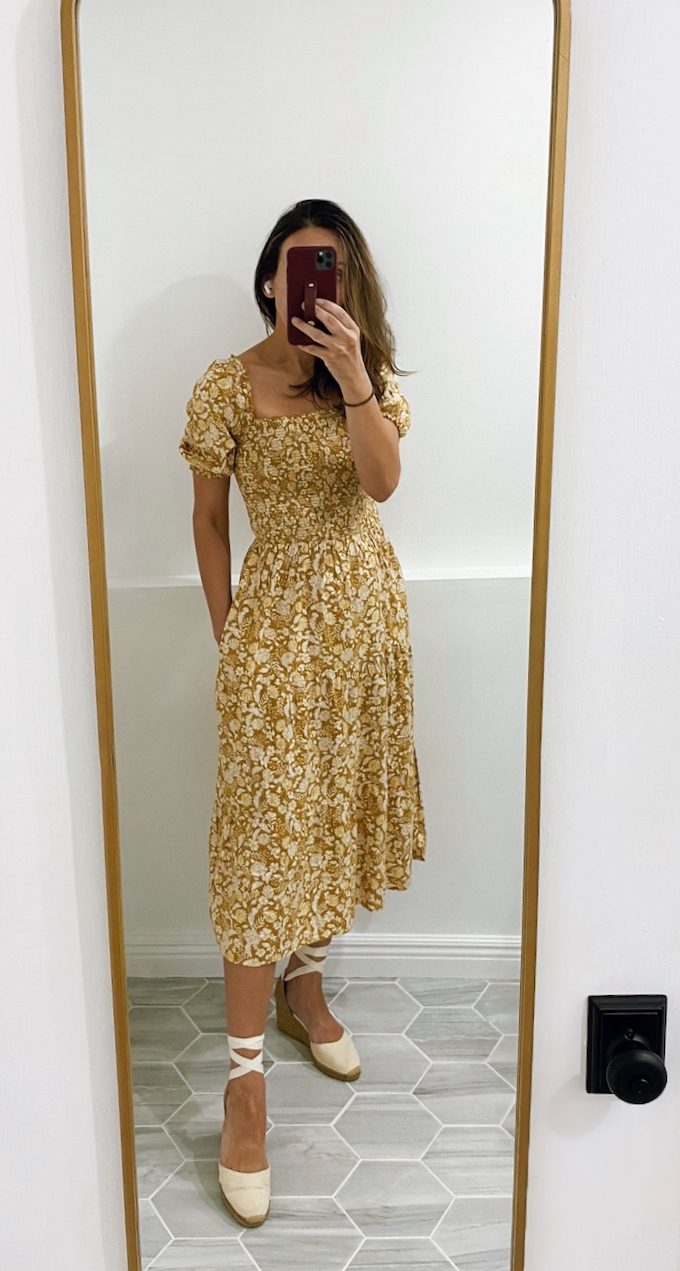 I picked up this great denim jacket which I thought I was going to keep but gave it to my sister since she doesn't have one…and I already have two. It runs true to size. Everyone needs a denim jacket, IMO!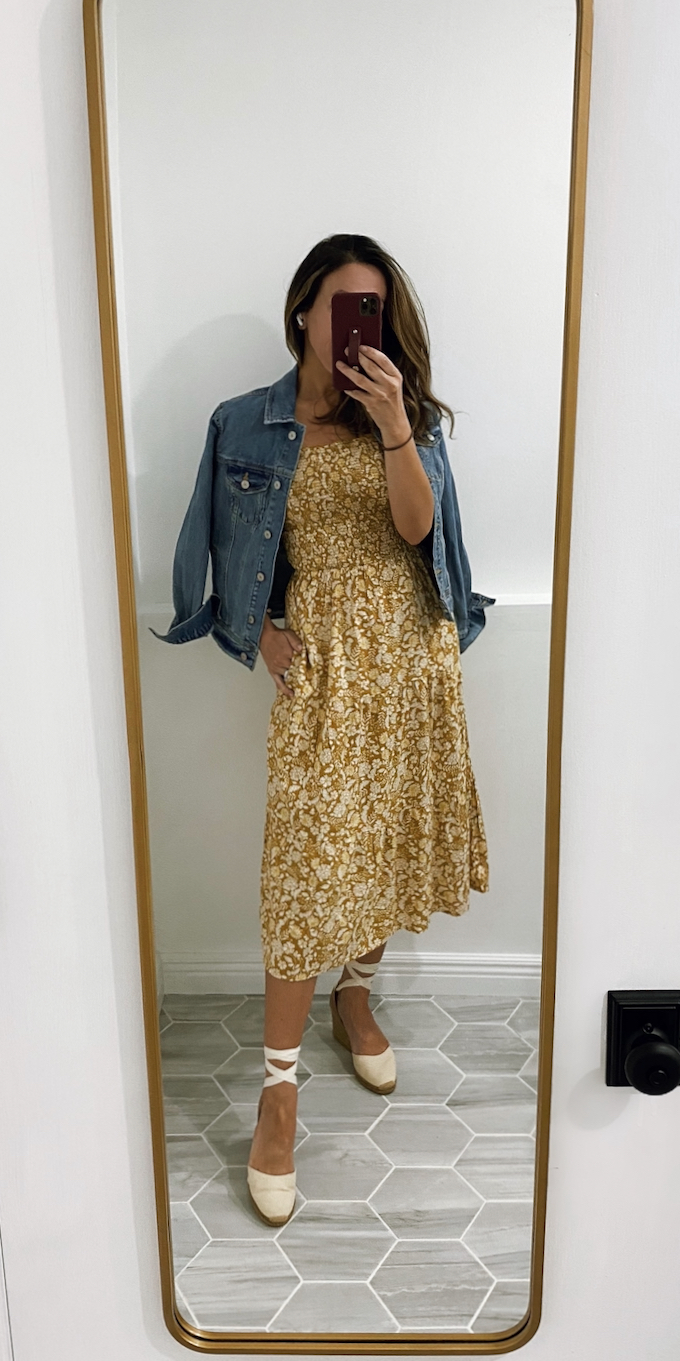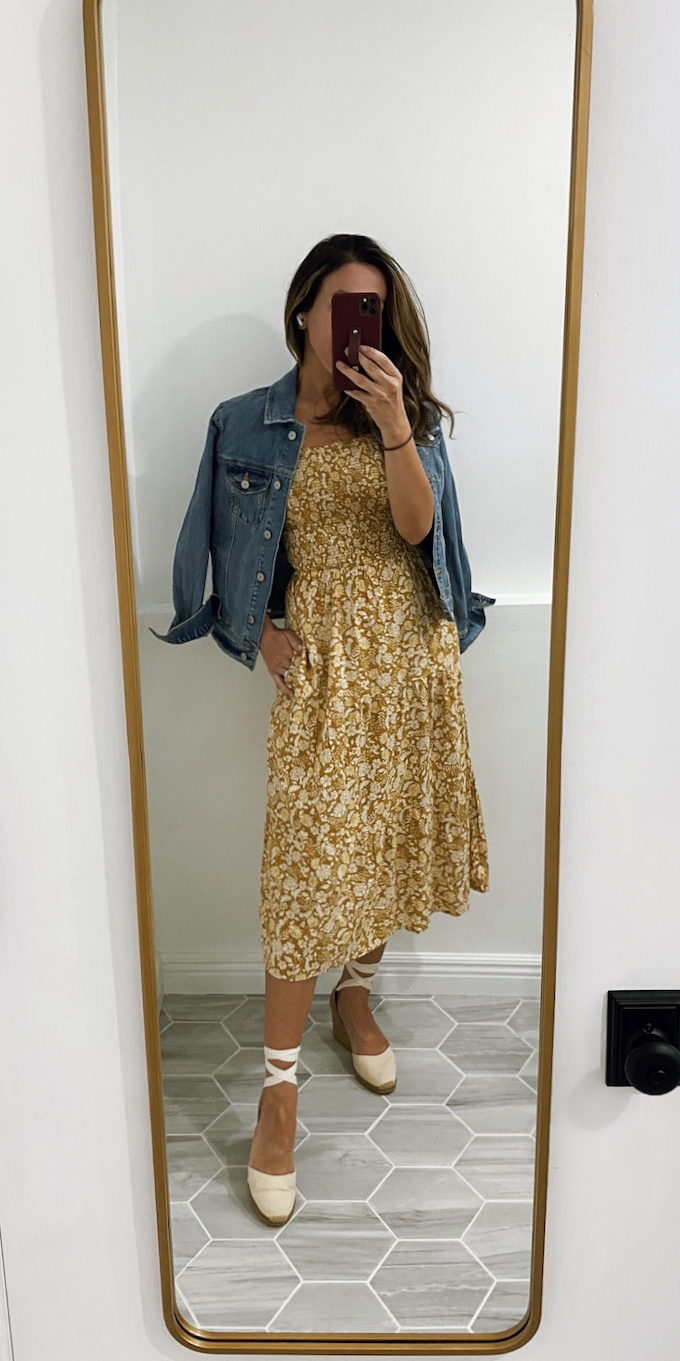 My espadrilles are from a few years ago but still available. I love these because of the lower wedge, just find them more comfortable.
Loving this subtle leopard print. Picked up XS in the smocked top is same as in the dress above – borderline true to size. Which means small bust would be ok, larger bust size up. This one as pockets as well. It comes in a couple of floral prints and black.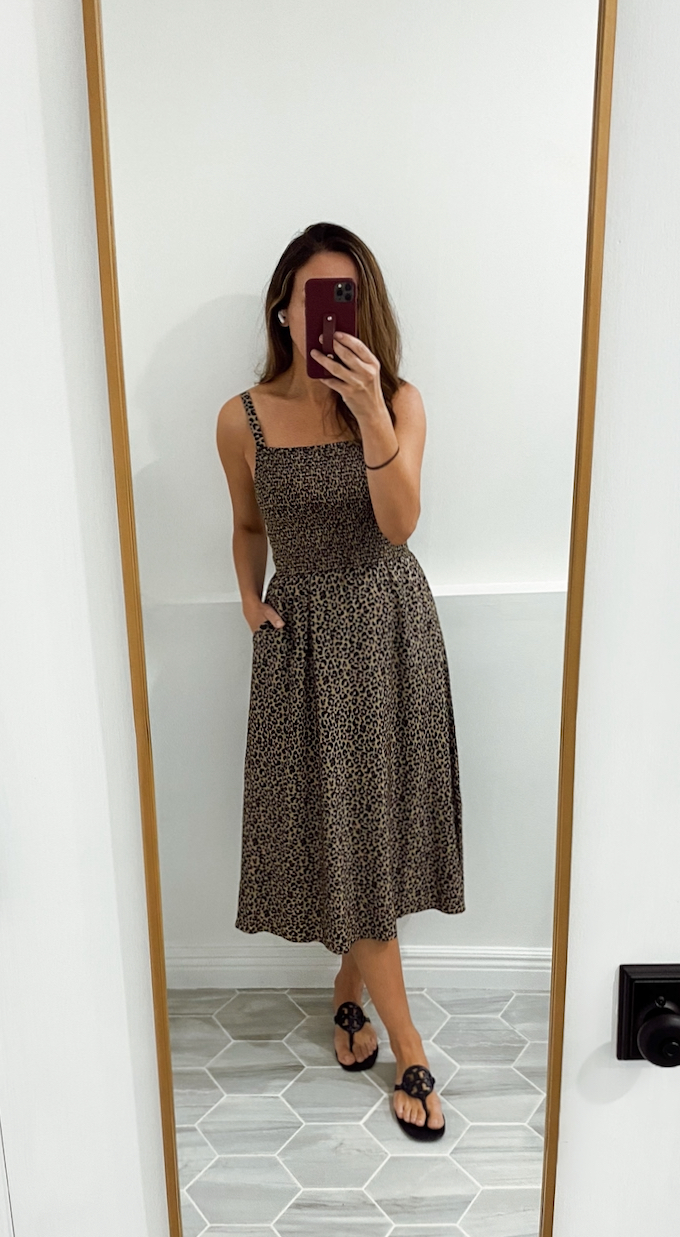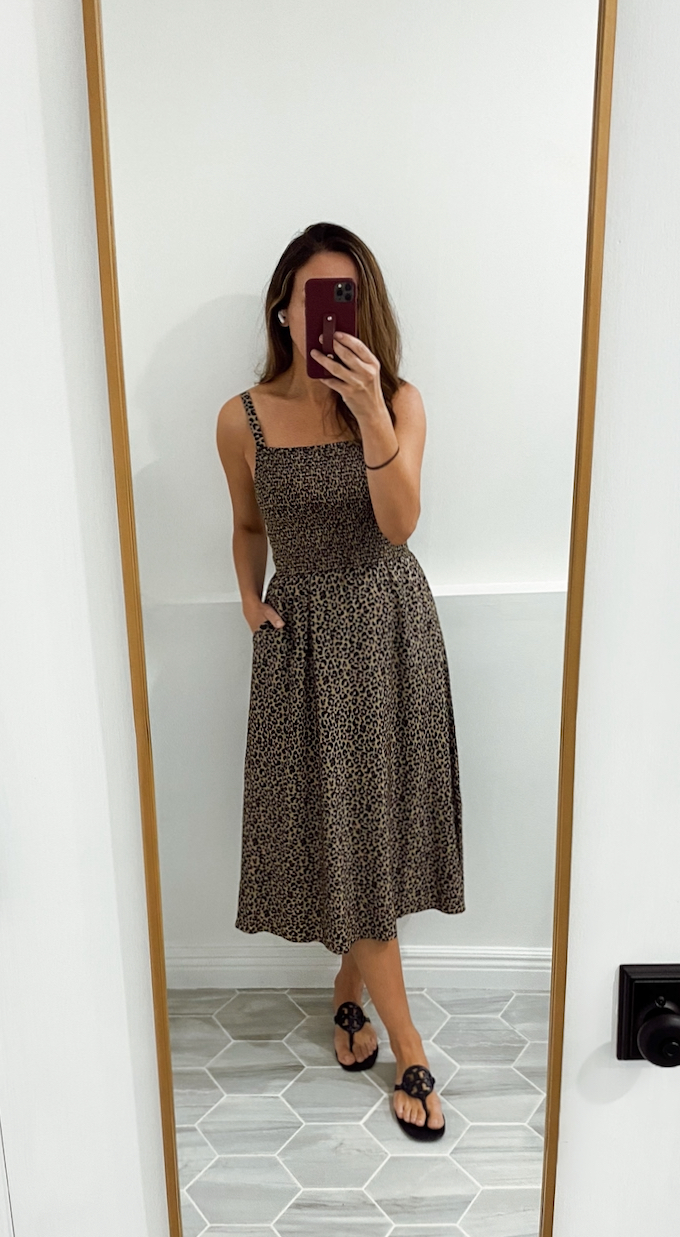 Love how it looks paired with sneakers too.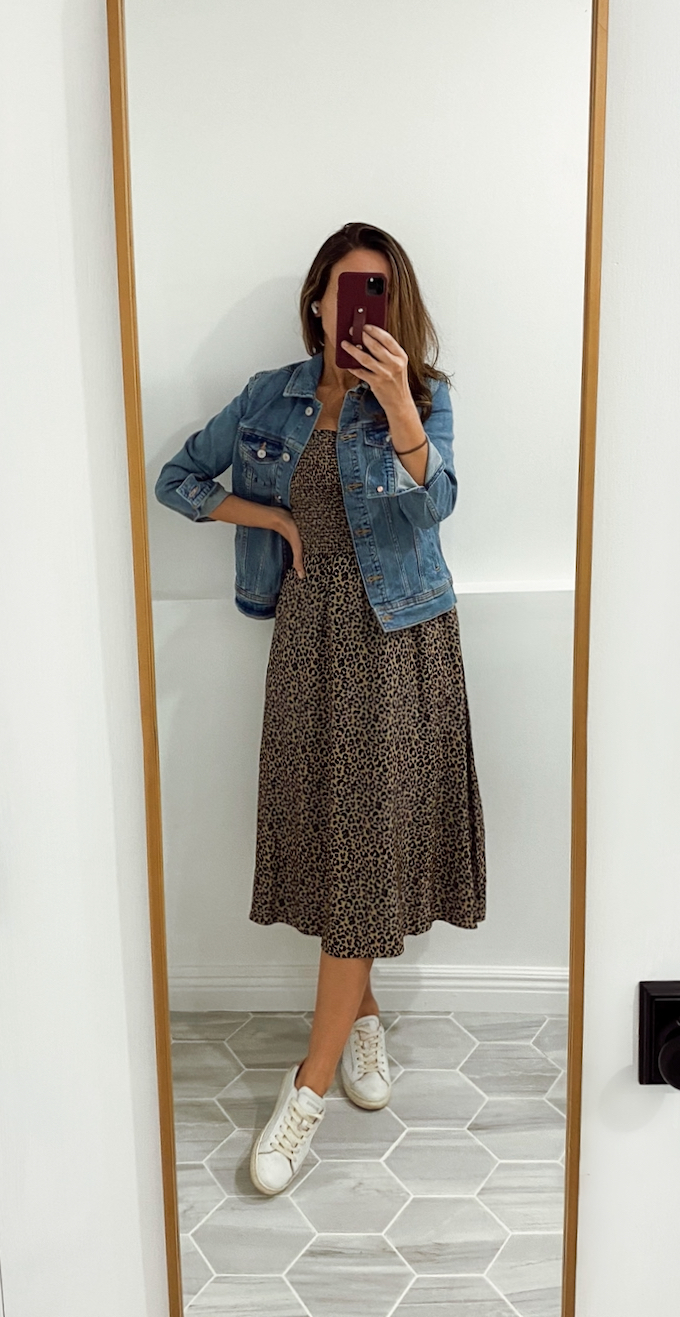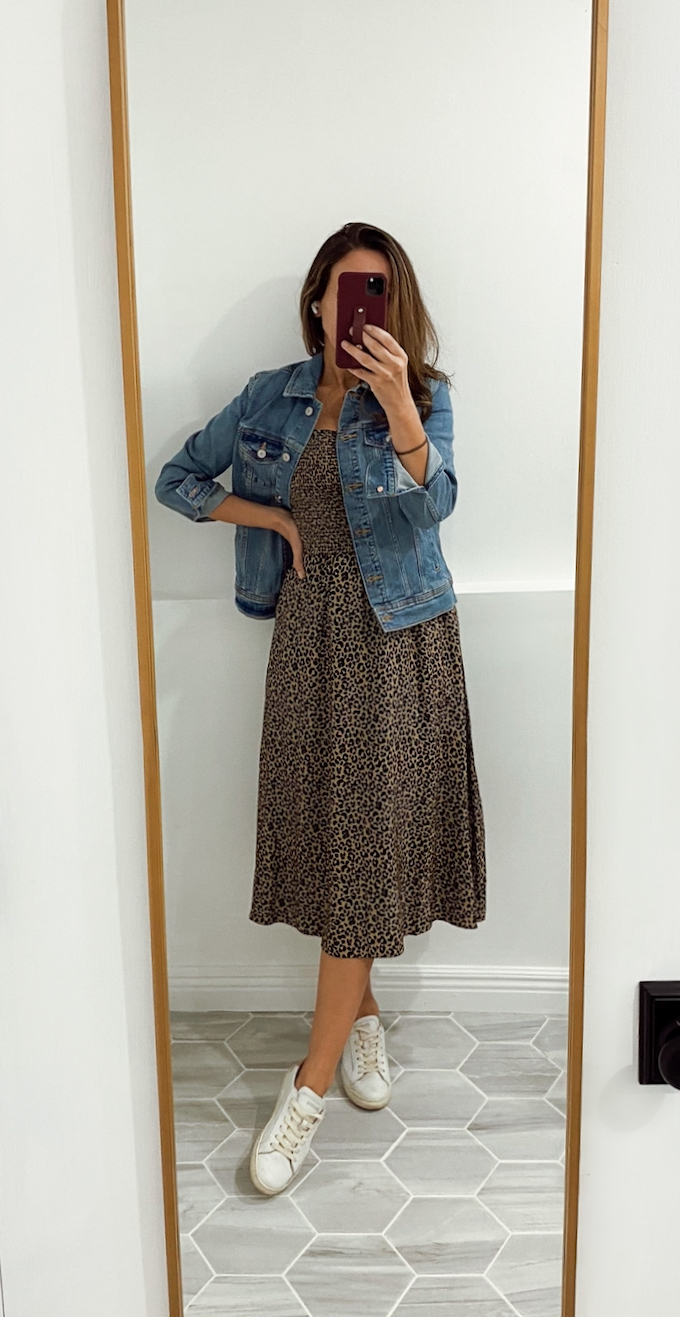 How pretty is this dress!? So comfortable, flowy and breezy, perfect for summer. I love this pale yellow, which I think works for so many skin tones (I do have my fake tan on lol). I'm wearing Small in this one but I think XS would have been fine in this one. However, because of the style of this dress the small still works. It's partially lined. And my sister is already trying to "borrow it" (we all know what this means. I would never see it again lol).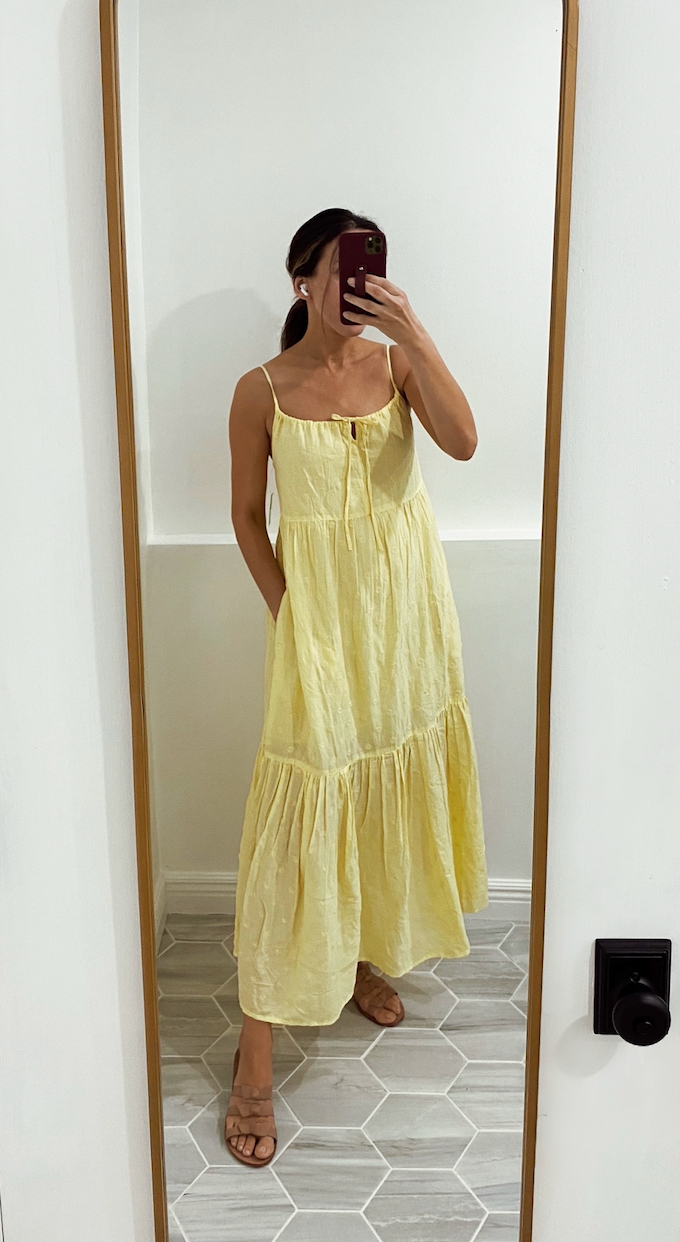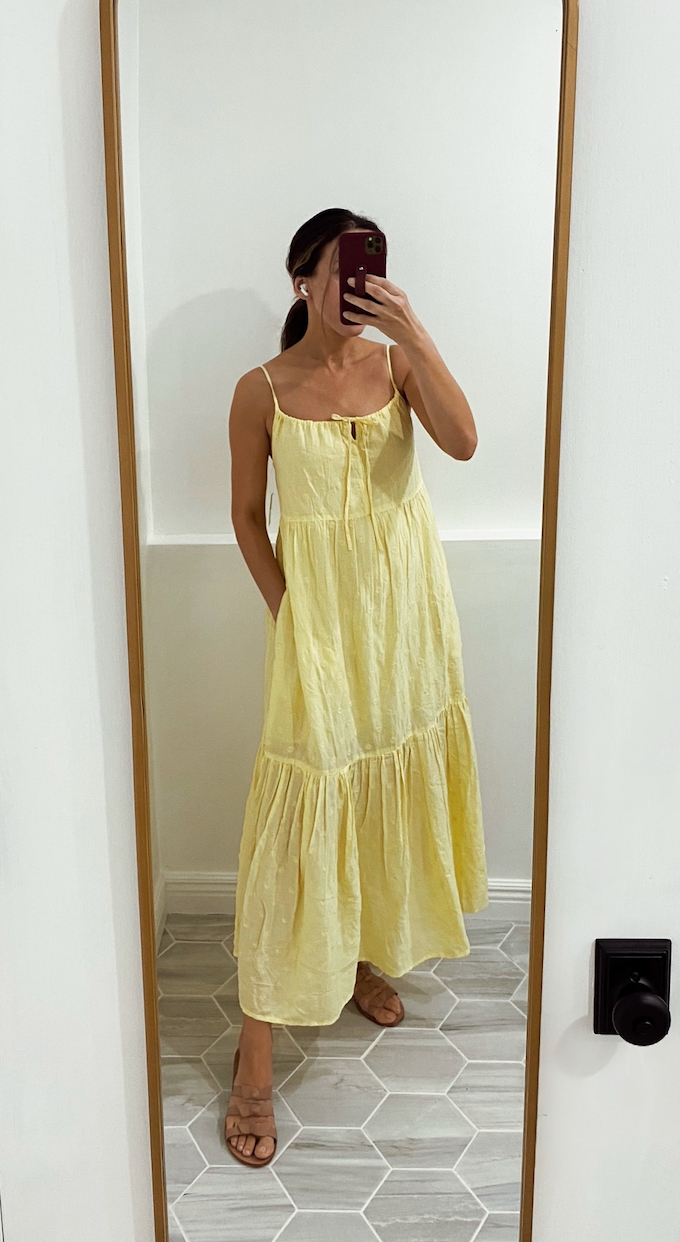 Loved the idea of this linen blend and the knotted details tank. This color is sheer fyi. It also a tad low but this would actually be a great and cute workout tank. It's very very light. It does come in other colors. I think I'm keeping it for that reason and to wear during the hot days around the house/backyard.
Grabbed these 7″ shorts in size 4 (I like them a tad more relaxed). Size 4 fits comfortably and they have a tad stretch to them. I realize I would prefer them a tad longer. Both pieces are going back.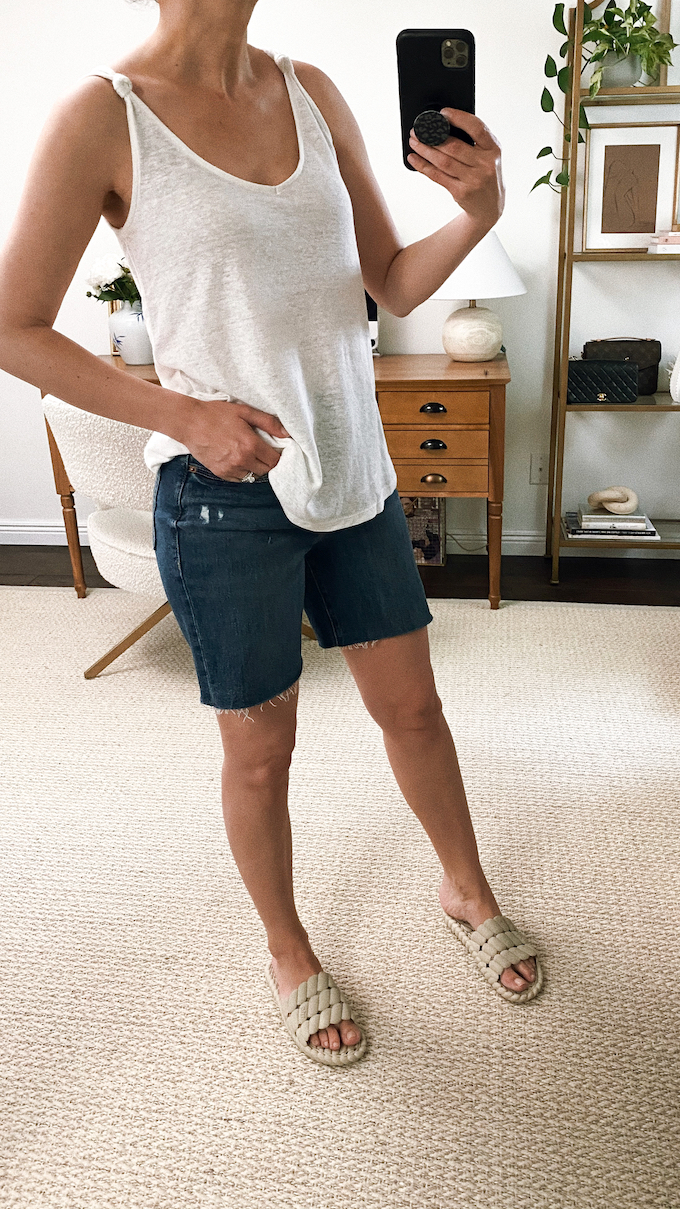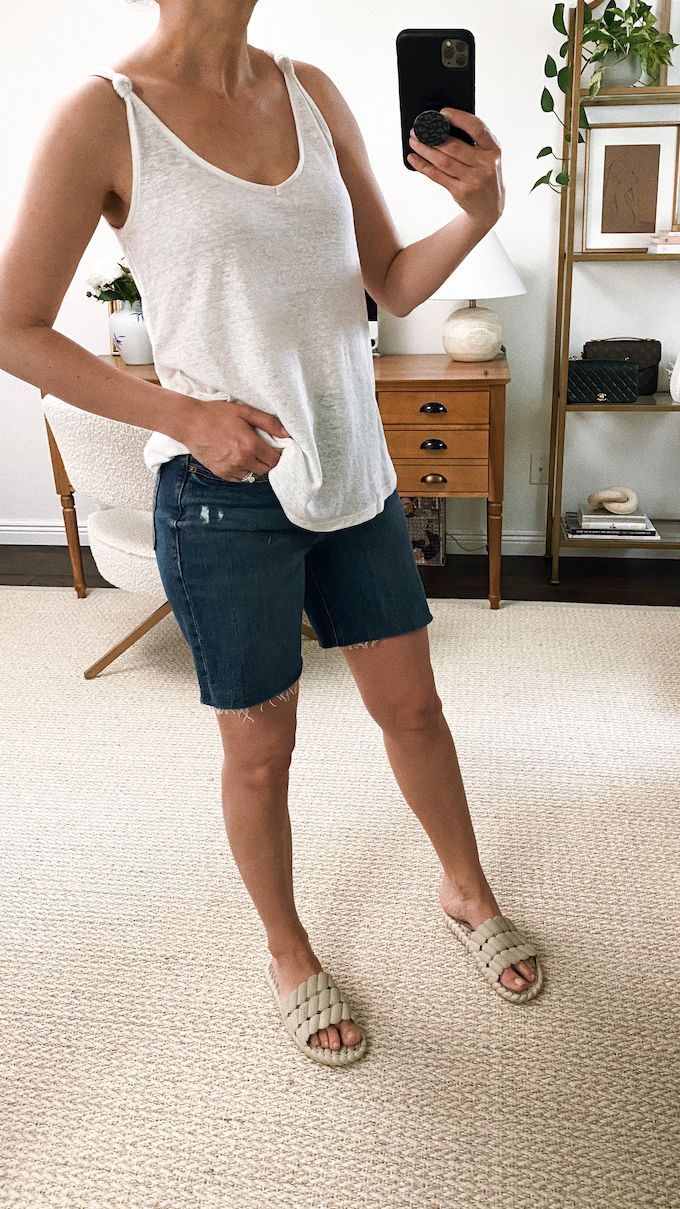 Shorts in size 4 | Tank in XS |
These 'boyfriend jeans' are in between a straight leg and BF style. They are mid-rise and seem quite comfortable. Wearing size 2, tts with room. I have a pair that looks almost identical, from Mango, so these are going. back. The 'vintage' tank is a great summer basic. Wearing XS and it's roomy. Available in more colors.
I loved the look of these slides, and the color. Noticed them only in full sizes and got size 8 (I'm usually 8.5). They fit well, heel is not sticking out. However, these wouldn't work for well for wide feet, so stretch to the rubbery straps. While they're cute, I realized I most definitely don't need them as I love my Freedom Moses (which I have in 3 colors). I wouldn't reach for these Old Navy ones over FM, which are very comfortable. If these wear leather-ish (or faux leather), I'd keep them as she style is cute.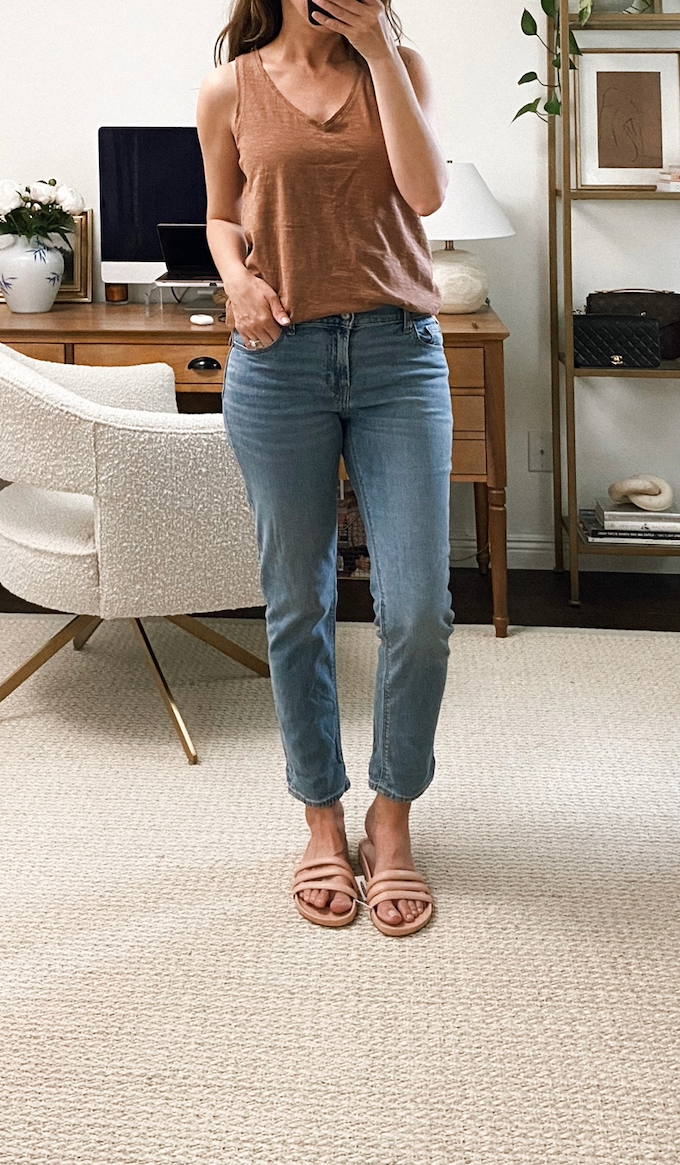 Jeans tts | Tank in XS | Slides
SHORT SLEEVE DRESSES:

SLEEVELESS DRESSES:

CUTEST SHOES