Finally sharing some J.Crew Factory try-ons from last week. There are a few office looks (I am aware that there are many different office dress codes so you can decide if these apply to you).
Tried on XS in this flannel shirt and it fits tts. Love the color combo and the length.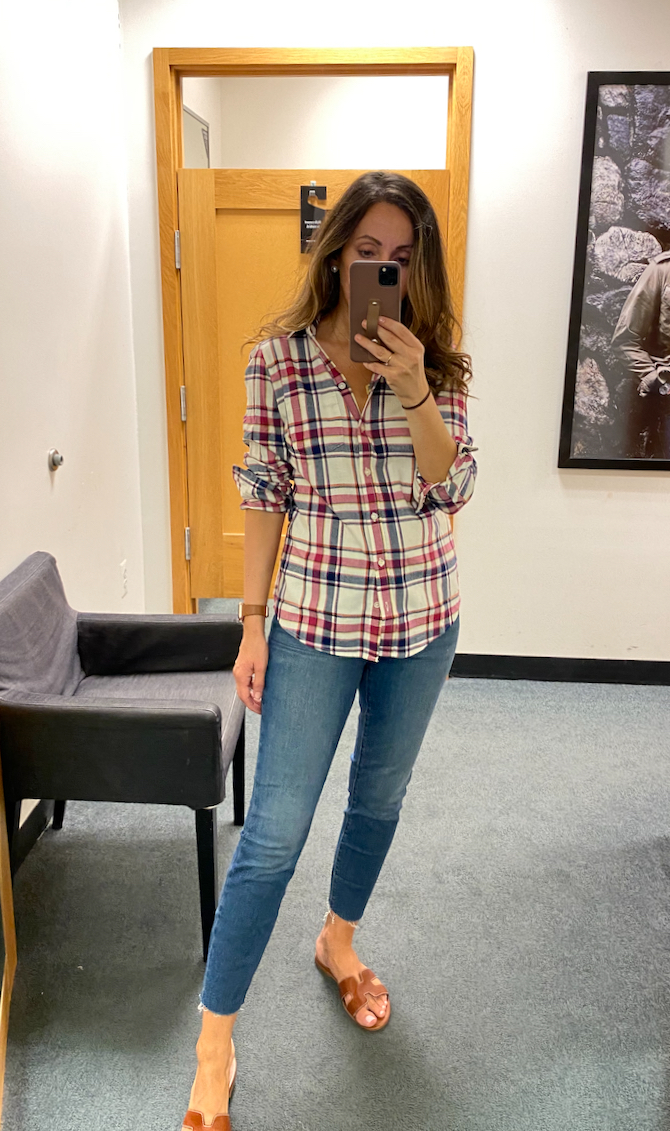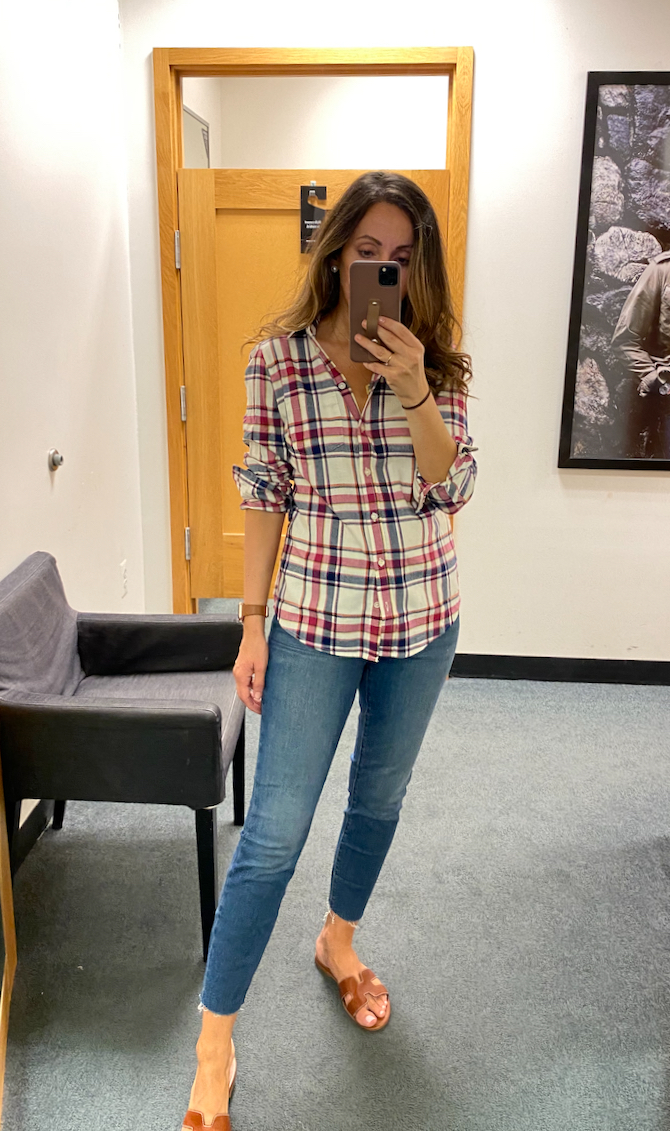 Flannel Shirt in XS | Skinny jeans
I love this classic button down for obvious reasons! And the price is so good! I have one that looks almost identical but it is super old so I decided to replace it. I love the length of this one which looks great untucked or tucked in. Runs true to size.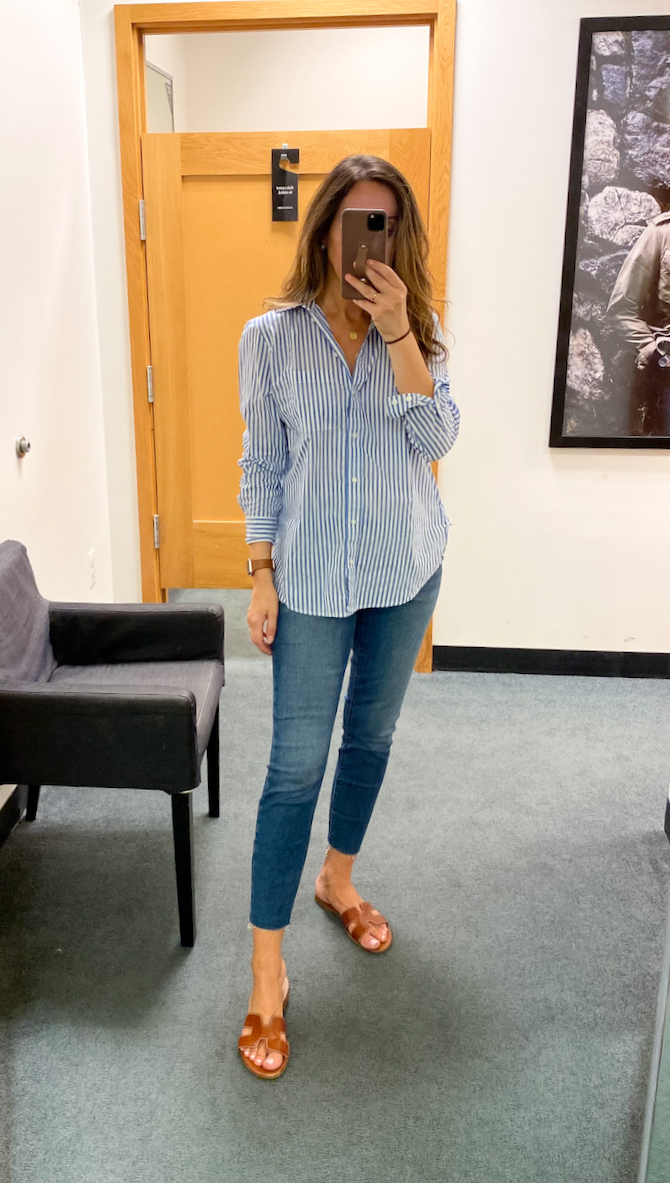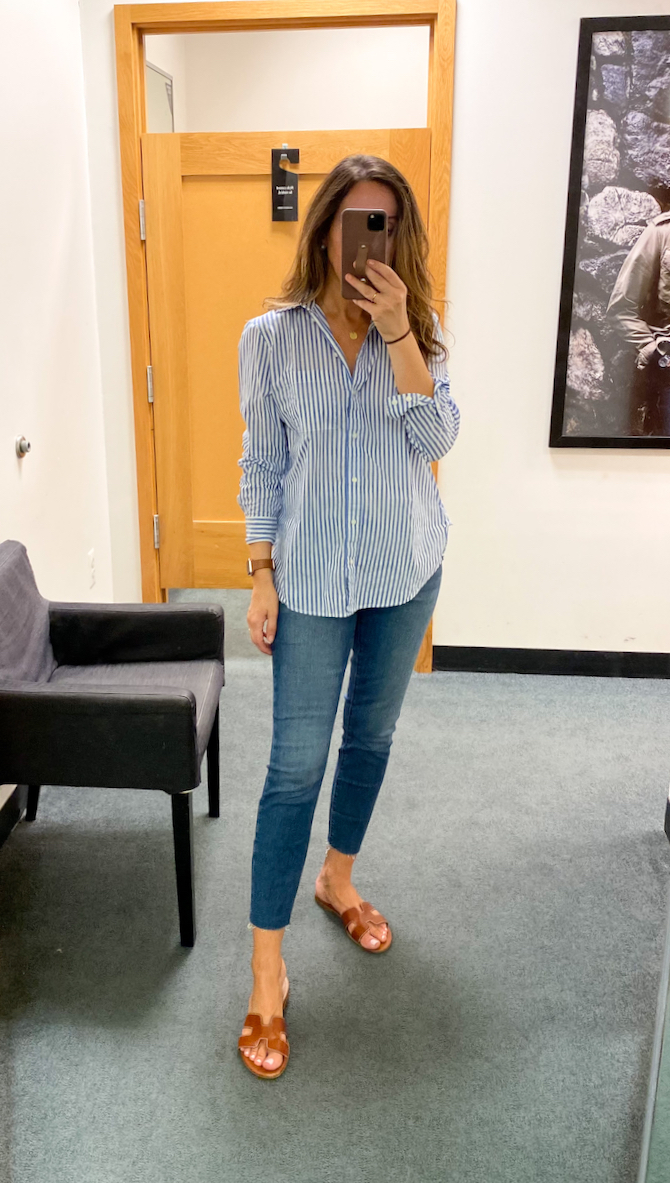 Classic Button Down | Skinny Jeans
I had to donate my older chambray shirts as they got too small. I've been on the hunt for a new one and love this 'classic fit' style. I tried size small below for a slightly relaxed fit and like the way it looks.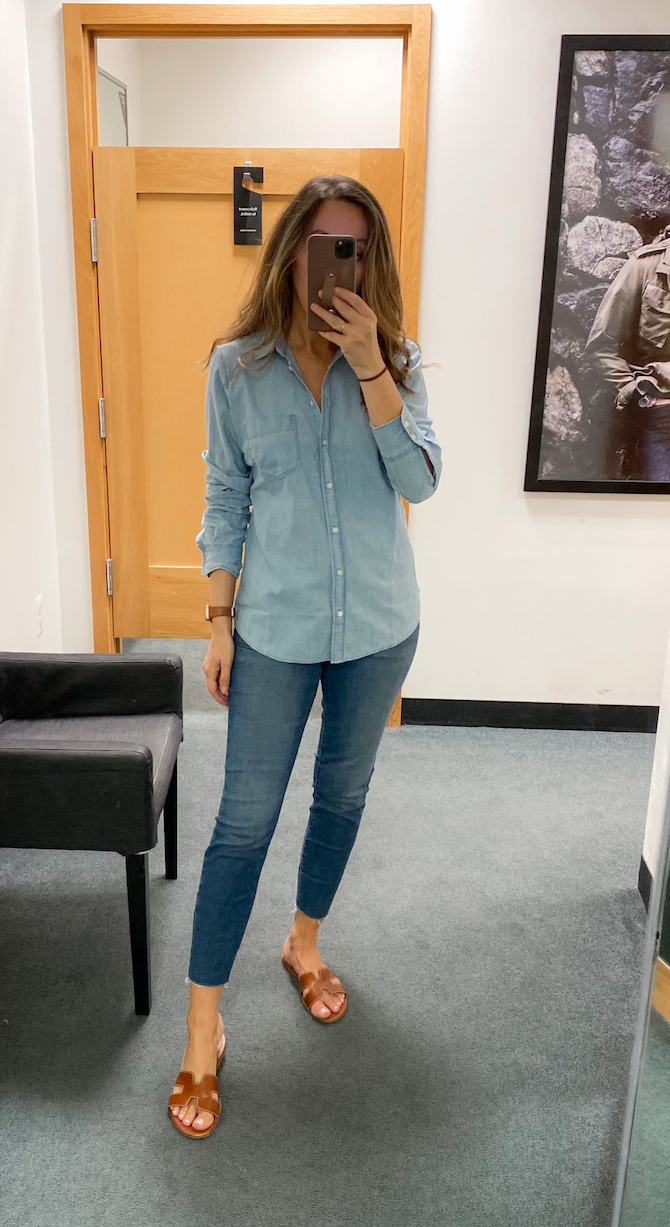 Chambray Shirt tts | Jeans same as above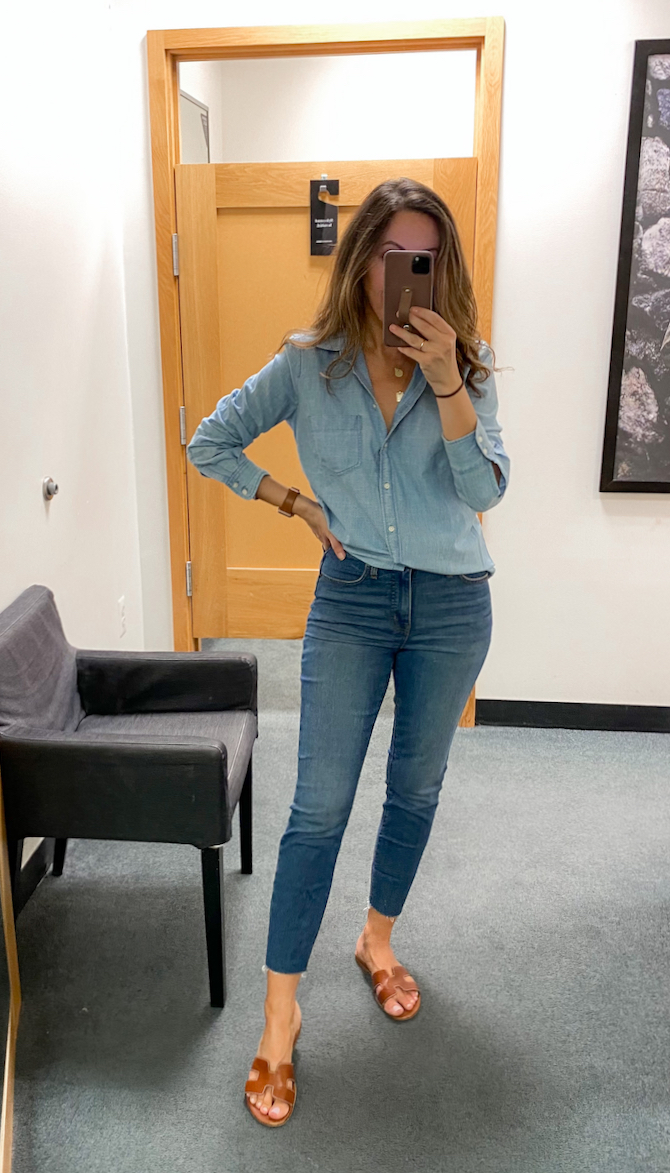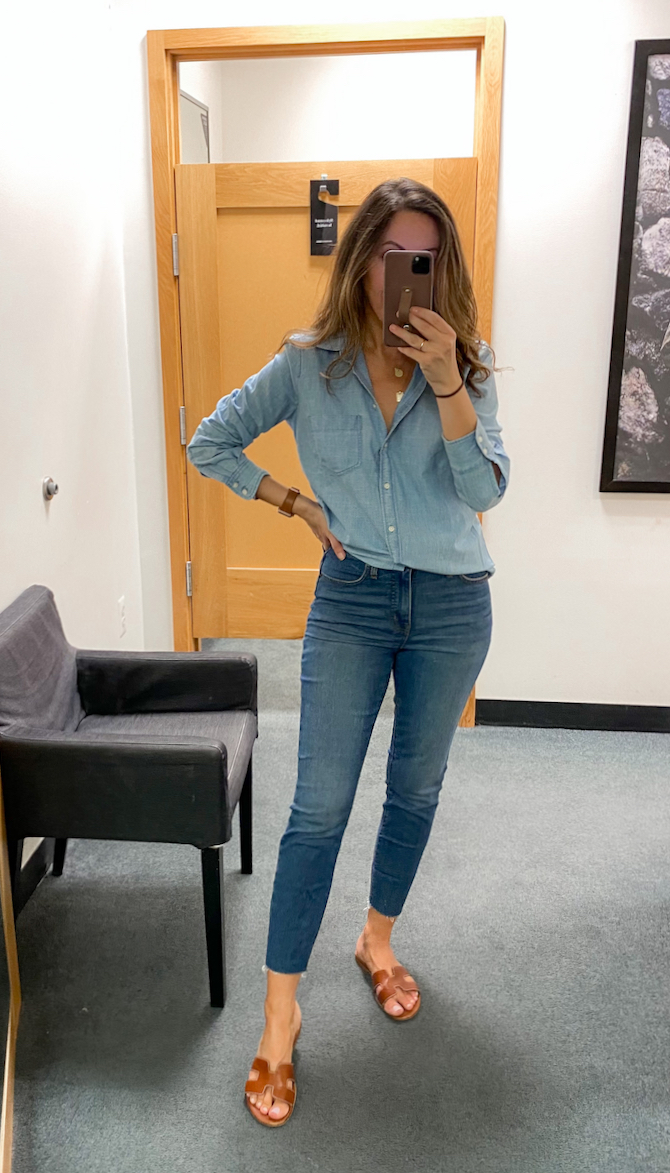 This button sweatshirt looked nice but I didn't like it on me at all. It has great reviews but it didn't do anything for me. Maybe should have sized up. I think I would have liked this longer version better.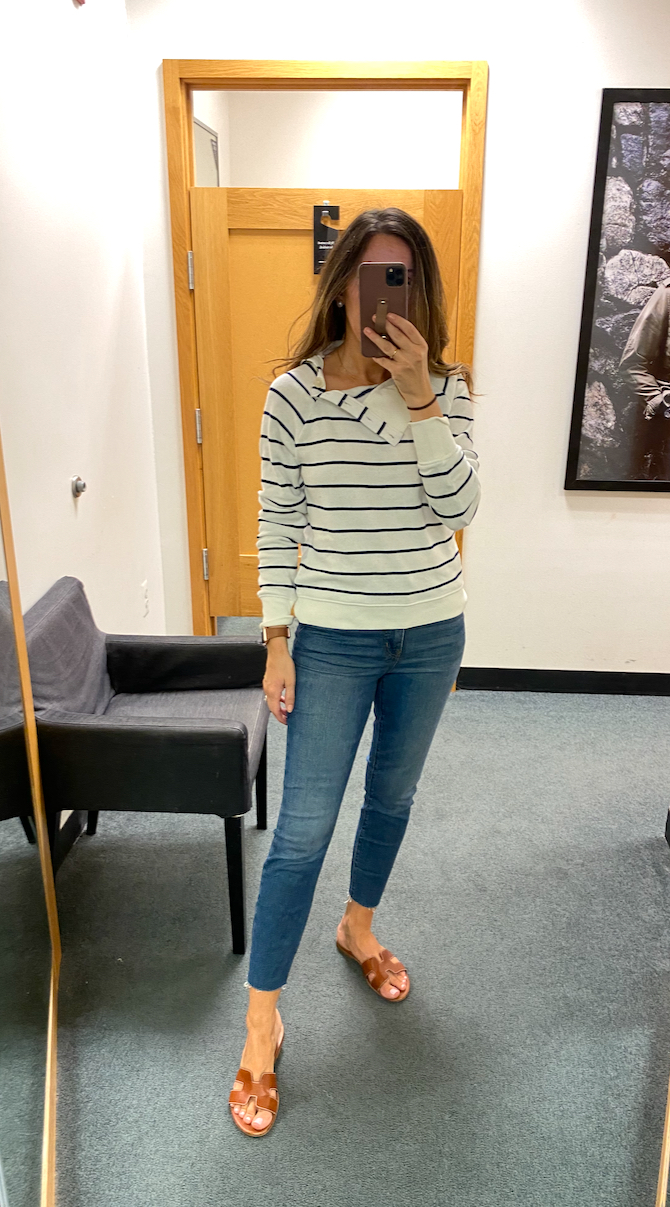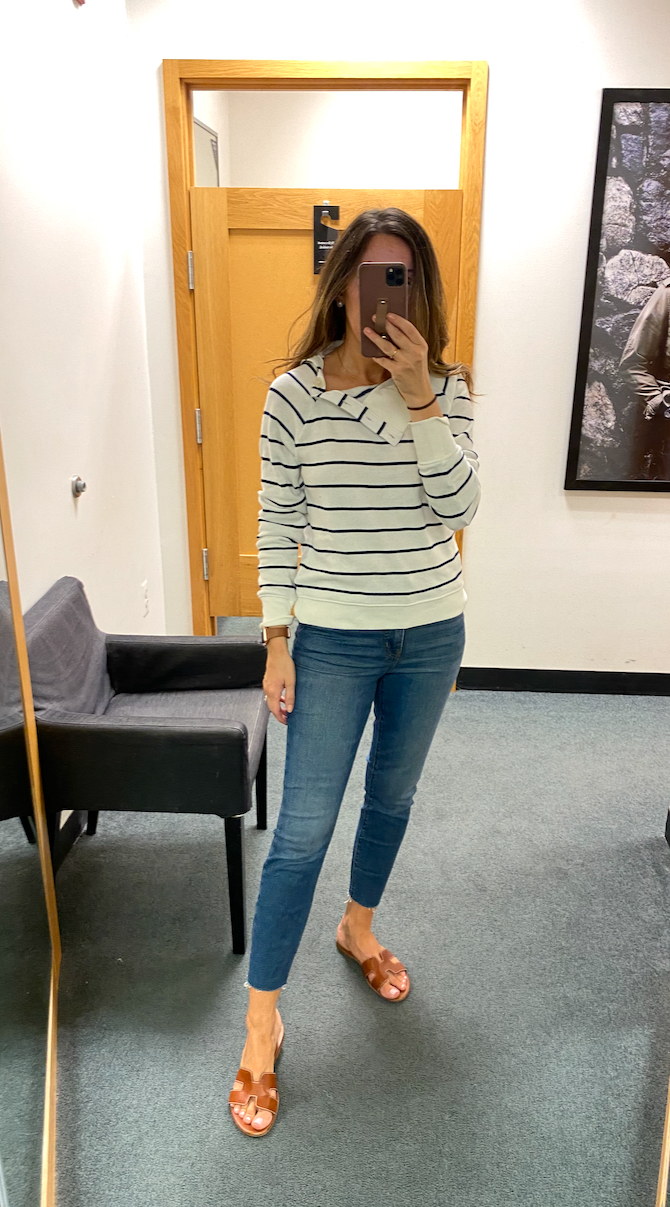 Same jeans as in the pictures
I don't see this blouse in this color combo online but there are two other pretty colors. I tried XS and it fits me true to size. I almost didn't try it on as it looked kinda blah but I'm so glad I tried it on as it is beautiful. Love the colors for fall.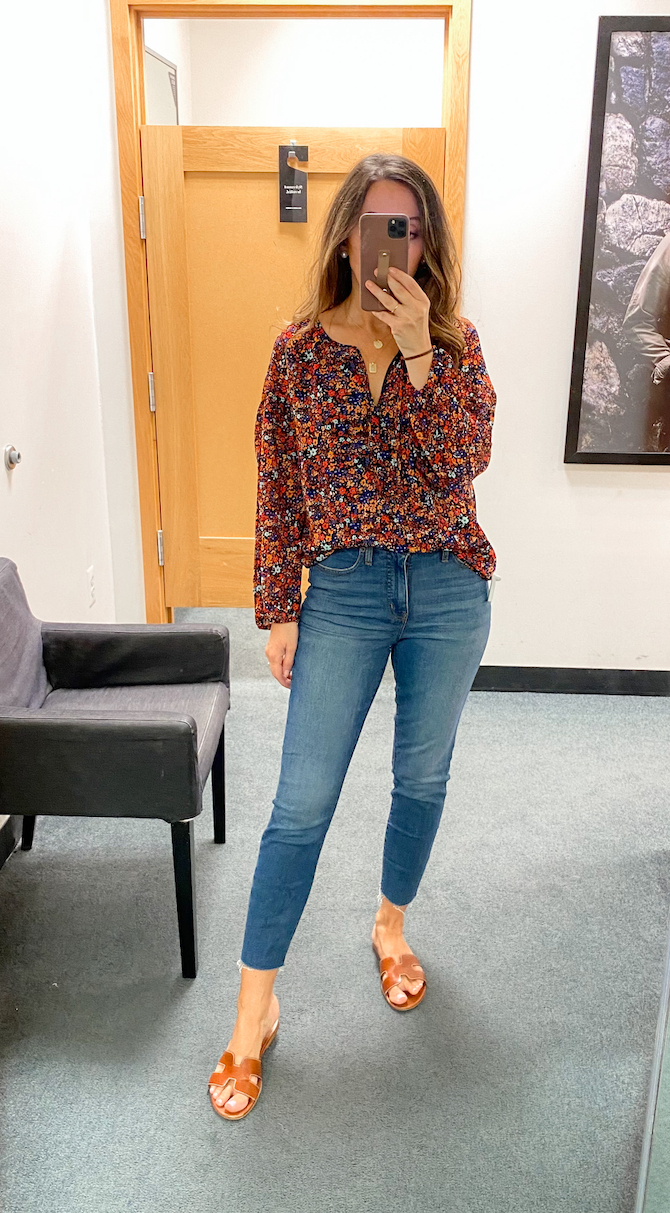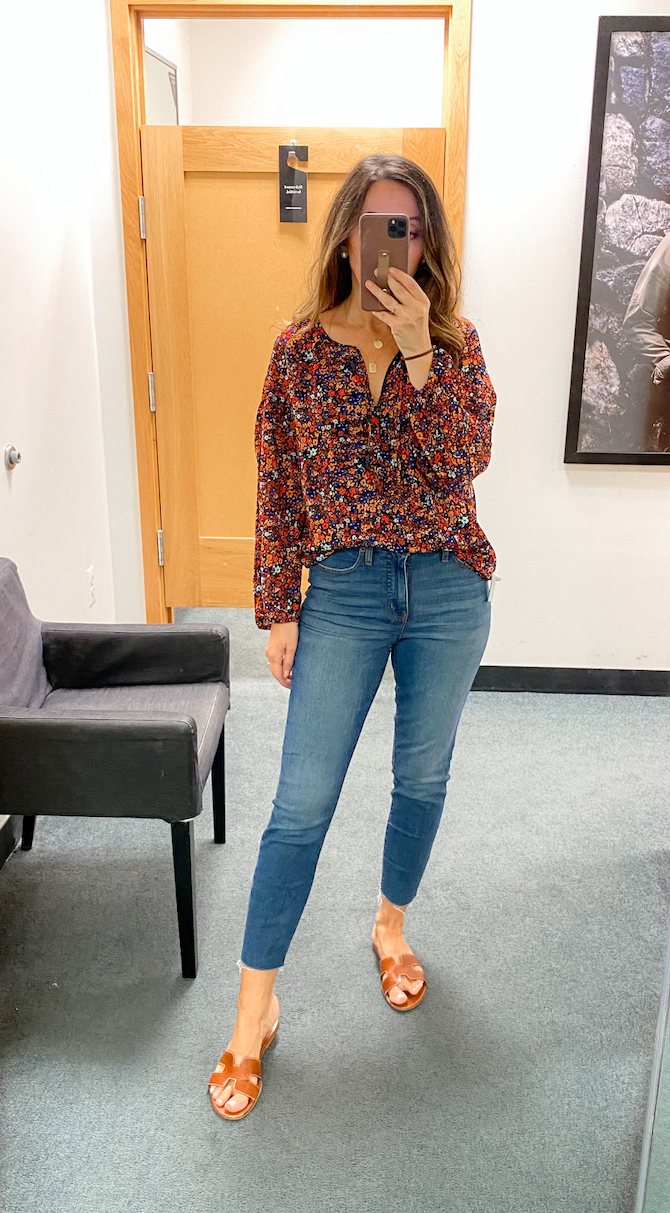 This blouse was another favorite (it looks much nicer in person). The style is beautiful. It looks great with dress pants or skirts for the office but it also looks amazing with jeans too. Runs tts for me. These slim ankle pants are my favorite style of dress pants. I've never seen these look bad on anyone. I am wearing size 4 below and they fit great. I do think they run a tad small as I'm usually size 2. But there are a lot of reviews on these as well.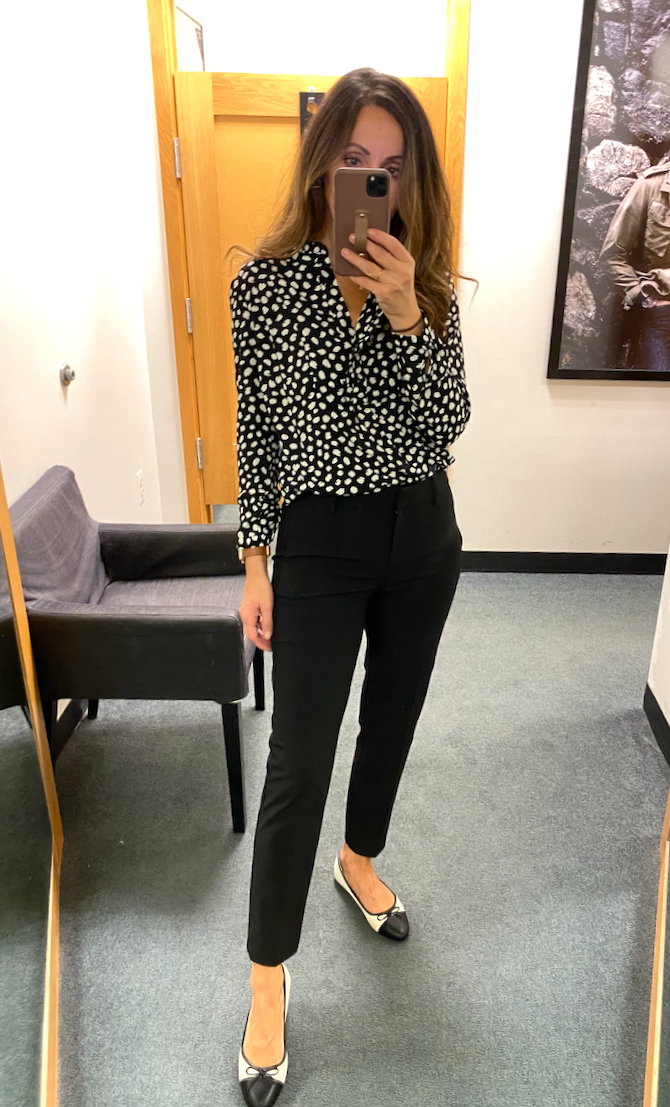 Blouse in XS | Ankle Pants in size 4 | Flats
From the three blouses I tried on this V-neck Ruffle blouse was the least favorite on me. I do think it's cute but I didn't like it on me. Pants same as above.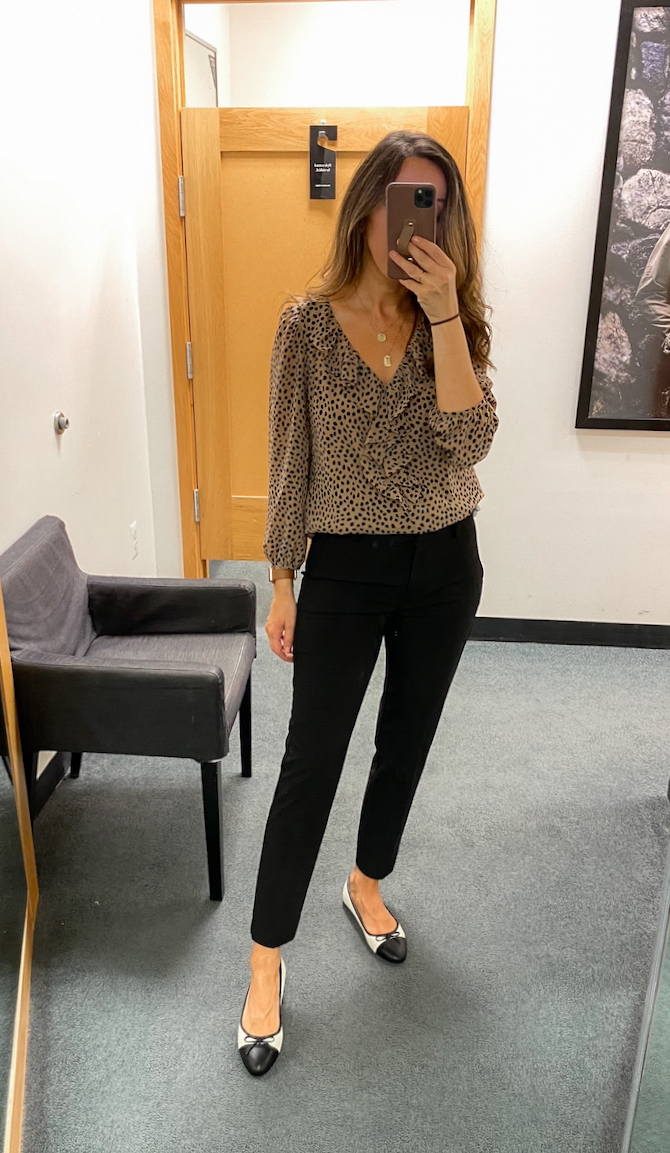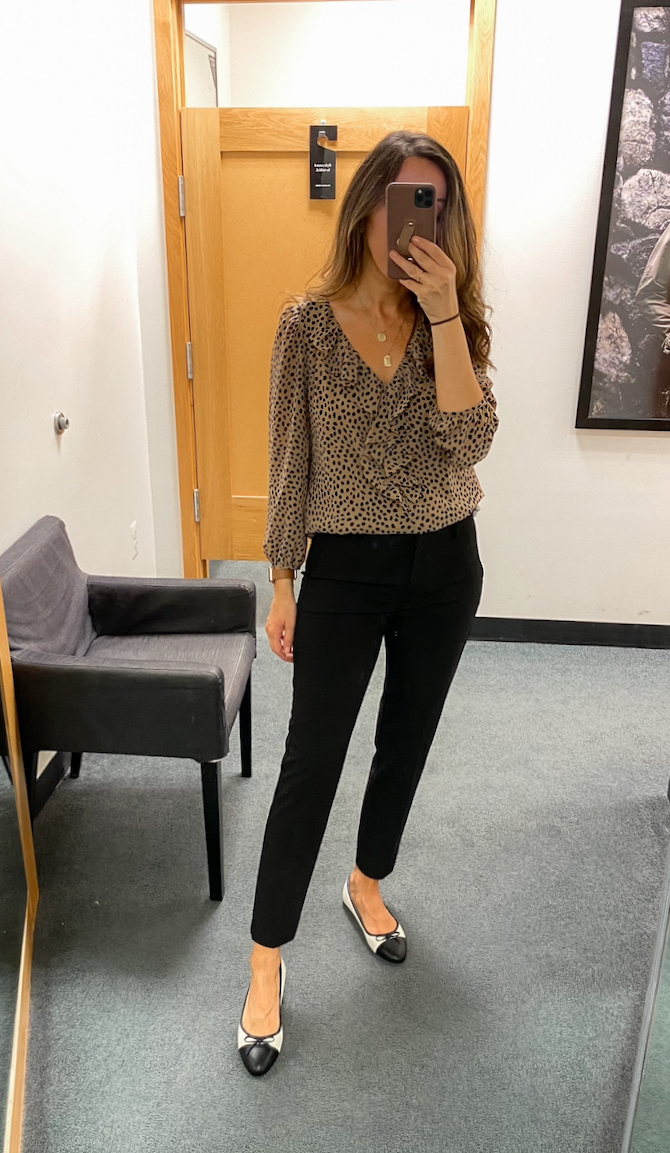 Printed ruffle blouse in XS | Pants | Flats
A classic office outfit. Somehow I ended up with xxs in this cardigan and I could hardly pull my arms through the sleeves. It comes in more colors and it's a great wardrobe staple. This white tee is really nice and not thin or see-through. Tried xs and should have grabbed small for comparison. I think I'm just so used to slightly relaxed tees that fitted feel weird lol.
Cardigan | White tee – really nice | Pants – available in more colors
This houndstooth blazer didn't photograph well – it's much nicer in person. I tried size 0 which for this style might be ok , but I wish I would have tried on size 2 as well to see the difference.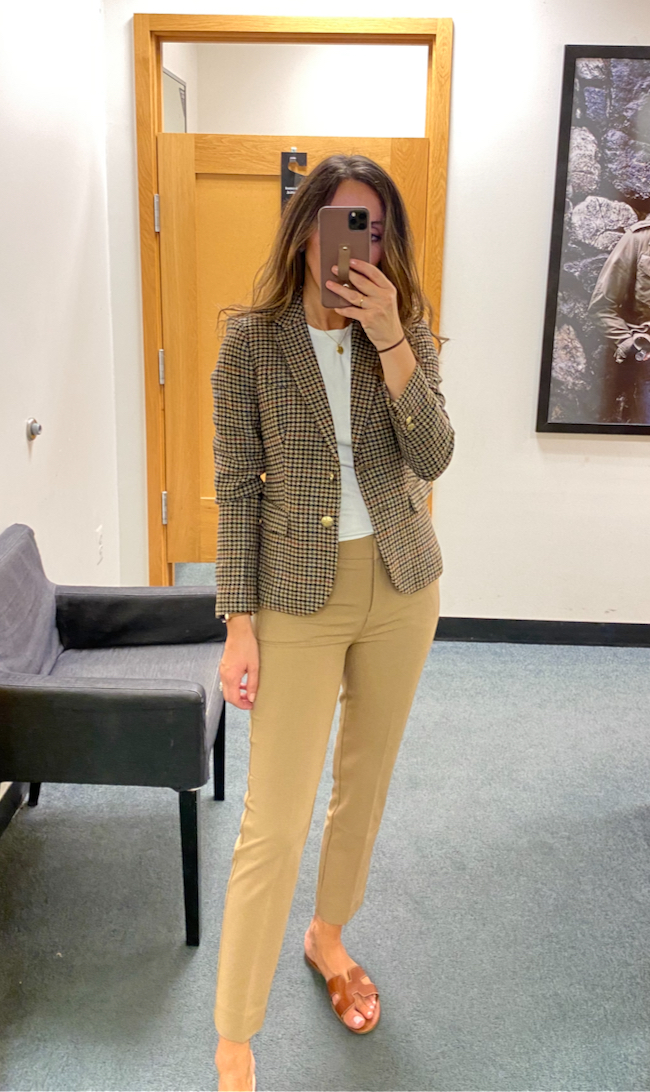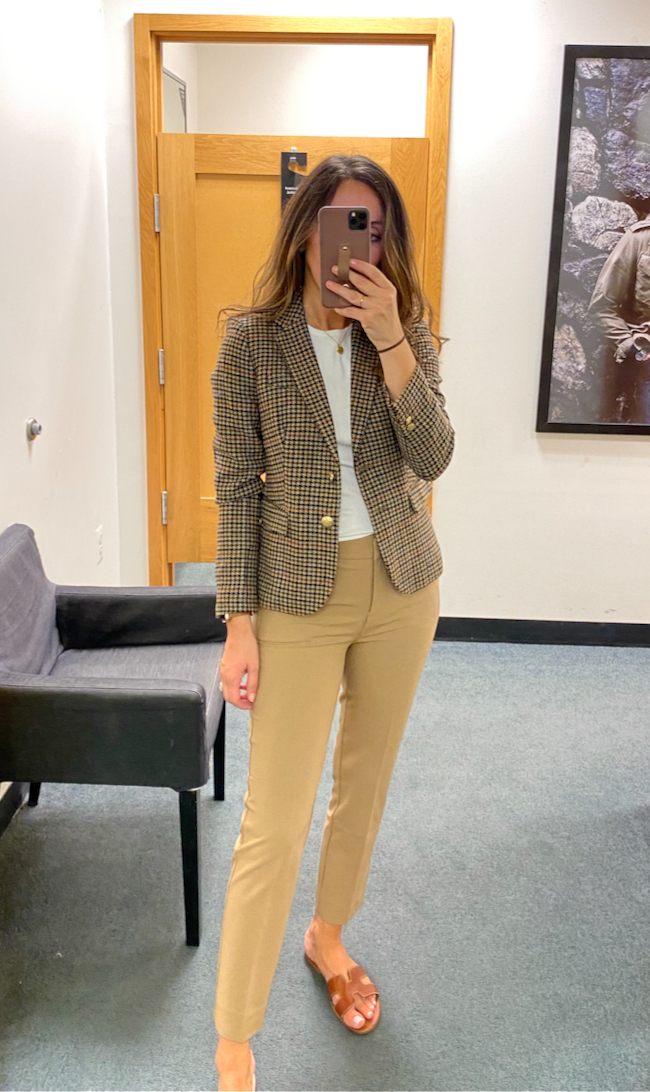 Houndstooth Blazer | Pants | White tee
That's it! Hope you find something you like!