Rounding up some recent outfits and sharing my thoughts on a pair of Chelsea Lug Sole boots. So if you're looking for a pair that's not too chunky, this post is for you.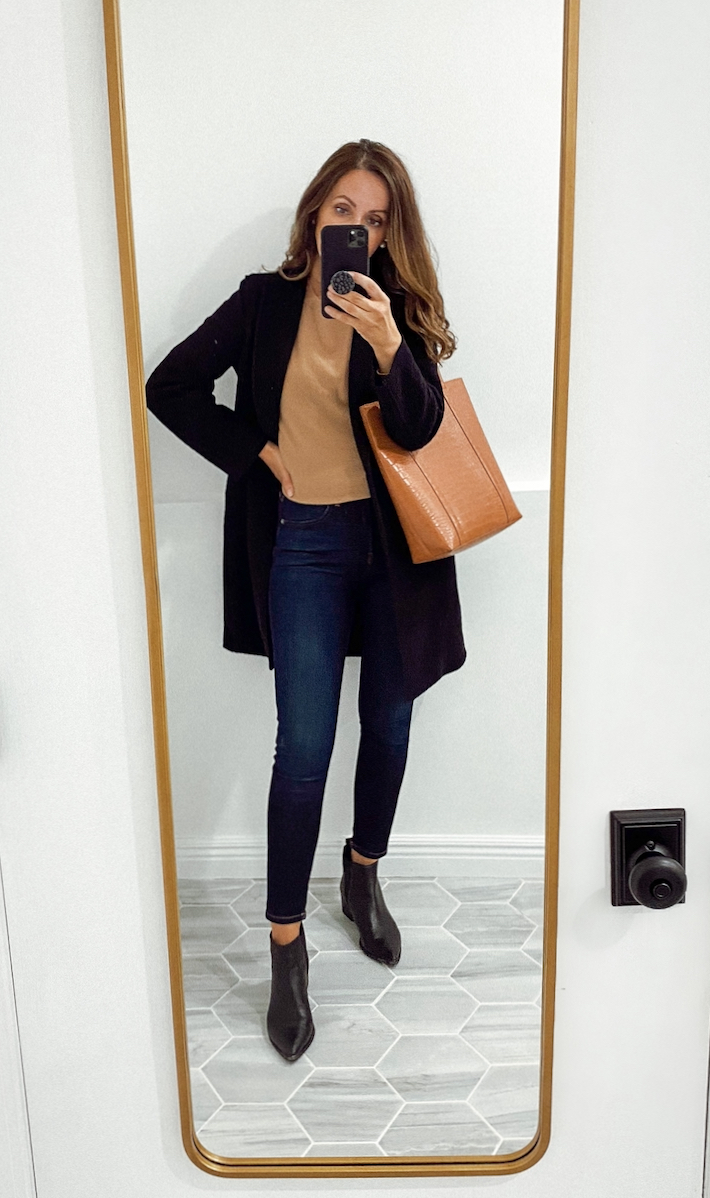 Black Coat in XS | Cashmere sweater in small | Dark Wash Jeans tts for me (ankle length) | Marc Fisher Booties tts | Croc Tote (gifted)
I've had this anorak for five or six years and I still get excited each time I wear it (am I sounding like a broken record yet? I think I say this every time I share it). They have updated it since (a couple of times actually) with some improvements. I'd love the current version but obviously don't need it as there is nothing wrong with this one.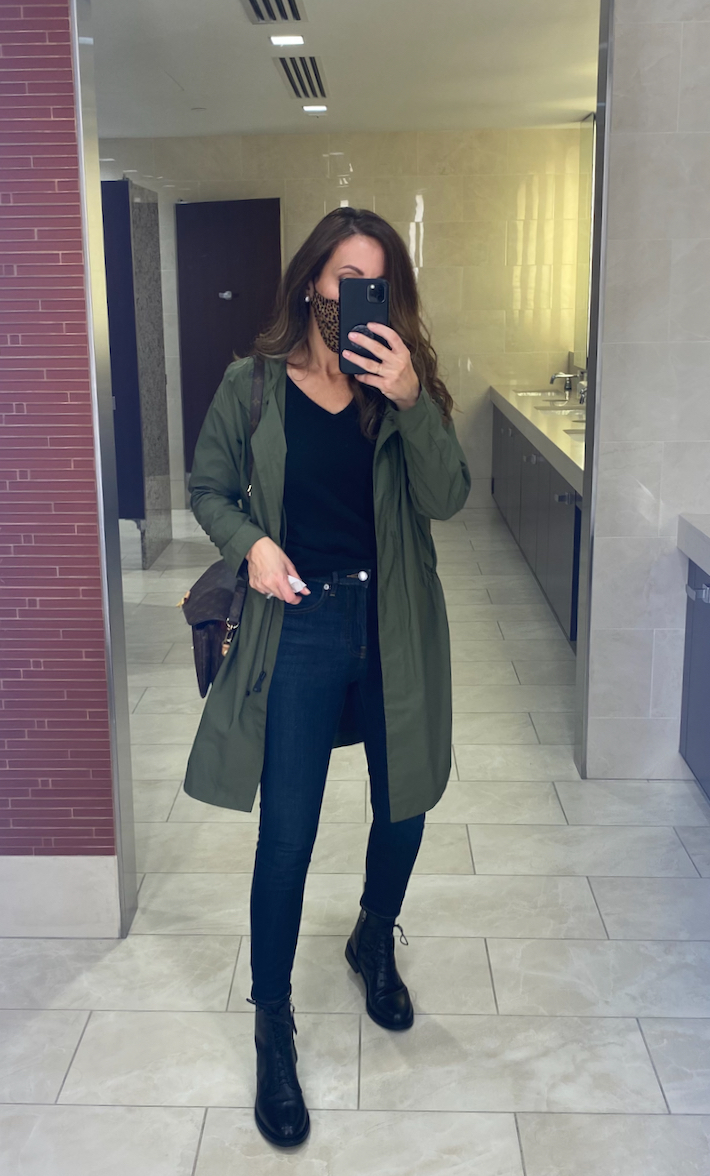 Anorak in XS – updated version | Skinny Jeans tts | Cashmere Sweater in S | Lace-up Boots – on SALE! (I sized up 1/2 size)
I've been on the hunt for a good fisherman's sweater for a couple of years now. While there are great options out there, I haven't found what I was exactly looking for. Or I found ones I loved but they were on the $$ side and I wasn't ready to invest. My search continued and I stumbled upon this one – in men's department. I decided to give it a try as it was such a good price and it's 100% cotton. I got size XS which I'd say fits like a woman's small. It's like a tunic length and sleeves are longer and since neither one of those things bothered me I decided to keep it. It comes in women's version as well but I liked men's version better as it looks just a tad chunkier.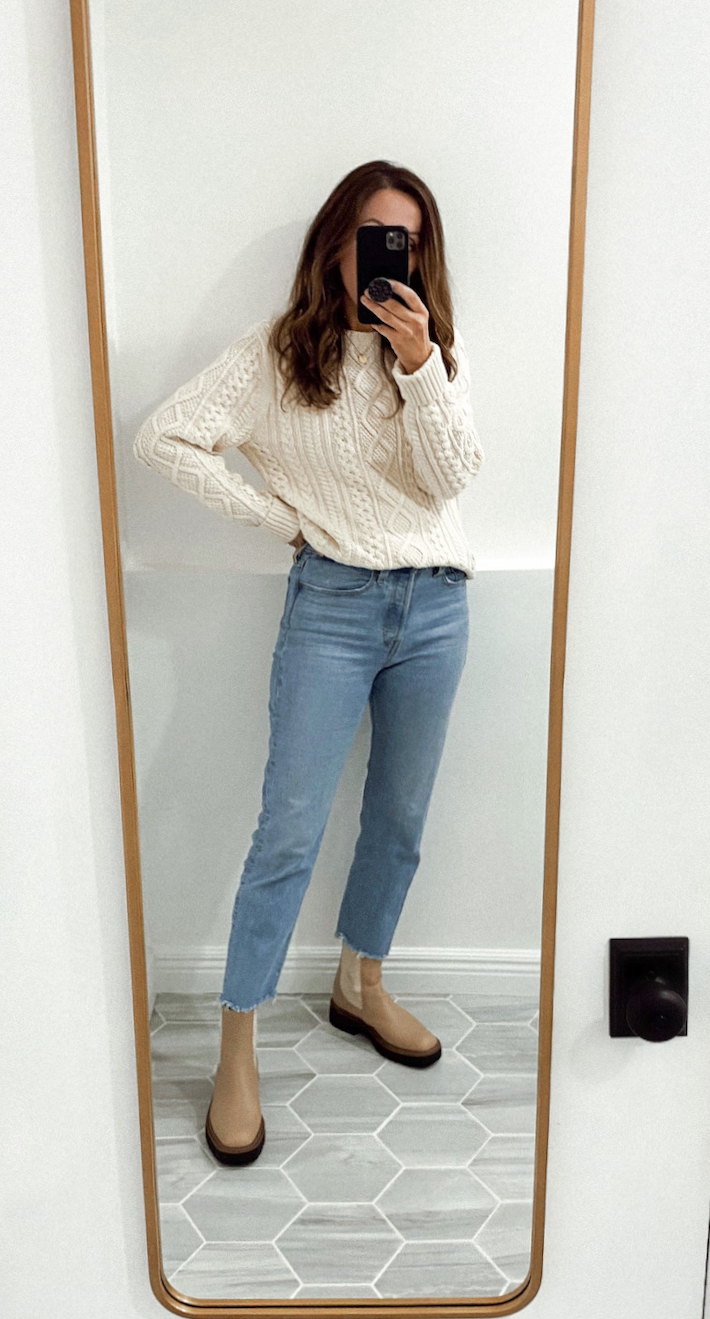 Straight leg Levi's Jeans (I sized up) | Sam Edelman boots from Nordstrom (I sized up 1/2 to wear thick socks) and here from Zappos | Sweater XS
A while back I found the one below at Banana Republic. It's very warm and chunky enough. I sized up but if I would get it I'd stick to my size so I can actually wear a coat over it. With that said, I think it does run true to size unless you want it a tad more relaxed. Jeans are true to size. My flats are available in a few sizes (tts for me)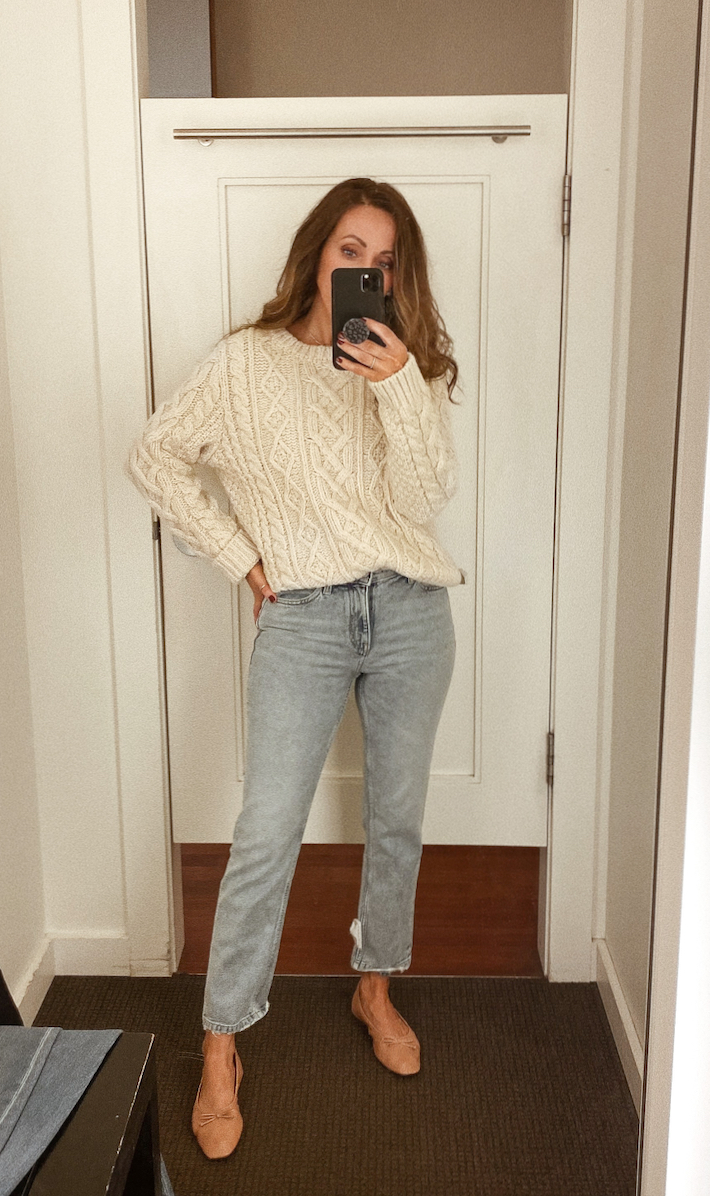 I've been on the hunt for a pair of Chelsea lug sole boots. I was looking for a pair that 1) wasn't too tall 2) didn't look chunky 3) and obviously comfortable. I ordered this pair and didn't like them at all. Back they went. In the meantime I was stalking this pair for weeks hoping they would restock. I wasn't being hopefully so I ordered this Madewell pair. I did try the suede style in 1/2 bigger in store and they seemed very room so I decided to stick to my usual size. I have stuck to my usual size in my older Chelsea style booties I've from Madewell. I find that their shoes run true to size but a tad narrow. Since they're leather, they stretch out. This new pair I got fits tts but is a tad narrow. If I wear thin socks, ones I usually wear with sneakers, then they're fine but anything a tad thicker and they feel snug. I was trying to decide if I want to bother and wear them around the house too stretch them out (I mean, I'm already home so why not wear them around the house and be uncomfortable for an hour or two a day). Yesterday I wore them for a little while with these thick sock (not a pair I'd usually wear and expect any boots to be comfortable without sizing up). BUT it helped stretch them out. So it looks like I'll be keeping the Madewell boots. Wearing those thick socks worked, as usual.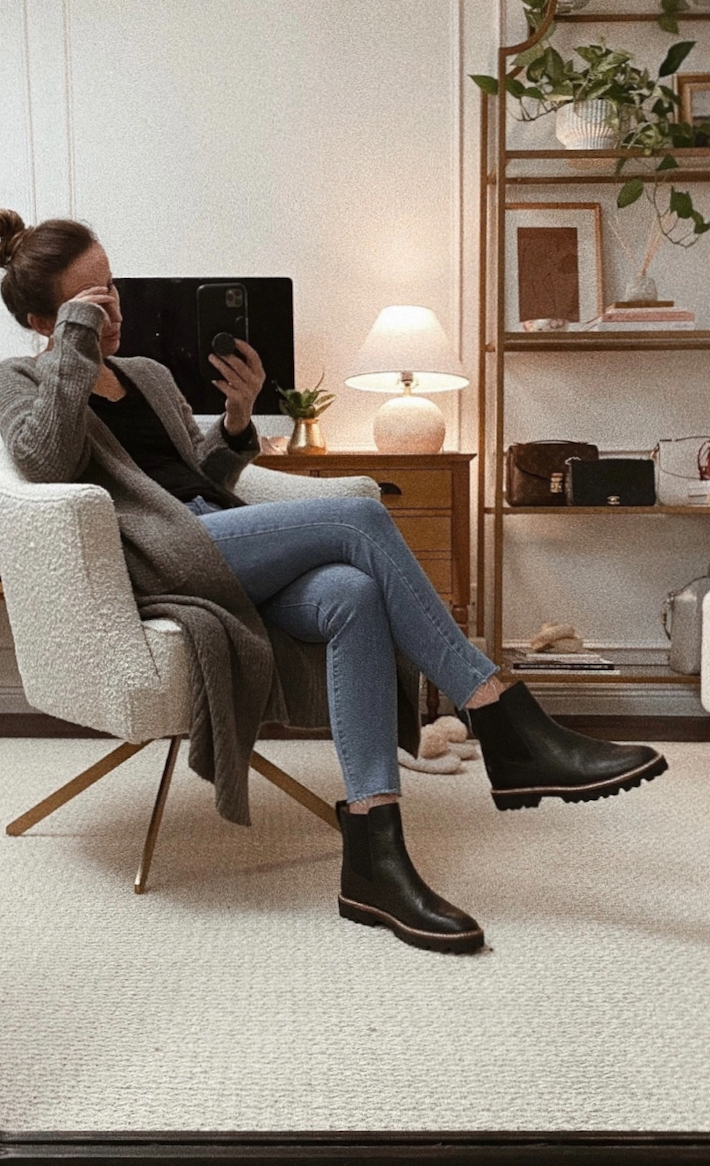 Duster Cardigan in XS | Scoop Neck long sleeve tee in XS | Lug sole boots | Jeans (old from Walmart) – similar by same brand

Below is the side by side comparison between Madewell boots and Caslon boots. I got the Calson ones for my sister (she's size 10 so that's why they look bigger). I think the leather looks a tad nicer on the Madewell ones and I like the stitching better but for the price difference those are minor details. Both have positive and negative reviews so the best thing is to find out for yourself if they'll work out for you or not. Everyone's feet are different so what works for me might not work for you (as with everything else).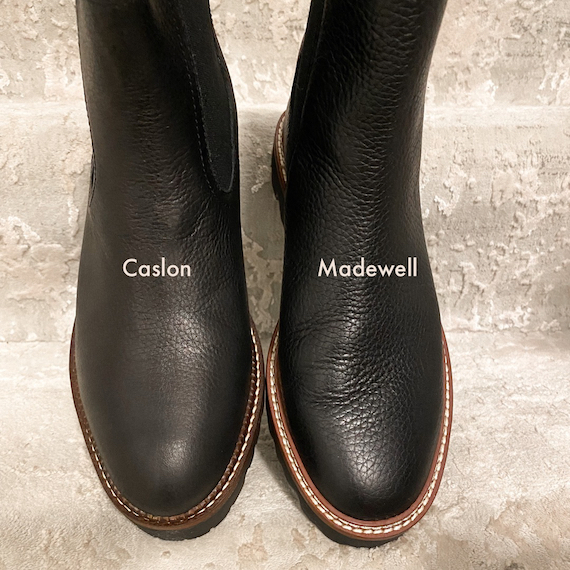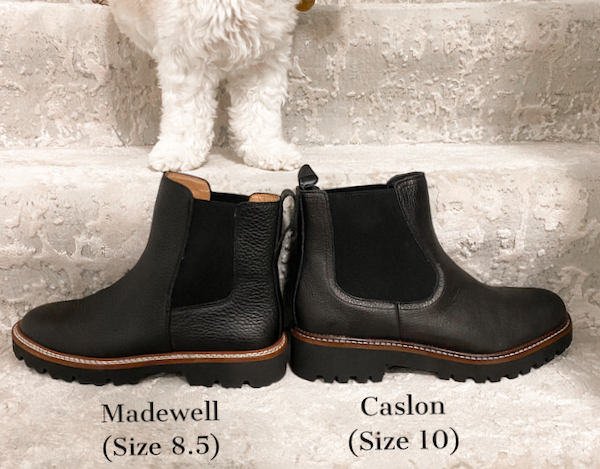 I was also tempted to get these Target ones as they look really nice. Not leather but if you are to looking to invest in a pair, these are a really nice option.
Have you found a pair of boots you like?