Quick stop at Express for one thing turned into me trying-on way too many cute pieces. I feel like my local store doesn't always have the best selection, which is the reason I have never done a try-on there before (I think!). This time they had a pretty nice selection. Can't say that I disliked anything, which is a little unusual lol. Quite the opposite actually. I think I can safely say that I loved every piece. Except the heels – they look great but I did not find them comfortable.
This long duster cardigan is a good dupe for the J.Crew coatigan that always sells out. I loved the length of this one, loved! This one feels more like a soft, slightly thick sweater. I tried size Small below (xs was not available) but I loved the oversized fit, so it came home with me. While it is somewhat similar to the J.Crew one it's also quite different for me to justify it (and gosh, it looks so good with heels). The satin cami, which comes in ton of colors, is what I've been wanting for ages (I thought I had ordered it long time ago). XS fit true to size and it has adjustable straps. You might need to size up if you're busty. But these cami's are perfect for under cardigans and blazers – adds a nice 'polished' look to any outfit. Jeans – I actually sized down in these. My size would have fit just fine too (if they had it) but a tad looser. Loved the style and fit so much. It was the only pair of jeans I tried on. Other than the shoes, this outfit came home with me. Will get a lot of use out of all three pieces.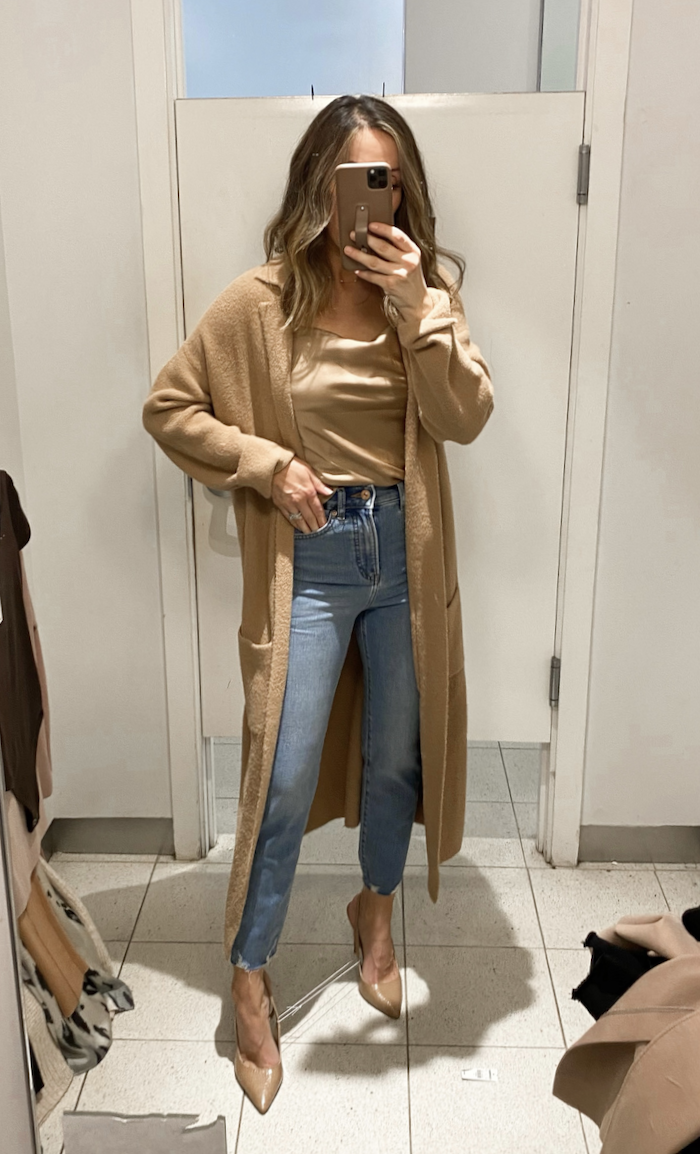 I have this cardigan in a the other color and it has been a favorite (as seen in this post). The darker color is actually longer but from what I've seen…the length is not always consistent. It runs tts but it is a looser fit in arms (which are also longer on the other color. Part of me thinks they mislabeled the other one I have). The body suit was a nice surprise – it is very comfortable, nice amount of stretch and it's perfect to pair with pretty much anything. It comes in more colors. Loved this brown.
Long Cardigan in xs | Bodysuit in xs | High Waist Jeans
This entire outfit…LOVE! (I love navy and black together). The blazer is such a classic pieces (Balmain vibes for fraction of the price). It runs true to size. The pants are very comfortable and beautiful style. I'm 5'6 in size 2 regular length. Heels are definitely needed. They do come in Petite as well. If you need nice pair of pants for the office or any other occasion – these are just fab!
Blazer tts | Pants tts – the only thing I didn't love is that they were not high waist
And the blazer looks amazing with jeans. Sub the heels for flats for a parisian chic look.
Blazer tts | Jeans
I loved this long button down. Loved! It is such a chic piece. I liked the look of size Small better and couldn't resist this one. It would look amazing with black ankle pants and simple flats during warmer months. Again – parisian chic lol
Striped Button Shirt in Small
This sweater blazer was prettier in person. It is giving me Chanel vibes. Great classic piece and will polish any outfit. It runs true to size.
Sweater Jacket – Love this similar one in color Swan |
This jewel button cardigan runs true to size. The button are not functional, which for such big buttons is probably a good idea. It comes in more colors.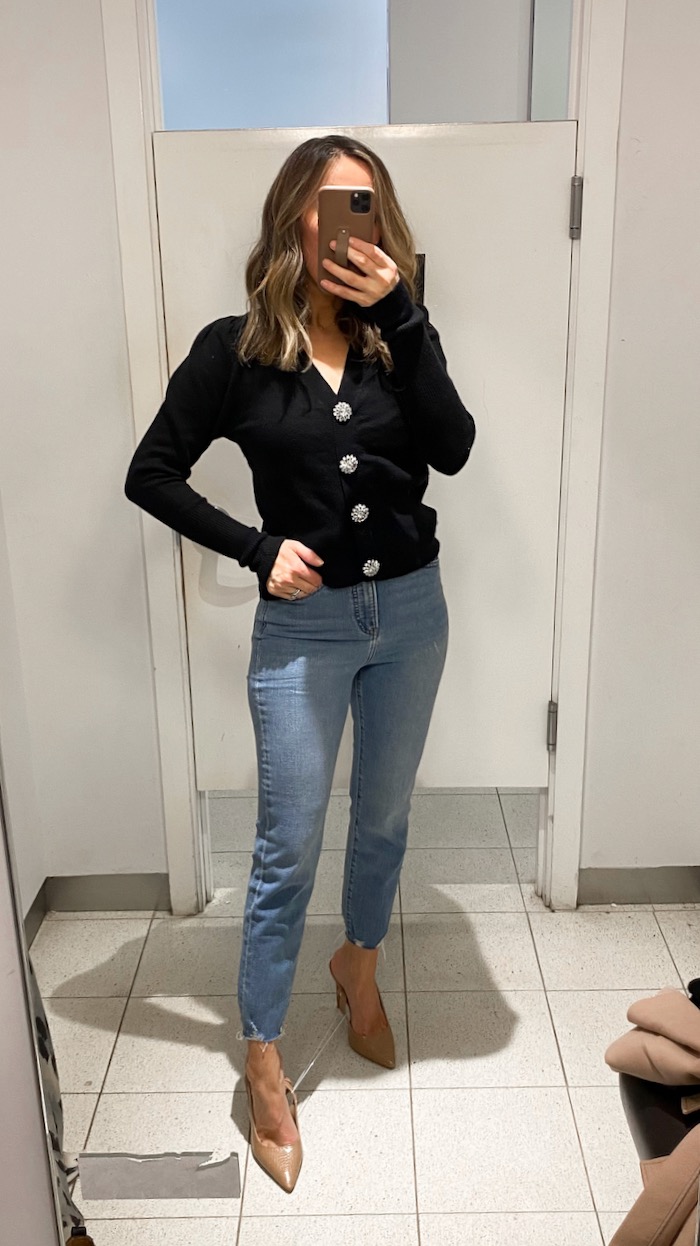 Jewel Embellished Sweater tts
These sweater pants were very comfortable. I tried size small and while they fit great, they were a tad big in the waist (not terribly big). I'd wear these with sneakers for a cute causal look.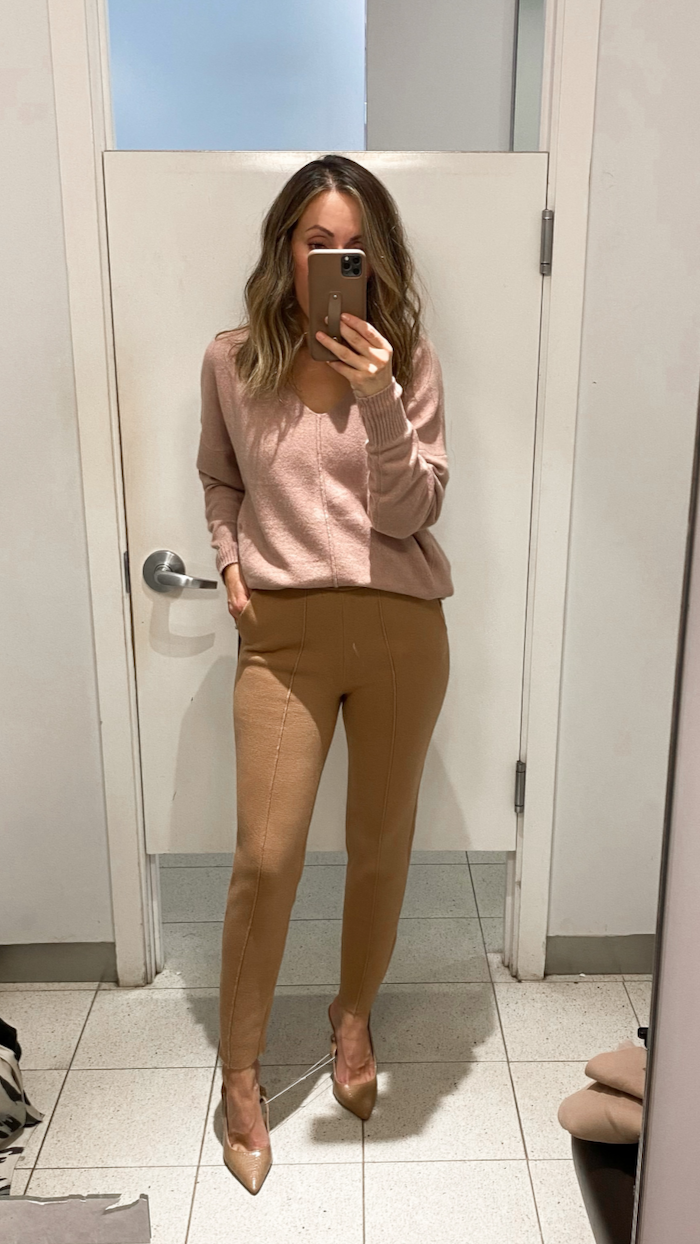 Sweater Pants in small | Sweater in xs – loved it!
This satin print dress was…kinda fab! The only down side – it's only partially lined. It would have been perfect if it was fully lined (can alway add a longer slip). For colder months throw a nice turtleneck or crewneck sweater over it and a pair of knee high boots – I can already visualize the fabulousness of that outfit! You can also add a longer blazer (the outfit visualizations make me want to get this dress now). I tried xs and it fit tts for me. If you're busty you might need to size up.
Satin Print Dress in xs | Croc Slingback Heels (I found them uncomfortable)
This wrap coat is a popular one. It comes in multiple colors, runs big but it is a nice one. I tried on Small below and it definitely was on the bigger side. But…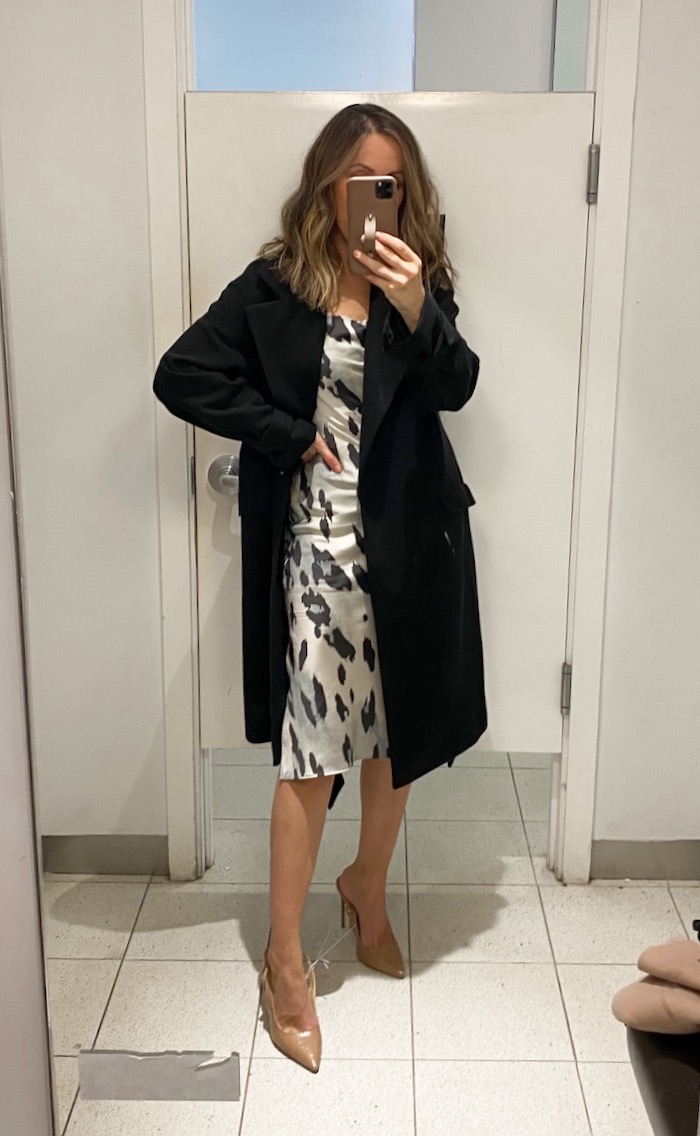 …belted it looks actually nice. I am usually xs in most coats and would get xs since this style I would not mind slightly oversized.
Liked this sweater skirt a tad more -easier to style for more occasions. Tried small below -tts.
Sweater skirt – comes in more colors | Long Cardigan | Bodysuit in xs