Happy Friday!
I am sure everyone is very much ready for spring by now. February is the coldest month here which makes me yearn for warmer weather even more. It is the perfect time for a trip somewhere nice and warm. Have you traveled yet?
I am so excited to see that stripes are huge for this spring. While they're classic and never go out of style, they're having a major moment this year.
This was one of my favorite recent outfits and I know this one will be in heavy rotation once it warms up a tad. This duster cardigan, which comes in three more colors, is a favorite…so soft and cozy. It runs true to size but I decided to size up for a slightly oversized fit (this entire time I had it I was positive it was in size small until the other day I noticed it was in Medium. I still love how it fits).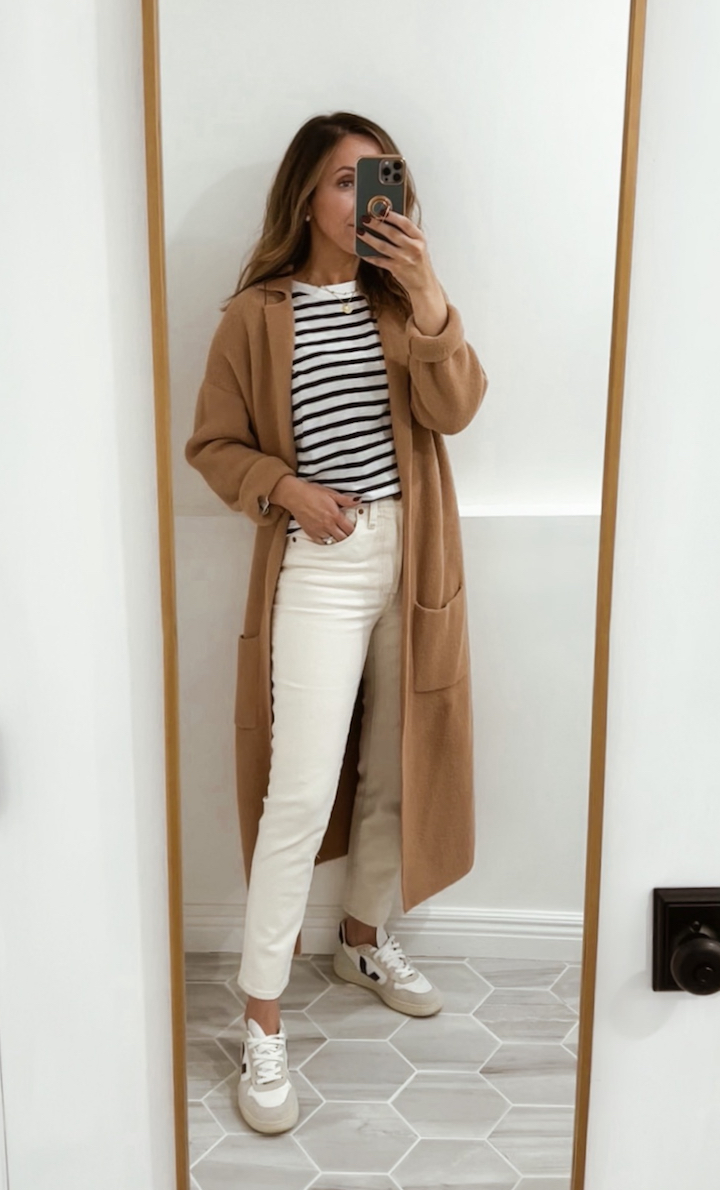 Duster cardigan | Madewell jeans tts for me – another similar option | Oversized J.Crew stripe shirt (old) – similar option, another option | Veja Sneakers (size 39, I'm otherwise 8.5) – also love the Campo style
I snagged this oversized lightweight coat back in December during the Mango sale (coat is still on sale and fully restocked at the moment). While it is oversized it is NOT sloppy in any way. Quite the opposite actually. It also comes in three beautiful colors which would be perfect for spring. Very, very tempted to snag one. While I love my neutrals I do love a fabulous color coat. Which color would I pick? That is the tough part… they're all so pretty and I am equally drawn to all three colors.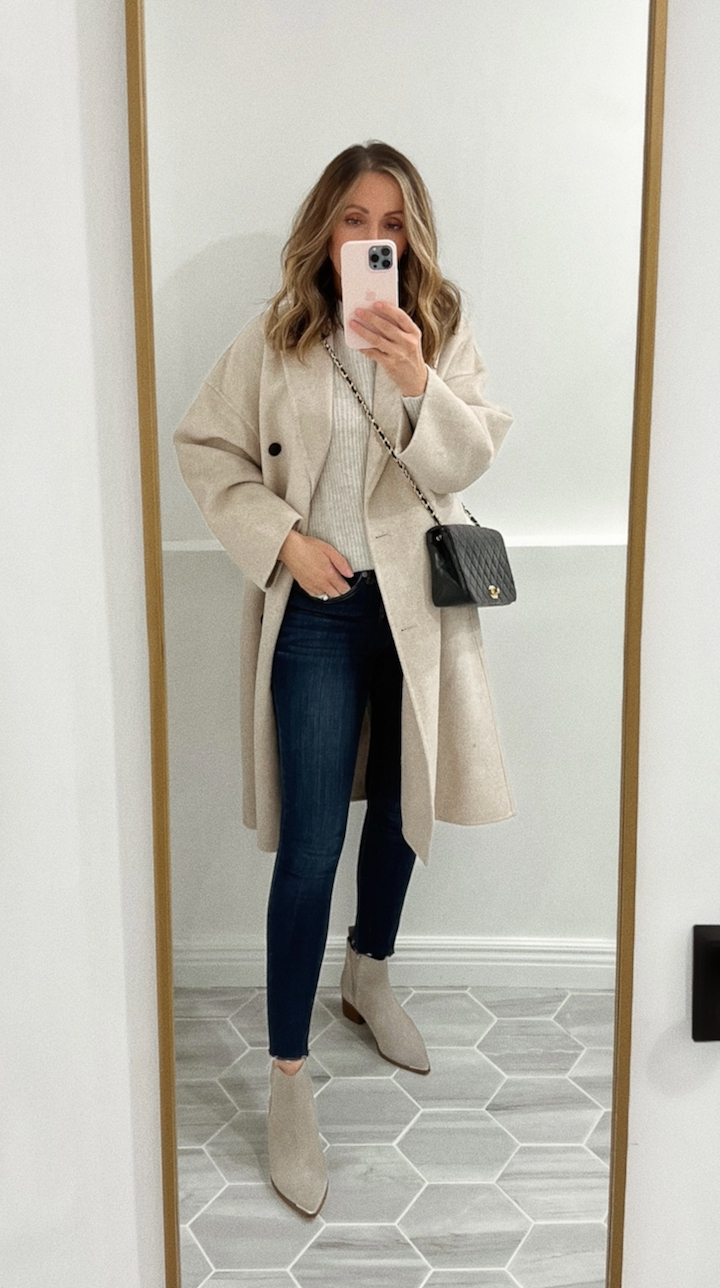 Mango Coat in xs (in other colors) | Marc Fisher booties tts | Everlane Light Alpaca Sweater in xs | Skinny Jeans tts – only $22 |
I've been wanting a tan oversized coat for a while and when I saw this one go on sale I decided to give it a try. XS was sold out so I ordered small….(it's fully in stock at the moment so snag it before it's sold out). You can easily size down though if you want it a tad less oversized. I am tempted to order XS as I still have five days to return it (love that Mango currently has 60 day return policy). Most likely will just stick with small. The original plan was to either keep this coat or the one above and after almost a month of debating…I decided to keep both. Yes, coats are my weakness. While this coat is not a winter coat, it works on not-so-freezing-days with the right layers. Especially if you're not planning on spending much time outside…more of a in-and-out-of-the car coat during winter.
Tan Coat | Madewell Straight Leg Jeans (tts for me) – on sale! | Madewell boots tts | Stripe Sweater in small
I am a huge fan of Madewell Vintage straight leg jeans. Reviews on sizing tend to be mixed but I think it comes down to your body type. If in doubt, order two sizes…that's what I usually do (with retailers that offer free returns).
This outfit is from last year but this sweater blazer is back. I have it in gray too and love it (xs in both). It looks like they've slightly changed it…the new version looks a tad shorter but still a great wardrobe staple.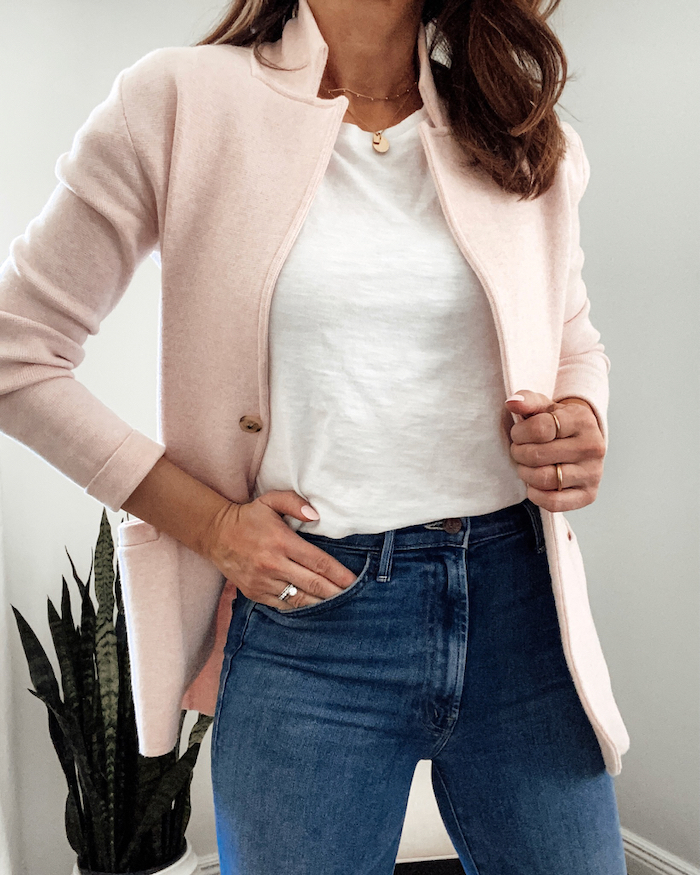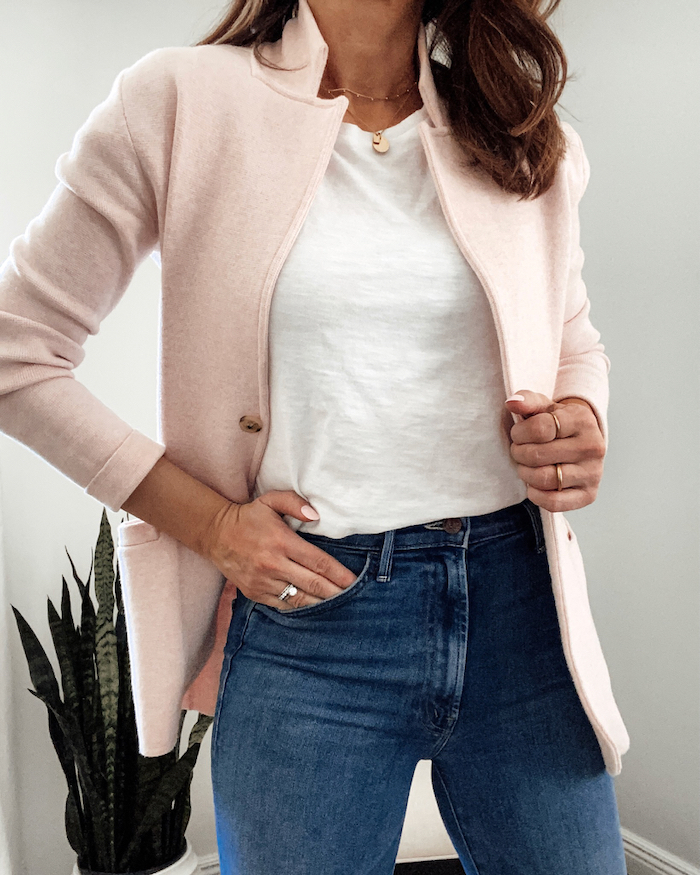 J.Crew Factory sweater blazer (updated version) | J.Crew Vintage tee in xs | Mother Jeans tts – here too | Madewell necklace
Have a great weekend!