I've been on the hunt for a couple of nice classic dresses. My search has proven rather difficult. While there is a lot of beautiful dresses I had a hard time finding one that checked all the boxes. Ann Taylor always has a great selection of dresses so I popped at the store to try a few on. Current Ann Taylor promo – take up to 50% off your purchase with code INBLOOM + Free Shipping. Ends 4/16 at midnight
This gingham belted sheath dress was my favorite. It is a beautiful, timeless dress! Unfortunately, sheath dresses in most cases just don't fit me right. They either fit great on top or bottom but rarely both. I meant to grab size 2 but ended up with 0 which fit me great on top but was beyond tight on the bottom (I almost got stuck lol). While it doesn't look like it I did need a size or two bigger on the bottom. I should have tried the right size, 2 or 4, which I know would have fit great on bottom but big on top (this dress fits certain body types perfectly, but not mine). I will, however, keep my eye on this dress and when it is on major sale, and it has to be major sale, I will buy it and get the top taken in (if possible). I absolutely love it!
Gingham Dress
This Pink Pleated dress was actually a very cute one. It runs tts.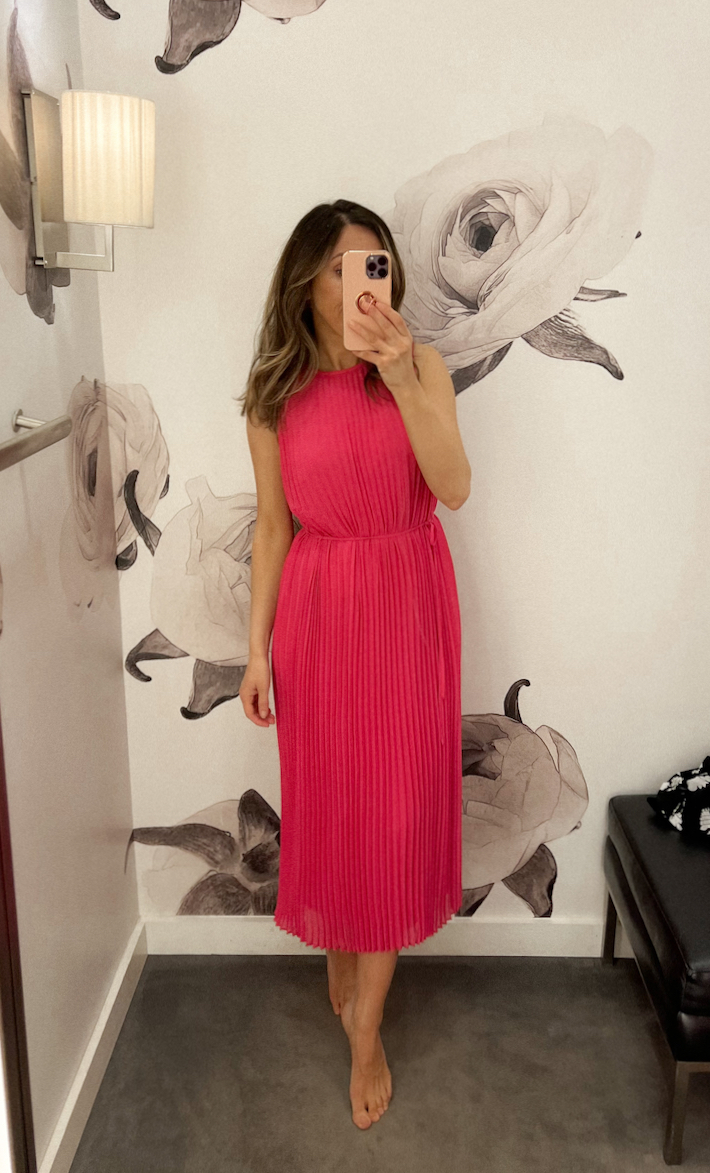 Pleated Dress tts
This eyelet scoop neck midi dress is cute but it wasn't what I was looking for. I tried size 0 below and it was a tad tight on the hips for me.
Eyelet dress
This midi fit and flare dress would have come home with me if it was not low cut. Doesn't seem as low cut in the picture but it was very low cut. This is the type of dress I would have in my wardrobe until it either falls apart or I can no longer fit in it. Very flattering in person! I'm very sad that it didn't work out. Runs tts.
Tie Sleeve scoop neck dress in size 0
This midi dress would have also come home with me but…low cut again. It definitely does not look like it on the picture since I pulled it up but it was sadly too low. The fit otherwise was great! Fits tts (wearing 0 below).
Midi Dress in size 0
This floral dress fit so so well. The neckline, and style in general, is beautiful and flattering. I just wish it was a solid color or maybe not as bright as I didn't feel 100% me in this color. It runs tts.
Floral midi dress in size 0
I liked the general style of this floral smock midi dress but it was a generous fit. The waist felt loose hence not giving it a more defined overall look. At least this was the case for me/my body type. Wearing 0 below.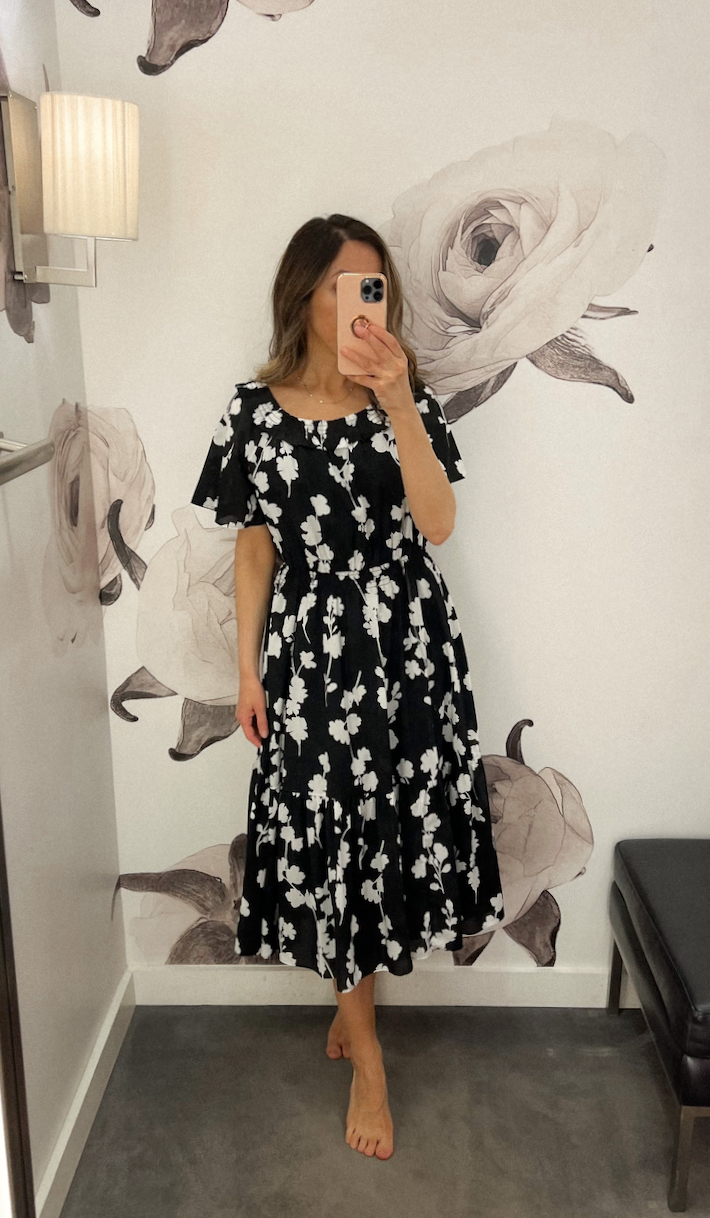 This houndstooth blazer is absolutely beautiful hence the reason for almost being sold out (guessing it will get restocked again). I'm wearing 0 below and it was a tts generous fit.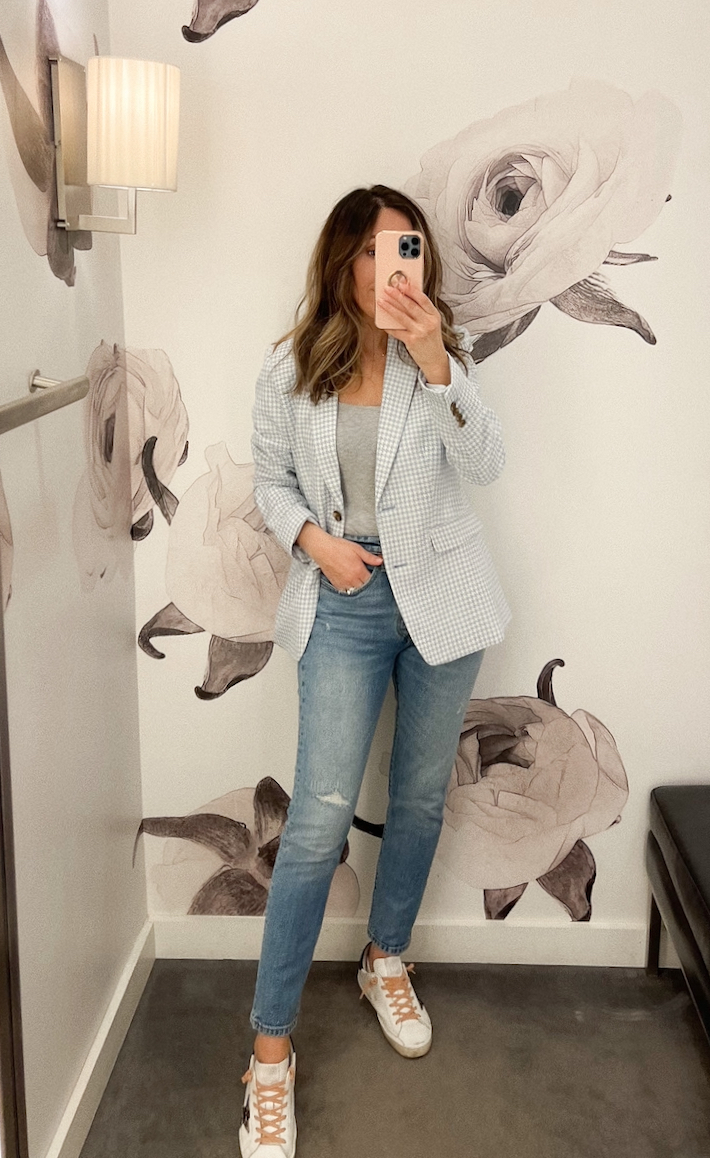 Jeans are Levi's 501
Also loving these dresses…

At the end of this try-on I walked out without a dress. I did order a couple of dresses from a different retailer and hopefully one of them will work out.