The Fall Capsule Wardrobe 2022 is finally here!
I finished the fall capsule wardrobe over two weeks ago but I have been waiting for some retailers to release more fall items so I could link everything at multiple price points. I will keep it as it is for now.
If you have been following me for a while you might notice that almost all of the pieces below look familiar. And you'd be right! Everything is from my wardrobe. Some from years ago and a few newer ones (a couple of pieces are very similar as mine are old, like the houndstooth coat and the wool blazer. The wrap coat looks a bit darker than mine and I actually like the new shade more).
All of these items are classic yet trendy! The pieces and the color palette reflect my personal style, they work well with each other and they're functional. You can easily swap out some pieces to reflect your personal style, wether it is color or cut.
When shopping I always try to focus on 1) purchasing timeless pieces and 2) pieces that can be easily mixed and matched with what I already own. I love elevated basic!
Right below the capsule all the exact items will be linked. Everything runs tts (for me at least).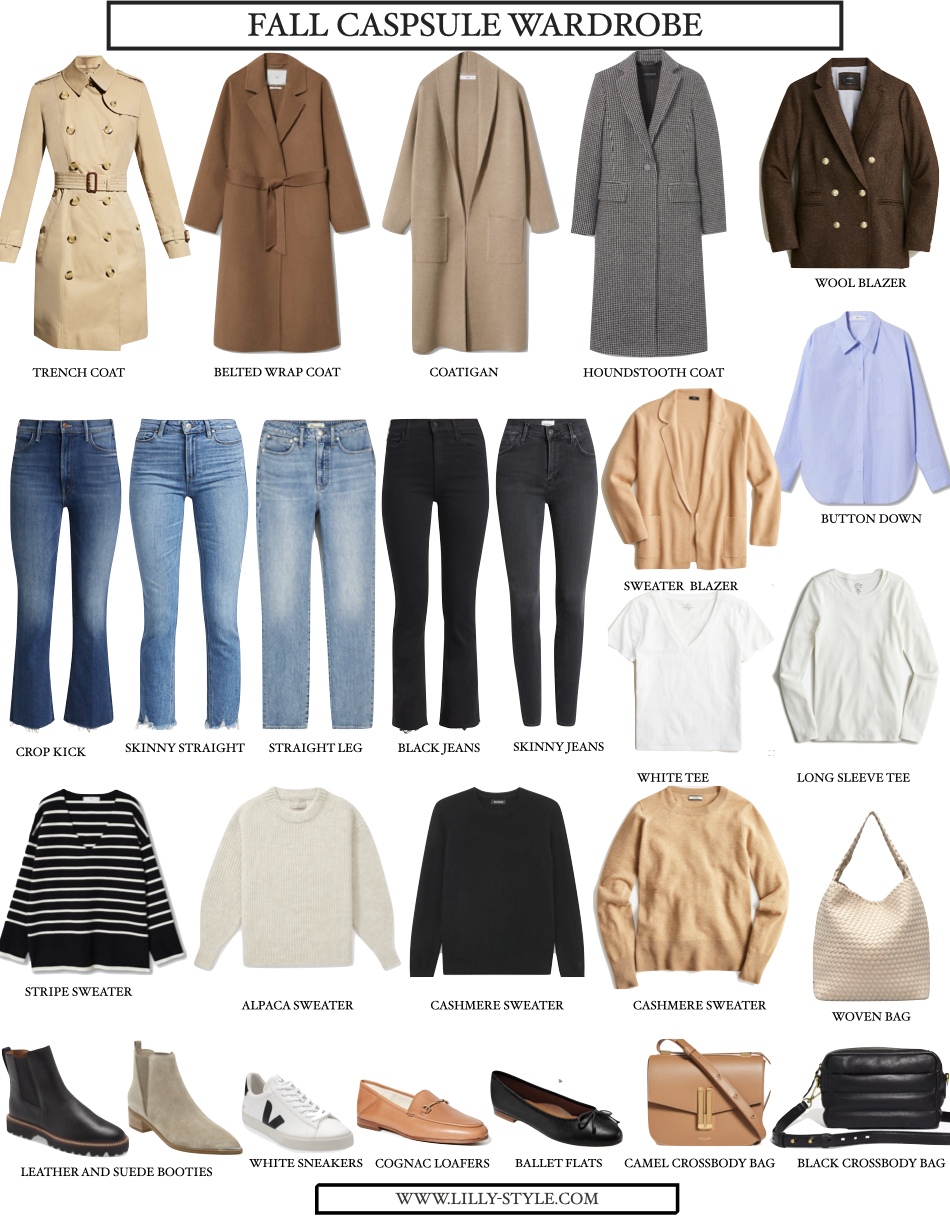 TRENCH COAT | BELTED COAT | COATIGAN | HOUNDSTOOTH COAT | WOOL BLAZER | CROP KICK JEANS | STRAIGHT SKINNY JEANS | STRAIGHT LEG JEANS | BLACK JEANS | SKINNY JEANS | SWEATER BLAZER | BUTTON DOWN | WHITE TEE | LONG SLEEVE TEE | STRIPE SWEATER | ALPACA SWEATER | BLACK CASHMERE SWEATER | CAMEL CASHMERE SWEATER | LUGSOLE BOOTS | CHELSEA BOOTIES | WHITE SNEAKERS | LOAFERS | BALLET FLATS | WOVEN HOBO BAG | CAMEL CROSSBODY BAG | BLACK CROSSBODY BAG
I love that all of these pieces are so easily mixed and matched. And they work perfectly for just about everything else in the wardrobe.
COATIGAN/CARDIGANS/BLAZERS

SWEATERS

SHOES

Will these be the only items I wear this fall season? No! But these are my key pieces and ones that make it in rotation the most. Considering our September seems cooler than previous ones, I tweaked the capsule just a tad. I added my lugsole boots (exact ones) but these are very similar and better priced. And I added the houndstooth coat (very similar to my old one) since I reach for it a lot in October and November. I probably should have added these wide leg jeans as I will be reaching for them a lot. Jeans are the hardest thing to narrow down.
Here are some styling ideas…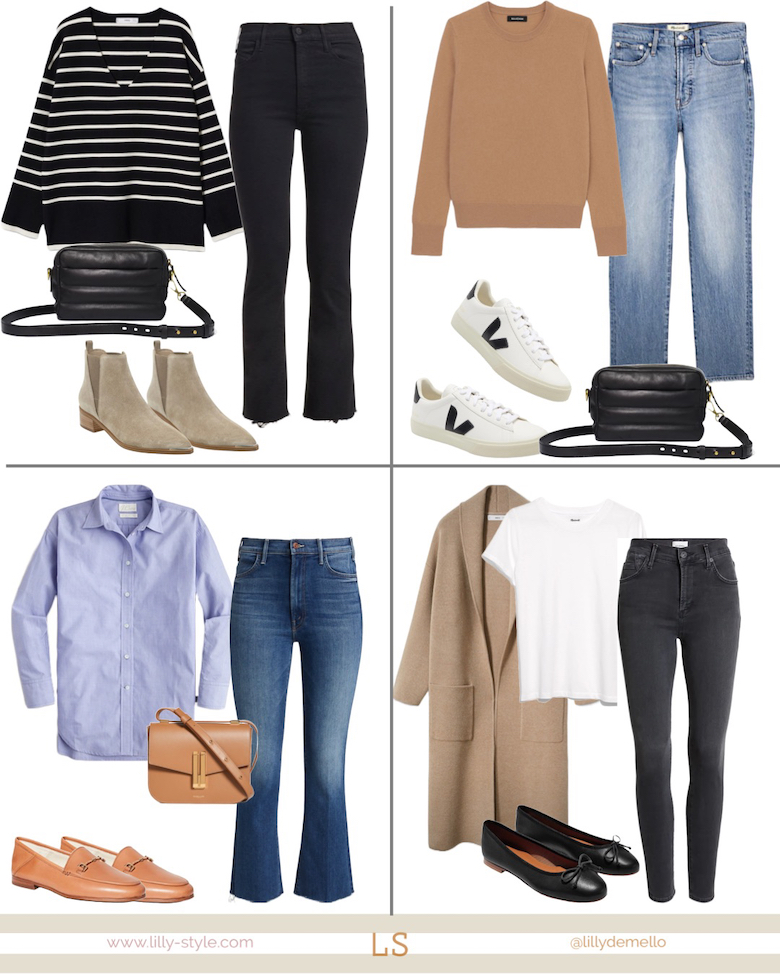 Some inspo with the stripe sweater. Top left outfit is the exact same as above. Other pieces remained the same with the top being swapped out.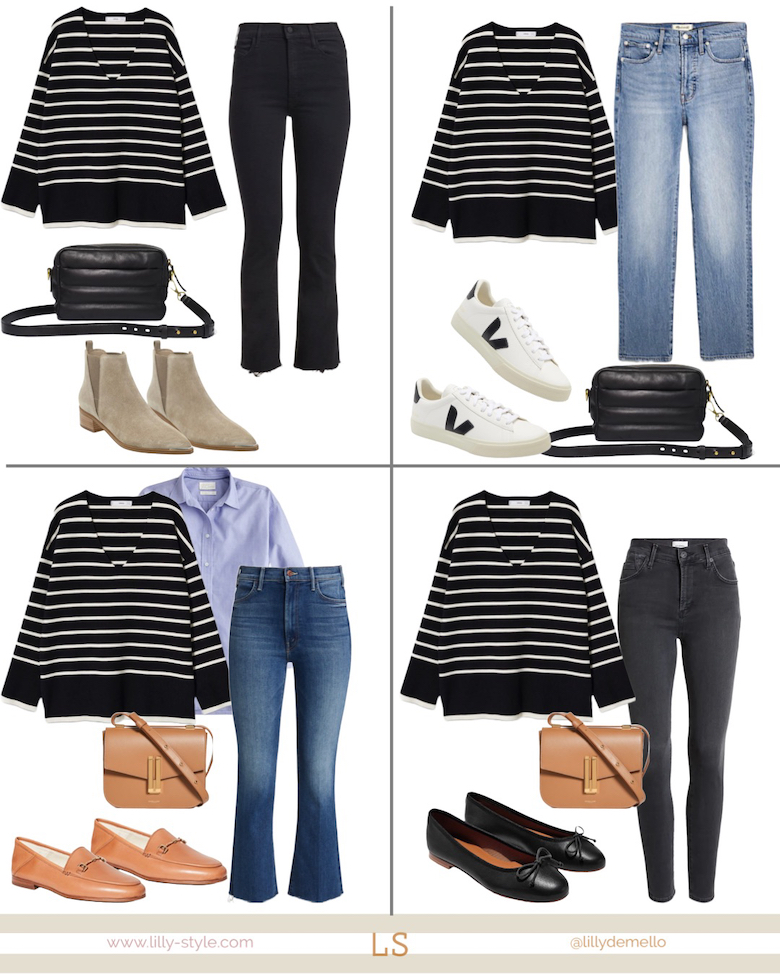 Feel free to ask any questions in the comments below!