I have been waiting for the Sephora sale as I recently ran out of some of my favorite items. VIB members can now shop with 15% off w/code SAVINGS. I am trying to stick to just ordering items I know I already use and love. I did get two new products to try after hearing great things about them.
I did in-store pick up for what available, the rest is getting shipped. As lazy as I felt to make a trip to Sephora, my hair is missing my favorite hair mask and I didn't want to be without it any longer. I can't remember the last time I actually repurchased a hair mask but my hair has been loving the Ouai hair mask so I am sticking to it until my hair says 'enough' lol. The best detox shampoo is from the same brand and thankfully I already had a backup when I ran out recently (I've been using it for three years and love it). If you use dry shampoo or hair products, the detox shampoo is a must!
Below is everything I have (re)purchased today or in the past. Thankfully not many items needed replenishing this time. There are more items I love but almost all of these are my most used/true and tried. Didn't want the list to get too crazy.
FAVORITE HAIR PRODUCTS
The only thing missing below is Aveda Volumizing Tonic. Everything has been repurchased multiple times and these have been my favorite hair products for a while now. Also, sticking to some of my old favorites. I ordered a full size of the Christoph Robin Volume Paste as I recently ran out. Keeping small one for travel.
CHRISTOPHE ROBIN VOLUME PASTE – I've been using this on and off for a few years now (fairly regularly in the past 8 months or so). It works amazingly when used correctly. A little can go a long way. Make sure your hair is wet-wet, take a small amount -> separate your hair -> massage directly on your scalp + keep separating your hair as you add paste to your hair (work in sections). Never just put in on your hair without separating the hair first. Make sure you keep adding water so your hair stays wet as the paste will lather much better. Massage gently. I let is sit for a minute or two before rinsing. Follow up with a good hair mask. Mine is below…
OUAI FINE TO MEDIUM HAIR TREATMENT MASK – this is my favorite hair mask! I use it every time I use the above volume paste. When I use these two together, 90% off the time my hair looks great! I was without it for a couple of weeks and I could notice the difference in my hair. Don't want to be without it again.
OUAI DETOX SHAMPOO (with Leave-in Conditioner or just the shampoo here) – I've been using this detox shampoo for a few years and it is my favorite. Especially when I've used dry shampoo for one too many days.
BRIOGIO FAREWELL FRIZZ + HEAT PROTECTANT CREAM – I've repurchased this cream both for frizz control but mainly for heat protection.
MOROCCAN OIL – I have used this hair oil on and off for maybe 15 years. Off times were when I tried other hair oils but always ended up going back to this one. It is my favorite and I will just stick to this one as it works the best for my hair. It comes in Light as well.
DYSON SPECIAL EDITION HAIR DRYER – this was last years splurge (in a different color). Is it worth it? Hmmm…that's a tough one. It does dry hair fast but for my textured thin hair it doesn't do wonders. I still like it, especially because Pippa and Luna are not scared of it/don't run away when I dry them after baths. I will go ahead and say it saved us money on groomers lol
BEAUTY MUST-HAVES
LANEIGE favorites
TATCHA OIL BLOTTING SHEETS – I love these oil absorbing sheets. I always try have them in my bag.
LANEIGE LIP MASK – I have been using this for years and can't go to bed until I apply it (I use it during the day too of course). It's moisturizing and I'm never without it. This set is great as it comes with the balm too (the berry balm smells great).
LANEIGE CREAM SKIN MIST – read great things about it and decided to try it as I need a hydrating mist now that cold weather is here.
LANEIGE CREAM MOISTURIZER – I got this cream a while back and have been loving how light it is. Not sure the claim "visibly firms" is true but it is a great lightweight moisturizer.
MAKEUP
LAURA MERCIER ULTRA-BLUR SETTING POWDER – I've used the LM translucent powder for years and after reading great reviews about this new Blur Setting Powder I decided to purchase it today. I got it in Honey and now I'm questioning my choice. Will see if it's too dark for me (maybe great for summer tan). Otherwise will exchange for translucent.
MINI MASCARA SET CLEAN BEAUTY – I am always trying new mascaras. My favorite way to do so is to get mini sets. I always grab them when available, sale or not, and they've always come with a coupon inside for a free full size tube for any one mascara included in the set. So you're practically getting the mini set for free. This one is a no brainer for me.
MERIT LIPSTICK – not only is it clean beauty but it is a nice stain lipstick that looks quite natural and it doesn't dry them out. I dab it on but it's easily buildable. I got color Millennial and it is a very soft your lips but better shade.
MERIT BRUSH – this brush is amazing. I ordered it a while back along with this foundation/concealer stick (and also the blush). It is an amazing brush.
MERIT CREAM BLUSH – Love how easy it is to apply this blush and it look very natural.
ANASTASIA BROW PENCIL – repurchased many times. I always go back to this one.
SMELL GOOD FAVORITES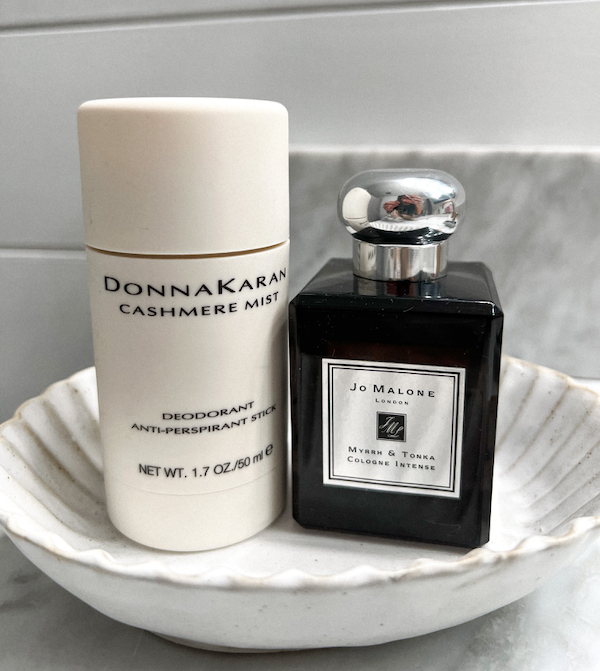 DONNA KAREN CASHMERE MIST DEODORANT – while I try to use natural deodorants, during summer time they don't do a thing for me. I feel like I can just use them when I'm at home or not gone for a very long time (otherwise need to reapply after a couple of hours). I tried this cult favorite earlier this year and it's quite nice I must say. A tad pricey…
JO MALONE MYRRH AND TONKA PERFUME – my absolute favorite for Fall/Winter. It smells sexy…that's the best way I can describe it. There have been many times I could not smell it on me but got compliments on it (with that said, go easy on it lol).