Outfits from yesterday's reel.
I've mentioned before, during winter I layer long sleeve tees under my sweaters. My favorites are Uniqlo's extra warm thermal tops. I also love these long sleeve ribbed tees from Target and have a few of them. Both run tts.
I've been loving this Ecru hobo bag. Even when I'm wearing my crossbody bags, many times I throw the hobo bag in the car. Especially if I'm gone for half or full day and need a few more things that don't fit in the crossbody (but still want the easy of a crossbody in most cases). I've added a full size hand lotion and a few other necessities, including one or two emergency snacks lol. The bag comes with a pouch that keeps all the smaller items organized in one place. I did also order this cute tweed cosmetic case because it is SOO cute and sometimes I'll use that one instead.
I've searched for a long wool or wool blend coat for weeks and weeks…and dear lawd why is it so hard to find an affordable one!?! I ordered this one from Reformation during Black Friday. Per their description I expected it to be fairly warm. It is a beautiful, classic coat but definitely not a winter coat (unless you don't get real winters). Only the sleeves are lined which is so odd. And it was pretty thin. Definitely great for fall or early winter. Unfortunately, it didn't end up being what I was looking for so it went back.
Before I even ordered the Reformation coat, I found this longish Ralph by Ralph Lauren coat and it looked pretty nice and classic. I ordered it but got an email a week later that it was backordered until January. But to my surprise it arrived last week. I got size 4 as I didn't mind if it was a tad roomier. I would say size 4 fits more like size 2 (I don't know how their sizing usually runs, but seems like it perhaps runs a tad small). Anyway, I'm happy with this one.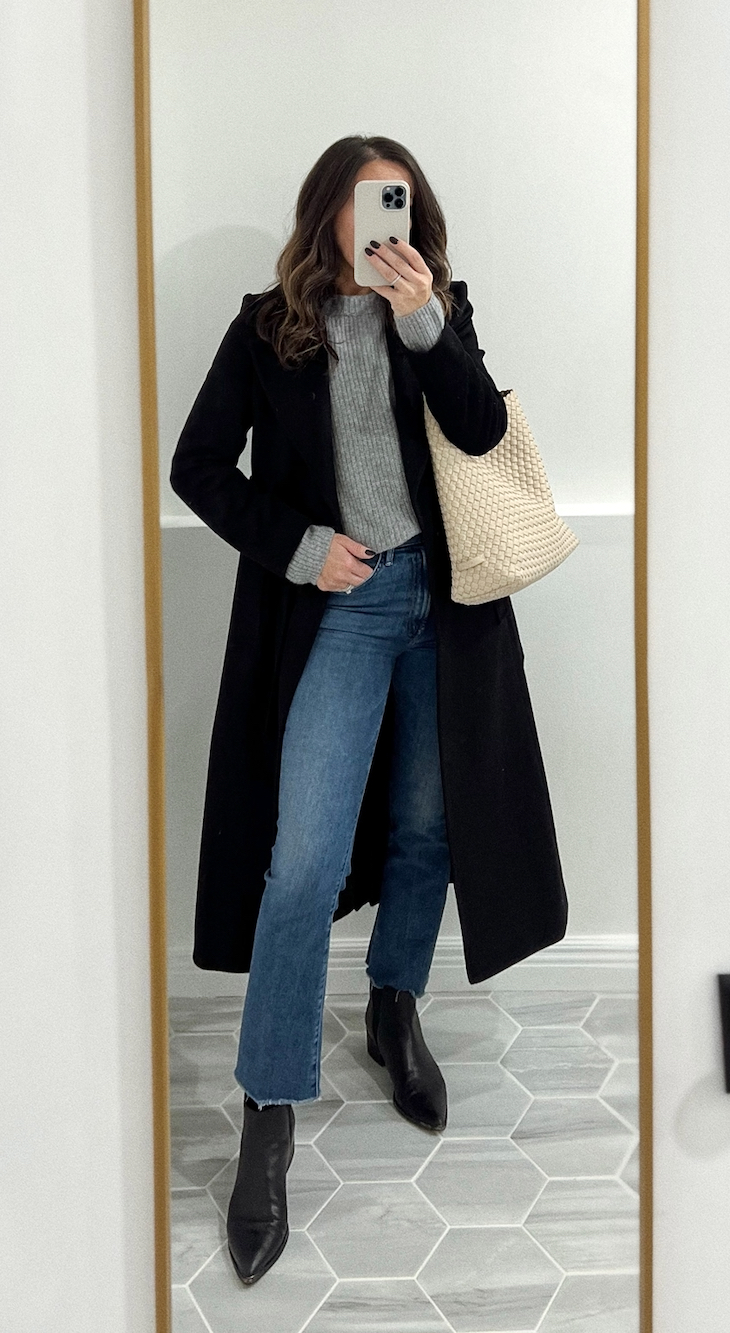 SHOP THIS OUTFIT: Black Wrap Coat in size 4 | Cashmere Fisherman Sweater in small | Mother Denim tts – | Marc Fisher booties – also here from Zappos | Naghedi Hobo Bag – similar for less

---
Another thing I've been on the hunt for were nice looking winter boots. I have riding boots but wanted something a bit warmer. The lack of warm-ish but dressier boots is unreal. One day I randomly came across these Aquatalia Milana boots. They're an Italian brand and their shoes are crafted in Italy. You can read more about the brand here. I have a pair of black booties I got on major sale a few years ago and the quality is excellent.
Back to the boots. I loved the look of the tall suede boots but was worried that they might not be the best for winter. They're weatherproof but I didn't quite know what that meant so I read up on their website about Aquatalia's Weatherproof and Stain Resistant Technology. Also, loved the fact that they pretreated the suede so I didn't have to worry about that.
Initially they were on sale for $450 (originally $625). I didn't want to spend that much but a couple of days later they were reduced even more. I immediately ordered them in suede and black leather to see which pair I might like better. Both are so nice but ultimately I liked these suede ones better. Very European chic boots.
They did seem just a tad narrow (but with these Madewell socks which are not thin). I wore them around the house for less than an hour and just in that short period of time they stretched out nicely. They're just a bit wide around my legs but not enough where it looks sloppy. I've worn them twice so far for about 5 hours each time and my feet stayed were warm (I didn't wear thick or wool socks). I'm super happy with this purchase. Especially for getting the type of quality this brand puts into their shoes and for the sale price I got…yeah…extremely happy. Don't think I could have gotten a better deal for this quality.
Last night I found them on sale on Amazon and I would say run if your size is still available (that is IF you're on the hunt for a chic warm pair of boots).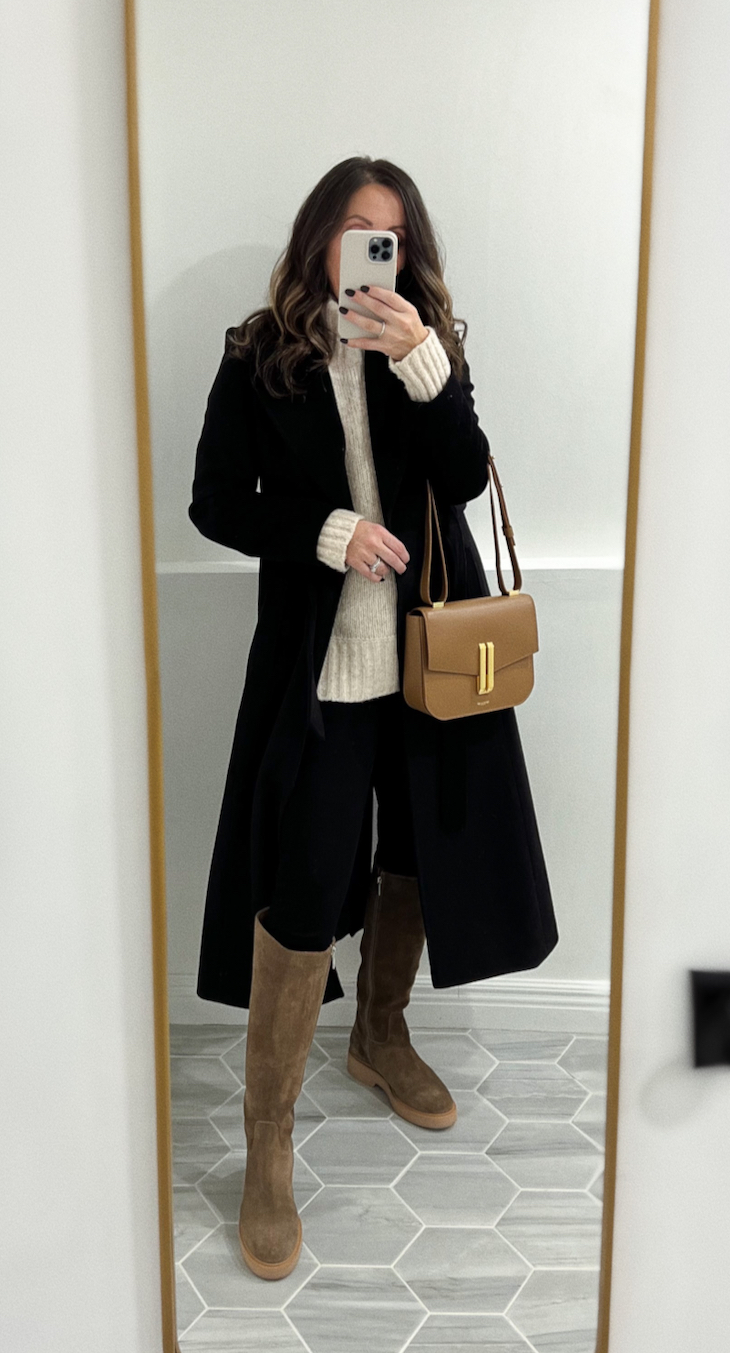 SHOP THIS OUTFIT: Aquatalia boots tts | Everlane Cloud turtleneck sweater in xs tts | Ralph by Ralph Lauren coat in size 4 | L'Agence jeans (mine are super old but still very comfy) – similar for less | DeMellier Bag

I reached out to Nisolo yesterday and asked if they would reactive my 30% off code. I'm happy to report that they're wonderful and extended the 30% off on their site until Sunday, 12/18. Use code lillydemello30
While I did partner with them on IG last week, I truly love this brand and I'm so glad I got to work with them. Love their transparency, sustainability and ethical practices. The fact that they pay living wages and provide healthcare to their workers…and so much more… I am truly impressed!!! Did you know that 93% off fashion brand don't pay living wages to their workers?! Wages that cover basic living needs (I didn't know either but now we do). How messed up it that?! I feel like this could be an entire different post in itself so I'll stop right here.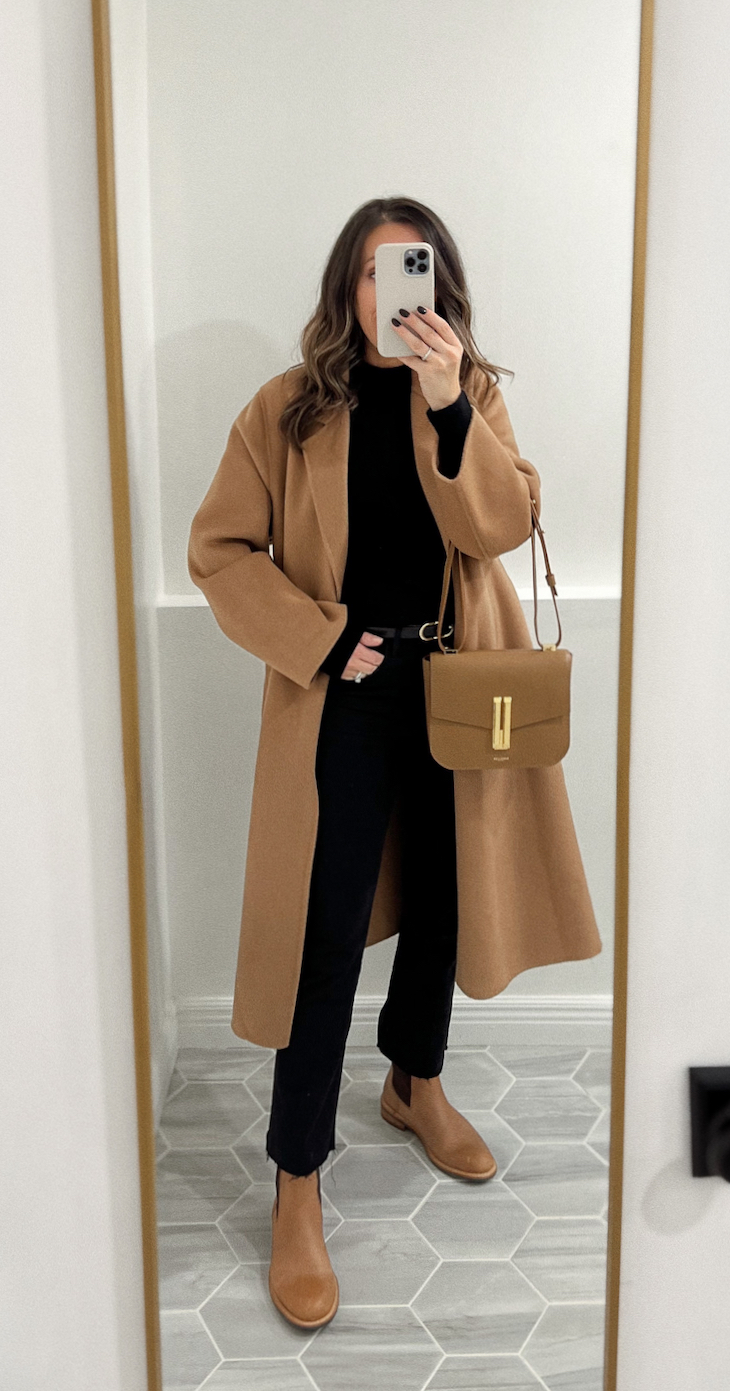 SHOP THIS OUTFIT: Mango Wrap Coat tts | Alpaca Sweater in small | Mother jeans tts, here form Saks – these are great dupes tts | Nisolo boots size up c/o – use code lillydemello for 20% off | DeMellier Bag | Belt (old from Mang0) – similar

I am always hesitant to share this coat on here because it always gets questions 'where is it from'. It it quite a few years old (here is outfit from 2016 and this one that I will like 6 years later). It's still one of my favorite coats. Structured, long and so classic. I did find some similar option though. Linking them below this photo.
These boots are still one of my favorites. I got them a few years and have worn them so much over the years. I was happy to see them back at Shopbop. I sized up and just heads up – the leather is not soft. I personally still find them comfortable though. If I didn't own them I would buy these lace up boots.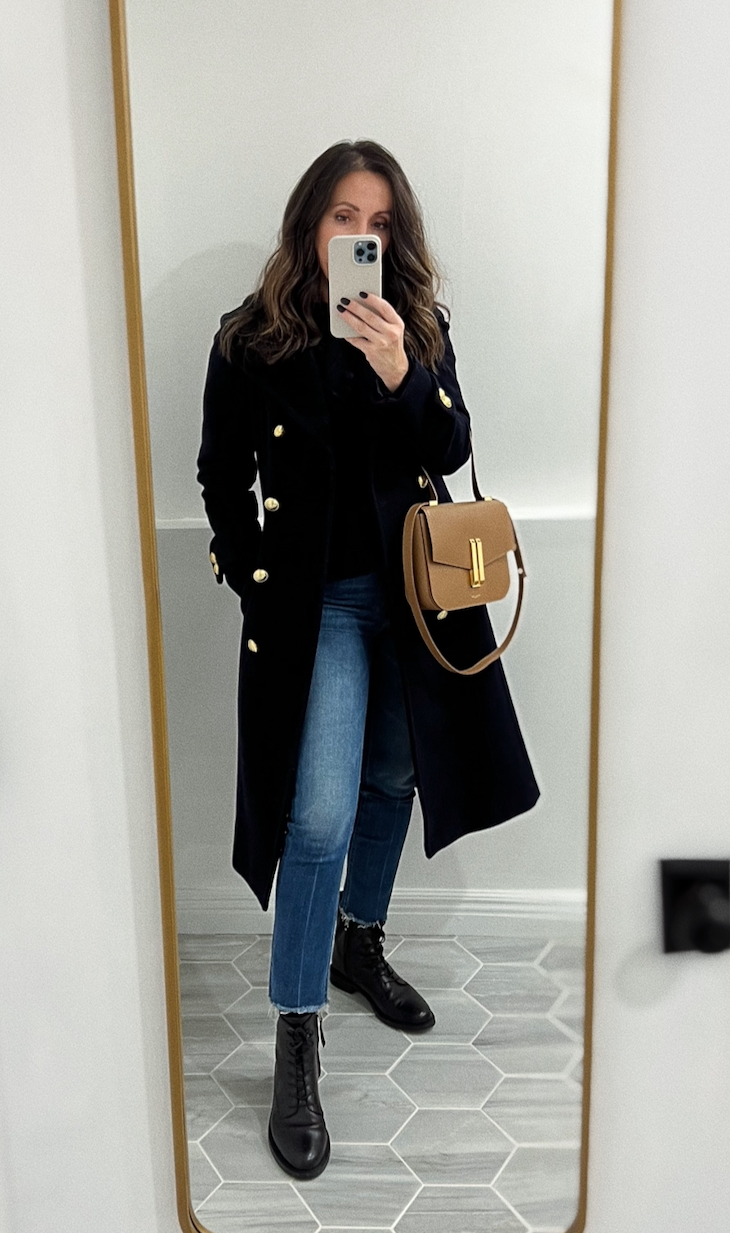 SHOP THIS OUTFIT: Mother jeans tts | Lace up boots (I sized up) – on sale!, also love these (take 20% off w/code lillydemello) | DeMellier Bag | Sweater (old J.Crew) – great alternative | Coat old – great options here, here and here from Reiss $$$
As always, thank you for reading!
Let me know if you have any question about any pieces.