Rounding up some recent outfits. Loving these timeless Spring outfits. I added a few new pieces to my wardrobe and each one will not only be worn on repeat but these are some fabulous timeless pieces I will wear for many years to come.
Each of these new pieces actually makes me excited to get dressed. I love that effortless, polished feel without much fuss.
I've been stalking this stripe sweatshirt for weeks if not months. Seemed a tad pricey for a sweatshirt but I try to remember in many cases it's 'you get what you pay for'. I wanted good quality and have it be nice looking at the same time. While it IS a sweatshirt, it doesn't look sloppy in any way. I finally ordered it last month. I will say that ordering it was the right decision – I LOVE it. The quality is amazing which is also visible in the sweatshirt itself. The fit is boxy already but I also decided to size up for a roomier fit. You can definitely stick to your size and still have it be boxy but if you like it more oversized, size up.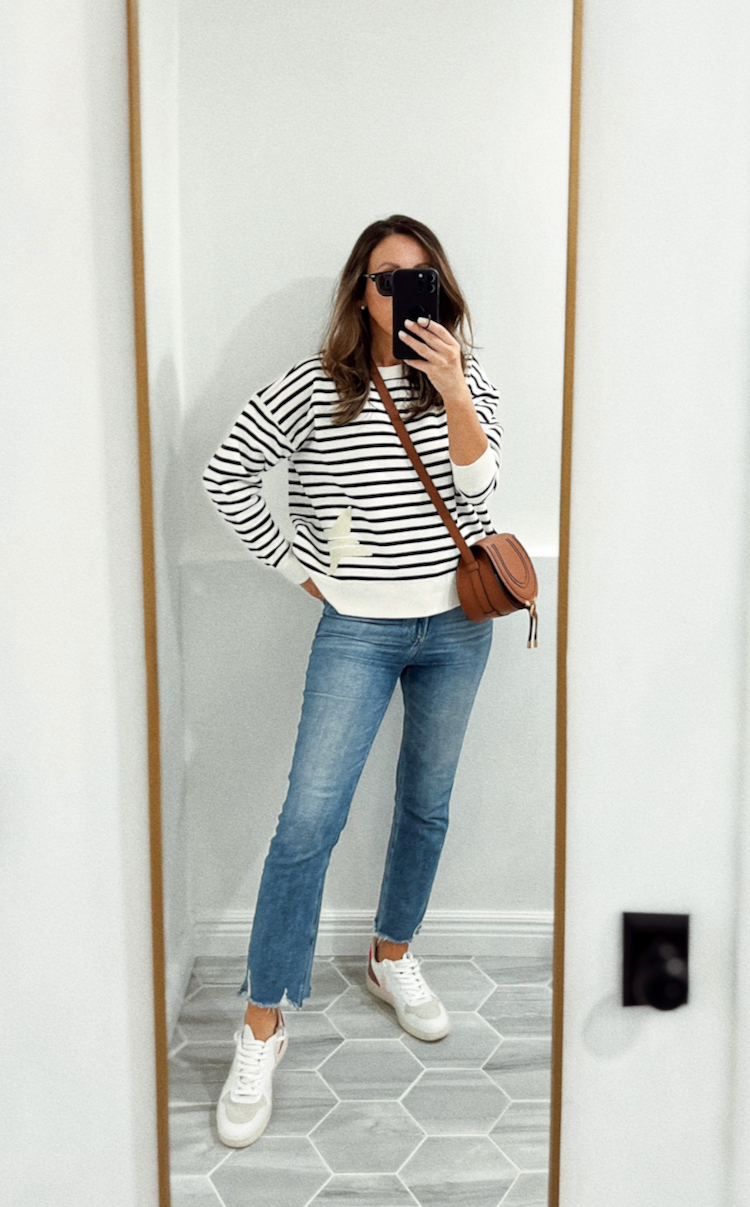 SHOP THIS OUTFIT: STRIPE SWEATSHIRT in Small – similar option under $25 | PAIGE JEANS TTS (very comfy) – select sizes from NORDSTROM | VEJA SNEAKERS (old color combo) – love these, more available options | CHLOE BAG | RAY-BAN CLASSIC SUNNIES, also here from SAKS
I will say that these jeans look amazing on the model and that was the reason I got them a while back. Initially, they sold out fast but got restocked finally. I am in between sizes in Madewell jeans. Half of the ones I own are in my usual size, and the other half I had to size down. These are one of those pairs that I'm in between sizes. This is my usual size, 26. Very comfortable, roomy in the back and sort of a mix between straight leg and wide leg. I did end up trying a size down. They fit more like on the model but I just liked the comfort in the waist in 26 better so I kept my true size.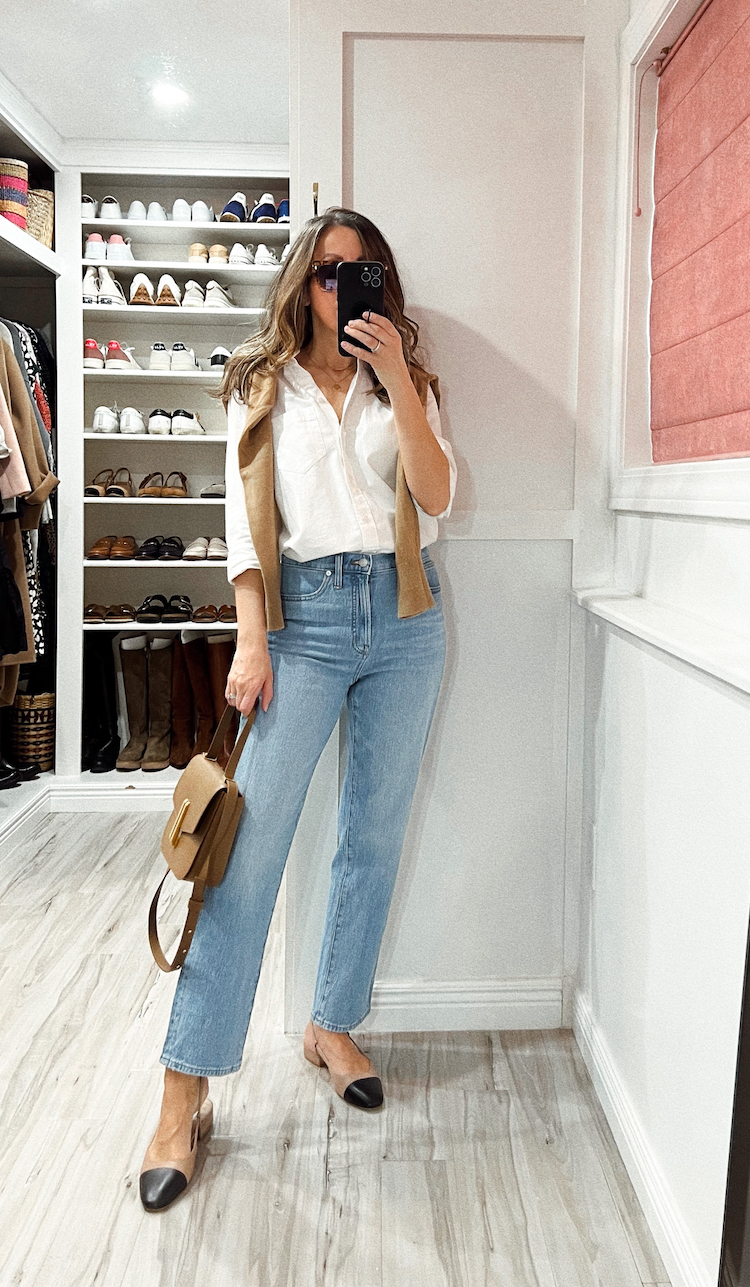 SHOP THIS OUTFIT: MADEWELL JEANS | CASHMERE SWEATER (almost exact) | BUTTON DOWN (updated version) | CAP TOE SLINGBACKS FLATS | DEMELLIER BAG | SUNGLASSES UNDER $15
Another item I was debating on when it first arrived – this striped cardigan jacket. While I was debating – it sold out lol. Eventually I decided to order it because it is such a beautiful timeless piece. It was backordered but arrived a bit sooner than expected. I thought I had sized up mainly for a tad extra length since it is on the shorter side (I'm 5'6 with an average torso). But I got my usual size, XS. Fits tts. I really wanted it a couple of inches longer and thought I was going to return it. Until I styled it with normal clothes (don't try it with pajama bottoms or sweatpants lol). Ended up loving it! I'm very pleased with the quality too (should mention that it has been always excluded from sales).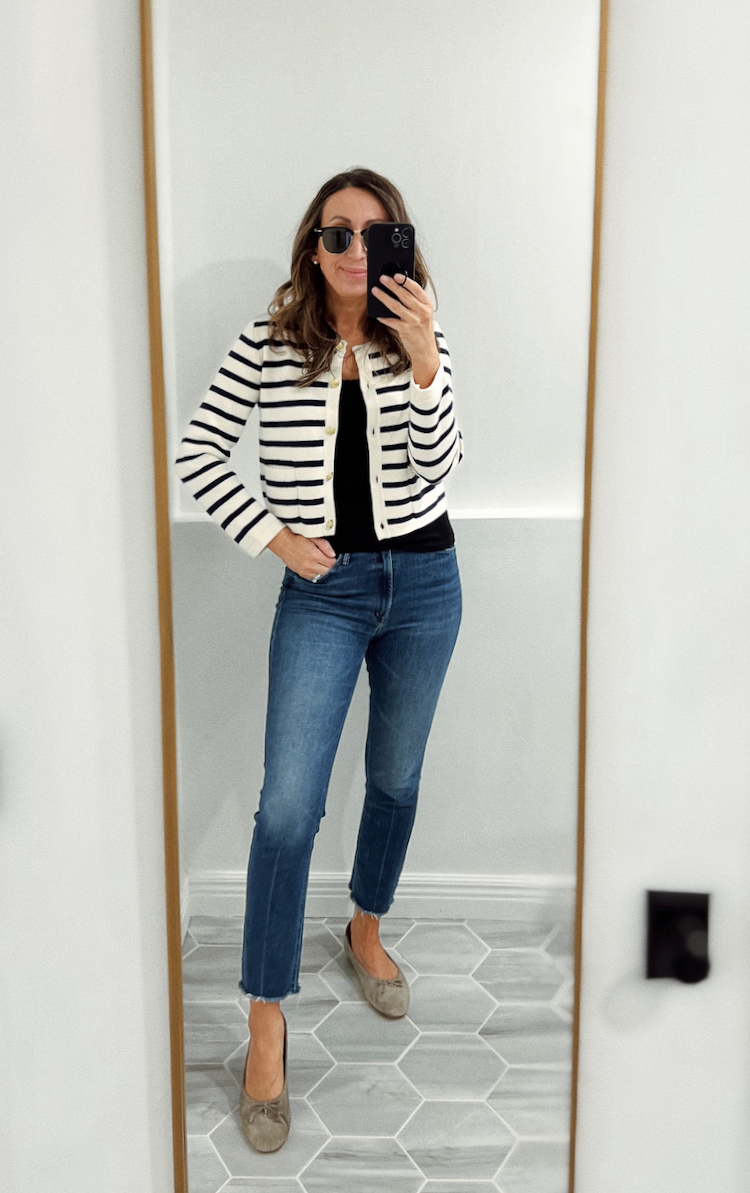 SHOP THIS OUTFIT: STRIPE SWEATER JACKET tts | LACE TRIM TANK (love these) | MOTHER JEANS tts – also love these (tts too) | FLATS (old) – similar here and here | RAY-BAN SUNNIES, also here from SAKS – similar for less
I've already talked about this sweater jacket being love at first sight and I can say I'm obsessed with it. If you have been following me for a while, you know I do NOT use the word "obsessed" lightly (it's used very rarely by me when it comes to clothing). It's an overused word in this industry! But this piece – it deserves the word obsessed! What made this find even better was the fact that it was on sale + extra % off. Major score. It looks like a high end designer piece but it was a steal! Classic piece you'll have in your wardrobe for many years. It will never go out of style.
SWEATER JACKET in XS | J.CREW JEANS tts – very comfy | MIXED JERSEY TANK in xs (have 3 color and they're my fave nicer tanks) | CAP TOE SLINGBACK FLATS (I sized up a 1/2 size)
Styled below with Levi's jeans (very popular pair ya'll seem to love). Sizing – typical Levi's sizing – take a guess lol. JK. I have had these for a few years in my size… and they're tts but some days I wish the waist was stretchy. A few months ago I did order a size up and oddly enough there didn't seem to be a lot more room in the waist. Returned! Sticking to my size and not wearing them when I'm extra bloated (let's face it, not much is comfortable on during bloated times).
SWEATER JACKET IN XS | LEVI'S WEDGIE ICON TTS | SCHUTZ FLATS tts for me – also love these (ordered black) | H&M TANK tts | MANGO BAG (old) – SIMILAR OPTION | SUNNIES UNDER $15
The breathable and comfy shoes that pair with just about everything! They look great with dresses, skirts, shorts and different styles of jeans. These are perfect if you're going on a trip with just a carry-on as they'll look amazing with so many spring/summer outfits. I'm wearing my usual size and for me personally they need just a tad breaking in. They'll get even more comfortable with each wear as they form to my the feet. Available in several colors. Mine is Desert Rose. Ethically and sustainably made!
Get 20% off with code LILLYDEMELLO
MADEWELL TEE tts | MADEWELL JEANS tts (this years version) | BAG | NISOLO HUARACHE SANDALS c/o – 20% off w/code lillydemello
Let me know in the comments below if you have any questions!
Thanks for reading! x