---
If you have been following me for a few years you might remember how each year I seemed to get more and more annoyed with this sale lol (for different reason). But one thing about this sale that I have to admit – it is a good one! Finally!
Before I go on, the best and easiest way to view this post on a desktop.
Coats, jeans and shoes selection this year is better than it has been in years. A lot of great timeless staples.
As I say every year, don't buy something just because it's a good deal or cute. Ask yourself if you already own something similar? Will you reach for it?
Thank you for trusting my recommendations every year and for shopping via my links. Means a lot to me and I appreciate your
support.
July 11 – Early Access begins for Icon Cardmembers
July 12 – Early Access begins for Ambassador Cardmembers
July 13 – Early Access begins for Influencer Cardmembers
July 17 – Nordstrom Anniversary Sale opens to the public!
August 6 – The last day to to shop the Nordstrom Anniversary Sale!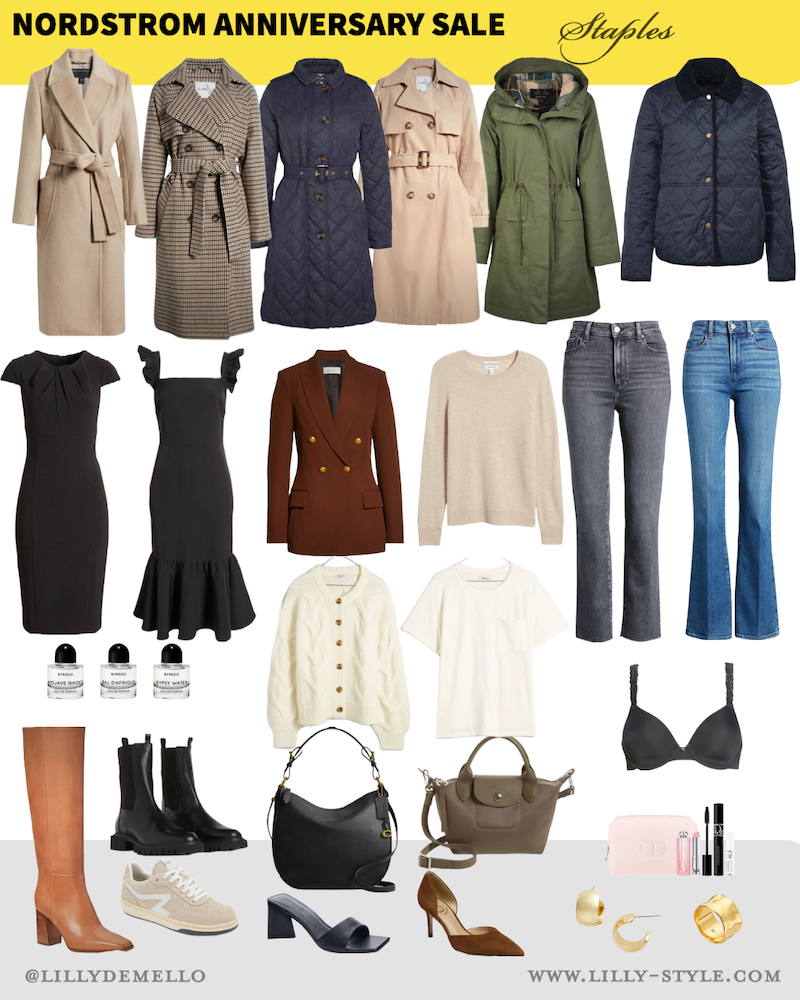 WRAP COAT \\ PLAID WOOL BLEND COAT \\ QUILTED COAT \\ TRENCH COAT \\ ANORAK \\ QUILTED JACKET \\ BLACK DRESS \\ FLUTTER SLEEVE DRESS \\ BLAZER \\ CASHMERE SWEATER \\ CABLE CARDIGAN – have it and love it \\ WHITE TEE \\ PAIGE JEANS \\ BLUE JEANS – I need these \\ BYREDO SET \\ KNEE HIGH BOOTS \\ LUG BOOTS \\ SNEAKERS \\ BLACK LEATHER BAG \\ LONGCHAMPE BAG \\ SANDALS \\ PUMPS \\ BRA – my favorite \\ DIOR MAKEUP SET \\ EARRINGS \\ RING
---
---
DENIM
COATS/JACKETS
SHOE
DRESSES
HOME + TRAVEL
ACTIVEWEAR-SLEEPWEAR-FAVE BRAS
---
LOVE this blazer. Look so much nicer in person. It's once of those pieces I wouldn't have paid much attention online. I tried size 4 and liked the fit. I can wear a light cashmere sweater in fall underneath and still be comfortable. Otherwise a size 2 would be been fine too. I wouldn't say it runs large.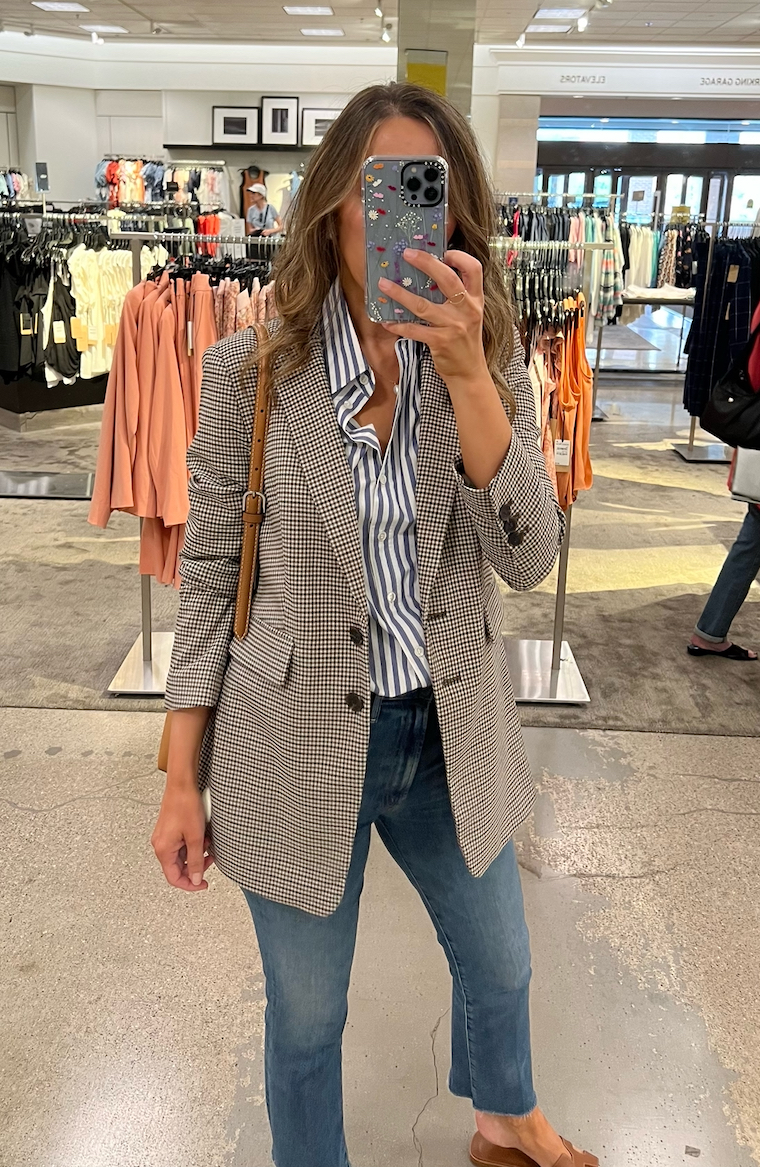 Another piece that IMO looks much nicer in person than online. This long cardigan is so soft! Tried xs and it fits tts. Sleeves seem long but not a deal breaker.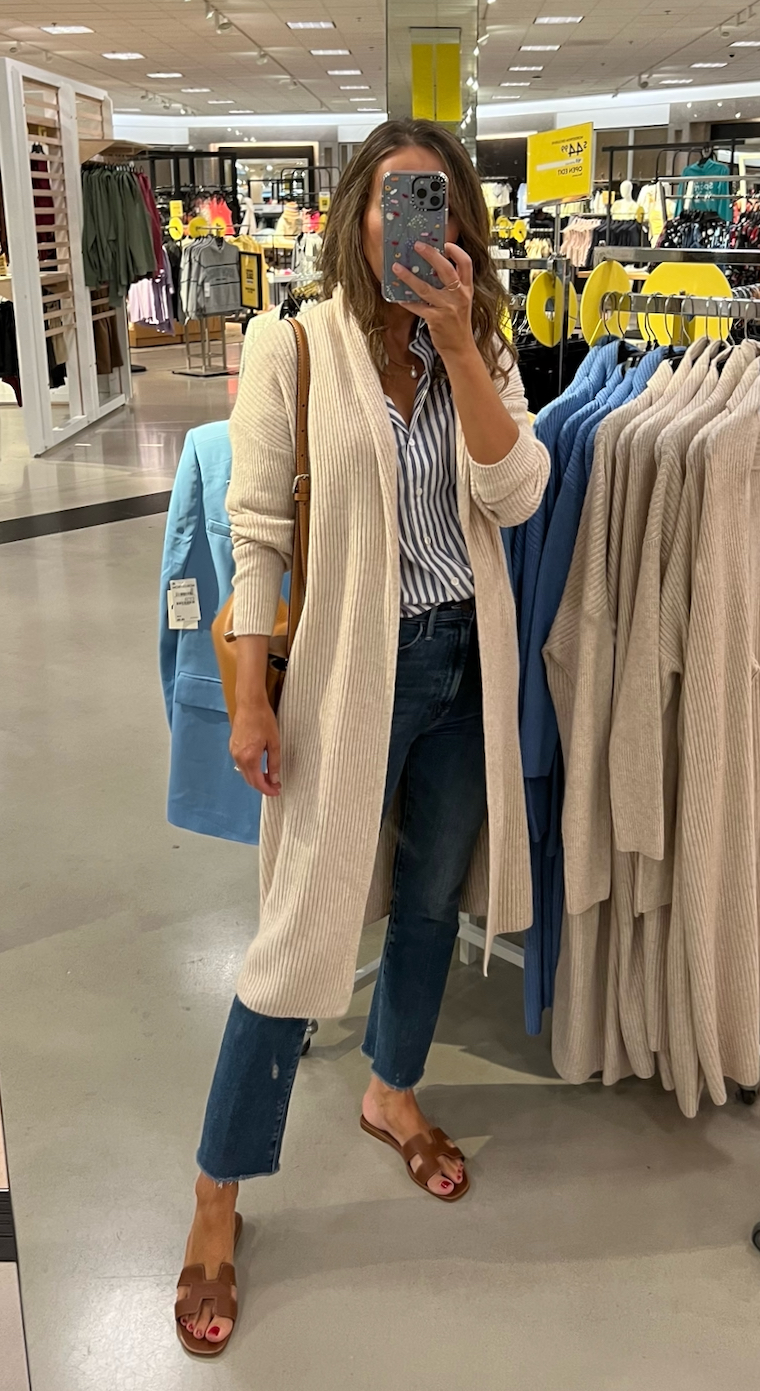 Loved this Vince cashmere sweater. Smallest size available was Medium, which was big. Super soft and loved this color.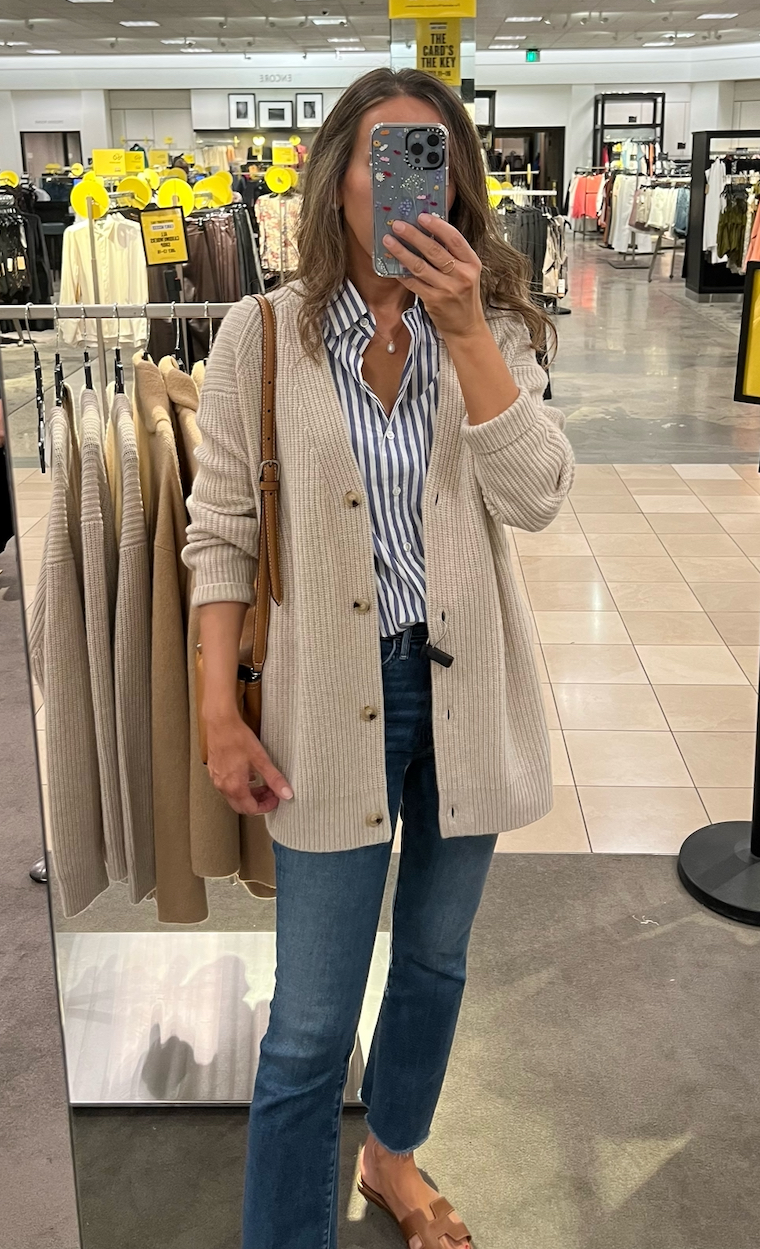 Had to try this quilted coat on. Verdict? I LOVE it! It's a classy and timeless coat and now that my order for the other Barbour coat got canceled I might get this one (it was fully stocked when I ordered it, hate when I get the email that order was canceled). I tried size UK8 and it was tts. If i wanted to wear slightly thicker sweaters underneath, I'd probably get size UK10/US6.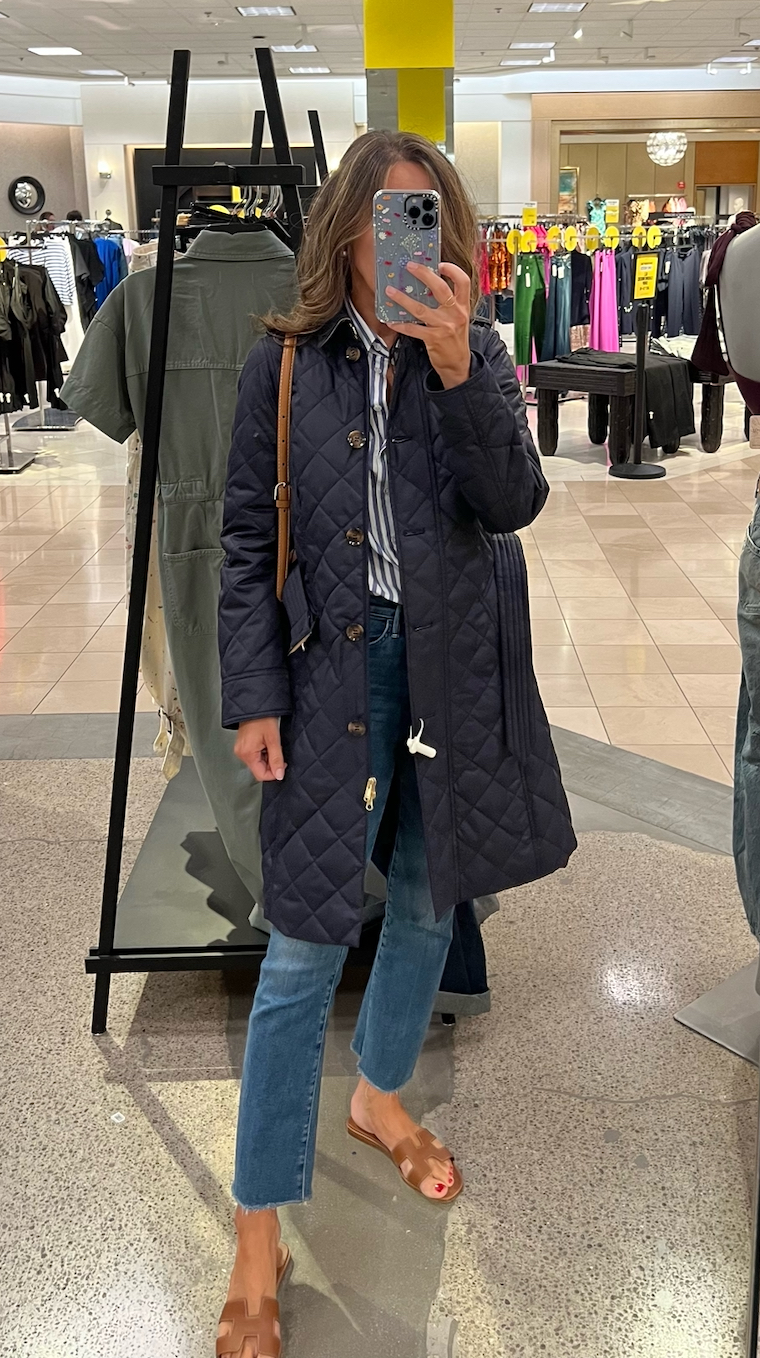 Another coat I really really liked (not even kidding when I said earlier that the coat selection this year is amazing). Tried size 4 here and it just slightly big but for thicker sweaters it would be ok. They didn't have size 2 for me to compare but it would have been just slightly more fitted. Not seeing it online at the moment. Brand is Sam Edelman.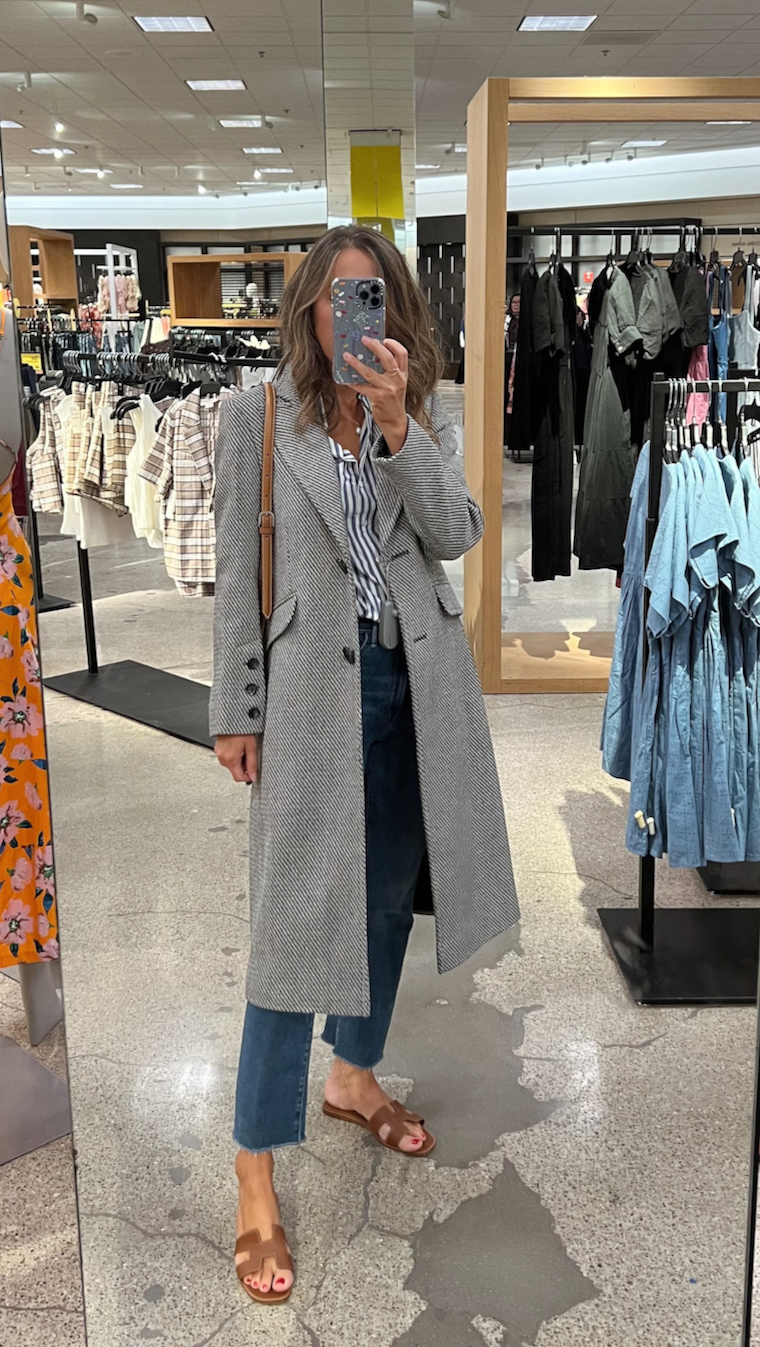 I ordered these cap toe flats and I'm glad I did. I should have tried them though to make sure they run tts. Hoping for the best! Timeless style.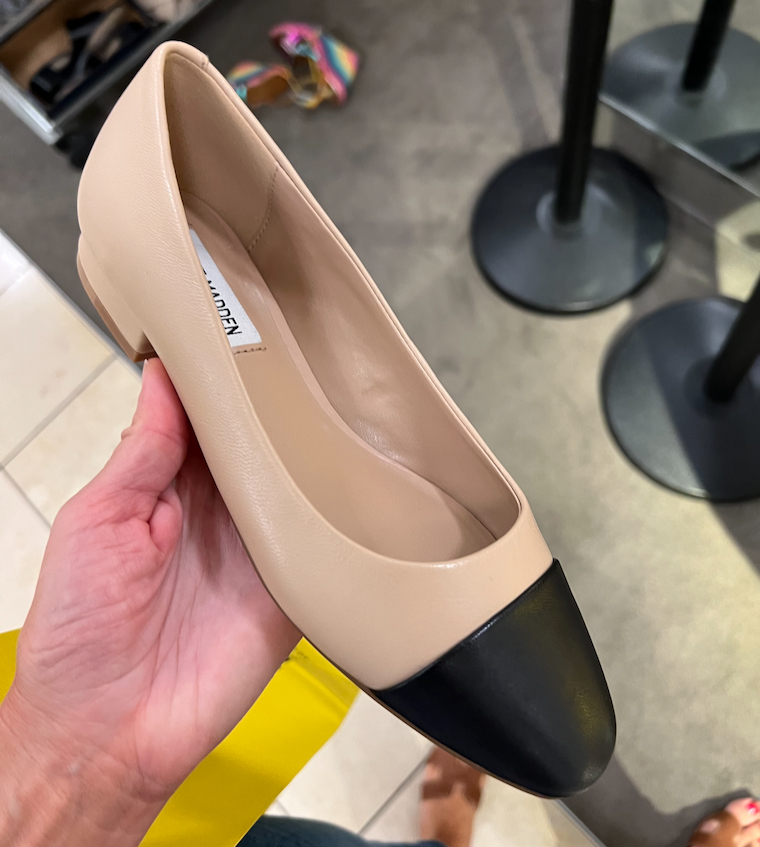 Love these sneakers! The color! The style. Need to justify these somehow lol
---
Narrowed down more wardrobe staples. The trench coat is great price point. My favorite bras come in several colors. So many great pieces still in stock.
TRENCH COAT \\ CAP TOE FLATS \\ PEBBLE LEATHER SHOULD/CROSSBODY BAG \\ ETERNITY BANGLE \\ SUNGLASSES \\ LONG SLEEVE BLOUSE \\ T-SHIRT BRA \\ CONTOUR BRA \\ HALF ZIP SWEATER \\ ZELLA KNIT PULLOVER \\ SQURE NECK DRESS \\ LEVI'S JEANS \\ BIRKENSTOCKS \\ CARDIGAN (as seen on try-on above) \\ SNEAKERS \\ FAVORITE JOGGERS
---
WORKWEAR – shop below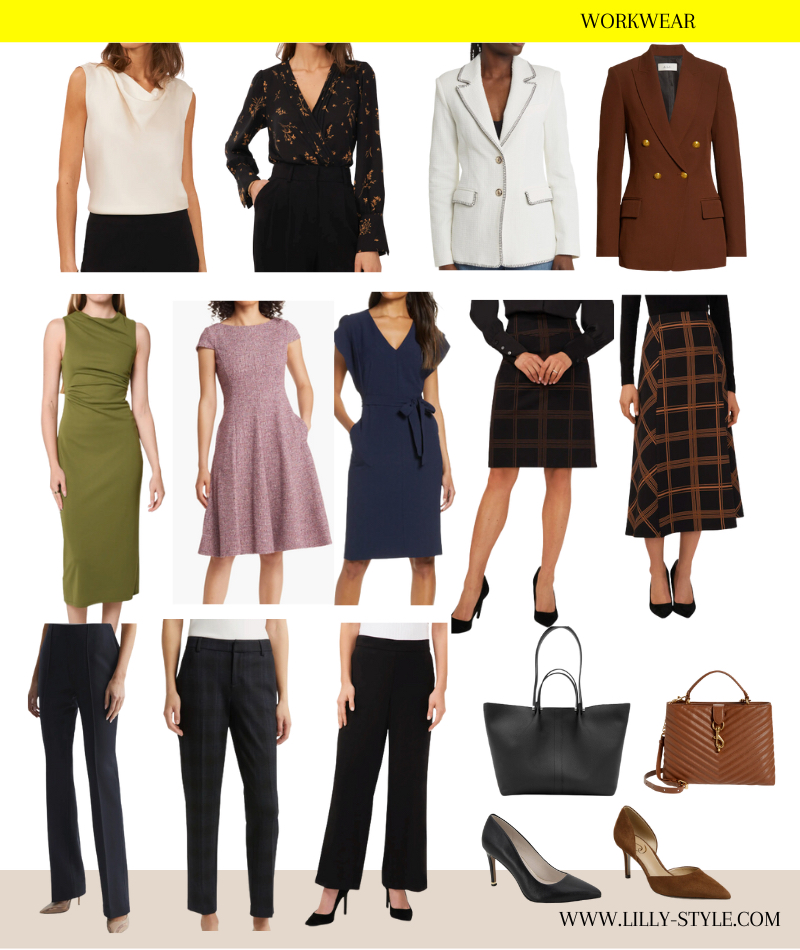 SHOP by clicking on the items below

---
BEAUTY – shop below
SHOP by clicking on the items below

---
HOME AND TRAVEL – shop below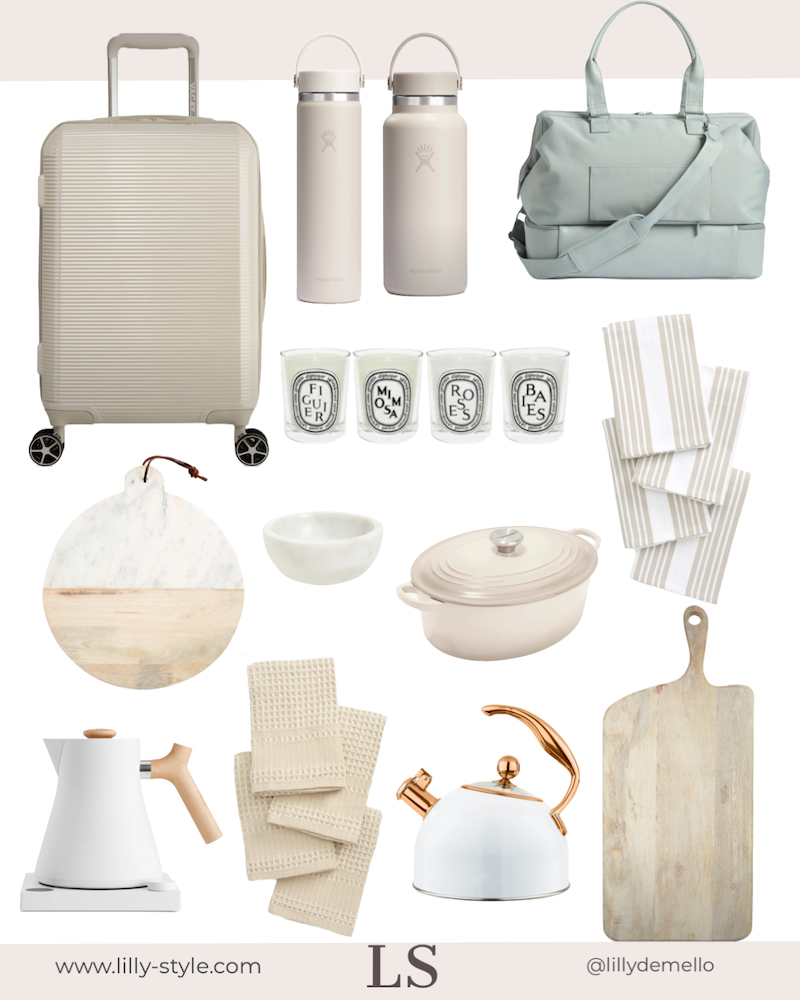 SHOP by clicking on the items below

---
MY WISH-LIST – these are the items currently on my wishlist. I have been on the hunt for nice looking lined anorak, so I'm definitely excited about this Barbour one. The captoe flats are so classic and timeless – must have. Excited about the Byredo Perfume mini set (always prefer smaller perfume bottle as I don't use them everyday. Plus it's a great way to try a variety without committing to a bigger bottle. Great for travel too). I love Gypsy Water and I'm excited to try Mohave Ghost. I'm bummed the Mother jeans are sold out already which is not a surprise at all. I hope they'll pop back in stock.
SHOP by clicking on items below

---
I can't get over how amazing coats are part of the sale this year.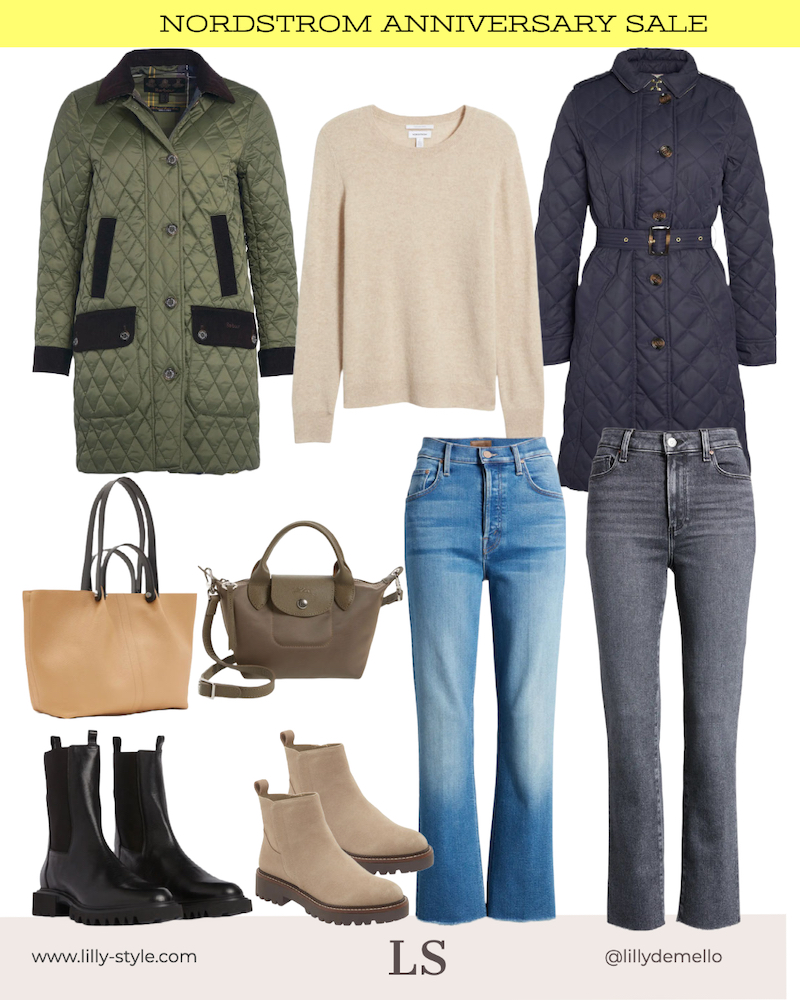 SHOP by clicking on the items below

---
SHOP by clicking on the items below