Happy Tuesday!
A lot of the same pieces have been on repeat over here! Everything you see below has been mixed and matched quite a bit but went undocumented for the most part. I love owning pieces that not only I want to wear on a regular basis but that also can be very easily mixed and matched with just about everything else in my wardrobe.
I had zero plans on getting this quilted barn jacket even though I've been loving the look of it since it arrived online. It is such a classic piece that will never go out of style. Pair it with my weakness for coats/jackets (let's blame it on the fact that is cold up here for way too long) I decided to order it once it was part of a promo (it's currently around $100 off!!!). Based on reviews I decided to size down. The first time I tried it on I thought I had made a mistake of sizing down but realized the smaller size fits well actually. If I wanted to wear thick sweaters underneath than I definitely would have stuck to my size. But that's not the plan so the smaller size worked out just fine…even though my usual size would have been ok too (it all comes down to how you want it to fit). It comes in a few more beautiful colors.
I've talked about these amazing chelsea boots since last year and I will continue as they're so so good! Not only are they well made and comfortable but I love the company and what they stand for. They do run small so make sure to size up a 1/2 size. LOVE them in black too! See below the picture for current discount codes.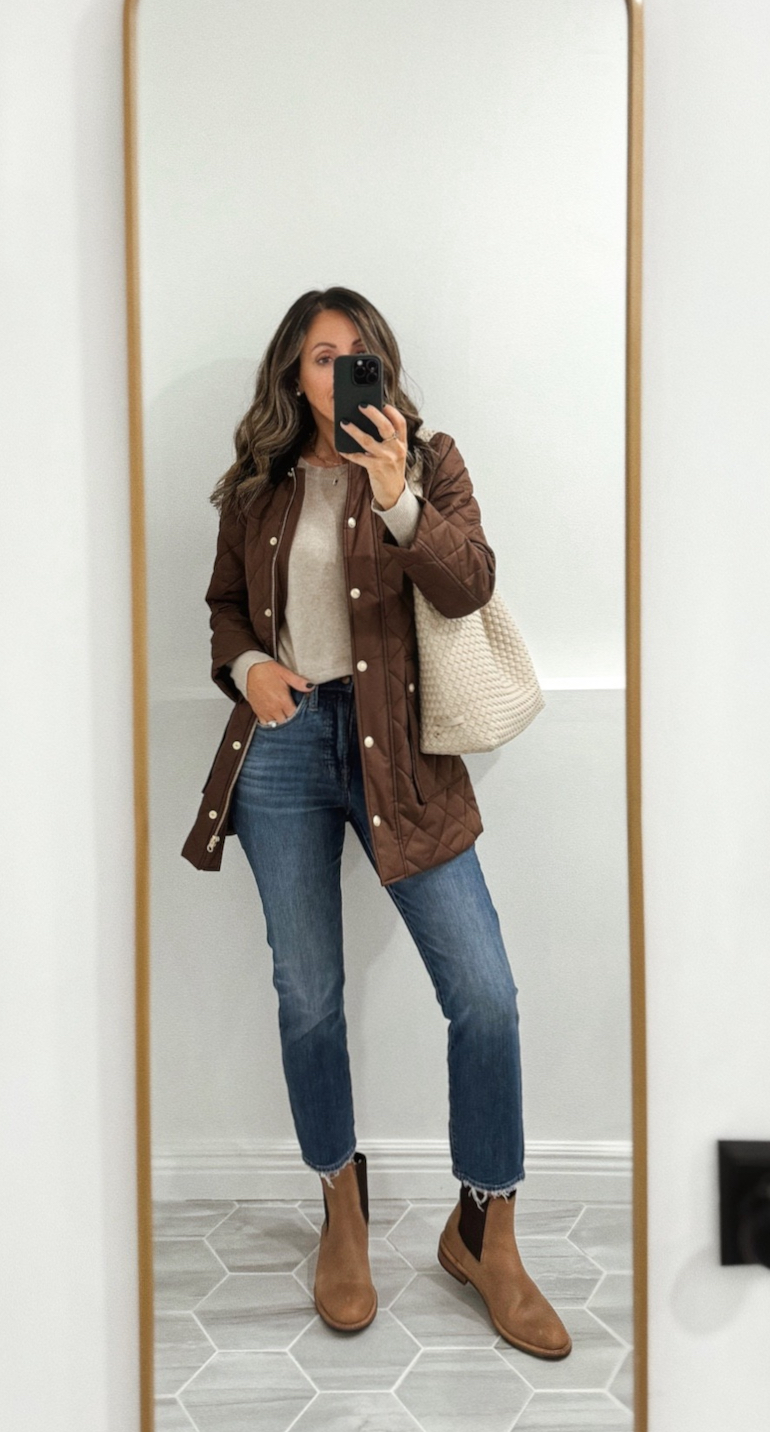 SHOP THIS LOOK: QUILTED BARN JACKET | CASHMERE SWEATER (old) – almost identical here | JEANS (super old) – SIMILAR HERE AND HERE | CHELSEA BOOTS – 35% off w/code FORYOU + an extra 5% off w/code LILLYEXTRA | NAGHEDI BAG – SIMILAR FOR LESS
This years version of this coat is not oversized as previous years but is still just as good. If you do want it oversized a bit just size up. You can't go wrong either way with this classic coat.
I've been loving these ribbed square neck sweaters. So much that I have them in three colors. I find square neck tops to be so flattering on everyone. It is not as low cut as it looks on the model. I have size small in all three colors.
I didn't think I would love this mini bucket tote as much as I do. I've been reaching for it SO much. The leather is nice and soft and the size is perfect for everyday. This one can be filed under my favorite bags. Love it so much that I was planning on getting this larger size too. It looks so chic yet it's one of those timeless bags one will have in the wardrobe for years and years. I was so grateful to be gifted the larger size by Madewell (I still would have purchased it myself if it wasn't gifted). I took it on a trip recently and love how much it can fit but at the same time it doesn't look huge. Definitely would recommend both of these totes.
Quite happy I ended up keeping these booties! Love the color (they do come in more colors too). They run tts but I did size up to for thicker socks. The heel height is great – just right! Definitely a fan of these.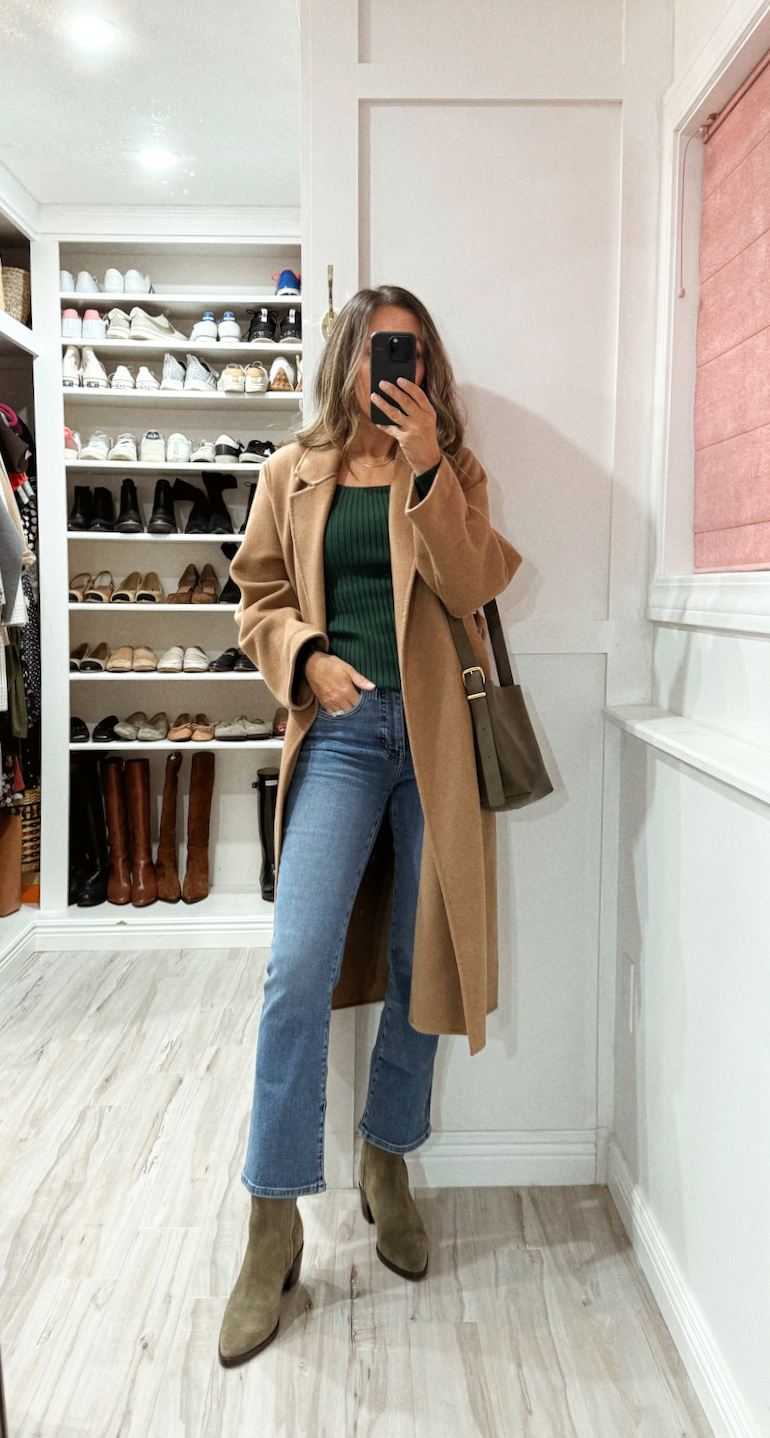 SHOP THIS LOOK: CAMEL BELTED COAT | SQURE NECK SWEATER | CROP KICK JEANS in Mather Wash tts – extra 40% off w/code SALEONSALE | SUEDE LEATHER BOOTIES | MINI BUCKET TOTE
---
This is from October when we had a beautiful and warm Autumn day (we've had more of those since lol Like yestreday…62º). The picture does zero justice to this Sezane cardigan. It is so beautiful and well made (which is should be for the price). I love, love their sweaters. They're a bit pricier but always sell out super fast. This color is currently sold out but they do restocks so keep checking their site. It comes in a few others colors just as beautiful. I'm wearing xs and it fits true true to size. This sweater is another one I purchased and I love it even more.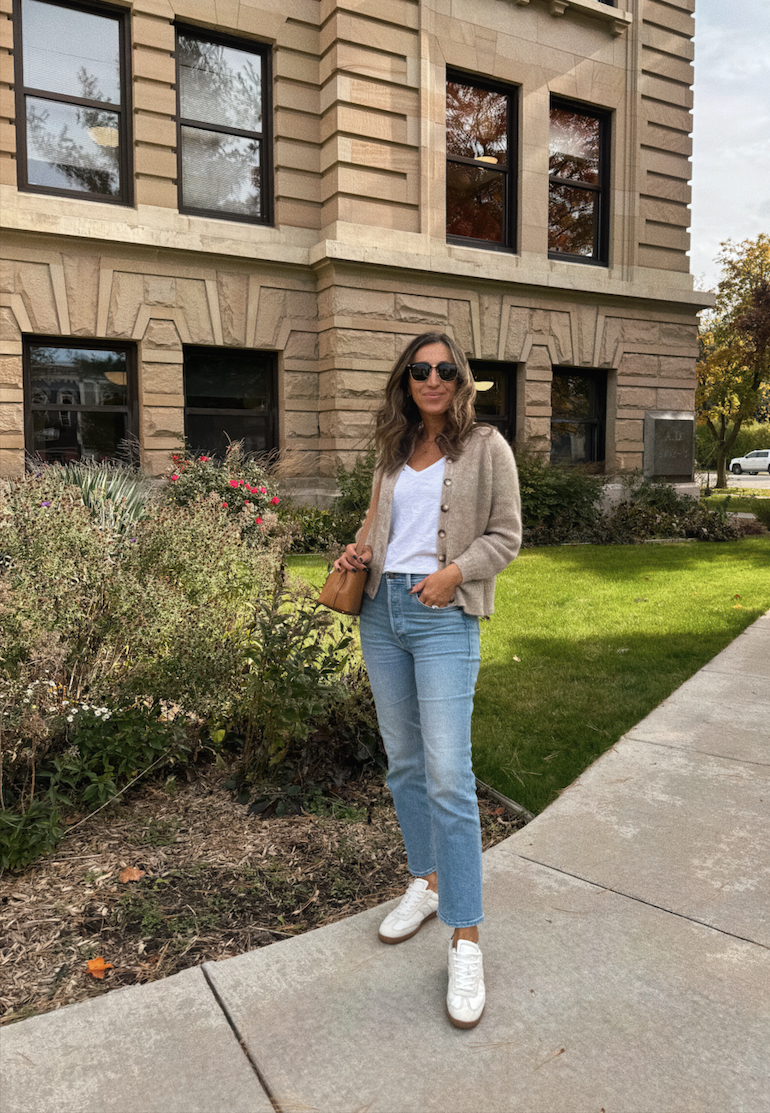 SHOP THIS LOOK: SEZANE CARDIGAN | SEZANE WHITE TEE – SIMILAR FOR LESS | MOTHER JEANS | WHITE SNEAKERS | TOTEME BAG – finally restocked | RAY-BAN SUNGLASSES
---
I've had this wool coat in black for a few years. Recently grabbed this color on sale. This is the 'New Daphne' coat. I haven't compared to see what is new about it…compared to my old black one. The only thing that I noticed might be a tad different is the sizing. I was able to size down in the camel whereas my black one is in my usual size. Just heads up – it is unlined and 100% wool. If you have sensitive skin this one might not be for you.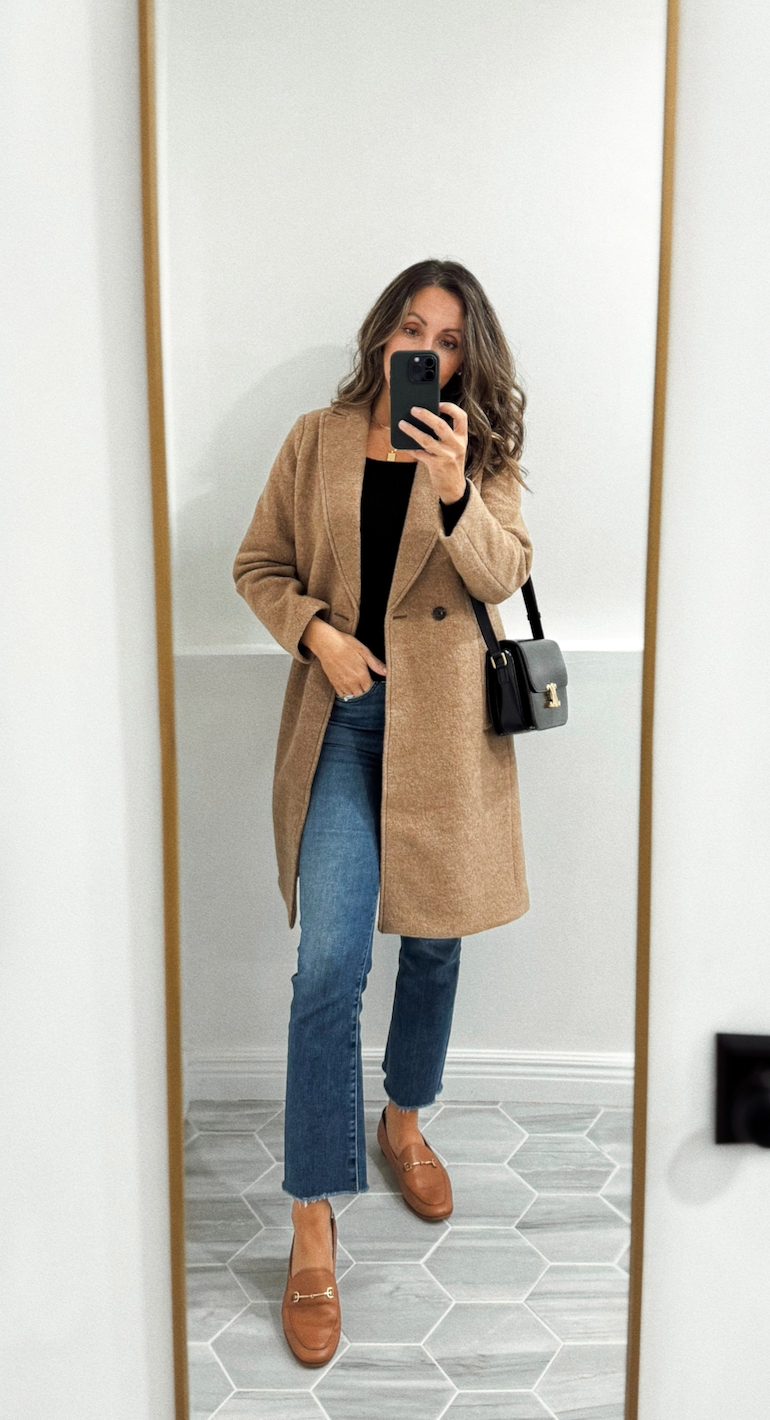 SHOP THIS LOOK: J.CREW COAT | SQUARE NECK SWEATER | MOTHER JEANS – also here in a similar wash, similar style for less | LOAFERS tts |
---
Can we take a moment for this stunning coat!?!!! Such a classic piece. I'm wearing xs and it's tts but also ever so slightly roomy xs. It is 40% off at the moment with code THISISBIG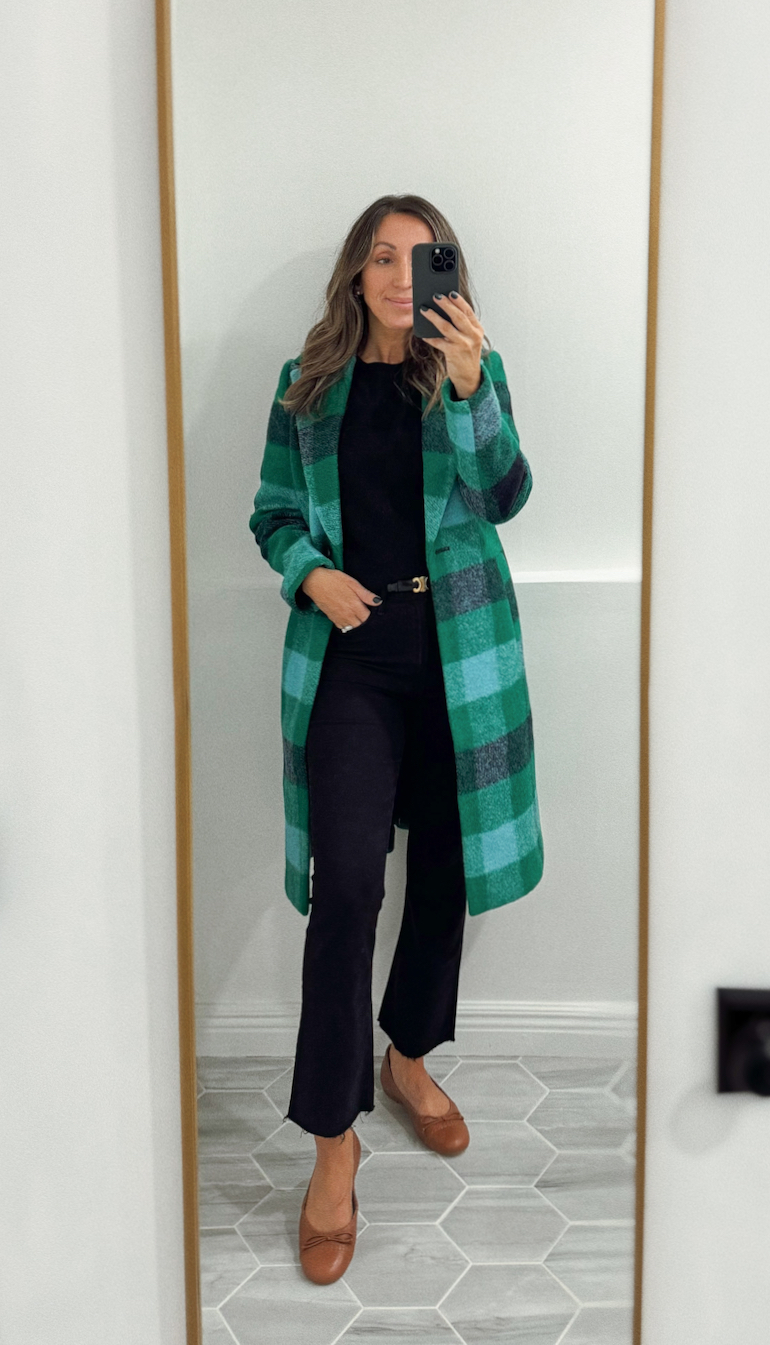 SHOP THIS LOOK: BUFFALO CHECK COAT (gifted) – 40% OFF w/code THISISBIG | MOTHER JEANS tts – similar style for less | CASHMERE SWEATER in small | FLATS – run small, size up | CELINE BELT
---
Loved this outfit so much! Crazy to think that I wore this combo – white tee, smart pants and white sneakers TWENTY years ago (need to find the picture). Where does the time go but also…it's one of those outfits I won't look back at and wonder what I was thinking lol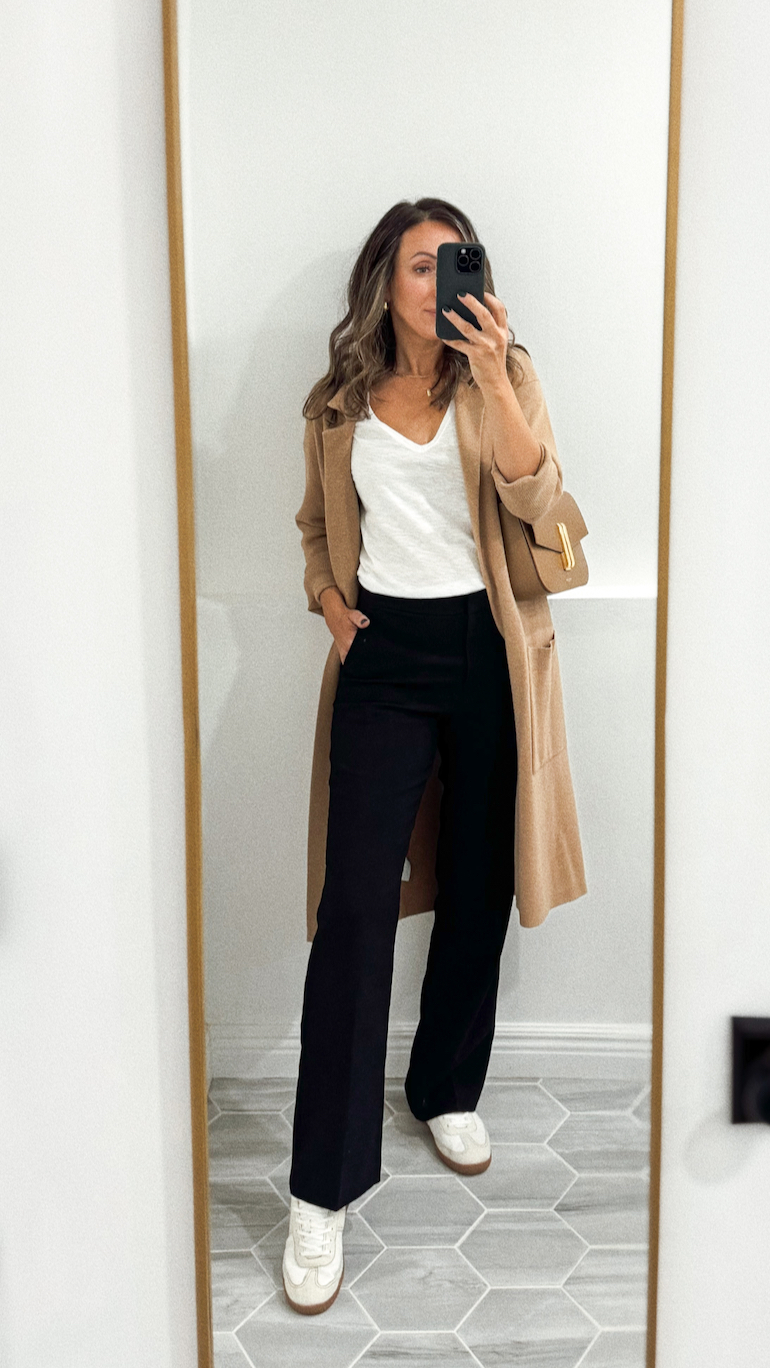 SHOP THIS OUTFIT: COATIGAN (they didn't bring this color back) – SIMILAR FOR LESS | SEZANE WHITE TEE – SIMILAR FOR LESS | SNEAKERS TTS | PANTS TTS – I got size 6, I'm 26 in jeans | DEMELLIER BAG – bag review here if you haven't read it yet